Charlton 1, Birmingham 1 - report by Bracken from Forest Hill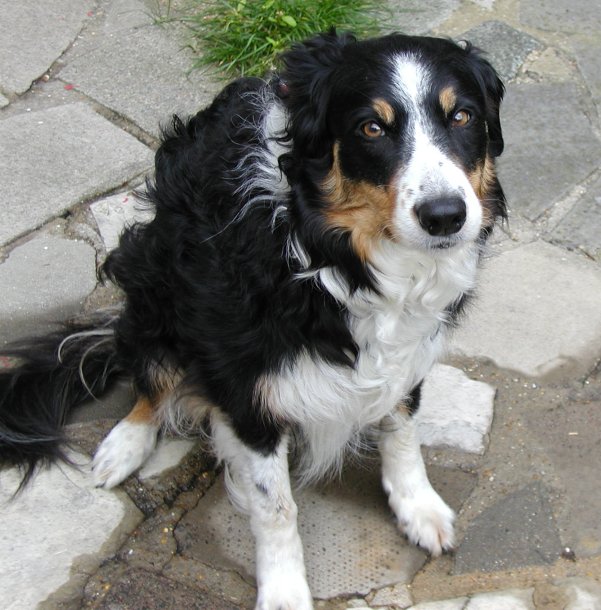 Your match reporter, Bracken from Forest Hill recently described as an 'increasingly trendy' area
Having been on training as a Canine Match reporter for some time now, I was surprised to get a late call on Friday night to tell me that I am to make my reporting debut today, against Birmingham, with no Hooch to support me as he has decided to stay with his master in Leamington and get regular updates from his masters friends the Rose Of Denmark crowd, especially Mr Dick Sheppard. The omens were not good as my master was taking his Mother In Law – Shirley – to her first match since 1985, at least she kept her teeth in!!
I was all the more nervous as this was such an important game for the Addicks aspirations for Europe and would really decide if the team's season would end with a roar or a whimper. And if the truth be told, I am also a little scared of that Mr Savage of the Blues.
The match started with Curbs receiving the award for Performance of The week for the result against Liverpool, on Easter Monday, the resurrection of our European hopes. As a result of that performance Curbs kept faith with the same team and brought Di Canio onto the bench.
The match started with Charlton having left their concentration back at Anfield, both Kish and Jensen were guilty of giving the ball away and at the same time Savage was running around like a Jack Russell ensuring that Birmingham's midfield were on top certainly for the first 10 to 15 minutes. That being said Millwall from midlands failed to penetrate Charlton's makeshift but secure defence and slowly the Addicks squeezed themselves into the matches. After 10 minutes a cross from a rejuvenated Chris Powell met a great run from Bartlett, but he could only direct his header above the bar. Powell and Konchesky were linking well on the left, Konch looks a different player when he has the support of Powell. In the middle of defence, Fortune was performing well but was out shone by stand in Central Herminator, HH. Jensen had one of thiose infuriating games where he got a lot of the ball, made a few great moves and got in some shots, but this was countered by possession given away too easily and standing around aimlessly whilst savage took the ball around him or bumped him off the ball. Luke Young received the ball outside the penalty area as Birmingham cleared from a corned and a goal ward bound scorcher of a shot was headed over by their defence. Whilst Forsell always looked like he had the potential to cause a problem, HH, in particular, kept him under control. As the half drew on Charlton were in it more and more and were creating chance after chance with Konchesky; Fortune both having goes which ultimately resulted in nothing. Hero from Monday Shaun Bartlett was full of running and looked lively, working well with JJ, in creating openings. At half time it was difficult to know how to supprt the team, again we had developed into a position of dominance but had nothing to show.
Over the half time break we saw Paulo warming up, so there was speculation as to who he would replace, the candidate most likely was Kish and sure enough it was Shaun Bartlett, who must have been carrying an injury. The change unsettled the Addicks or was it simply the normal slow start that we have experienced in the past?
Again despite having more of the midfield Birmingham failed to take and be more penetrating on goal. In fact at this stage the keepers of either side could have been on the Chelsea deck chairs for the amount of work that they had had to do. The introduction of Paulo had had a negative effect, despite pushes into the Birmingham half, there was no one entering their penalty area, to give a hope of finishing any moves. For once Curbs acted early and identified the problem, curing to ills with one move off came Kish and on came Carlton Cole, with immediate effect, making us look more dangerous in attack and giving the whole team a sense of purpose. JJ moved out to the right and we continued to play 4-4-2.
As the half moved on were the only team in it, but still Birmingham tried to push forward but were failing to create chances and Charlton were pressing, retaining possession but without being totally convincing Birmingham were awarded a free kick just outside the penalty area and whilst we all expected the inevitable Forsell put it into the back of the Jimmy Seed, still lower though than Jensens penalty of a few weeks back. Eull came on for JJ. Twice during the game did Charlton put in a low cross which JJ almost reached, but almost is not good enough and in the 84th minutes Birmingham were awarded a corner, it was swung in and Charlton defenders were unable to clear, Upson headed across towards the goal and former Palarse reject Morrison was able to easily nod past Deano, for an unwarranted 1-0 lead to the visitors. Cue disgruntled Addicks fans to start leaving. From the kick off Paulo and Luke Young combined, Young raced into the penalty area, lost control and lunged for the ball, taking out a defender and receiving a yellow card for his troubles and maybe damaging the back door route for Charlton's European aspirations. Birmingham took the ball back up Charlton's end, but HH was soon sending Powell down the line from where he crossed to the far side of the paenalty area. Holland connected with his head and looped the ball, much in the same way as his recent goal against Boro (although that was with his foot) into the back of the net. The crowd went crazy as Charlton scored their goal, but the drama was not over and in the last minute of time Young deflected the ball in side the penalty area to Bryan Hughes, who had time and a virtually empty goal to aim at, but he trickled past the post – as the players walked back for the goal kick the referee (C.Foy – who had an unspectacular game) blew for full time.
HH, alis the Herminator alias Hermann Hreidarsson, is being recommended to Hooch for the Silver Bone, he was a bit disgruntled with not receiving it on the day but I did explain that despite his sterling work in Central defence, as only a trainee match reporter I was not empowered to make the award. His performance was exemplary, with only one slight mistake at the end of the game. Deano cannot be said to have had any sort of a game really, he was hardly called upon, with the exception of the goal and that was not his fault. At least he managed to kick the ball out between the white lines throughout the match. Chris Powell who many, including my master had written off was very solid in defence, operating well on the left, linking up with the midfield and front line well and has made Konch look a better player. Konchesky since the return of Powell has looked very solid and today was instrumental in much of the good work that the midfield did, if he continues to perform in this way he will be able to hold down a first team place. John Fortune had aquiet game alongside HH, both of them sowing up the Birmingham attack between them. Luke Young had a good game despite an awful last five minutes, with the booking and the let off from Hughes. His first half shot looked like it would break his duck, but more importantly he stuck to his defensive duties, however he does suffer from having Kishishev in front of him, and is often left exposed. Kish's days must be numbered with the new signings coming in this summer, maybe a good squad player, but I would not envisage him holding down a first team place next year. Holland is a good solid player, although his biggest claim to fame seems to be his number of appearances, now 30, he rarely if ever misses a game. Without a dominant midfielder next to him, he is unable to hold the tide of on coming midfielders from breaking through Charlton's central midfield and protect the defence. He is good at linking between defence and midfield, but he needs a strong central midfielder next to him and Jensen is not that he is a playmaker, from the old school of playmakers who do not get stuck in, the laundry woman's friend as he never raises a sweat or gets dirty. Today he got some good passes in, but also lost a lot of possession either through wayward passing or being hustled off the ball by savage. When out of possession he was treated by the Birmingham players as a roundabout and they just went round his static position. Shaun Bartlett and JJ both combined well in the first half with each of them having a chance which they just failed to convert. It was disappointing to see no Shaun at the beginning of the 2nd half and we assume this was due to injury. JJ worked hard throughout the match and seems close to his best, but I doubt if he will ever be the goal scorer he once was. Paulo made a slow start in the 2nd half, but came alive once Cole was on, then they both looked lively and proved to be a handful for the Birmingham defnce. Euell came on for a short period and looked fine but did not really do a lot.
Crowd rating 6/10. Spasmodically backed the team and responded to the Birmingham taunts as the game progressed.