Sunderland and subsequent reports will appear here: Volume 12
TRACTORS' PARADE HALTED
No doubt at the beginning of the season the match was seen as a possible relegation decider between the plucky 'little clubs' promoted from their natural home in Division 1. Meanwhile, the 'real' champions of Division 1, Manchester City, would be seeking to confirm their place in Europe. As we all know, it turned out differently: the 'massive' club are fighting relegation, while it was Ipswich's hopes of a European tour that were dented by Charlton's 2-1 victory at The Valley. As we got our bus back to North Greenwich, a group of Ipswich supporters got on board, gum booted, wearing straw hats and with string tied round their waists.
It was far from a case of Charlton having it all their own way. The fluency and accuracy of Ipswich's passing had to be admired. At least two of the officials seemed to have been promised a complete model farm for their kids. In the first half, the normally solid Charlton defence appeared to be at sixes and sevens and the Ipswich equaliser was given away. Ipswich always looked dangerous in their surges forward. Nevertheless, Charlton held on and a second goal by Richard Rufus, to add to the earlier header by Matt Svensson, gave the Addicks victory.
Charlton made an unusual start to the game. The two forwards, Bartlett and Svensson (JJ was injured) lined up on the far left of the halfway line and moved forward from there, forcing an early but fruitless corner. The opening period was typified by a succession of unforced errors from Charlton. Chris Powell gave the ball away, a menacing cross was delivered and Rufus had to head it out for an Ipswich corner. Holland's header was not far over Ilic's crossbar. Jensen got in a long range shot which was on target but did not trouble Wright too much. A foul by combative Scott Parker on Holland gave Ipswich a free kick 35 yards out. Reuser's shot got past the wall and deflected off the post. But then good work by Rufus and Kinsella on the right gave the ball to Robinson on the wing. He put in a cross and Matt Svensson put an unstoppable header past Wright. Toy sheep could be seen being tossed around in the Covered End.
Ipswich quickly won a corner and then another two in quick succession, but the shot was well over the bar. Scott Parker had a good run on goal, but his final ball to Svensson was poor. Charlton were giving the ball away too often. Ipswich won another corner and this was taken short and played out to Reuser. His low ball somehow evaded the Charlton defence, who seemed to be at sixes and sevens, and trickled into the corner of the net past Ilic. Ilic was then called on to make good saves from Holland and Stewart, while a Reuser corner hit the side of the post. Charlton's only answer seemed to be to put hopefull balls forward where there was no one, or at best a lone forward, there to collect them. However, good work did produce an opportunity for Chris Powell who put his shot just wide. Shaun Bartlett managed to break away, but lacked sufficient support. What should have been a throw in was then gifted to Ipswich as a corner, but it was eventually cleared. Then Scott Parker was through, but he collided with Wright. Evidently injured, he had to be replaced on 38 minutes by Graham Stuart with Charlton then switching to a 4-4-2 formation. Robbo had the ball in an attack, but managed to lose it. Stuart battled through and should have had a go, but he laid the ball off to Powell. At half time the Addickted were probably grateful that it was 1-1.
Charlton started the second half brightly with a good run by Stuart which led to a throw in near the corner flag. Then it was Claus Jensen's turn to create some pressure. A blatant handball was ignored by the East Stand linesman. But then in another bizarre decision Ipswich were denied a clear corner. A free kick was comfortably collected by Ilic. A moment of danger was dealt with by Rufus, but then Reuser engaged in one of the most blatant dives of the season. As the ball was played up the field, a challenge on Svensson gave the Addicks a free kick. Jensen's free kick was effectively collected by Stuart at the far post and Rufus was able to break free and put the ball past Weight. A free kick awarded against Rufus gave Ipswich an early chance to equalise. Reuser put a dangerous, dipping ball over the wall, but Ilic tipped it over the bar. Robinson failed to clear the Ipswich corner and Ilic was called into action to save again. On 62 minutes a great chance to make it 3-1 was missed. Robbo put a good ball in, but the below par Bartlett somehow failed to connect. On 66 minutes top Premiership scorer Stewart was replaced by Burchill. An excellent throw in by Feesh allowed Bartlett to make an attempt on goal, but Wright saved. Ipswich made a break, but Chris Powell cleared the danger with a high, looping ball and clever work by Rufus avoided a corner. Then Reuser made a break which looked as if it would lead to an equaliser until Rufus made a superb tackle to put the ball out of danger. On 77 minutes Svensson, in a somewhat puzzling substitution, was replaced by Lisbie. Feesh created a good attacking move, but Robbo volleyed the ball over. An Ipswich corner was played out, but the tractor boys won a second. Sasa caught the ball with calm aplomb. An Ipswich free kick was way over. For a while it looked as if Steve Brown might come on, but on 86 minutes it was Claus Jensen who was replaced by Paul Konchesky to the ire of the row behind me. Makin collected a yellow card for throwing the ball away when the Addicks won a throw in. An Ipswich corner was collected comfortably by Sasa and another one in injury time was dealt with. Charlton's recent record against Ipswich has not been good, but this win brought back memories of the 5-1 win at Portman Road in 1995 which included a Leaburn hattrick!
Match analyst Bob the Dog was in fine fettle for the match having received a complete makeover in the morning from Coventry's leading canine beautician, Elaine Barker. He was awarded the Silver Bone to Richard Rufus for a superb defensive performance and a well taken goal. He will be missed while he is on his enforced absence thanks to the methane breather from Tring. The crowd shuddered collectively every time Ilic got near the ball, but in fact the recently capped international had a good game, making some excellent saves. His confidence seems to be back and his judgement is returning, apart from one kick out which, as one lister put it, 'returned with snow on it'. You don't notice Tood much, but what he does he does calmly and effectively. Feesh had a good game, sparkling in one attack. Powell had a curiously up and down game, giving the ball away too much in the first half. Robbo was involved in the first goal and created a great chance for Bartlett, but too often he seemed to be out paced and out battled by the tractor boys. Parker battled away as always, and his run on Wright was one of the turning points in the game. But sometimes he was almost too eager for the ball. Kinsella had a relatively quiet game, but what he did he did well. Jensen was very much involved in things and may well be in the running for Player of the Year. Bartlett didn't have his best game for the Addicks. Perhaps the non-appearance of his famous wedding guest demoralised him. Svensson had a great game. An excellent goal, but he was involved all over the pitch. He's more than a muscle man: the row of moaners behind me was heard to concede that he has 'a good footballing brain.' As he shakes off the legacy of his time with the Division 2 relegation candidates, his football is improving. Stuart added considerably to Charlton's game after he came on, makiing some of his trademark runs through the centre. Lisbie made virtually no contribution after his appearance. Konchesky had little time to make an impression.
Juneau the Soccer Cat has given the Hiss of the Match to the East Stand linesman. If Ipswich had won, he would have no doubt removed his top to reveal a blue shirt, while there seemed to be a sprig of straw behind his ear. In any event, his brain was largely made of straw to judge from his decisions.
Hello Meester!
'WORTHY OPPONENTS' TAKE THE POINTS
Anyone who bought the programme for Charlton's visit to Stamford Bridge would have been greeted with a photograph of 'Mr Football' Ken Bates trying to look genial with a glass of wine. In his column he patronisingly referred to the Addicks as 'worthy opponents'. Thanks to a Shaun Bartlett goal created by Claus Jensen the small club from South London took all three points from the European hopefuls.
While I was in China I missed a respectable defeat at Manchester United; a dismal one at Bradford; and a draw against Villa where the result seems to have been substantially influenced by the bizarre decisions of a methane breathing referee from Planet Tring. Courtesy of Beijing TV, I saw the goals from the United and Bradford matches, plus a short piece in Mandarin on the Curbishley-Peacock relationship. Each match segment was introduced against a background of the alternating logos of Manure and Chelsea. I at least did my bit for spreading the Charlton message when folklore singers from the Yi ethnic minority asked me to respond with an anthem from my country and I gave them Valley Floyd Road..
Having got back from China on Thursday evening, I must admit that I did not set out for the Bridge in confident mood. Nor was I alone: one other Addick match reporter E mailed me to say that we would be doing well to keep the score down to 2-0. I even had a headline prepared: 'No joy at the Bates Motel.' It was a headline I was more than happy to discard.
When we got to the Bridge, there was a sign on the pitch saying 'Keep off the grass, health hazard.' Perhaps the Chelsea players should have heeded it. A pensive and suited Keith Peacock prowled round the pitch and had a long chat with Paul Konchesky. The screens asked 'Need a loan?' which presumably most people do to buy a Chelsea season ticket. The home fans arrived late, no doubt fortified and confident. But they seemed to be subdued. We waited in vain for a chorus of Blue is the colour, money is the game, ripping off the punter, what a bleeding shame.
Given the final outcome, it has to be admitted that Charlton started hesitantly. There was early Chelsea pressure and three minutes into the game a fierce shot from Dalla Bona flashed across the face of Ilic's goal with the keeper well beaten. But on six minutes Claus Jensen played in a good ball allowing Scott Parker to put in a shot that was a near miss. The impressive Parker then provided a great defensive tackle. After a poor clearance, Ilic showed his mettle with a catch. Claus Jensen provide a good cross but all Robbo could do was direct a header at Chelsea's surprisingly dodgy keeper, Carlo Cudicini. Robbo then led a break which heralded a spell of Charlton pressure. Shaven headed referee Mike Dean flashed a smile at the Charlton section when someone shouted, 'ref, get your hair cut.' Humourists then tried to start a chant of 'who let the frogs out?'
In the thick of the action, Parker denied Le Saux, who soon established himself as a firm favourite with the Addickted. The programme included a feature on his annus interruptus. Scott Parker then made the mistake of colliding with Poyet while going for the ball and referee Dean, who generally had a good game, awarded Chelsea a free kick. Hasselbaink put in a fierce shot which Ilic managed to collect, but then spilled, but the ball was cleared. Charlton were make some good attacking moves and, after Rufus was brought down, they won a free kick. Andy Todd showed his worth with some good defensive headers. Chelsea won their first corner after eighteen minutes, but it was taken short and cleared. There was some good defensive work from Paul Konchesky, standing in for injured international Chris Powell. Tireless Shaun Bartlett was forced to concede another corner, taken this time by Zola, but the ball was headed over the bar. A Chelsea break was effectively halted by Feesh. Almost immediately, Feesh was again called into action to deal with another Chelsea break. It seemed that their strategy was to try and hit Charlton on the break, but the pressure was absorbed well by the defence and midfield. Parker put in another great tackle. Ranieri was clearly not happy: to borrow phrases from his programme notes it was 'very crazy' and did not show a 'good mentality'. He became 'very emotional' and used the opportunity of a break in the play to run out of his technical area and half way up the touchline with his interpreter in hot pursuit.
A few minutes after the half hour, Kinsella broke free and put in a ball to Jensen who put in a shot. The keeper managed to push the ball out, but it fell to Shaun Bartlett who was able to tap it home. Chelsea were clearly rattled and, following the award of a free kick to Charlton, Hasselbaink picked up a yellow for dissent. Some tension between Terry and Rufus led to a word from the ref. Then Poyet got a yellow for putting in a kick after a tackle. Wise managed to put the ball hopelessly wide. Parker won the ball off Le Saux again who went into full whinge mode. JJ broke through and was one on one with the keeper but somehow he summoned up everything he had learnt from Italian village football and managed a save. Dennis Wise received a yellow card for a foul on Scott Parker. Chelsea were awarded a free kick to the right of the goal as seen from the Charlton seats, but a potentially threatening situation came to nothing. Chelsea won a corner which was taken by Wise, but the shot was over. Then the whistle blew and Charlton went in 1-0 ahead.
After a half time penalty shoot out between two fans for a Vauxhall Astra, the car of choice of Ken Bates, the Blues came out for the second half early. Their maestro had decided to take off Hasselbaink and Zola (the player he is so anxious to keep) and bring on Gudjohnsen and Gronkjaer (who, according to the programme, regards a reliable supply of hot water as one of the things he expects from a club). Feesh, who had been reliable throughout the first half, was taken off in favour of Steve Brown. The only explanation can be a recurrence of fin damage.
Charlton are often vulnerable early in the second half and they made a hesitant start. Chelsea won an early corner and then a second, the ball going across the front of goal this time. It was partially cleared, but then fully cleared by Scott Parker. He was then instrumental in stopping a break with a good tackle. JJ won a corner for the Addicks, followed by a second, which then led to a Charlton throw in near the flag. A break by the Blues was dealt with calmly by Andy Todd. Jensen had a great run from one end of the pitch to the other, but found himself offside. A rather dubious award of a free kick to Chelsea led to a Chelsea corner. Jensen burst through again and passed the ball to Konchesky, but the cross he put in was greeted by the offside flag. Rufus was brought down, leading to a Charlton free kick. A rare Chelsea threat led Sasa to push the ball out for a corner which was followed by a second. This was perhaps Chelsea's most threatening period, with Le Saux putting in a shot that was just wide of Ilic's post. A Jensen free kick in a threatening position came off the wall and led to a Chelsea break which ended in a corner. This was partially cleared, but then an excellent feint by Todd produced a Charlton goal kick. Scott Parker won a Charlton corner.
On 76 minutes the fading Robbo was taken off in favour of Kishishev. Kinsella put in a great tackle. When Chelsea were awarded a free kick to the right of the goal on the edge of the box for a foul by Paul Konchesky, the Addickted of little faith feared this might produce the equaliser at a dangerous point of the game, but it all came to nothing. On 78 minutes Scott Parker came off to a great reception from the Addickted with Graham Stuart taking his place. Kishishev showed good defensive skills when he covered the ball to produce a goal kick. Chelsea had a free kick on 83 minutes but the resultant shot was well over. On 86 minutes a Chelsea free kick led to a worrying goalmouth scramble, but Stuart was able to clear the ball. Charlton were still looking threatening when they came forward. As usual, the four minutes of time added on seemed endless. Steve Brown made a defensive header under pressure which Sasa caught cleanly. Jensen had a chance to score in front of goal, but hesitated and the chance was lost. Chelsea had a last minute corner, but were unable to make anything of it. Finally, the whistle blew. One thing was certain: one could expect some media inquests on what was wrong with Chelsea.
Match analyst Bob the Dog has awarded the coveted Silver Bone to Claus Jensen for a tireless and skilled performance in which he mixed it on more than one occasion. He also effectively created the winning Charlton goal. It was another clean sheet for Ilic , although Yugoslavia's No.2 seemed uncertain what to do in some (admittedly rare) threatening situations. Todd was a model of calm reliability once again. Feesh had a good first half and must have been substituted because of injury. Konchesky showed once again that we have a good alternative to Chris Powell at left back. Rufus was under some pressure from the Chelsea players, but stood up to it well. Robbo started well, but seemed to fade as the match went on. Kinsella made a number of good tackles and had a couple of excellent runs, one being the start of the move which produced the winning goal. I did not have space to mention all the good tackles I noted as being made by Scott Parker. It was another outstanding performance. JJ seems to be having a bit of a scoring drought, but I noted a number of occasions on which he won the ball. Bartlett was busy in defence as well as attack, an excellent performance. Steve Brown showed once again why he is such a dependable player to have on the bench. Stuart who has been having injury problems did an effective job when he came on.
Juneau the Soccer Cat has given the Hiss of the Match to Ken Bates for being Ken Bates.
The East is Red: no reports until Chelsea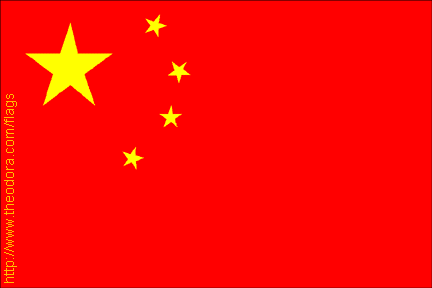 <!Begin Link to Flag Page-->
Flags courtesy of ITA's Flags of All Countries used with permission
<!End Flag Link-->
We very much regret that there will be no reports until the Chelsea game. I have been sent to China on a one man EU mission, initially to Beijing, but then to Kunming in the south-west of the country at the end of the Burma Road. Watching Premiership football is a favourite Saturday evening activity in China, but unfortunately I am informed that Kunming is a hotbed of fanatical support for Palarse.
CHARLTON IN CHARGE
A commanding Charlton performance saw the Foxes given the brush off in front of the Sky cameras at The Valley on Sunday. While the Addicks were undoubtedly helped by what the Financial Times called Leicester's 'agricultural' style of play,it was one of the most convincing Charlton performances of a successful season. The Addicks went 1-0 ahead in the first half with Andy Todd's first goal for the club. The second half saw a stunning volley by Shaun Bartlett which will surely be one of the contenders for goal of the season. The 2-0 victory left the Addicks in eighth place in the Premiership and still with a chance of a place in Europe.
Fluent and authoritative play from Charlton was evident from the kick off. Jensen powered through and put in a ball to Shaun Bartlett but the Springbok was deemed to be offside. Jensen was in the thick of things again after six minutes with an on target shot which was nevertheless easily saved by Royce in the Foxes goal. Scott Parker was impressive in midfield with a battling performance. Then it was the dangerous Dane again on ten minutes with a powerful shot from nearly thirty yards out which brushed the top of the bar. JJ then found himself in Finn air and charged through the centre, but was the victim of a marginal offside decision. Leicester won a corner on seventeen minutes, very much against the run of play. Impey put in a decent attempt, but Benjamin was unable to make anything of his shot. After a spectacular dive, Leicester were given a free kick about thirty yards out and a little to the left of the goal. Some trouble in the wall led to referee Winter giving Sturridge and Todd a theatrical talking to. With the referee spotting more trouble, he pulled Todd out again and gave him a yellow card with a sweeping gesture seen by the millions watching Sky. After all this drama, the free kick came off the wall. Scott Parker was then pushed over as Charlton started an attack, but Mr Winter was giving nothing to the home side.
On the half hour England's No.3 found himself in a central attacking position and put in a strong shot which Royce did well to push out for a corner. Jensen's corner was met with a powerful header by Bartlett which crashed against the bar. Todd reacted quickly to the rebound and put the ball in the net from a yard out. But the game quickly turned into the winter of our discontent as a stunning dive from Eadie earned Scott Parker a yellow card. (Those who have seen the television replay say that this was a clear foul and Parker was lucky not to get sent off). Eadie was injured and had to be replaced on 39 minutes by Oakes. Chris Powell put in a good cross to Stuart who drew a save from Royce. On 43 minutes Impey tackled Parker from behind and even Mr Winter, who had already been seranaded by the crowd, was obliged to issue a yellow card.
Simon Royce received generous applause from the Covered End when he came out for the second half, to be seranaded a little later with a chant from around the ground of 'You should have stayed at The Valley'. Chris Powell put in a good pass to Bartlett and he sent the ball over the Leicester defence to JJ. The Finn put in an excellent shot, but once again Royce pulled off a superb save at the expense of a corner. This was cleared easily enough. Shaun Bartlett required treatment for an injury which appeared to have been inflicted by Davidson. Then it was the turn of fair play exponent Dean Sturridge to injure Rufus off the ball, earning him a yellow card. Charlton won a corner, but Royce caught it. The game was getting a little ragged and the Bloke Behind Me, who had been stunned into relative silence, started to bellow 'There's no width.' On the hour Taylor decided to ring the changes and Sturridge was pulled off for Gunnlaugsson. A difficult high ball was caught well by Ilic. Curbs decided to go for a double substitution, replacing Raddo with John Robinson and Scott Parker with Mark Kinsella. A Charlton corner was taken short and wasted. Leicester took off Davidson and brought on Akinbiyi. A JJ header went just over. An excellent tackle by Richard Rufus averted danger. JJ put in a good cross but there was no one there to contect. Graham Stuart put in a shot which drew a save. Two Charlton corners in succession ended with JJ putting in a header which was collected by Royce. Then on 81 minutes Stuart picked out Bartlett with a ball that went over the defence and Bartlett struck a cannonball of a shot which left Royce with no chance.
JJ was pulled off for Svensson. A long and high Leicester free kick produced a good save from Ilic, followed shortly afterwards by a punch out. Winger Richard Rufus put in an excellent cross to Chris Powell, but the England man's shot went wide. With Benjamin through, Rufus put in a classic tackle that sent the ball out of play. The Bloke Behind me stormed out. Then it was all over and a number of his former teammates went to embrace Royce.
Match analyst Bob the Dog has no hesitation in awarding the Silver Bone to Shaun Bartlett for an outstanding goal, but also for an excellent performance of commitment and skill throughout the match. Ilic was not put under too much pressure by Leicester, but it was another clean sheet and a commanding and cool performance. Rufus had an excellent game, making some crucial interceptions. Before the match Sue Allen and Tracey were demonstrating special sunglasses that displayed slogans like 'I love CAFC' to anyone looking. This was appropriate given that we saw Todd A-0 in action with a deserved goal from the dependable defender. Powell seems to have benefitted from his spell with England, appearing in good attacking positions more than once in the game. Fish was a model of reliability and Kishishev had an excellent game, often foraging forward. Jensen was particularly outstanding early on in the game. One manoeuvre saw him loop the ball over the Leicester defenders and then appear beyond them to collect it. Parker was a model of commitment and skill. Stuart supplied the assist for Bartlett's goal and generally had a good game. JJ had a number of good attempts on goal, but none of them went in. Robbo gave the width the Bloke Behind Me had been pleading for when he came on. Kinsella played with calm skill, if not with brilliance. Svensson put himself about, but was not on long enough to make an impression on the game. Juneau the Soccer Cat has given the Hiss of the Match to whistle happy referee Winter who clearly realised that this was a big day for a lad from Stockton-on-Tees and gave the cameras every chance to capture his theatrical gestures. I bet he had been practising his yellow card movement in front of the mirror.
They were out foxed

We welcome the fans of Leicester City (photo, courtesy Leicester programme) to The Valley
WHAT A DISGRACE!
This was the reaction of the Bloke Beside Me after Charlton had gone down 1-2 at home to Leeds United. And one could understand what he meant. A poor referee; intimidation by Leeds in the first half; poor goalkeeping; a loss of confidence by Charlton after they went behind in the second half; and a denied penalty in the closing minutes of the game.
On a cold and wet day, with the pitch in poor condition, Charlton decided to start the game by changing ends, playing towards the Covered End. Leeds kicked off and within twenty seconds Harte put a long ball forward, it was flicked on by Smith and Viduka was one-on-one with Ilic and the ball was in the back of the net for what was apparently the quickest Premiership goal ever. Charlton tried to get back into things with Jensen playing the ball into Kishishev but Martyn made a diving save. Leeds won a free kick. The ball was played back in after being cleared and captain Richard Rufus was forced to concede a corner. Leeds won a second corner, but it Charlton won an offside decision. Viduka (who is in a close run contest for the FA Humility award with City's Weaver) was yellow carded for a foul on Parker. Then Bartlett gave the Addicks renewed hope on eighteen minutes. Rufus put a free kick into the area, Martyn came out and Bartlett headed the ball into the back of the net
A Charlton corner gave further momentary hope, but then Feesh had to come to rescue in front of the Charlton goal at the expense of a Leeds corner which was cleared by JJ. Choirboy Alan Smith was the next Leeds player in the referee's book, the tally eventually to reach five in the half. JJ was the next player in the ref's book for a relatively innocuous challenge. Robbo put a good ball into Bartlett, but Martyn made the save. Next it was Powell's turn to put a good ball into Bartlett but it went just past the post. Kewell was next to receive a yellow card and then it was Scott Parker's turn. These latest decisions provoked an unusual joint chorus of 'you're not fit to referee' from both sets of fans. Danny Mills had been greeted by boos every time he got the ball by some of the home fans and he was the next player in Mr Wilkes' collection. Tempers boiled over with Scott Parker felled and a general scuffle broke out, Beatty entering the referee's book. Bartlett found himself with a chance two yards out, but even though he fluffed it, he was ruled offside anyway. The talk at half time was about the inevitability of someone being sent off, with fears being expressed that Leeds might provoke a Charlton player into retaliation.
Before the match the consensus among supporters I talked to was that we would be happy with a draw. And this still seemed a possibility when the teams came out for the first half. Charlton started brightly with an attack on the Leeds goal which culminated with Jensen turning provider for Parker. Unfortunately, Parker's shot was somewhat fortuitously blocked and Viduka took the ball right up to the Covered End, playing it into Smith. Kevin Nolan's favourite player had experienced eighteen matches without a goal, but he had not met a keeper like Ilic recently and Smith was able to place the ball between his legs, putting Leeds 2-1 ahead within a minute of the resumption. There was another anxious moment when the ball bounced off Ilic and Rufus had to power the ball out for a corner, with his shot not far wide of Ilic's post.
The second goal for Leeds had the effect of severely denting the confidence of the Addicks while the visitors calmed down and did not earn any more yellow cards in the second half. Indeed, their physical play in the first half had undoubtedly achieved its objective. Roared on by their fans, Leeds were able to snuff out half hearted attempts by Charlton at getting back in the game. A limping Fish had to be pulled off for Kinsella. The only Charlton shot of the half was blasted in by Jensen but it went over the top of Martyn's crossbar. In an attempt to change the balance of the match, the impressive Parker was pulled off for Svensson. Todd took his life in his hands when he headed the ball at Ilic. Matt Svensson put in a useful ball to JJ, but his shot was well wide. In his enthusiasm to create something, Svensson collided with Martyn.
With the Bloke Behind Me enjoying his gloomy prediction of 3-1 to the visitors, Todd made a good interception. Curbishley used his last substitution by pulling off Kishishev in favour of Salako. Leeds decided they could afford to replace Kewell with Wilcox. With Leeds continuing to threaten, Chris Powell made a good interception. After a Leeds free kick was awarded for holding by Rufus, Harte put the ball over the top of Ilic's crossbar. Ilic in fact had the shot covered and he followed this up with a save with his feet. He then made a save from Bowyer who admittedly shot straight at the keeper. The extent to which the frustration was getting to the Charlton players was shown when Todd recieved a yellow card for kicking the ball away. Then in the final minutes JJ was felled in the box. From where I sat, this looked like a clear penalty, but if it was not, then why wasn't JJ given a yellow card for diving. As the match came to its inevitable end, a number of Charlton players remonstrated with referee Wilkes who was also the subject of critical remarks by Curbs afterwards.
There was no clear candidate for the award of the Silver Bone, but Chris Powell put in an assured performance which hopefully impressed England boss Sven Goran Eriksson who was watching the match. How some people think Ilic is a better keeper than Kiely baffles me. With Kiely in goal we might have salvaged something from this match. For the first goal, he was let down by the defence, but it should have been possible to save the second. Rufus was perhaps not the best choice for captain in a match of this kind, but he carried out his defensive role in an accomplished fashion. Steve from Sidcup thought that Todd deserved praise for being perhaps the only player not thrown off balance by the aggressive Leeds approach to the game. Fish seemed a little below par (where was he for the first goal?) and I wonder when he picked up his injury. Kishishev was as involved as ever, but sometime seemed to be out of position. He did, however, perform a superb flick by the East Stand during the first half. Jensen had some problems coping with the physical approach of the Leeds players: Stuart, presumably ill or injured, was missed. Parker had a battling game in midfield, displaying some real skill, and he was missed when he was substituted. It has been a long time since Robinson ha started a game, but he contributed relatively little apart from a couple of crosses to Bartlett. Bartlett had a good game in the first half, taking his goal well. He was committed throughout. JJ was greeted by donkey noises by the Leeds fans at one point. This was not his best game, but he was not that bad either, although some of his most vital interventions were defensive ones. None of the three substitutes made a real difference. Kinsella seemed to be affected by becoming a father for a third time, unnecessarily playing the ball backwards and seeming very static at times. One can understand why he was not given a start. Svensson made an effort, but seemed less combative and effective than usual. Salako made one run down the wing, but then seemed to injure himself.
Juneau the Soccer Cat has no hesitation in awarding the Hiss of the Match to referee Mr Wilkes who was completely unable to keep control in the first half and missed (or bottled out from taking a decision on) a blatant penalty at the end.
The number of Addickted who have visited this page is

---
Links for the Addickted
Official Charlton web site: Live Audio interviews and much more
Political Economy of Football: News and analysis of the business side of football

---
WynGrant
East Stand
Block E
In front of the , Bloke Behind Me
---
---
---