Our 2004-5 reports can be found at 2004-5
Addick's Premiership Diary 2003-4, Vol.1
Please note that our Blackburn report (introducing new match analyst Monty Martin) will appear at Blackburn
DEFENSIVE HOWLERS PRODUCE THREE DEFEATS IN A ROW FOR CHARLTON
Basic defensive errors saw Charlton go down 2-4 at home to Spurs at The Valley on Wednesday. It was a pulsating match and in many ways a spirited performance by the Addicks, but that is no consolation for three defeats in a row. Once errors by Paul Konchesky had allowed the Haringey club to go ahead after ten minutes Charlton were chasing the match. All looked lost when they showed their all too familiar vulnerability at the start of a half and allowed Spurs to go 0-3 ahead some forty seconds into the second period. To their credit they fought their way back to 2-3, but their eagerness to get back into the game left them exposed at the back, leading to the final scoreline.
Spurs kicked off, but the Addicks soon mounted an attack. Kishishev released Paul Konchesky who put in a thunderous shot which went just past the top right of the crossbar at the Jimmy Seed end. Meanwhile, Defoe was welcomed to The Valley with a chant of 'Judas'. With Deano out of his goal a Spurs effort went just wide. In the light of later events, it is interesting that I wrote 'uncertain, hesitant defending' in my notebook at this stage. Carlton Cole was looking bright, though, and controlling the ball well. The defenders, however, looked as if they were suffering from a serious panic attack. Spurs won a free kick but fortunately it was overhit. Charlton were caught by the offside trap for the second time. The Addickted serenaded the visitors with 'you're just a small club in Arsenal.' Spurs burst through and Deano was in a one-on-one but he managed to deflect the ball enough to confine the damage to a Spurs corner, followed by a Spurs free kick. Carlton Cole managed to get through the Spurs defence but his effort was deflected for a Charlton corner which was met by a poor header. Konchesky lost possession, put in a crazy header towards Deano, raced back to deal with the damage and managed to deflect the ball from Davies so that it bounced off the post and into the net to make it 0-1.
Carlton Cole broke through, but allowed Keller to save when he should have either passed the ball or had a shot. A shot from Jensen was straight at Keller. Good work by Jensen and others won Charlton a corner but it was saved. Carlton Cole put in a speculative shot but it was well over. There was trouble in the lower portion of the Covered End and at one point a steward appeared to be bundled down the steps by someone who was presumably a Spurs supporter. Kishishev was injured and Graham Stuart eventually came on in his place. Referee Barber had no alternative but to award a free kick and a yellow card for a foul by Feesh. The Spurs free kick came off the wall. A Charlton free kick won by Konchesky was punched out and led to a Charlton corner which Graham Stuart tried to make use of with an excellent angled shot, but Keller somehow managed to deflect it on to the post. A Charlton free kick by Jensen was easily saved by Keller. Spurs broke away powerfully and a low cross from Davies was pushed into the path of Defoe by the error prone Konchesky. Kiely managed to save, but the ball rebounded in off Defoe, some say off his head, others off his arm. 0-2. Konchesky turned provider for Carlton Cole, but his powerful shot rebounded off the underside of the bar. The Herminator was brought down for a Charlton free kick which came off the wall. Charlton played the ball in again and won a second free kick and there was a shout for handball in the area. Graham Stuart powered through and the ball was in the net, but the lino had raised his flag. This incident was not shown in the half time highlights which is interesting given the rule that nothing controversial should be shown in case the ire of the crowd is aroused.
Charlton kicked off, but it did them no good. This time Chris Perry was at fault as he made a half clearance from Keane, presenting King with a scoring opportunity to make it 0-3. Luke Young put in an effort which was deflected for a Charlton corner and once again Graham Stuart was in the thick of the action. His goal on 51 minutes gave the home side some hope. Bartlett was withdrawn in favour of di Canio. A Spurs corner ended in a Charlton free kick. Luke Young received a yellow card but the Spurs free kick went over the bar. A Charlton free kick led to a Charlton corner and an effort from Feesh was just over the crossbar. Graham Stuart won a Charlton free kick which led to a throw in for the home side and then a corner. Inadvisedly this was taken short, allowing Spurs to clear and then break, but the threat was well defended by Luke Young. Cole was injured and had to be replaced by Euell shortly afterwards. Spurs started to get into the game after a sustained period of Charlton pressure. A foul by Chris Perry earned him a yellow card. Graham Stuart won Charlton a corner. It was taken short, but this time it was productive. Chris Perry put in a header to make it 2-3 on 81 minutes. It was sweet revenge, giving that the Spurs fans had earlier been singing 'same old [deleted] useless Chris Perry.'
Could a 3-3 or a 4-3 be possible? The answer came four minutes after Perry's goal when a Feesh error allowed John Jackson to make it 2-4. 'There's only one Jonnie Jackson' chanted the Spurs supporters, probably something the Sky Blues sung when he was on loan there. The chant that hit home of some of the Addickted was 'Champions League? You're having a larf.' Good defensive work by Perry stopped a Spurs break. Deano made a good save at the expense of a corner. Euell won a free kick which was followed by a throw in. Only two minutes were added on which was suprising given the interruptions during the half. Four minutes were found at Old Trafford where United were losing 2-3. Nevertheless, Charlton didn't give up. A cross in front of goal produced a Charlton corner and then a second. But the outcome was by then beyond doubt. Gloomsters say that the annual slide has already started, but I see it is a bad patch. Sixth is still the best position we have had in the Premiership at this time of the season. But the match against Blackburn now becomes vital.
Match analysts Hooch the Pooch had come down to London early to go round to Stamford Bridge to see if he could recover all the Silver Bones he had given S*ott P****r back, but there was only a gentleman who looked like a janitor there who told him to get lost (but bore a strange resemblance to Ken Bates). Unusually, he awarded the Silver Bone to a substitute Graham Stuart who played with spirit after he came on, scored one goal and might have been awarded a second if the lino hadn't been overcome by fumes from Graham Barber's methane breathing appartus. Deano let in four goals and was obviously not a happy bunny as he left the pitch, but in many ways he was let down by his defence. Perry was at fault for one of the goals, but also scored one and still represents good value for £100,000. Feesh had a poor game, despite some decisive if somewhat directionless headers. Young did not have a sparkling game against his former employers apart from a couple of bright moments. Kishishev was enthusiastic, but his balls often lacked a clear destination or sufficiently precise direction. Hreridarsson was as always one of the better players. Konchesky seemed over eager to please in his desperation to show that his loyalties are still with Charlton and as a consequence made basic errors. Holland was less evident than he is in most games, indeed the whole midfield often seemed to fail to provide the forwards with the necessary service. Given the advertised 'wholesale changes', we thought that Jensen might have been one of them. He was hardly a dominant force. In the pub before the game we had all been enthusiastic about a Bartlett/Cole pairing up front but Bartlett disappointed and did not seem fully involved. One suspects that he is not yet match fit. Views about Cole tend to be negative rather than positive. He is a tricky player, although he can be hustled off the ball rather easily for such a big guy. Di Canio lifted the game after he came on, displaying his usual guile, commitment and skill. Euell was useful enough, but never really decisive.
Juneau the Soccer Cat has directed a loud hiss at Taricco for his time wasting antics, his 'What me, guv' responses to Barber and his obnoxious goal celebrations after the fourth Spurs goal.
Crowd rating: The guy who writes the Casino Avenue blog was critical of the passivity of the crowd, although he seems to sit in a thermos and tartan blanket area, although that is perhaps preferable to being showered with spittle by the BBM. I thought they got behind the team when things look grim. The Spurs supporters certainly made a lot of noise, though. 7/10.
HARSH PENALTY ENOUGH TO GIVE CHELSKI THREE POINTS

Westcombe Park Addick Paul May reports from the Bridge
I was going to meet some of those Rodsters at the Prince of Wales, but I had a skinful at a mate's birthday do last night, so I thought I ought to keep a clear head to do this report. This gave me more time to read the programme and I was interested to see that the column of cuddly Ken Bates no longer appears. Euell has not recovered from his injury against Bolton so both Jensen and Konchesky are in, meaning that we have one former Academy player in the squad. Chelsea had Sullivan in goal for only the second time this season.
Charlton under pressure
Chelsea started with an early attack and Deano saved a thirty yarder. Feesh made an error, but the Addicks recovered. JJ burst down the right but put the ball too far forward for a Chelski goal kick. Gronkjaer hit the crossbar, Hasselbaink couldn't follow through. The Addicks were under pressure in the first five minutes. Johnson to Hasselbaink, Kishishev intercepted, Lampard got the ball but his shot was just wide. Gronkjaer dived in the area and he was shown a yellow card by referee Steve Bennett. Charlton continued to look sluggish and were having trouble in getting out of their own half. Johnson was fouled about 25 yards out just to the right of the D. Huth's shot lacked direction and went six yards wide. Perry put in a challenge on Hasselbaink and Charlton were given a free kick. Charlton won a corner through work by JJ and Konchesky. Chelsea played the ball out. Great forty yard cross-field ball by the Herminator to di Canio, but Sullivan collected. A quarter of an hour gone and the Addicks were getting into the game a bit more.
Penalty: Chelski score
Hasselbaink put in a poor free kick. Di Canio put the ball into Row Z from a Charlton throw. Chelski won a corner, the Addicks cleared. A shot from Mutu was blocked, but Bennett judged that Hasselbaink had been hauled down, a harsh decision. The Charlton players were furious, particularly the Herminator who ran thirty yards to confront the referee. Deano went to his right and Hasselbaink put it the other way to give the home side their first goal at the Bridge this year. Johnson went down on the edge of the area, but this time Bennett was not interested. Di Canio and JJ were isolated up front. Mutu got past Perry but his shot was wide. Gronkjaer turned provider for Hasselbaink, but he put the ball over the bar. Bridge put in a cross, but Deano did well to deny Hasselbaink. A mistake by Melchiot nearly gave Charlton a chance with Konchesky threatening. Gronkjaer was giving Kishishev a torrid time and evaded the Bulgarian again, but Deano was there to deal with the ball. Jensen found JJ who nearly got away but was stopped by the last man, Gallas. Kishishev tried to find di Canio, but he was not in the game much. An injured Graham Stuart came off on 40 minutes and was replaced by Luke Young who moved into the right back position. Charlton made a good attack, but it petered out. Di Canio surged forward, but JJ was offside. Graham Poll announced one minute added on as a disappointing half for the Addicks came to an end. Luke Young gave away a free kick in a dangerous position between the penalty area and the touchline. Jensen defended the swerving ball by the near post at the expense of a corner. Glen Johnson put a shot into the side netting.
Half-time: Chelski 1, Addicks 0
At half time P****r was introduced to the crowd, not from the pitch, but just waving from his seat and was greeted with a few placards from the Addickted. Feesh tackled Mutu well. Jensen foraged forward. After some doubt, thanks to an intervention by the lino, Charlton got a corner rather than throw in. A lot of yellow shirts in front of goal, Charlton put on some pressure. Kishishev put in a good thirty yard cross, but Sullivan cleared. Mutu put in a cross, but Luke Young cleared. Charlton were looking better, putting a few passes together at last. A dangerous ball was put into area by di Canio, but JJ did not connect well and the ball went into the crowd. A Chelsea free kick went into the side netting. Matt Holland took a free kick quickly, but it was unproductive. Gronkjaer put the ball right across the box, but it was too strong and Charlton cleared. Chelsea were looking less impressive as the hour passed, but could Charlton take advantage? Matt Holland was doing his best to lift the team. Good play by Kishishev came to nothing. A shot by Hasselbaink deflected off Feesh and Charlton cleared. Hasselbaink shot again but it was straight at Deano. JJ was disappointing and it looked as if Bartlett was coming on, but nothing happened. Konchesky got a talking to for following through on Johnson. Chelski kept trying to find the on form Gronkjaer. Chelsea broke after a Charlton attack. Huth denied JJ. Hasselbaink charged Deano, but he held on to the ball. Perry put in a good challenge to deny Chelsea. Jensen and Kishishev caused Chelsea some trouble. Chelski conceded a free kick in a dangerous position. Konchesky's effort went well over the crossbar, leaving former Womble Sullivan untroubled again.
Bartlett comes on to strengthen attack: storming finish
Hasselbaink went off and Gudjohnesen came on, showing that Chelsea have strength in depth on the bench even with a depleted team. Surely the time had come to make a change in the Charlton attack? A good run by Jensen gave Charlton a corner with Chelsea at risk of an own goal. Matt Holland put the ball wide. Konchesky went off for Bartlett to strengthen the Addicks attack, but it was Chelsea who immediately threatened, but the ball was cleared for a swift counter attack. JJ put in a cross and Bartlett headed marginally over the top. Charlton mounted another attack which tore the Chelsea defence to shreds and won a free kick in a promising position. Jensen put in an excellent free kick and it nearly went in. Gudjohnsen broke and turned provider for Mutu, got past Keily but put the ball behind the goal. Mutu put in a good shot, but Perry put in an important block at the expense of a corner. Mutu got a yellow card. Ranieri was looking very agitated. Gudjohnsen broke, Johnson got the ball and Mutu hit the bar. Charlton continued to play with spirit in the search for a way of hanging on to fourth place. Chelsea broke with Gudjohnsen after an Addicks attack and Deano made an absolutely superb save at point blank range from Mutu. Lumphard broke through for Chelsea, but the Addicks intercepted. Bartlett threatened, but Bennett gave a free kick. Chelsea forged forward again in the last minute of normal time. Three minutes were added on. Mutu put in another shot, but it was wide. Charlton refused to give up. Jensen, impressive throughout the second half, found Bartlett but Sullivan was able to gather a poor cross. It was a spirited performance by the Addicks in the second half, but it was not enough to cancel out the first half penalty. See ya.
CHARLTON GET THE TROTS AT THE END OF S****Y WEEK
It has probably been the most dismal week since Charlton were promoted for the second time to the Premiership. The departure of Scott Parker to Chelski robbed us of our most creative player, someone who had been nurtured at Charlton. Fans would have been more understanding if he had stayed until the end of the season, but as it was there were plenty of takers for the mugshots of Parker with 'Traitor' and 'Judas' stamped across them being handed out by Tracy from Dartford at a well known local hostelry. The misery was confounded by the 1-2 defeat of the Addicks by the Trotters. Although I think that Bolton are one of the most underrated teams in the Premiership, most of the Charlton team put in a below par performance. This was a match we needed to win to consolidate our fourth place. Although the Champions League was always probably an unreachable dream, a UEFA cup place remains a feasible target, and at a very minimum we must aim for a top ten finish. Incidentally, the fact that no cards were handed out yesterday must help our chances in the Fair Play League.
Curbs had a special and well measured appeal to the crowd broadcast before the match. Recent events have probably strengthened the bond between him and the fans. The match got off to the worst possible start with Bolton scoring after 23 seconds. Jaaskelainen punted a long bill up field and assisted by W. Wind, Perry was unable to prevent Davies making contact. He nodded the ball down to Pedersen, and with Fish and Kishishev both stranded, he only had Deano to beat which he did without difficulty. A Charlton free kick was converted into a corner, but the opportunity for a header was missed. Stuart was released by Euell but was checked as he advanced on goal. Excellent work by di Canio set up Jensen but in a goalmouth scramble he was only able to hit the post. More skill by di Canio set up Jensen, but he overhit the ball. Feesh put in an excellent ball along the ground to JJ, but Jasskelainen dived to make the save. On 12 minutes, excellent work by the Herminator started a move that allowed Jensen to turned provider for JJ who put a diving header into the back of the net to make it 1-1.
Charlton continued to play well in the first half, although the strong wind, intersperesed with bouts of heavy rain, did not provide ideal playing conditions. Sometimes the Addicks seemed to lack width. Deano was called on to make one good save and a dangerous moment in front of goal led to a Bolton corner. A presumably injured Stelios had to be withdrawn in favour of Ba which meant that there was no number 7 on the pitch. Bolton won another corner, but JJ neatly stepped out of the way to ensure that it went out of play on the other side of Deano's goal. Matt Holland put in a good tackle to avert danger. A good attack produced a Charlton corner, but the ball was punched out, leading to a second corner which was eventually cleared. A Bolton free kick after a foul by the Herminator led to a Bolton corner, but a free kick was awarded to the Addicks for pushing in front of goal.
Euell is stretchered off
Just after the half hour, Euell went down with a problem with his foot. The stretcher had to be called for and he was taken off. Carlton Cole eventually came on in his place after quite a long delay. As I saw it, this was something of a turning point in the game as it disrupted the experimental 4-3-3 formation and after that the midfield never seemed to be quite sure where they should be. A Bolton free kick was awarded after Campo went down, confirming his popularity with the Addickted. Kishishev surged forward, but instead of crossing the ball, he put in a shot that was well wide. Or perhaps it was a cross that was caught by the wind? In time added on, mysteriously only two minutes given the time that Euell had been down, JJ had a couple of opportunities, but was unable to make anything of them.

Stuart forged through with a good run at the start of the second half, but the keeper saved. There was a dangerous moment, but Deano was able to make the save. The Addicks were not controlling the match and Bolton won a corner, followed by a second, with Carlton Cole clearing. The Addicks won a corner, but it had to be re-taken after the Herminator got in trouble with referee d'Urso. A storming Bolton run called on Deano to make another save at the expense of the corner. N'Gotty managed to hit the ball as high into the Covered End as it has probably ever gone. A good attack led to a Charlton corner. Some good work by Carlton Cole allowed him to put in a stinging shot which was saved. Kevin Davies was replaced by Moreno. Charlton were not given what looked like a clear free kick in what would have been a promising position in front of goal.
Luxury player taken off
On 73 minutes Konchesky replaced the disappointing Jensen. Stuart burst through, but Konchesky's effort was straight at the keeper. Konchesky burst down the left, but JJ's effort was directed straight at the keeper. A Bolton free kick led to a Bolton corner. The ball was cleared, but not far enough and Nolan slammed in a shot. For a fraction of the second, it looked as if Deano might be able to push it out, but he was not able to control the ball and it was 1-2.
Charlton made increasingly frantic efforts to get back into the game which left them exposed at the back to Bolton's ability to break. In between denouncing Curbishley's failing as a manager, the Bloke Behind Me was forecasting 1-3. Stuart made an effort that was on target but straight at the keeper. The Herminator won Charlton a corner. Bolton replaced Pedersen by a defender, the inaptly named Simon Charlton. The ball was scrambled away and Paul Konchesky was called on for some good defensive work to deal with the threat from Bolton. Kishishev had a shot but he should have passed it to someone else to build up the attack. With three minutes added on, the Bloke Behind Me stormed out. Graham Stuart won Charlton a corner and Carlton Cole's effort was only just over the bar. Then JJ put in an attempt that was not far past the post. It was left to the stalwart Stuart to put in one last effort. We still have to beat Bolton at home in the Premiership. It was not a good day at the office, but Charlton's true fighting spirit may come through at Cheslki. (Thanks to Geoff Keys for the headline).
Returning match analyst Hooch the Pooch awarded the Silver Bone in a special presentation ice pack to Hermann Hreirdarsson. Olafur Johansson's hero was tireless in defence and attack, popping up everywhere and making a substantial contribution to the more creative moves in the match. Deano made some good saves but arguably he should have stopped the second Bolton goal. The Bloke Beside Me even raised some question marks about him. Chris Perry was known at Wimbledon as 'The Plug' and in general he carried that role out well. Once again Curbs has shown his eye for a bargain. Feesh was partly at fault for the first Bolton goal, but otherwise was solid enough. His performance in the African Footballers' Wives programme was also impressive. Kishishev (who made a cameo appearance at maison Feesh in the BBC3 programme) was too inclined to succumb to a rush of blood in the head and put in speculative efforts. He was also complicit in the early Bolton goal. Returning from his suspension for excessive criticism of Graham Stuart , Hooch the Pooch was full of praise for the midfielder, commenting that he was a transformed player. He was an impressive presence in the centre of midfield, surging forward to make attempts on goal. A well-known South London equine magnate is well known for criticising Jensen as a luxury player and although he provided the assist for the first goal and hit the post one has to say on this evidence that he is right. Matt Holland was once again an effective presence in midfield. Euell made a substantial contribution to Charlton's game until his enforced departure. Di Canio showed sublime skill, but faded as the game went on. JJ scored an admittedly relatively easy goal, but did not make the most of other chances. Carlton Cole remains something of an enigma. Is he Leaburn's lost nephew as some fans claim? Or is he showing real potential? One problem is that he was not provided with the kind of service that would be most useful to him. Konchesky did his best to make an impression on the game when he came on and to some extent he succeeded. Indeed, it would have been a good idea to bring him on earlier.
Juneau the Soccer Cat has awarded the Hiss of the Match to the diving and whingeing Campo and has also given him the special prize of a one way Easyjet ticket back to Spain.
Crowd rating: The crowd did their best to respond to calls by Curbs and others to get behind the team, but were sometimes understandably subdued by what they saw on the pitch. 7/10
Meanwhile there's been plenty of trouble at Manchester United. Visit United for an authoritative account.
ADDICKS SECURE FOURTH PLACE
Charlton pulled five points clear of Liverpool in fourth place after a 41st minute goal from ex-Toffeeman Graham Stuart gave them a 1-0 victory over Everton at Goodison Park,writes Westcombe Park Addick Paul May. Many Addicks thought that Charlton would miss Scott Parker, suspended from the squad after he had been unsettled by Chelski's move for him. Of course, we are bound to miss a player of his quality, but the team has eleven players and some doughty defending helped the Addicks to secure all three points. Remember that our defence once depended on Richard Rufus whom we may never see in a Charlton shirt again.
Everton had their problems as was confirmed when they decided to play Gravesen who had earlier been ruled out because of a touch of the Mark Kinsellas (dodgy knee). Some Addicks think he has past it, but he is still a quality player and gave us some grief in the early part of the match. He put in two early long range efforts and then provided a corner which Ferguson headed wide. Referee Mike Riley has recently been introduced to the delights of methane by Poll and Barber and ignored a foul on Stuart on the edge of the box and then gave a throw in the wrong way. The Toffeemen kept pumping in crosses with Ferguson as the target, but the Charlton defence stood up well. Feesh excelled and Chris Perry made an excellent block some twenty minutes in. Without his intervention, Ferguson would have been able to give the home side the lead. Riley continued to make bizarre decisions, giving Jeffers a free kick when he had handled the ball while Di Canio (who was applauded by the home fans in recognition of his sportsmanship when he was with the Ironworks) was tripped by Stubbs, but Riley ignored the incident. Euell put in an effort from twenty yards, and then Ferguson and Jeffers combined to give Gravesen another chance, but he put his shot a yard over the top of Deano's bar. Di Canio took a corner short, turning provider for Konchesky, but Martyn was able to hold on to the ball at the far post. Rooney turned provider with a cross for Ferguson, but his downward header was saved by Deano.
Then di Canio put in a cross from the right which was headed down by Euell. Pistone was at sixes and sevens and unable to make a clearance, allowing Stuart to put the ball in the net from close range. It was reminiscent of his winning goal at Newcastle a few years back. In time added on Stuart put in an excellent ball for Euell in the box, but he somehow managed to shoot wide from eight yards out.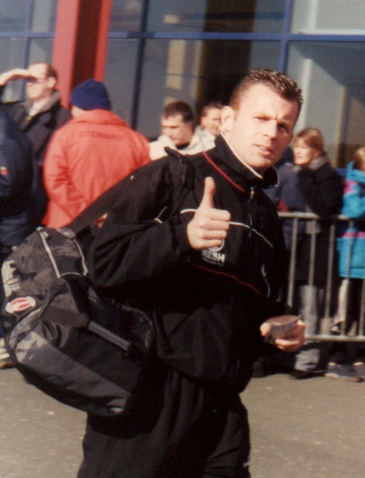 Thumbs up for Graham Stuart
Di Canio was on superb form and completely outwitted Gravesen early in the second half. The home side got increasingly annoyed that the game wasn't going according to the script and Lee Carsley was booked for a foul on Euell. Charlton had a chance on the break when a ball from di Canio freed Konchesky in the middle. He managed to shrug off Pistone, but put his shot wide. On 57 minutes Moyes removed the fading Jeffers and brought on Radzinski. The Canadian looked as if he could be trouble when he had a go with his first touch, but Deano was able to make the save. Ferguson saw a header kicked off the line with Stubbs heading the follow up over. When referee Riley penalised Chris Perry for fouling Ferguson, he followed it up with a yellow for dissent. He then moved the free kick right to the edge of the box, but when Rooney gave the ball to Kilbane he blasted it wide. David Unsworth had a go at Jason Euell and received a yellow card. Lee Carsley put in a low header which was a real test for Deano. An equaliser then could have changed the match, but Deano put it just round the post. Charlton had started with Carlton Cole and he was replaced on 74 minutes bt JJ. Everton continued to pile on the pressure, but the Charlton defence stood firm.
Charlton's place in the Fair Play League was placed in jeopardy when Kishishev was booked for handball. In a desperate last throw, Everton pulled off Carsley and brought on Kevin Campbell. Ferguson was booked for a foul on the Herminator. Di Canio was replaced in 86 minutes by Fortune to defend the lead. A Ferguson header went wide. Luke Young marked his return by replacing Stuart in time added on. I think that Charlton probably had only two shots on target all game, but one of those went in. This was a day when the quality of Charlton's defence showed and gave them a run of seven undefeated Premiership matches. When asked why Chelsea were interested in Parker, Curbs remarked that perhaps they thought Charlton would beat them to third place. If we carry on like this, we will. See ya.
QUALITY COMES OUT ON TOP
BBM: 'We should be embarrassed at that result'
Wolves fans could chant '1-0 to the referee' but it was the superior quality of Charlton's play that gave them a 2-0 victory at The Valley on 10 January. It was perhaps not a difficult result to forecast as I found that my prediction saw me sharing the jackpot with two others at the pub after the game. As far as the Bloke Behind Me was concerned, the Addicks should have been embarrassed at the result. After a first half in which Wolves had looked like a Division 1 side, and Jason Euell had put the Addicks 1-0 ahead, they came storming out after the break and put Charlton under pressure with a Shaun Newton volley drawing a superb save from Deano. The Addicks made the mistake of withdrawing the midfield in front of the defenders, but a second strike from Euell put the game beyound doubt.
Wolves fans had strung out a big banner with 'Belief' on at the Jimmy Seed end. Another large banner proclaimed 'Gatwick Hotels', although this connection with the Black Country seemed rather obscure. Agitated discussions during quiet times at reception about going down? Someone said they saw a banner with a wolf at one end and a toaster at the other and if anyone can explain that, I would like to know.
One always worries about Charlton's early vulnerability in a game and this anxiety was reinforced when an early corner was given away unnecessarily, but Deano was on hand to catch the ball delivered by Alex Rae, the charm merchant being roundly booed by the Covered End. Good work by Parker on the left won the Addicks a corner, but Oakes caught di Canio's delivery. After seven minutes, Deano was called on to make the first of a number of good saves in the game. Rae turned provider for his fellow charm merchant Nathan Blake, but Deano dealt with the downward header by palming the ball away. Good work by the Herminator launched an attack, but Euell's effort was over. As the quarter hour approached, intelligent work by Parker set up di Canio, but his effort was delivered straight at Oakes, although the keeper came close to spilling the ball. Shortly afterwards, a free kick was awarded after JJ was brought down. Di Canio provided a good ball, but Oakes was able to punch it out at the expense of a Charlton throw. Di Canio delivered a nice ball into the box, but Matt Holland just failed to connect.
Good chances are missed
I wrote 'Chance' in capital letters in my notebook after a header from Stuart gave Euell a good opportunity just in front of goal but his effort went just over the bar. Wolves had a break and won a corner. Stuart turned provider for JJ, but in a one-on-one with the keeper he put his shot inches wide. A Charlton free kick was converted into a corner, but it was played out. With Wolves showing an occasional ability to look dangerous, Chris Perry was called on for some good defensive work. JJ busrt away on the right and won the Addicks a corner. A short corner was played in by Euell, but was saved. For a blatant push on Parker, Colin Cameron received a yellow. (The Wolves fan in the programme had forecast a Wolves 1-0 win with a goal from Cameron but I thought he was an Addick, too old, and a statto rather than a footballer).
On 38 minutes Euell ran through, and with di Canio setting him up, had plenty of time to choose how to put the ball past Oakes. Furious Wolves fans and players protested that Euell was offside and it was certainly a marginal decision. Curbs later argued that Irwin had played Euell on side, while 'flu victim Dave Jones (who looked very ill according to Steve from Sidcup who saw him before the match) claimed that the lino's flag was too heavy for him to lift. Wolves won a corner after JJ was brought down. A vigorous tackle from Parker put Lee Naylor out of the match and he was replaced after the break by Luzhny. Ince was still furuous about the goal and confronted referee Rob Styles, but the oxygen breather flourished a yellow card, while Ince had to be restrained.
A match transformed
Whatever happened at half time, Wolves came out a team transformed. In the first half, they had had difficulty in stringing two decent passes together and the Addicks kept possession most of the time with some neat passing player. Now the roles were reversed, and the Bloke Behind Me had no problem in identifying the culprit: Alan Curbishley. Perhaps he thinks he controls all the players with wires. Wolves had clearly decided to get an early goal and they nearly got one just after the break when Blake woke up and put in a decent cross which Camara (for my money the best Wolves player) side footed goalwards. Fortunately, Feesh was on hand to clear the ball off the line. Wolves had a free kick in a dangerous position, but Deano was on hand to save. Wolves then had a couple of corners and a ferocious free kick from some way out went just past the post. Rae was awarded a yellow card for holding back and the free kick led to a Charlton corner. The Herminator was on hand to deliver a powerful header but Oakes made the save. Wolves pulled off Cameron and brought on Kennedy. On 73 minutes a powerful volley from Newts was well dealt with by Deano. Newts had received warm applause earlier from the Addickted, but the hospitality didn't extend to him scoring an equaliser. After Wolves were given a free kick, Euell received a yellow for dissent. Deano had to make another good save from Blake. Charlton then had a break. Di Canio fed in the ball to Parker and his cross bounced off Irwin. Euell was able to put the ball into the goal from a yard out.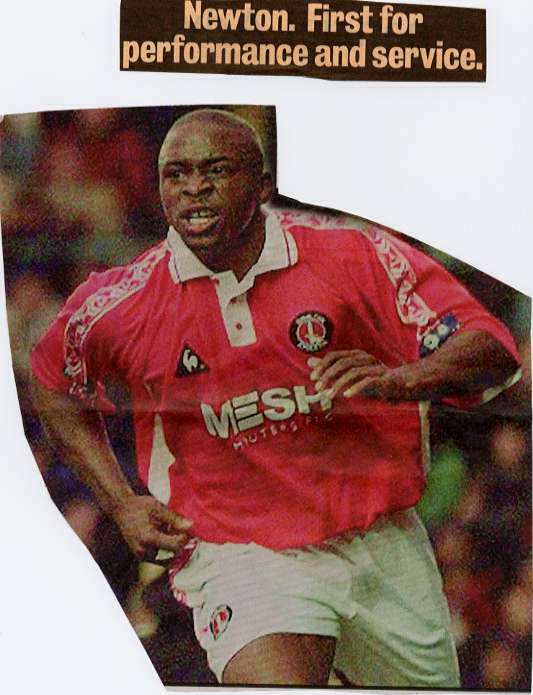 Shaun Newton remains a popular former Addick. Many supporters recall his strike against Ipswich in the play off semi-final at The Valley.
Effectively, that was it. Newts went off to be replaced by Ganea, but as his departure coincided with the substitution of di Canio and Stuart by Cole and Konchesky, it was not possible to give him his own ovation. Konchesky won Charlton a corner. Parker burst through, but he was tackled and only able to deliver a weak shot. Good work by Kishishev and JJ gave Charlton a corner, but it was taken short. Carlton Cole provided some good skill by the corner flag as the match went into time added on. In the year that I started supporting Charlton, Wolves won the championship. Charlton aren't going to win the championship, but a good top half finish seems to be within their grasp.
With Hooch the Pooch still suspended, it fell to lucky labrador Homer the Cherry Hound to award Dean Kiely yet another Silver Bone to add to his collection. Some superb saves from the keeper kept Charlton in the game. Chris Perry was not always evident, but he was a tower of strength at the back, always dependable. After what Paul May tells me was a good performance at the Blue Camp, Feesh once again excelled, snuffing out a number of attacks from Wolves. His sense of positioning was good and compensates for any lack of pace. Hreidarsson had another excellent game and came close to scoring. Kishishev was on good form and error free. Stuart was something of a disappointment and we were calling for his substitution long before he did come off. Holland was once again a model of quiet dependability. It is interesting to see the way he deals with referees, with a touch on the arm and a quiet word. Parker had flashes of brilliance, particularly going foreward, but was somewhat subdued. JJ had some good moments, including some good runs by the right, on one occasion preceded by a yell from the Bloke Behind Me, 'what's he doing there?' Euell scored the two goals and you can't fault that, but at times did not seem fully involved. di Canio had another superb game. Some of his brilliance completely drew the fangs of the Wolves in the first half and his passion for the cause cannot be equalled. Konchesky played well when he came on. Carlton Cole was as impressive as I have seen him. At the end of the game he ran along the East Stand side appluading the crowd and received well deserved warm applause in return.
Juneau the Soccer Cat has awarded the Hiss of the Match to the miserable Wolves fans who refused to take part in the usual picture with opposition fans at the Rose of Denmark before the match. 'You'll just laugh at us,' they said.
Crowd rating:There was a good response to pitch announcer's Brian Cole's plea to get behind the team, although some supporters were a little too ready to criticise during the poor spell in the second half - and I don't just mean the BBM and his 'flaming Nora' sidekick. At one point the BBM bellowed 'Sort it out Curbishley, it's what you're paid to do' to which my retort was 'Thank God it's not you sorting it out.' 7/10
ADDICKS SHARE THE POINTS AT BLUE CAMP

Westcombe Park Addick Paul May reports from a very cold City of Manchester stadium, aka the Blue Camp.
Wyn Grant was going to come to this match, but he had this row with a Massive in the Financial Times and he says that he dare not come to Manchester at the moment as this geezer has his number. At least that's what he says, but I don't think I have the full sp. So we are starting with Feesh at the back and di Canio and Euell up front, but with JJ also in which seems like a smart move to me. Stuart is on the bench, as are Cole and Fortune. But this business of City going twelve games without a victory worries me.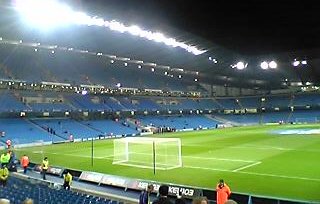 Massive ground for a massive club. Acknowledgements to Casino Avenue.
Fowler put in an early header but it was always going to go over. A Dunne header off a free kick was easily dealt with by Deano. Chris Perry was able to deal with some poor balls from the Massives. The home crowd were subdued with the game getting off to a slow start. The Massives got done for a foul throw. Anelka put in a poking shot from a tight angle but Deano was down quickly to deal with it. Both sides found it difficult to keep possession and seemed to lack shape. The match was a poor one at this stage. But then Charlton won a corner after a poor defensive clearance, but di Canio's effort was poor. Then Anelka was through, but he hesitated and Feesh put in an excellent challenge. Then di Canio had a good chance provided by JJ, it should have been 1-0 to the Addicks, but his effort went inches wide. Nevertheless, Charlton were coming into the game more as the quarter hour mark was passed. City won a corner after a possible penalty if Anelka had been brought down. Dunne's header was a yard over the top of Deano's goal.
Rainer was surprisingly substituted by Barton in a midfield change, must have been an injury. An Anelka cross found Sinclair but his header went over the bar. The Herminator made a good run and found JJ but he had no support. Great defending from Scott Parker after he ran back from the halfway line. There was too much sloppy long ball stuff going on. Di Canio turned provider for Euell and his effort was not too far off. The ref, on his second Premiership match, let go a sliding tackle by Barton on Kish. JJ won a corner with a good run. The corner was easily collected by Seaman. Then Seaman was almost embarrassed by a long ball from Feesh that was chased by JJ. The keeper had to back pedal furiously. A City break featuring Anelka was dealt with by Kish at the expense of a corner. The header from Distin went wide, but these set pieces were a worry, given that City were generally so poor. Then Anelka, City's one bright light, burst through and turned provider for Fowler. 1-0 to City on 40 minutes. We had failed to capitalise. Their fans suddenly woke up. Keegan looked as if it might be lucky thirteen. City kept up the pressure as half time approached. JJ had a late shot, but it was poor and went straight at Seaman.
HT: Massives 1, Addicks 0
Scott Parker suffered an injury immediately after the re-start, but was soon back on. Seaman had to make a save diving to his left, but Parker should perhaps have tested him more. Barton provided a good ball to Anelka, but Feesh put in an excellent tackle which avoided what would otherwise be a penalty. The rain was starting to come down. Holland to Parker and then di Canio, but it went over the bar. Sinclair put in a right footed effort that was inches wide. Euell took the ball away from Anelka, Parker to JJ, but it was offside. It was an exciting first five minutes, but then it all slowed down. Keith Peacock (Curbs was in the stands) was giving Carlton Cole a few final instructions on the touchline: they seemed to be extensive. Konchesky was taken off to muted applause 15 minutes into the second half. A low ball from JJ went straight to Seaman. Fowler broke through but couldn't connect. Fowler made a good shot but it was a great save by Deano. City kept turning defence into attack. Fowler was taken off. Anelka was through, but Perry dealt with him. City were piling forward. JJ was taken off and Jensen brought on. City pulled off Sibierski and brought on Wright-Phillips who got the first real roar from the Massives all evening. The rain was getting heavier and heavier. Seaman got the ball at the second attempt under pressure, but Charlton's performance continued to be muted. A shot from Anelka went through Parry's legs, but went off. Euell was pulled off in favour of Stuart, more a desperate last throw than an inspiration as the last ten minutes approached.
Penalty!
City players were furious. I was unclear at first why it had been given, but it was a Dunne hand ball. Di Canio stepped up against Seaman, but he seemed to save, but Di Canio had the forethought to go forward and put it in at the second attempt. City broke with Wright-Phillips, but Feesh once again dealt with the situation. Wright-Phillips controlled a long ball well, but Deano came out to deal with the situation. Peacock and Keegan were pacing up and down the touchline. The rain had stopped. Cole got away, but he took it too quickly and his effort went well wide. Another attack was snuffed out by Feesh. Deano had to make a great save to deal with a left footed effort by Barton. Two minutes of time added on. Good defending by Kishishev who had been good throughout the match. Wright-Phillips was continuing to cause trouble. The Massives started to file out. The ball went across the face of the ball, but Feesh and Perry cleared and the Addicks mounted an attack. The whistle blew, we had kept our undefeated away record against City in the Premiership. Not a great gane, but a good result.Gillingham: Like Charlton, we don't do cups. For a fan's perspective I recommend Casino Avenue. This blog by a Charlton fan is well worth reading anyway.
IT JUST GETS BETTER

Charlton's deserved 1-0 victory over Spurs at White Hart Lane put them back in fourth spot in the Premiership, reports Westcombe Park Addick Paul May. The margin could and should have been bigger with JJ missing a golden chance, but we also have a lot to thank Deano for again with some superb saves. His professionalism shone through in his interview in The Independent on Boxing Day just as it does on the pitch. His dad still works on the roads and lives just down the road in Leamington from Wyn Grant. Unfortunately, Deano's pub, the Simple Simon, is going to be closed at New Year so Wyn won't be able to go there this year.
After the victory over Chelsea on Boxing Day I had quite a celebration. I had seen the kids on Christmas Day and a basement flat in Westcombe Park can be a lonely place at Christmas, but not when the Addicks have won! Well, I'm off down the boozer again this evening so please excuse a short report. When I got to the ground I spotted pitch announcer Brian Cole sitting at the end of a row with, I thought, some of the Rodsters, although I couldn't see the short bald elderly geezer who has been cultivating a Captain Bird's Eye beard. I thought that it was a good move by Curbs to put Stuart on the subs bench and give Konchesky a start at the club he apparently so much wanted to join. However, I was more doubtful about Feesh taking the place of Fortune. Perhaps it was a reward for not going to the African Nations Cup, but that was surely his only course of action if his contract is to be renewed. For my money, Fortune has done well in recent games against some tough opposition (e.g., Alan Shearer) and I feel that he deserves a run in the team.
Spurs started brightly enough. John Jackson put in a cross which Kanoute headed over. He then put another ball into a dangerous position, but Feesh blocked it effectively with Poyet read to pounce. Jackson had a go himself with a volley, but put it wide. A quarter of an hour into the match it looked as if Keane might score when Kanoute turned provider, but Deano saved bravely at his compatriot's feet. Then when JJ burst through after some superb work by di Canio Keller could only push the ball to him. The flying Finn was one on one with the keeper and the net beckoned but inexplicably he put the ball inches wide. With the chance to go one ahead missed, it was a worrying time for the Addickted in the 34,534 crowd. Deano was at his best, however. First, he dealt with a low and dangerous ball from Keane which he had to dive to his right to save and then with a header from Kanoute who was one of the better Spurs players. It was Kanoute who came close to scoring on the half hour mark with an attempt from the edge of the box. If it had been on target, it would probably have gone in, but fortunately the ball went just over the bar. Then Scott Parker had to perform his usual act of clearing off the line to deny Poyet after he had latched on to a Jackson corner with a header. With the half-time score 0-0 I wondered if it might end that way as we have never been beaten at White Hart Lane in the Premiership.
Curbs made a smart move in withdrawing JJ at half time. The Finn's form is still fickle. However, I was less sure about bringing on Carlton Cole as he has not impressed me at The Valley. But then he was the only striking option on the bench and once again events vindicated Curbs. The opening of the second half was a sizzler with Jackson almost getting through the Addicks defence before Euell burst through but had his shot blocked. A Tottenham free kick was not dealt with too well and from the partial clearance Taricco had a chance from the edge of the box, but it was a case of 'how wide do you want it be?' for the off target Haringey club. On 69 minutes di Canio, whose influence was evident throughout the game, provided one of his inswinging corners. Cole evaded the defenders and put in a powerful header towards goal. Stephen Kelly made contact, but the ball was already over the line and the goal was credited to the loan player. Scott Parker, who was having a magical game, put in a shot which Keller had to tip over the bar. Cole then had a golden chance to make it two with Parker providing an excellent cross, but he failed from just a few yards out. Spurs threw everything they could at the Addicks, but they held on to their lead.
Possession and corners were very even stephen, but one goal was enough to secure the three points. We also completed the game without any bookings. It was amusing listening to 606 on the way back with Spurs fans bemoaning the prospect of relegation, their failure to secure Parker etc. Mind you, one Newcastle fan was suggesting that Curbs should replace Bobby Robson. I'm not allowed to give a Silver Bone to anyone, but my man of the match was Deano. Right, I'm off down the pub. See ya.
CLASS WINS THROUGH ON GRASS
Chelsea were able to defeat Charlton 4-1 last season at beach football, but the Addicks returned the complement by beating them 4-2 at The Valley on Boxing Day. An excellent team effort in a match played in front of the biggest crowd since the return to The Valley saw goals by the Herminator, Matt Holland, JJ and Jason Euell which put the Addicks back at 5th in the Premiership table. It must be quite a time before anyone put four goals past Chelsea. A check of the new edition of Colin Cameron's Home and Away revealed that Charlton last did in a 5-2 victory in 1982-3 (Simonsen scored two and his car was vandalised after the game). In 1976-7 the Addicks beat them 4-0 with 12K of damage to The Valley being caused by the visitors. On this occasion Claus Jensen, who has been subdued recently, was omitted from the side, but the revised line up worked well. Referee Graham Poll from the Tring Triangle had over indulged in the methane in celebration of the news that his compatriots on Mars had downed the Beagle space probe (much to the annoyance of match analyst Homer who comes from Harwell where the probe was built) and took some odd decisions, but as the effects wore off, he improved as the game went on.
Pitch announcer Brian Cole promised us a 'ding dong derby' and so it turned out to be within the first minute. The Bloke Beside Me was forecasting a 4-1 win which I found just an incredible thought. Although Chelsea kicked off, JJ won the Addicks a corner within thirty seconds saw Di Canio's inswinger converted with a fine header by the Herminator. There was a worrying moment when Deano spilled the ball, but then Di Canio released the Herminator and his excellent ball across the face of goal was pushed away by Cudicini for a corner. Kishishev provided good defensive work. Then Scott Parker gave away a free kick. Mutu's effort was met by the unmarked Terry at the far post to make it 1-1 after ten minutes.
Hasselbaink looked momentarily dangerous, but his effort went wide. A Di Canio run released Euell, but his effort was wide. Scott Parker and then JJ won the Addicks corners, but they were unproductive. Scott Parker was involved in an incident I didn't see and was given a yellow card. Gronkjaer had already been warned for pushing and shoving Stuart and when he did it one more time he got a yellow. A very dubious Chelsea corner required Deano to make a save from Gronkjaer. Then on 35 minutes JJ made an excellent run down the left. His cross was deflected and Holland put a good header into the back of the net. Deano had to make a save from an awkward curling ball. Following a Charlton corner, Chelsea made a break. Gronkjaer put in a cross but Mutu's header was tipped over the crossbar by Deano. As the half came to an end, Euell required treatment.
At half time Chelsea withdrew Gronkjaer and replaced him by Gudjohnsen, a player I rate highly. Just three minutes into the half Di Canio evaded Terry and his cross was met by an umarked JJ to make it 3-1. Then just five minutes later Euell took advantage of a loose ball in the box to make it 4-1. Charlton then seemed to take their foot off the pedal and went into a defensive mode. Before long the Bloke Behind Me was shouting, 'You've lost this match Curbishley. It will be 4-5.' Gudjohnesen was looking dangerous and one shot was not far over the bar. Perry was called on for some good defensive work. The inevitable happened when Gudjohnesen made it 4-2. Mutu's effort was well dealt with by Deano, but the rebound was picked up by the Icelandic striker. Paolo won Charlton a corner which was cleared. Kishishev intercepted Cole with what was admittedly a foul and Cole hit the deck dramatically. The fading Stuart was pulled off in favour of Konchesky who immediately made his mark on the match with a decisive intervention on Glen Johnson. Following a Chelsea corner, a goal was disallowed by referee Poll who had now got the right mixture of oxygen and methane in his breathing appartus. Deano made a save that was judged not to require a corner. Di Canio went off to a standing ovation and was replaced by Chris Powell. Three minutes added on were shown on the board by fourth official Graham Barber, also from the Tring triangle, but Charlton were able to deal well with Chelsea's final efforts. The 0-5 forecast by a Chelsea fan in the programme looked rather foolish. Di Canio engaged in a mock chase of Chris Powell and they embraced on the pitch. Only Homer the Cherry Hound look a little doleful as news reached the press box of Bournemouth's defeat at home by Plymouth.
Although the suspension of Hooch the Pooch by the Association of Canine Match Analysts has been the subject of an appeal by Hooch's Erith born owner Sophia Hands, the ban took immediate effect so it was lucky labrador Homer the Cherry Hound who decided to award the Silver Bone to captain Matt Holland for both his own individual effort as captain but also as a mark of recognition to the team as a whole. Deano did make one or two mistakes and also suffered from his usual kicking out problems (although he wasn;t helped by a gusty wind), but he also made some excellent saves, including one fingertip one. Although the defence were arguably at fault for both the Chelski goals, Fortune and Perry both had another good game. Hreidarsson has another excellent game, starting with his opening goal, and showed once again what a good buy he was at £750,000. The improving Kishishev had another good game apart from one potentially serious error when he put Deano at risk with a back pass and made an excellent contribution at times. Homer is mindful of the fact that Hooch was suspended for the ferocity of his comments about Stuart and confined himself to the remark that he was certainly better than any player he had seen at Bournemouth. Homer was surprised by the decision of the television commentators to give their man of the match award to Parker . Although he made some important contributions, it wasn't one of his better games and sometimes he dwelt on the ball for too long on occasions. But initial moves by him contributed to two of the goals. Euell looked as if he really wanted to play and made a good contribution apart from the goal that ended his drought. Di Canio was once again really up for it and made a major contribution to the game with his skill, energy and enthusiasm. JJ is thankfully back on form again and was seriously considered as a Silver Bone contender. Konchesky contributed fully after he came on, validating his comment that he is a professional footballer. Powell had a cameo role that allowed him to lead the three cheers at the end.
Juneau the Soccer Cat has given the Hiss of the Mtach to the incompetent East Stand linesman D Babski who seemed to have no understanding of how to award a throw in.
Crowd rating: The crowd was in great seasonal form with the visitors understandably subdued. I particularly liked the chant of 'Shall we score a goal for you?' 8/10
Canine match analysts launch site
The Association of Canine Match Analysts has now launched its own official web site including full details of its official code of conduct and latest news of Hooch the Pooch's appeal. Visit Barking
The Game of My Life
This is how one young supporter referred to Leamington's 6-0 victory over Southam United away at Banbury Road in the local derby on December 27th, continuing the good news of the festive season. Expecting a large crowd for this Midland Combination Premiership clash, we arrived in Southam half an hour before kick off, but as soon as we spotted the floodlights, we also saw the cars queueing to enter the ground. The final attendance was in the several hundreds, a good crowd for this far down the pyramid, most of them away supporters. Many Brakes fans had gathered in the shed on the popular side, but we headed for one of the two stands on the opposite side. The first had mould on the seats so we went for the second which was occupied by the Sheepsiders.
Brakes started sluggishly, perhaps having indulged more than ex Leamington resident Deano recommended in his Independent feature. Southam used the offside trap to good effect. Dodgy goalkeeper Aidey Etherson was not put under pressure to the extent that one would have hoped for, Southam having already conceded 64 goals this season. Brakes were not helped by the inept and balding linesman on our side. I wondered what the age limit for a lino was, but later learned that he was chairman of the league. Bazza (Baz Shearsby) had to come off early with the Leaburnesque figure of Vernor Sleem taking his place. However, our sponsored player, Paul Nicholls, now in discussions with Doc Martens Premier side Moor Green, twisted and turned in Di Canio like fashion and by half-time Brakes were 3-0 ahead, one goal being due to Etherson spilling the ball.
Perhaps they had enjoyed some mince pies at half time, but Leamington looked less impressive after the break. Southam had a couple of decent attempts at goal, but generally looked like a side that had scored 17 goals and accumulated four points all season. Redditch based referee Robert Lovegrove, one of those vertically challenged referees who cultivates a precise moustache in the hope that it will give him authority, adopted a relaxed attitude, already in the first half not booking target man Vernor Sleem and a Southam player when they engaged in handbags at six places. However, Southam resorted to increasingly dirty tactics. When Roger Case was brought down by a vicious tackle from behind, and eventually had to be helped off the pitch, the ref awarded a goal kick and claimed to have lost his cards. When there was a nasty incident off the ball in which a Leamington player was stamped on, which he only noticed because of the roar of the crowd, he flourished two yellows. Some Leamington fans pointed out the game was being videoed for the match highlights tapes and that a tape could well be sent to the Birmingham FA. The crowd were increasingly getting on his back, asking about the special ticket he had been given in the raffle. He did, however, eventually have to give a penalty to the Brakes and who should step up to take it but keeper Roger Morris. The former Coventry City player made no mistake in putting the ball firmly past the humiliated Etherson. In fifty years of watching football, I have never seen this happen before, although at Charlton both Sam Bartram and Sasa Ilic had unfulfilled ambitions of scoring. Lovegrove now started to flourish yellows like confetti against Southam, even giving Leamington unjustified free kicks. Southam started to crumble and the hapless Etherson had to pick the ball out of his net two more times. By the end of the game one almost felt sorry for him, a laughing stock rather than a legend in his own village.
Welcome To The Valley, Chelski
Teams that play in blue have a special place in the hearts of Charlton fans: Millwall, Manchester City, Birmingham City, Stoke City, Cardiff City ... the roll call goes on. A lot has changed down the King's Road since we last played Chelsea. Cuddly Ken Bates, known to many fans simply as England's Mr Football, has been kicked upstairs. Then they were a beach football team, now their supporters wear Russian fur hats. It's a normal working day in Russia, but perhaps President Putin will take a quick look at the game. In the meantime, here are a few items to recall the old regime at Chelski.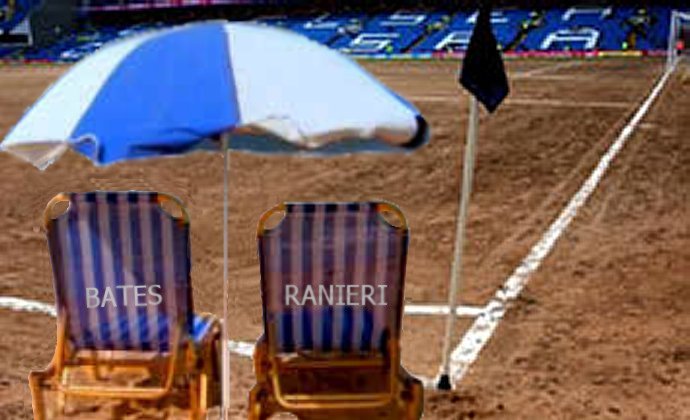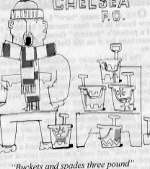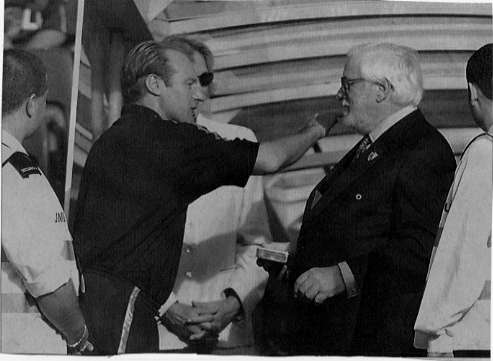 BATTLE FOR FOURTH PLACE WAS NO BORE DRAW
I was in a gloomy mood as I set out from Leamington for Charlton on December 20th, fearing a repeat of the performance against Leeds, but although the battle for fourth place with Newcastle ended in a goalless draw, there was nothing boring about it. It was an edge of the seats match with a good team performance by the Addicks. There were only three things that stopped the Addicks taking all three points:
Shay Given who had a great match.
Charlton's lack of a quality finisher. Our top scorer is Kevin Lisbie with four goals!
Graham Stuart who put in another hopeless performance.
Why was I in a 'why do I bother mood' when I left Leamington? First, it was belting down with rain and I feared that we would have a repeat of last year's experience in the match against West Ham when we got as far as North Greenwich to hear that the match had been called off. Indeed, a number of matches in the Midlands, including that at Wolves were called off. However, the rain stopped in SE7 before the match started, although there was a very blustery and gusty wind which did strange things to the ball (over and beyond Deano's usual kicking out trajectories). When we had come to the West Ham match, we had been at a party the night before and we had our Christmas party on Friday night. I had to listen to two so-called Manure fans moaning about the great injustice done to Rio Ferdinand who was the victim of a plot by Blatter.
In fact, I had a bit of a Manchester day on Friday. The Financial Times published a letter by me criticising one of Manchester City's better known supporters. This is getting like the 'Connections' feature in the programme, but he lives in Didsbury which is where a smart friend of mine also lives. She sent me a series of E mails on Friday in which a subtext was one of her favourite themes: my whole London identity is phoney, retro and invented; it pulls me down market and stops me being a real intellectual (and encourages my 'quite appalling' interest in football); and it prevents me from knowing what I really want (i.e., move to Manchester). Trundling down to London, I thought that she might have a point, particularly after I read a piece in my favourite Casino Avenue blog in which a Toon fan was quoted as saying that, once you moved outside Blackheath, people in South-East London were uniquely facially challenged. Actually, you could say the same thing about Manchester outside of Didsbury!
My plan for the Bloke Behind Me
If you are in a bad mood at the start of the match, the Bloke Behind Me will make it worse. Admittedly, he managed to get through the Newcastle game without suggesting that Curbs should hand in his resignation while the match was on. However, we had the usual burst of invective and spittle whenever Newcastle managed to get the ball. My idea for him is that we should revive transportation. When I was in Western Australia last week, the papers were full of the current series of docusoaps about whingeing Poms down under. Particular offence had been caused by Mandy Skeggs from Stevenage who claimed that it was impossible to buy decent (?)knickers in Perth (actually, a young Australian woman told me she was right). Another controversy in the press was the fate of Perth playground Rottnest Island which is also the home of the rare marsupial the quokka. The island is losing money. My plan is to transport the Bloke Behind Me to Rotto as a real, live whingeing Pom exhibit which will draw in extra punters from the west Perth suburbs.
Early danger for Charlton
Charlton often look most at risk in the opening ten minutes of a game and so it proved against Newcastle. No doubt managers tell their players that the Addicks are vulnerable to an early goal. Six minutes or so in Robert delivered a corner which was spilled by Deano. The ball was partially cleared, but Robert eventually got the ball again (I thought that there was hand ball by one of our players in the area during all the confusion). With Deano beaten, his volley had to be cleared off the line by Scott Parker. The Herminator and Stuart managed to collide with each other like two asteroids with eccentric orbits. A good Charlton move on the right in which Kishishev was involved allowed Matt Holland to deliver a good ball to Euell, but Given made the first of a number of good saves. Scott Parker shot over from the Charlton corner. A good build up started by the Herminator led to a Charlton corner, but all that came from it was a weak effort by Kishishev. A good ball was provided to Holland, but to his evident disappointment he was not able to make good use of it and his shot went well wide. Good work by Di Canio on the left provided Euell with a half chance, but O'Brien was able to intervene and allow Given to clear the ball. Moments later Scott Parker turned provider with a superb pass to Euell, but he blazed the ball over Given's goal. A Newcastle corner saw Deano make a save, but then spill the ball again.
Newcastle were making a lot of use of back passes to Given and if the Addicks had more fire power up front they could have taken more advantage of it. As it was, on thirty minutes Euell took advantage of a mix up in the far from impressive Newcastle defence. With others I was on my feet, but Euell's effort hit the post and Given was able to save the follow up. 'Almost in, but not' I wrote in my notebook. Dean lived dangerously in a one on one where he dribbled the ball past his opponent. Euell was provided with another good ball but drove it straight at Given from the edge of the area. Ameobi dived spectacularly and should have been booked had not Mrs Bennett taken her husband's yellow card to write down her shopping list for Bromley. Euell had another go and Stuart put in a header but it was too high and Given was able to tip it over the crossbar for a Charlton corner. Deano had to make a good save at the expense of a corner. Somehow Charlton seemed to have no shape in the first half with their midfield all over the place. As the players went off, referee Bennett put a consoling arm round Ameobi, not doubt offering him the opportunity to see his colletion of Palarse memorabilia.
Given denies Stuart
In the second half an early Charlton corner saw the ball headed just over. My notes say it was the Herminator, although press reports mention Matt Holland. Kishishev won the ball impressively off Robert and went racing off up the field with it in one of those moments when he reminds us why he is an international player. He put in a superb pass to Stuart, who no doubt has a great future with Charlton veterans. He was one on one with Given, but the keeper denied him yet again. Shortly afterwards he managed to blast the ball over. Matt Holland managed to give the ball away in midfield when he could have let it go out for a Charlton throw in. The result was a Newcastle corner that looked momentarily dangerous, but ended in a goal kick. Fortune was called on for good defensive work and Parker had to make a good tackle. There was still a risk that Toon would make it 0-1 and the danger was increased in my view when Amoebi was replaced by Lualua on 77 minutes, a player I rate.
On 83 minutes Paolo was replaced by Carlton Cole. Personally I would have taken Stuart off and brought on JJ, but I'm not the manager. As it was, di Canio was clearly annoyed, walking off slowly, shaking his head and throwing his shirt to the ground. However, his passion for the club and the game soon won through and he was cheering the Addicks on to victory from the dug out. Graham Stuart managed to miss again and Carlton Core put in a poor effort. Deano made a good save from a fast and dangerous cross. Euell was hurt and required treatment. A Charlton corner was cleared. Toon still had a few shots left in their locker and a dangerous ball flashed across Deano's goal. With two minutes of time addded on, Toon won a late corner, but it was cleared. With their inability to score, Charlton are at risk of becoming goalless draw specialists.
Controversial match analyst Hooch the Pooch found it difficult to pick out one Charlton player for the Silver Bone , although Tracy from Dartford had suggested Scott Parker. In the end, the convivial canine displayed his cunning once again and made a joint award to Chris Perry and Jon Fortune for a reliable defensive display. Shearer was unable to get past them. You didn't notice what they were doing much, but this was because it was done well. Deano allowed the ball to slip out of his hand at two crucial moments, but must be pleased with another clean sheet. Kishishev displayed some moments of sublime skill which could have turned the match in Charlton's favour, but also made some dangerous errors as well. Often he seems to be playing very much on his own with little support in slight. Whether this is deliberate or whether the formation is not working properly, I don't know. The Herminator was as dependable as usual, a calm presence in defence and a useful one at set pieces. The programme contained a feature on the legendary Hans Jeppson (surely the only Charlton player to end his career with the club by going from the match to a boat at Greenwich?) in which he stated that a player's career was only going one way at the age of 32. Perhaps Graham Stuart should think about that. His play was energetic and determined, but also largely without point and purpose (but see section below). I was impressed by the way in which captain Matt Holland was trying to fire up the players during a break in play. There were signs that he was disappointed with aspects of his own performance. Scott Parker seemed to be quiet at times, but played a decisive part in the match at others. And he got through the match without being booked. Jensen displayed some of his silky skills. In a match of many corners, at least some of them gave Toon something to think about. (Others disagreed, however and thought that he faded as the match went on). Euell is increasingly reminiscent of Leaburn, a so-called striker who can't score. Oh for a Clive Mendonca style goal poacher who could perform at Premiership level. Di Canio showed his usual energy, determination and skill, but sadly it did not produce a goal. I am yet to be impressd by Carlton Cole who at the moment seems to be an entrant for the 'Am I Leaburn in disguise?' competition.
Juneau the Soccer Cat had no hesitation in giving the Hiss of the Match to useless linesman R Lewis. Why do all linos have such difficulty with understanding and implementing the offside rule? When he finally gave the Addicks an offside decision at the end of the first half he generated one of the largest cheers up to that point. This particularly useless specimen also had to wait for the referee before he gave a throw in decision (not that Charlton were going to get much change out of Bennett - I suspect that the Orpington resident is a covert Palarse fan). He even managed to flag for a free kick for Charlton and then change it to a Toon throw in.
Crowd rating:I had a nice 'Dear Wyn' letter from Curbs during the week thanking me for my support throughout the year, not that my support is worth anymore than anyone else's. The Addickted were rather subdued early in the match, but warmed up as it went on and things looked more hopeful, while the Toon Army became quieter. Incidentally, I thought they were supposed to be sitting down, but at least half of them seemed to be on their feet throughout the match. Crowd rating: 6/10
Three game suspension for Hooch the Pooch?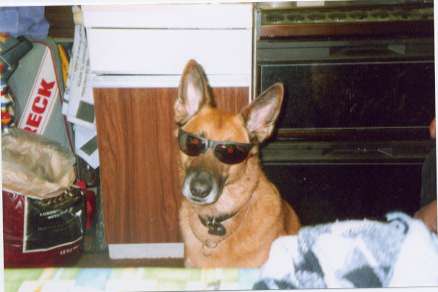 Give a dog a bad name: controversial match analyst Hooch the Pooch
Match analyst Hooch the Pooch may be suspended for three games by the Association of Canine Match Analysts after he sunk his teeth into Charlton midfielder Graham Stuart in his report on Saturday's match against Newcastle. A spokesdog barked, 'This is just the sort of thing that gives canine reporting a bad name, bark first and think afterwards. It has taken long enough to get tin opening journos to accept dogs in the press box and it doesn't help if they go barking mad.' Bournemouth and Didcot Town supporter Homer the Cherry Hound would step into Hooch's place with his feline friend Tigger taking responsibility for Hiss of the Match. Monty the Spaniel would then become substitute, although there are doubts about whether he is calm enough for a big match occasion. The ACMA spokesdog woofed, 'The very last thing we would want is a pitch invasion by one of our reporters.'
Was my report hard on Stuart?
I've had quite a bit of feedback suggesting that my report was hard on Graham Stuart. One regular reader described it as 'unusually bellicose'. I have met Graham Stuart and he's a very nice guy, but I suppose that my ultimate criterion is how someone wearing the shirt plays on the pitch. I suppose that I felt that he had missed one chance too many, but a number of readers have put forward some interesting counter arguments. A New Eltham fan commented, 'I must admit that my first reaction was that you were harsh on Stuart, who I thought had a reasonable game. I think that the problem lies with the fact that we have forwards who can't score. This is having the effect that the midfield is having to work overtime in tracking back on counter-attacks, and relying them to play the build-up game as we do is taking its toll. What's more worrying is that we have players who can't keep themselves injury free for any length of time. I'll give Stuart one more season, and hopefully he can do something for Reading or Brighton.' A fan living in the Surrey hills commented, 'I thought Stuart had a reasonable game, and was at least getting into the right place at the right time, even if his execution was poor. No more so than Jason Euell's I would suggest, who should have found the net yesterday as well. I am not particularly a fan of Graham Stuart, however, and I would agree with the suggestion that we do need a replacement, in the same style, but better.' In the meantime if you have a view, please let me know.
I regret that there will not be any reports from Southampton or 'Boro as I shall be in Australia. Back for the Newcastle game.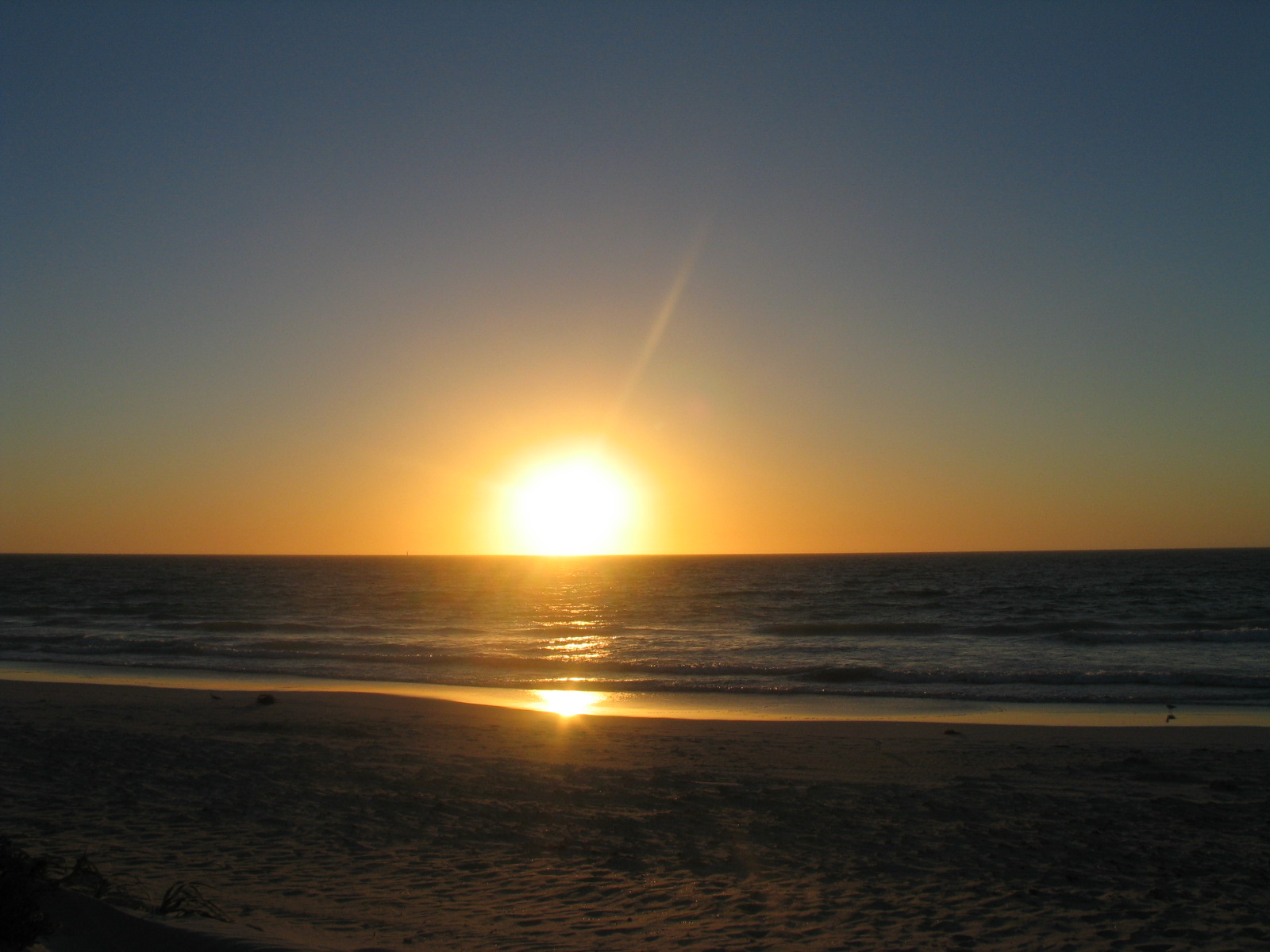 On the whole, I think that I preferred to be on this beach on the Indian Ocean on Saturday evening than returning from 'Boro
DISMAL DAY AT THE VALLEY
Football never follows a script. That's what makes it so interesting, although it's also a source of disappointment when your team is on the wrong end of the result. So here one had Leeds, bottom of the Premiership and deeply in debt and Charlton, 4th in the Premiership, and one of the few teams to declare a tidy profit. (For the financial plight of Leeds visit, Political Economy of Football.) I was not optimistic, however. We have never beaten Leeds in the Premiership at The Valley and I didn't see why that should change, although I thought that we would get a draw. My wife was more realistic and chose 0-1 in the pub jackpot. The weather deepened my pessimism. Charlton rely on a neat passing game and we don't play well when players are sliding all over the pitch and the ball is slippery. I know that Leeds had to face the same conditions, but they are a more physical team. My mood became even more downbeat when, coming into the ground, I learnt that di Canio, Lisbie and JJ were all injured and that we would have to rely on Svensson and Euell up front. That meant we would have to rely on the midfield to score goals.
The simple fact of the matter is that Leeds outplayed us. They were more up for it, and had no hesitation in resorting to fouls and gamesmanship, assisted by the nonchalance of referee Halsey. We did not help ourselves by relying on two methods to get back into the game after we went 1-0 down in the 9th minute. One consisted of a slow, patient build up with some pretty football. Meanwhile, Leeds had got ten men behind the ball and the box soon resembled something like a rugby scrum. The other method was to hoof the ball up field and hope it might make contact with Euell (very unlikely), Svensson (likewise) or Cole (a slight possibility). We seemed to be always giving the ball away to Leeds, although I must admit that when I watched the game on The Premiership it didn't look as dire as it did at the time.
The pre-match entertainment consisting of a celebration of egg chasing with two songs from a tenor and a presentation to some rugby bigwig by 1950s Valley hero Derek Ufton. I was pleased to see England win the rugby world cup and at least put one over the Australians. However, some sections of the media have used it to pursue their anti-football agenda with all the usual talk about poor role models. Some of it is really old fashioned snobbery with footballers still being drawn to a large extent from the ranks of the 'socially excluded' (to use Blairite jargon), while rugby union remains a middle class game. By the end of the proceedings I thought that we would be announcing our merger with Blackheath and would be running with the ball in future.
Leeds denied Charlton the ball from the very start of the game, while Charlton were hesitant. For all their financial troubles, Leeds still have some very good players. Pennant, on loan from Arsenal, gave Leeds a powerful presence on the wing which Charlton lacked. Viduka is a handful and Milner impressed. The Leeds goal on nine minutes had a sense of inevitability about it. Kishishev was outfoxed on the wing, Viduka crossed, Kiely was left exposed by his defence, and it was easy for Milner to score. It was almost 0-2 a couple of minutes later when Perry was out run, Viduka forged past Kiely, but Kishishev was able to clear off the line. Euell went off to change his boots to cope better with the conditions and then referee Halsey, recently voted 'Mr Peripheral Vision', wouldn't let him back on for some time. Charlton's best chance of the first half came with a scramble in front of the goal, Holland (some accounts say Euell) hitting the post and then Kishishev putting the ball over when it came out to him. Scott Parker received a yellow card for a totally unnecessary tackle from behind. He will have to watch this aspect of the game.
A Leeds free kick came off the Charlton wall. Charm merchant Smith received a yellow for a foul on Parker and Jensen delivered a good kick but the reliable Robinson in the Leeds goal palmed it out for a throw in. A free kick was given against Smith for handball, but the Charlton effort was unproductive. As the game went into two minutes time added on, a Jensen free kick was saved by Robinson and the resultant corner was cleared.
The totally useless Svensson was withdrawn at half time and replaced by Carlton Cole who at least gave the Addicks attack a bit of extra edge. Euell was brought down, but the Charlton free kick was well wide. Leeds were given a free kick after a dive by Smith. Nothing was given for a foul by Matteo on the Herminantor. Kishishev put in a nice ball to Stuart but he tried an over ambitious back flick. A decent attack was started by the Herminator, but the Charlton corner that followed only led to another Leeds break. They always look dangerous on the break, being willing to run straight at the goal or tear down the wings. Leeds were awarded a free kick, but referee Halsey wasn't happy with the first attempt so they were given a second go and the ball whistled just past the far post, having taken a deflection, giving Leeds two corners in succession.
On 71 minutes Jamal Campbell-Ryce was brought on, at last giving Charlton the possibility of doing something on the wings. Jensen was taken off and this provoked a tirade from the Bloke Behind Me, who had been in full spate from the first minute of the game. I must say that I was puzzled at the time, as I would have removed the off form Stuart, but there may have been a fitness issue with Jensen returning from injury. A Charlton free kick was delivered into the area and Euell's effort went just over the crossbar, although it probably was always going to go over. Graham Stuart blasted over. A cross from Kishishev allowed Carlton Cole to produce a header which called on all the skills of Robinson to make the save. The Charlton corner was taken short and wasted. Kishishev was booked for a foul on Milner. He was immediately pulled off in favour of Fortune, but it was too late to turn things round. Indeed it was nearly 0-2 when Kiely was beaten after a poor back pass from Fish and the ball trickled towards the goal, but Perry was on hand to save the day.
Match analyst Hooch the Pooch always has a difficult choice to make when the team does not play well. The decision eventually went in favour of the Herminator who did provide some creative play on the wings. Using his best Icelandic, Hooch told him 'Eg heiti Hooch the Pooch. Talarou enski?', but the baffled Icelander responded, 'Eg skil etti', although having been presented with the Silver Bone responded, 'Mér líkar petta.' Deano couldn't have done anything aout the Leeds goal and made some decent stops. Having been signed, Perry looked at times as if he wasn't up to the pace of the game. Kishishev made some worrying errors and didn't have a good game. For much of the game it was possible to forget that Fish was on the pitch. Stuart , after playing well at Leicester, had a poor game. Parker was in and out of the game. Probably he felt constrained after his booking which was his own fault. But he was still one of the better Charlton players. Holland played with his usual quiet efficiency. Jensen was variable in terms of his set pieces and was hardly the person for the physical challenge of Leeds. Euell really didn't contribute much. Svensson was hopeless. Will we ever he see him in a Charlton shirt again? I hope not. Campbell-Ryce did offer pace on the wing which we lacked before, but was hardly a physical match for the towering giants of Leeds.
Juneau the Soccer Cat awarded the Hiss of the Match to referee Halsey who was quite prepared to tolerate a physical approach by Leeds, but was quick to reward any dives by their players.
Crowd rating Understandably subdued for much of the match with the Leeds fans in full voice, but this is when one needs to get behind the players. 5/10.
ONE POINT WON OR TWO POINTS LOST?
This was the question posed by one of the Addickted after Charlton had yet again drawn 1-1 at Leicester, although it was enough to retain their 4th position in the table. Leicester had gone ahead, somewhat against the run of play, in the first half but then late in the game, Paolo di Canio had won and scored from what the media subsequently described as a very controversial penalty. From where I was sitting, it looked as if he was through on goal and with a good opportunity of scoring and was brought down from behind, but others (i.e., Foxes) clearly saw it differently. Although the Foxes would no doubt disagree, a draw was probably a fair result. This was not a very inspired performance but we certainly missed Scott Parker and JJ and the team as a whole was greatly weakened with a number of players not in their usual positions. The Addicks looked threatening for the first twenty minutes, but then Leicester got back into the match and scored, and it was only in the last third of the game that Charlton really looked as if they could get something out of the game.
Charlton started well and won an early corner although the slippery surface sometimes caused problems. di Canio won the ball and turned provider for Euell, but he shot straight at Walker in the Leicester goal. A Charlton defensive error fortunately saw Leicester's effort sail well over the bar, but Deano was clearly angry. Feesh put Deano in trouble with a poor back pass, but fortunately Leicester did not even get a corner out of the error. Feesh received a head injury. Deano had to save at the feet of Bent. Feesh had to be taken off and the lack of choice on the Charlton bench, with left back Chris Powell the only defensive option, led to Svensson appearing.
Charlton mounted a good attack, but it ended with an effort from Stuart going over. Svensson got the ball in the back of the net, but Barber had already blown up for a foul. Walker had to save from Euell, but was not greatly troubled. Perry somewhat unnecessarily conceded a corner to the Foxes. Then that famous Welsh international Owen Goal nearly made it 1-0 for Charlton when an attempted clearance by Thatcher saw Walker having to push it against the post and just wide. The subsequent Charlton corner was wasted. On 38 minutes Ferdinand gave Leicester a 1-0 lead with a soft goal that was somewhat against the run of play. Deano came forward, but not decisively enough and the net was exposed to be headed into. Kishishev was called on for some good defensive work, but neither side looked like scoring before the break.
Deano had to make a save in the opening minutes of the second half from Jordan Stewart. Mustafa Izzet received a yellow card for a foul on Holland. Somewhat puzzlingly, Leicester were awarded a belated corner after the ball had already been played out. Svensson put one of the most hopeless balls into the box that I have ever seen from a Charlton player in the Premiership. Howey pushed Svensson and was lucky to get away without a card. Something had to be done to brighten up Charlton's performance and Lisie was replaced by Carlton Cole. Deano had to stretch himself to save from a long distance Leicester effort from a free kick at the expense of a corner. On 66 minutes the home supporters went into a frenzy when Ferdinand was replaced by Dickov, the latter clearly being something of a local hero. Leicester were still piling on the pressure and had a shot that came off the post. There was a call for a penalty for an attempt on di Canio, but the offside flag had already been raised. Charlton were playing the ball forward quite well, showing some good control in midfield, but showed a surprising reluctance to shoot. Hreidarsson was booked for dissent.
Charlton started to step up their tempo a bit and Graham Stuart wsa denied by the post. Carlton Cole had an excellent opportunity which might have led to him being re-named 'Charlton' Cole, but his header went straight at Walker. Then di Canio advanced on goal and was brought to the ground. Despite loud and continued protests by the Leicester players, referee Barber pointed to the spot. It is certainly rare to get a positive decision from him. di Canio made no mistake in beating Walker to make it 1-1. The Leicester fans went ballistic and more than one was carried struggling from the ground. di Canio was now a controversial feature on and off the pitch and Curbs wisely put Powell on in his place. In injury time Deano had to make one last save, but the spoils were shared and Charlton's unbeaten run continued.
Match analyst Hooch the Pooch has awarded the Silver Bone to Graham Stuart for an excellent performance throughout the match which included coming close to scoring. Some people thought that Deano was open to criticism for the Leicester goal, that he should have come out more decisively. He did, however, make some good saves, although not that many as the Leicester attack was hardly threatening. Perry is prone to make rather dangerous back passes to Deano. Fortune did well enough, but I retain some doubts about his ability to play consistently at Premiership level. Feesh had a rather mixed performance at right back until he came off, but perhaps he was carrying an injury. Hreidarsson was not as impressive as he has been in most matches and one ball in was particularly poor. Kishishev at least created some activity on the wings, although again his ball into the box was often disappointing. Holland was not particularly prominent in the game, but then he is not that sort of player and what he did he did well enough. Euell was relatively anonymous for much of the game. Lisbie was rather disappointing and did not present the kind of speedy threat that JJ has offered in some recent games. Di Canio did his best to inspire and lift his teammates and certainly contributed as much as anyone. Svensson once again unfortunately showed that he cannot really cut it at Premiership level. Cole was not particularly impressive when he came on, missing one clear chance to score. Powell only had a cameo appearance and scarcely got a touch of the ball.
Juneau the Soccer Cat gave the Hiss of the Match to the idiot dressed in some of hunting uniform who came on and blew his hunting horn before the start of the game. On his first appearance he was roundly booed by the Addickted.
Crowd rating: The Addickted started well with 'Swing Low, Sweet Chariot' added to the repertoire, but their vocal contribution sagged in the middle part of the game. However, they got fired up again as the Addicks got into the match more. 7/10
The number of Addickted who have visited this page is

Links to recommended sites
For memories of growing up in S.E. London in the 1950s visit Wyn Grant's home page

For a blog encapsulating contemporary urban angst in Charlton seen through the eyes of an Addick Casino Avenue

For my own blog Wyn's Week

For the business side of football visit Political Economy of Football

<!! URL: http://members.tripod.com/~WynGrant/addicksdiary2003-4.html --> <! -- End Nedstat basic code -->