Addick's Premiership Diary 2002-3, Vol.1
August 17th 2002, Charlton vs Chelsea
It was a boiling hot day at The Valley for the opening match of the Premiership season against Chelsea. Before long things had boiled over on the pitch with Paul Konchesky being sent off in a highly controversial decision, placing himself in the unenviable position of scoring both the first goal and being the first player to be sent off in the Premiership season. Charlton managed to go 2-0 ahead, but the ten men could not hold on in the searing heat and a goal by Chelsea in the last minute of regular play gave them a 3-2 victory and ended Charlton's run of four successive victories against their London rivals. It was crushingly disappointing start to Charlton's new season.
Normally I ask who the referee is before the game as I know that it can have such a vital impact on the match. However, I was so much enjoying my pre-match drink outside the R*se of D**mark that I did not notice the methane tanker rumbling past. For the referee was Graham Barber, one of the visitors from outer space who have landed in the notorious 'Hertfordshire triangle'. It was not a good sign either when Charlton changed ends before the start of the match, a move that is often followed by defeat.
Charlton started brightly with Konchesky's good work winning the Addicks a corner. Rufus just failed to connect his head with Jensen's kick. But then Deano found himself tested with a fierce shot by Lampard that he saved well. Then seven minutes into the match poor defensive work by Chelsea gave the ball to Jensen who delivered it well to Konchesky whose crisp shot went inside the far post to put Charlton 1-0 ahead. Konchesky leapt over the hoardings, just failing to connect with the outstretched hands of the Covered End faithful. A chant of 'We are top of the league' echoed round the ground.
Chelsea were awarded a dangerous free kick on 12 minutes on the edge of the 'D' and directly in front of goal. Zola's effort was cleared off the line by the much maligned Bart-Williams. Offences such as a push on Jason Euell were being ignored by referee Barber. Zenden provided Hasselbaink with a chance to break free, but he was dispossesed by an excellent sliding tackle by Rowett. After finally getting his methane-oxygen mix right, Barber gave Charlton their first free kick. Then Charlton won a free kick for a push on Euell on the edge of the area. Jensen's effort was over, but not by too great a distance. Luke Young provided some good defensive work culminating in a Charlton throw in.
On 24 minutes Chelsea won a corner which Deano palmed away. Zenden's second corner for Chelsea was headed away by Graham Stuart. With the ball high in the air, Konchesky gave chase and as he jumped his elbow made contact with De Lucas's face. Curbs was emphatic after the match that there had been no intent on Konchesky's part. However, a referee could interpret what happened differently and Barber robustly defended his decision after the game. In any event, it was the turning point in the match.
Luke Young was beaten and Zenden put in a cross for Hasselbaink, but his headed effort was way off target. Then Chris Powell was brought down on the edge of the area. The Bloke Beside Me commented, 'This would be a good time to score a second.' An excellent free kick from Jensen was nodded into the net by Rufus. Chelsea protested that Barber had already blown his whistle before the ball crossed the line, but the only alternative would have been a penalty as Euell had been pushed over in the box.
JJ won the Addicks a corner, but it was cleared. Desailly fouled Euell and received a yellow card. Chelsea were stepping up the pressure and Zenden hit the angle of the crossbar. On 40 minutes, a Chelsea corner was cleared, then played back in, but Luke Young was able to break with the ball. On 43 minutes Zenden evaded Young in the box and fed a pass to Zola who put in a shot that left Deano with no chance of saving it. JJ won Charlton a corner, but it was cleared. With two minutes of time added on, Euell collided with Cudicini as he went for the ball and the Italian made the most of his sufferings, delaying the match until the final seconds of the half could be played out.
There was a strangely quiet atmosphere in the ground as the second half resumed as if the Addickted knew that a 2-1 lead would not be good enough with ten men. The Bloke Beside Me described it as 'frightening'. An early Chelsea attack was dealt with by a strong clearance by Rufus at the expense of a throw in. A deflected shot from the right by De Lucas produced a good save from Deano. He then had to deal with a fierce long-range effort from the impressive from Zenden. This was followed by an attempt from Petit which Deano had to clutch to hold on to.
On 58 minutes Bart-Williams was withdrawn to predictable abuse from the rows behind in favour of Kishishev. Rufus made a great tackle to frustrate a Chelsea attack. A fierce shot went just to the right of Deano's post and the increasingly pressured keeper made clear his displeasure with the defence. Petit was withdrawn in favour of Gudjohnsen. Despite the fact that he was returning from a period of injury, he looked match fit and quickly started to make a telling contribution to the game. Chris Powell rather casually conceded a corner, but the Chelsea effort was hopelessly overhit and went out of play. Jensen turned provider for Euell, but the striker was fouled, but Jensen's free kick was well over.
Chelsea refreshed their strike force on 74 minutes by taking off Zola and Petit and bringing on teenager Cole and Gronkjaer. Charlton had perhaps been overly defensive in the second half, given that Chelsea looked weak at the back. All too often Euell was trying to deal with passes on his own with two defenders covering him. It might have been better to bring on Svensson in the 'lone ranger' role. With their reinforcements, Chelsea were strengthened and showed an increasing ability to power through the middle of the Charlton defence. A fierce shot went just past Deano's post causing the keeper to get angry with his defence again.
JJ put in a good tackle, but Chelsea still managed to win a corner. De Lucas was booked to the delight of the crowd. On 80 minutes JJ was pulled off in favour of car theft victim Kevin Lisbie. Chris Powell put in a great tackle. Baffingly, Chelsea fans started to leave to the accompaniment of the inevitable chant of 'We can see you sneaking out.' They missed Cole powering through the middle, evading Kishishev and Rufus, before putting in a clinical shot that defeated Kiely. Zenden was booked. On 86 minutes Svensson replaced Euell. He nearly made his mark when good work by Kevin Lisbie enabled him to put in a header forced Cudicini to dive to push it away. Then on 89 minutes a ball from Cole was deflected off Kishishev's chest allowed Lampard to make it 3-2. There was a shout for a penalty for handball, but luck and the referee were not with the Addicks.
After a late scare when it appeared that a new night security job might keep him from The Valley (and with Homer the Cherry Hound revisiting his old south coast haunts) new senior match analyst Hooch the Pooch made it to the press gantry, although one radio commentator was asked about the panting sound. It was not easy to select a winner of the coveted Silver Bone but Hooch finally gave it to Claus Jensen for his two assists. Deano let in three goals, but he also made some great saves and the quality of his play attracted favourable comment on The Premiership . Luke Young was more in evidence than in some games and displayed some skill. The signing of Rowett has been decried by the usual moaners, but he showed that he is a skilled defender, although the Bloke Beside Me was concerned about his distribution. Under pressure he was inclined to clear anywhere and he had fewer opportunities to provide his trademark! diagonal long-range passes. Rufus not only scored a goal, but once again showed his quality in defence, even if he was beaten a couple of times. Powell was competent enough, but not that much in evidence. Konchesky was having an excellent game before the cruel blow of his sending off. Not having him available for three games will be a blow. Stuart did make some useful contributions, but was less in evidence as the game went on. Bart-Williams provided some neat passes, but also made some errors. He needs to develop if he is to contribute regularly at Premiership level. JJ was actually called on in defence quite a lot after Charlton went down to ten men. The nature of the game after that point did not allow him to showcase his talents. Euell displayed effort and skill, but often lacked any support. Kishishev was not that impressive after he came on and was beaten more than once by Chelsea player! s. Lisbie made some useful contributions on the wings, but never looked like scoring. Svensson showed once again that he is a tricky player who can open up defences, but there is a limit to what anyone can do in six minutes.
Juneau the Soccer Cat delivered an emphatic Hiss of the Match to referee Graham Barber, Some wags at the RoD suggested that the headline for this report should be 'Barber Shaves It for Chelsea'.
Crowd rating: Generally good, although subdued in the early part of the second half and very reliant on the contribution of the Covered End. 7/10.
Despite the defeat we were all surprisingly cheerful in the RoD after the game. Scroll down for picture. From left to right, your reporter; Bruce from Old Couldson; and Susan, a season ticket holder from Oakville, Ontario.
The number of Addickted who have visted this page is:
Official Charlton Athletic site My home page Political Economy of Football From the Terraces

Wyn Grant
East Stand
Block E
Row Q, Next to Steve from Sidcup and the
Bloke Beside Me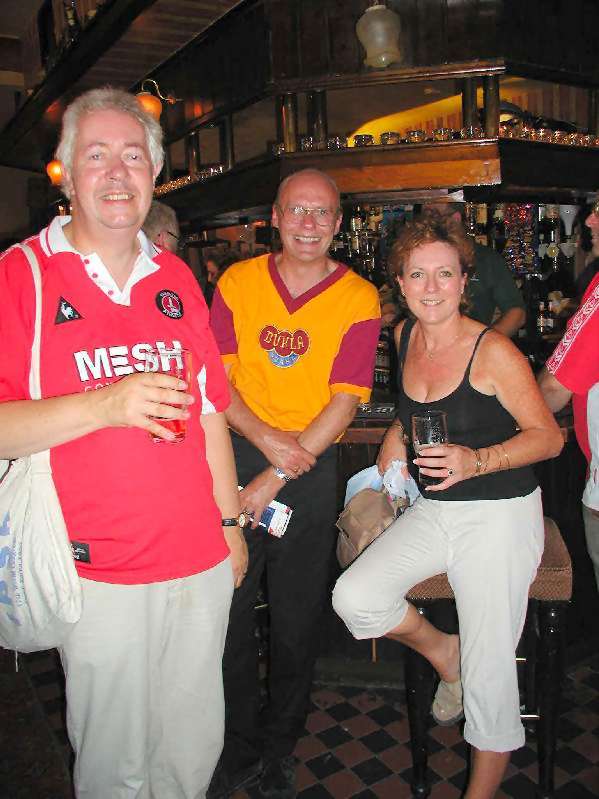 [Back to Top of page]