---

View My Guestbook
Sign My Guestbook

FUTURE OF WORLD SOCCER PAGE
In future all stories that would have been placed on the world soccer page will appear on a dedicated page at Football Economy . This page will be maintained as an archive.19/2/07
DISPUTE ON SHAREHOLDER RIGHTS AT GALATASARAY
Several investors in the merchandising arm of leading Turkish club Galatasaray are locked in a dispute with the club's owner over minority shareholding rights. These investors, including several London-based fund managers, object to a proposal by the club's unlisted parent company to merge the merchandising division, known as Galatasary Sportif, with its footballing side. They claim that such a move, among other things, contradicts statements in the prospectus issued when they invested in the division that ring fenced its revenues from those of the rest of the club.
QVT Financial, a $5.5bn investment management firm, that owns about $20m of Galatasary Sportif stock, has complained to the Turkish market watchdog, the Capital Markets Board. The firm, and other shareholders, want the watchdog either to block the merger or to order the parent company to buy them out at the price the stock traded at before the merger was proposed last summer, which is at least 50 per cent higher than its current share price. QVT says the CMB's approach to the merger proposal is a crucial test to verify the Turkish market's reliability in the eyes of international investors, but the watchdog seems to be more inclined to view it as a dispute between shareholders which may not break any laws.18/2/07
ITALIAN CLUBS PLAY BEHIND CLOSED DOORS
Most Italian clubs had to play behind closed doors this weekend after a government decree ruled that grounds that did not meet new safety standards could not admit spectators. The decree followed the death of Filippo Raciti, a police officer, in clashes between supporters of Catania and Palermo. All matches were suspended last weekend and at one time there was talk of suspending them for a year. How long the measures remains in place remains to be seen. Mayors, who control many of the municpal stadiums in which clubs play, expressed resentment at the measures and talked of strike action although this did not materialise.
To meet the new standards, clubs must have electronic ticketing, numbered seats, video surveillance, up-to-date turnstiles, separation of home and away fans, and a steward service provided by the club. Apart from electronic ticketing, all leading British clubs would meet these standards and the use of closed circuit television has done much to stamp out trouble within grounds. Only six stadiums meet the new standards. One is Rome's Olympic stadium which is the home of Roma and Lazio. The other stadiums are in Genoa, Messina, Palemro, Siena and Turin. Two other stadiums, Milan's San Siro, where AC Milan and Inter play, and the Parma stadium, are considered to be close to fulfilling the security conditions. It is understood that season ticket holders, who would otherwise have to be refunded, were admitted into AC Milan's match this weekend.
Violence is nothing new in Italian football. Eighteen people have died as a result of football-related violence since 1963. Some blame the violence in part on the fact that Italian football clubs do not usually own the stadiums where they play, making them reluctant to invest in improving security. However, a major factor is the tolerance of 'ultras', organised groups of fans who often have links to far right political movements. They were able to bully some clubs into giving them privileges such as free tickets and merchandising franchises. Rules intended to ban such practices were never effectively applied. The underlying causes of the violence are deeply rooted in Italian society and cannot be tackled easily, but at least there is a new determination to address the issues.11/02/07
SPANISH CLUBS TOP RICH LEAGUE
Real Madrid retains its place at the top of the Deloitte Football Money League, the club's second season at the top, while Barcelona moves up four places to second. Juventus is in third place, followed by Manchester United. With both Spanish clubs having announced major broadcasting deals in recent months, and forecasting revenues of €300m in 2006/7 the two Spanish giants may well top the Money League again next year. Barcelona have undergone a remarkable transformation in recent years, doubling their revenue since 2002/3 (when they were placed 13th in the Money League). Barca's revenue has grown in all three major areas, matchday, broadcasting and revenye while Real Madrid have made commercial revenue the mainstay of their growth.
Football remains a growth sport, especially at the highest level. In the first Deloitte Football Money League in 1996/97 the 20 clubs' combined income was €1.2 billion. This year, collective revenues of the top 20 clubs was over €3/3 billion. Next year the top 20 clubs are expected to have three times their revenue of ten years ago.11/02/07
PLATINI VICTORY IS ALSO ONE FOR BLATTER
The election of former French international Michel Platini by the narrow margin of 27 votes to 23 as Uefa president is a much a victory for Fifa president Sepp Blatter. Platin's rise on the political side of football was faciliated at every step by Blatter. The day before the election, he departed from protocol by reiterating his support for Platini in public. Officials at the leading European football associations regularly criticise the Fifa president, who has been subject to unproven allegations of financial mismanagement, about his supposed interference in the sport. Yet they voted for Blatter's man.
Of course, the alternative was not that attractive. At 77 Johansson was hardly a dynamic figure. In recent years he rarely showed up at Uefa's headquarters in Nyon, Switzerland, opting to live in his native Stockholm. Platini also no doubt won support from northern and east European countries because of his pledge to limit the leading European football nations to three Champions League places, thus giving the smaller fry more opportunities to progress in the competition.
Whether he can implement that pledge remains to be seen. His small majority undermines his authority and hence his chances of driving through changes. He has made it clear that he 'detests' the G-14 organisation of top clubs which suggests that there will be no truce between them and Uefa anytime soon. However, he cannot ignore pressure from larger clubs to restore two group stages to the Champions League competition. Uefa cannot be won as a personal fiefdom like Fifa where generous financial support for football in developing countries has secured the loyalty of their national representatives to Blatter.4/2/07
TEAM POPE SETS SIGHTS ON ITALIAN LEAGUE
The prospect of a Vatican football team competing in the Italian League has come a step closer. A league of 16 teams made up of seminarians, clergy and laymen studying in Rome will kick off next week. If it proves successful, a 'dream team' will be selected to play in Vatican colours. There will be no Sunday games in the new league and any players who utter the Lord's name in vain will be sent off immediately.
The football teams will be drawn from the scores of Italian institutions in and around Rome. These include the nine Vatican congregations, the equivalent of ministries, and in particular the six pontifical universities and the various national colleges, brimming with young men from the football-mad nations of Africa and Latin America. A team will also be fielded by the Swiss Guards. The Vatican League Championship, called Clericus Cup, will kick off next month and will be sponsored by one of the largest Italian insurance companies. The cup has the fervent supporter of Cardinal Tarcisio Bertone, the Vatican Secretary of State, who commented, 'If we could draw from all the Brazilians studying in the pontifical universities we could put together a magnificient team.'29/1/07
ENGLISH TEAM IS TOP PICK FOR CHINESE FANS
A new study of the strength of interest in international football across China by Warwick Business School shows that not only is the England team shirt the most popular football shirt across China, England is also by far Chinese football fans' most favored international team beating Brazil, Argentina and Germany.
Dr Sue Bridgewater, a researcher in the University of Warwick's Business School carried out research among football fans in China for the English Football Association during World Cup 2006. Her study, presented to the FA this month, shows much more interest among Chinese fans in international football (78.01%) than Chinese local football (31.24%). English football fared best of all among such supporters. In major tournaments where China was not present, 96.3% of Chinese fans supported another international team. England was by the most supported "second" team (26.35%), followed by Brazil (20.61%), Argentina (11.82%), Italy (10.81%) and Germany (10.81%).
When Chinese fans were asked which team they had seen most frequently England fared even better: 27.2% listed England followed by Brazil (12.9%), Italy (11.2%). Next came English Premiership club Manchester United which, at 9.5%, was rated above all remaining international teams. The research found that the most commonly seen international football shirt in China was the England national shirt (40.56% of respondents report seeing it very often). 30.42% of respondents report seeing Manchester United shirts very often and 29.72% Italy shirts. A number of shirts are most reported as seen often (Italy 36.04%, Argentina 35.66% of respondents, Real Madrid 29.22%) and AC Milan (29.72%). Those recorded as being 'not seen often' included Spain, Chelsea, Germany, France and Inter Milan.
When Chinese fans were asked to rank of the top three international football shirts seen in China. they listed England first (43.9%) some distance ahead of Real Madrid (12.14%). The shirt most commonly listed second was Manchester United (21.75%) followed by Brazil (19.85%). AC Milan was most frequently listed third (27.51% of respondents). 54.14% of the fans surveyed owned a football shirt. Again England came top - 19.6% owned an England shirt, 13.9% a Manchester United shirt, 8.8% AC Milan and 8.23% Italy. Almost one quarter owned more than one international football shirt. Over 75% of respondents knew where to buy an England shirt and almost the same percentage could buy one locally in a sports good store or market. England shirts were available in all the Chinese provinces covered by this research.
70.64% of respondents followed the Chinese national team but levels of active support by match attendance, or consulting media about the Chinese national team were lower (only 27.1%) of the levels than those for local Chinese football. This probably reflected the higher frequency and proximity of Chinese club football compared with the lower frequency of Chinese presence in international competition. When asked to list their post popular local Chinese the top teams were Beijing Guoan, Dalian Shide, Shandong Luneng and Shanghai Shenhua.21/1/07
WILL BECKHAM MOVE BOOST MLS?
David Beckham's move to Major League Soccer with Los Angeles Galaxy has been interpreted in Europe as bringing his football career to a premature end in exchange for renewing his brand and giving new opportunities to boost the celebrity career of his wife. As the celebrity capital of the world, LA is the right location for that, but what will it do for MLS?
Beckham's move has been made possible by the introduction by MLS of a designated player rule which allows franchises to circumvent what would otherwise be a prohibitive salary cap. According to the Chicago Addick's site, the top paid players in MLS are:
1. David Beckham; LA Galaxy $50m
2. Juan Francisco Palencia; Chivas USA $1.36m
3. Landon Donovan; LA Galaxy $900,000
4. Eddie Johnson; Kansas City Wizards $875,000
5. Juan Pablo Garcia; Chivas USA $624,260
6. Freddy Adu; DC United $550,000
7. Josh Wolff; Kansas City Wizards $420,357
8. Clint Mathis; Colorado Rapids $410,000
9. Eddie Pope; Real Salt Lake $394,688
10. Tony Sanneh; Chicago Fire $365,000
Perhaps the main hope for developing MLS is in the growing Hispanic population of the US. LA Galaxy is itself situated in an Hispanic enclave. During the 2006 World Cup America;s bigest Spanish-language broadcaster, Univision, routinely outrated the all-American sports network ESPN. Last year there were 42 million Hispanics in America, a number that is expected to grow to 60 million or 18 per cet of the population by 2020. Moreover, they are getting wealthier by the year. Nielsen Media Research estimated recently that the buying power of Hispanics in the US would exceed $1 trillion by 2008, up 55 per cent from 2003. Galaxy no doubt expects Beckham's arrival in the city to generate tens of millions of dollars in sponsorship and advertising deals, with every industry from car manufacturing to life insurance seeing the British midfielder as a direct way to increase their presence in the Hispanic market. However, it should be remembered that when Pelι played for the New York Cosmos he was a huge draw on the field but failed to change the second rate status of soccer as a sport in America.14/1/07
FOOTBALL DEAL WORKS WELL FOR CANAL PLUS
Canal Plus's €1.8bn bet on football has turned out to be a smart move. The pay television group, owned by Vivendi, agreed to spend €600m a year from 2005-08 on the exclusive domestic rights to screen matches from France's leading football leagues. The sum was huge for a competition that has few international superstars. However, the investment enabled it to drain subscribers from TPS, its French satellite TV rival. That in turn helped to bring about a cost-saving merger between Canal Plus and TPS. France was unusual in having two satellite TV platforms rather than one dominant player such as Sky in the UK. This year, Canal Plus expects to produce an operating profit similar to the €203m recorded in 2005, in spite of the cost of football rights
France is now allowing football clubs to list on the stock market with perennial national champions Olympique Lyonnais preparing to float. However, it is questionable whether there are many others in a position to do so.7/1/07
PARMA LOOKS FOR BUYERS
Parma football club is expected to be sold out of administration in the next few weeks in one of the last parts of the clean up from the collapse three years ago of dairy company Parmalat. Last year a deal collapsd to sell the team to former Real Madrid chairman Lorenzo Sanz. Any new owner will need to spend fast to avoid relegation. The price is expected to be less than the €27m the last time a sale was near.7/1/07
CHILE REORGANISES LEAGUE
Reformist Harold Mayne-Nicholls (not for nothing is Chile sometimes called the Britain of South America) has been elected league president for a four year term. A new tournament system will break the country into northern, southern and central groups will begin in 2008. Admittedly, Chile streches from the equivalent of Scotland to Nigeria, but some nine million of the 16 million population is to be found in Greater Santiago which is also the location of top teams such as Colo Colo. When visiting the country in November, I was interested to see a Catholica player remove his shirt after scoring to reveal a large tatoo of Christ on the cross. As the country's publicity tagline says 'All Ways Surprising'.26/12/06
BERMUDA JOINS US SOCCER LEAGUE
Situated in mid-Atlantic 650 miles (1,050k,) east of Cape Hatteras, Bermuda is technically a British colony, although it has been self-governing for 326 years and is home to much of the world's reinsurance industry. From April 2007 the Bermuda Hogs will compete in United States Soccer League Division Two, the ten team third tier of US football. The new team is headed up by ex Manchester City star Shaun Goater and former Coventry and Stoke striker Kyle Lightbourne. The country's two best known football exports hope to develop talent by placing promising players in American universities enabling them to play in the US.26/12/06
FOREIGN INVESTOR MAKES WAVES IN SPAIN
Dmitry Piterman has been involved in three Spanish clubs and is a controversial figure, not least at Alvaes where he is now president. The son of Ukranian immigrants who moved to California when he was in 13, he came to Spain to extend his construction empire into the Costa Brava. He is now one of the few non-native Spainards holding the presidency of a club in La Liga.
His first involvement was at Palamos of the regional second division where he installed himself as head coach, a pattern that was repeated elsewhere. He next moved to Racing Satander where he bought a 25 per cent stake in the club and promised to buy enough to take a majority stake. That he never quite managed, but he still served as head coach as well as president. At Alvaes he ran into trouble when he tried to become head coach because he lacked the necessary certificates to operate that level, the club having briefly regained its place in the top flight. He got round this problem by being accredited as a photographer, sitting at the end of the bench, having a pal named as official coach and gives all the orders anyway.
Fans of the Basque country club are far from happy with his two-and-a-half years in charge. Recently protests against him by fans delayed the kick off of the club's fixture. Last season 4,500 of them marched through the Basque legislative capital of Vitoria chanting 'Dimitry kanpora' which is Basque for 'Dimitry, get out'. The local government has threatened to suspend subsidies to the club that are worth about €1m a season because of his eccentric management. However, he might simply go to some other club as he says that he had offers from half a dozen middle ranking Spanish clubs the last time he was without a presidency.
Piterman is very much a businessman who he says he believes in the profitability of football clubs. He sees in La Liga a far more fluid, competitive situation than in, say, the English Premiership. In the past six years, 10 different Spanish clubs have finished in the top four of La Liga, allowing them to access the substantial financial rewards of the Champions League. In the same period, only five different English clubs have qualified for the competition. The downside of the comparison is domestic revenues, divided unequally in Spain, where clubs like Barcelona and Real Madrid negotiate their television deals independently. Clubs of that calibre cannot b bought because they are democracies where the club's members, the fans, elect their own president.24/12/06
CONTINENT LOOKS TO BRITAIN FOR ANSWERS TO HOOLIGAN PROBLEM
The football hooligan problem seems to be getting worse in continental Europe at a time when it is on the wane in Britain whose legislative approach is seen by some countries to offer a solution. A recent Uefa Cup football match between Feyenoord from Rotterdam and Nancy had to be halted after teargas used by French police impaired visibility. This followed attempts by Dutch supporters to invade the pitch and the throwing of missiles (mostly chairs) at other spectators, events preceded by several hours of brawling and smashed windows in downtown Nancy.
A political consensus is being arrrived at in Holland which draws on the 1989 UK Football Spectators Act and the 2000 Football Disorder Act. Poland and France are thinking of taking similar steps. The core of UK enforcement since 2000 has been the 'banning order' which can be used to stop suspect fans travelling to matches (or from going abroad at all when the England team is travelling) for periods of up to ten years. Recipients can be ordered to report to local police stations on match days.
Dealing with the problem is not easy. An executive hired by Paris St-Germain to improve security at matches was forced to resign in 2005 when 'ultras' denounced his plans for traceable tickets and argued that heightened camera surveilliance was 'fascist'. On 23rd November a mob of PSG fans, shouting anti-semitic insults, chased down a supporter of Hapoel Tel-Aviv which had just beaten PSG, an incident that ended when a plainclothes policeman shot one of them dead. The overlap between hooliganism on the one hand and racist and fascist violence on he other is significant and progress will not be easy.17/12/06
INTERNET COULD THREATEN PAY TV
A survey published by the International Journal of Sports Marketing and Sponsorship shows that football fans are willing to pay an average of €3.73 for highlight reports and matches via the internet. Research conducted by Sven Thysohn of Frankfurt's Johann Wolfhang Goethe-University polled 12,600 fans of seven German Bundesliga clubs on attitudes towards internet football services.
The findings indicate that internet reports could have a dramatic report on the television industry in the near future. Currently, Pay-TV operators have relied on football as the key subscription driver, resulting in huge rights fees for prime European football content. Theysohn believes the internet could be a threat to the model, especially as consumers would be able to watch their soccer match of choice, independent of time and location. He commented, 'The quick distribution of broadband as well as the growing popularity of paid content and particularly video streaming services could turn soccer reports on the internet into a viable alternative to traditional media channels.'
The survey suggests that football clubs could be in a strong posiyion to either stream their own content, or profit from it, rather than rely on the distribution infrastructure of the television operators. This potential remains regardless of whether the internet replaces existing distribution channels. According to Theysohn, 'The yet undeveloped market of soccer reports via the internet can be viewed as a promising instrument for professional soccer clubs to reach both potential and existing consumers worldwide, to enhance their marketing strategies and to generate new income sources.' 13/12/06
ARGENTINE LEAGUE FOOTBALL IN CRISIS
As the Apertura Tournament nears a conclusion, league football in Argentina faces a serious crisis prompted by organised hooliganism (see also story below). One issue, as in Italy, has been organised gangs securing control of the sale of tickets. Players threatened to go on strike because of a lack of security. A prime mover in a players' meeting in a downtown hotel appears to have been Juan Sebastνan Verσn, now playing for Estudiantes, although he appears to have been egged on by a government official. A sub-plot appears to have been getting rid of AFA president Julio Grondona, but he has said that he will step down next year anyway after 28 years in charge.
Respected soccer commentator Eric Weil writing in the Buenos Aires Herald stated, 'A lawyer - on appeal from a lady reportedly related to one of the Gimnasia players - asked the government to take over control of the AFA and stop the championship until there were ample security guarantees for fans, players, authorities and journalists (some were attacked in La Plata last week) to which I would agree, but ... government intervention would result in suspension by FIFA. Apart from that soccer has already been stopped several times with absolutely no positive results. The rumour of an offer of 3,000 dollars per player made by a River Plate player to one from Gimnasia if they had beaten Boca Juniors seems to be true. [In any case Gimnasia players were threatened to throw the match against Boca by their own club's hooligan gang]. This isn't so bad [?], but against the rules. The AFA, with more important things at the moment, is keeping quiet so far.' One senses that this mess will not be sorted out any time soon, but one cannot deny the passion that accompanies the game in the Southern Cone of South America.26/11/06
GAME SUSPENDED AFTER FANS BLOCK BUSES
Argentina's soccer crisis deepened on Sunday Novembr 19th when fans of Racing Club and San Lorenzo blocked team buses and forced the match between the two sides to be called off. The fans, who jumped up and down in celebration on hearing that the match had been postponed, were angry at a decision to order the Buenos Aires derby to be played behind closed doors in La Plata, sixty kilometres away. The decision sparked rumours that the rest of the day's fixtures could be postponed but these proved to be unfounded.
An estimated 50 Racing fans gathered outside the team's hotel in Buenos Aires and stood in front of the team bus, chanting 'They're not playing without the fans.' Almost at the same time, Loremzo fans chained the doors at the team's headquarters where the players were staying and stopped their team's bus from departing. The Buenos Aires provincial government ordered the match to be played without supporters as a response to the violence and intimidation which has plagued Argentine football since the season began in August.22/11/06
SERIE A SCANDAL PROBLEMS NOT ALL ITALY'S FAULT
The fact that Serie A clubs had three bites of the cherry in terms of punishments handed out in the influence peddling scandal might seem to suggest a whitewash that attempted to limit damage to leading clubs. However, the picture is more complex and points to underlying issues in terms of relationships between Fifa, national federations and clubs.
The clubs were originally dealt with by an Italian FA tribunal in July. The penalties were then reduced on appeal later in the month. Once an appeals process has been exhausted, sentences should be final in a society governed by the rule of law. However, a number of the clubs involved threatened to sue the Italian FA in a civil court. Fifa feels that it cannot recognise the authority of civil courts because most of its members are not functioning democracies with established legal systems. Fifa reminded the Italian football authorities that taking part in litigation in a civil tribunal was forbidden by their statutes. The price that Italy could pay would be a high one, suspension or expulsion from world football and hence no participation in Euro 2008 and no Champions League football for Serie A teams.
The Italian FA was caught between a rock and a hard place: prison if they ignored the civil tribunals and expulsion from world football if they did not. This being Italy, an ingenious solution was at hand. A third tribunal was set up under the Italian Olympic Committee, but it was called 'arbitration'. Any club who agreed not to take legal action in the civil courts could go to arbitration, the implicit bargain being that they would get some reward. And so it turned out. Juventus had their points penalty in Serie B reduced to nine points from 17 at the appeal stage, Fiorentina's penalty was cut to fifteen points (from 19 on appeal) and that of Lazio to a mere three (from eleven). Milan's was left unchanged at eight. In practical terms, this didn't make much difference. Juventus are pretty much guaranteed to be back in Serie A; Fiorentina will probably avoid relegation, which they would have done anyway; and Lazio have a slightly better chance of qualifying for the Champions League.
One way out of problems of this kind would be for Fifa to take action not against entire FAs, but individual teams. However, this would require national associations to cede more authority to Fifa which they are reluctant to do, while it would also run up against resurgent club power. Equally, it is difficult to see how Fifa could ban a leading national association. What this points to is more messy compromises.5/11/06
BARCA SECURE €150m SPONSOR DEAL WITH NIKE
Nike, the world's largest sporting goods company and FC Barcelona, have announced a new five-year sponsorship deal for €150m that both sides hope will take them to number one in the sport. Nike has been one of the club's leading sponsors since 1998. The latest contract includes additional undisclosed bonuses and royalties, with a possible five-year renewal which would further extend the relationship to 2018.
The deal marks a convergence of marketing strategies between the two signatories which has been developing since the politically ambitious Mr Laporta was elected president of FC Barcelona in the summer of 2003. Nike has been trying to gain distance from past associations with sweatshop labour by branding itself a champion of ethical trade. Barcelona wants to be a club that people follow not just for its football but because of its social commitment as well. The Nike deal follows Barcelona signing last month a five year agreement with Uniced under which the club's players carry the United Nations Children's Fund logo on their shirts as part of a joint programme of support for those in the developing world. Behind the philanthropic gesture is a business calculation that the deal will expand the club's international following and throw up other marketing opportunities including television rights.
Since taking over at the club Mr Laporta has moved to exploit its popular image as a social and cultural phenomenon as defined in the club's motto 'Mes que un club' (more than a club). Repressed politically during the Franco dictatorship, Barca has turned into a vehicle for a powerful collective identity in defence of Catalan nationalism and as a wider expression of democratic rights.29/10/06
CHINA'S CRACKDOWN ON SOCCER CORRUPTION
China is attempting a crackdown on widespread corruption in the game. The Chinese Football Association (CFA) and the police have announced the formation of a task force to rid football of the gambling that has fuelled rampant match fixing by corrupt players and referees. The problem has emptied stadiums and deterred sponsors. In a crackdown last year hundreds of people were arrested and numerous websites closed in a campaign against online gambling. Yet it proved little deterrent during the World Cup which saw a massive upsurge in bets placed on line. Many argue that the problem is the CFA itself which is controlled by the General Administration of Sports, a government ministry. The CFA's operations are subject to little scrutiny and football clubs complain that it ignores their interests. The solution would appear to be an independent governing body for the sport, but whether that is possible is another matter.16/10/06
OLYMPIQUE LYONNAIS PLANS STOCK MARKET FLOTATION
Olympique Lyonnais, France's leading football club, will take the first step towards a stock market flotation in the next few weeks. The move follows the French government's lifting of a ban last week on sports clubs listing themselves on the stock market, following pressure from the European Commission. The Commission said that a 1999 law that banned sports clubs from being listed on stock market constituted 'an unjustified barrier to the free movement of capital.'
Olympique Lyonnais, French champion for the past few years, hopes to make an initial floating of shares early in 2007, generating funds for a new stadium. Other clubs may follow suit, including Paris Saint-Germain. Colony Capital, Butler Capital and Morgan Stanley bought PSG for €41m from Canal Plus in June. Olympique Lyonnais said that the relaxation of the ban coupled with other recent reforms would allow French clubs the same financial advantages as competitors in other European leagues where listings are common.1/10/06
BRAZIL TO HELP INDIA TO BOOST SOOCER
Two of the world's leading emerging economies, Brazil and India, have done a deal to boost football in India. The deal came out in the first visit by an Indian prime minister to Brazil for 38 years when Dr Manmohan Singh met with President Lula da Silva. The result was a plan to put football on India's sporting map and an agreement for Brazilian coaches to develop Indian talent.
Despite its population of 1.1 billion people, India - a country obsessed with cricket - has long struggled to make any impact in football. This month it was demoted to joint 136th place with Yemen in Fifa's rankings after suffering a 7-1 drubbing by Saudi Arabia in the Asian Cup qualifiers. With the Commonwealth games to be held in Delhi in 2010 and the country holding wider ambitions to host bigger events, there is a desire to improve on India's woeful standing. The national team, known as the Bhangra Boys, has only once qualified for the World Cup and that was in 1950.
An Oxford economics graduate, Dr Singh was persuaded to seek help from Brazil by Priya Ranjan Dasmuri, the president of the All India Football Federation who is also Information and Broadcasting minister. 'This is the first time an Indian prime minister has taken up the issue of football. It is momentous,' Mr Dasmuni commented. The football market in India is potentially huge, but is held back by poor club infrastructure. The World Cup helped to revive public interest.17/9/06
LAST MINUTE TV DEAL FOR ITALIAN SOCCER
Italy's football season has opened after a last-minute broadcasting agreement was reached between Lega Calcio, the organisation that manages the top two leagues, and broadcasters Sky Italia and Sportitalia. Many feared that Lega Calcio would delay the start of the season until it could win assurances that at least some matches played in the weaker Serie B league would be broadcast on television. The season had already been postponed once this year as a result of the match fixing scandal which left lingering doubts over the composition of Serie A and Serie B.
The small media company Sportitalia, owned by French entrepreneur Tarak Ben Ammar, unblocked the deadlock by agreeing to purchase all digital terrestial broadcasting rights for Serie B. However, the deal does not cover Juventus, Napoli or Genoa home matches as Mediaset, the group owned by former Italian prim minister Silvio Berlusconi, had bought these rights earlier. Soon afterwards Sky Italia agreed to buy all Serie B rights for its satellite platform. The two deals represent an exception to the rule in Italy where broadcasting rights are normally negotiated individually by the football clubs. Elsewhere in Europe they are negotiated collectively. The result in Italy has been a few clubs command the highest fees while the rest scramble to get coverage.
The relegation of Juventus to Serie B is certainly to push up the league's audience numbers this year. Sportitalia estimates that the Serie B fan base will reach 16 million. Broadcasters have already paid more than €40m this season for Serie B rights, more than double the amount that state broadcaster RAI and Sportitalia paid last year.
The Serie A situation is messy with many Italians uncertain where they will find broadcasts of the matches of their favourute club. Sky Italia owns the rights to most Serie A matches, but some clubs such as Catania, Palermo, Parma and Sampadoria, still lack TV deals, although Sky is interested in building up their rights as well. However, no agreement has been reached with Florentina which continues to argue with Sky over prices.13/9/06
NJ BUDGET DEFICIT HITS PLANS FOR NEW MSL TEAM
New Jersey's $5 billion budget deficit has hit plans for a new MSL team that would serve the lucrative greater Philadelphia market. The plan was to build a 20,000 seater soccer stadium at Rowan University's Glassboro campus. The $1 billion project would have included the stadium, restaurants, stores and student housing. The announcement that the plan was to be shelved came a day after the sale of the team that considered moving to Neww Jersey. The Kansas City Wizards of Major League Soccer were purchased by a local investment group that plans to keep the team in the Kansas City area.
The project is not dead and if the state does contribute funds and the stadium is built, the professional team that plays there would be named after New Jersey. MLS officials have had their eye on the Philadelphia market for the last few years and Rowan could remain in contention for an expansion team now that the Wizards are out of the picture. MLS spokesman Dan Courtenay said that the league was in continuing discussions regarding the Philadelphia area. He added, 'It is a market that we continue to remain extremely interested in. It is one of the most passionate sports markets in the country.' But also one in which soccer is up against other well established sports.4/9/06
JUVE TAKE THEIR CASE TO THE COURTS
Having exhausted all possible levels of sporting appeals over the alleged match fixing scandal, Juventus have now taken their case to the civil courts. They are reportedly asking them to overturn the Italian FA's sentence whilst seeking damages of about £88 million. If Juventus were awarded such a large sum in damages, it would bankrupt the Italian FA. In any case they are caught between a rock and a hard place if the civil courts decide in favour of Juve. If it recognises the court's authority and abides by its verdict, Fifa has made it clear that its membership would be suspended or even revoked. If it does not adhere to the verdict, it would be held in contempt of court for breaking the law.
Juventus does have quite a strong case. Phone transcripts revealed that club general manager Luciano Moggi made hundreds of calls to FA officials, lobbying hard for favours, including the appointment of certain referees. That is certainly a violation of the basic principles and spirit of the game. Whether it is illegal is another matter. There is no evidence of money changing hands, no evidence of quid pro quo favours and no hard evidence that anyone complied with Moggi's requests. Arguably it is no different from the lobbying that goes on in politics, often distasteful and potentially distorting of the democratic process, but a fact of life.
The underlying issue here is that Fifa's structure has not caught up with changes in the game. As football has become a business, regulations made for recreational clubs are no longer appropriate.28/8/06
JUVE TRIES TO SECURE ITS FUTURE
The first signs of the financial impact of the Italian referees scandal on Juventus were apparent when it reported a 36 per cent drop in quarterly revenues. The club stands to lose tens of millions of euros as sponsors such as Tamoil and Nike renegotiate their contracts and media companies review what they will pay for broadcasting rights. The club will also lose about €22m after being excluded from the European Champions League.
Nevertheless, the club's stock closed up 1.76 per cent on Friday at €1.90 a share. The market capitalisation of Juventus has increased since relegation, reaching €230m at the end of last week compared with €160 million at the beginning of the year. Fund manager Roberto Lottici from Banca Ifigest commented, 'Juventus has a valuable brand around the world, on the same level as Ferrari. Those who are buying shares now are counting on more interesting income in the future.' But others believe traders are betting on a delisting of the Turin club which is effectively controlled by the Agnelli family. Officials from Italy's sports ministry have recently signalled that they would like to see Italian football club shares off the Milan stock exchange. Lazio and Roma are listed as well as Juventus.
The club's net loss for the full year was €21m compared with a loss of €3m in the preceding year. This was in spite of a 9.7 per cent increase in revenues to €251.1m, boosted by €44.2m in one off media deals. Writedowns of €13.1 club also weighed on the bottom line as the club took account of the sales of Lillian Thuram and Patrick Viera even though they were sold after the end of the fiscal year. Selling players could be the way out for the club. Last Thursday they made a €15m profit on the sale of striker Ziatan Ibrahimovic to Inter Milan. Juventus has also lodged a second appeal in the hope that it can lighten the sentence imposed on the club by the football authorities. The decision is expected on August 18 with the postponed Italian football season starting on September 10.13/8/06
THE CHANGING NATURE OF THE J-LEAGUE
I recently returned from a visit to Japan with my main destination being the city of Fukuoka on the southern island of Kyushu. As a major Japanese city, Fukuoka has a J-league team. The local guide notes, 'Team members respond to the enthusiastic support of citizens with hotly contested games.' Not so hotly contested, as they were third from bottom of the league when I last looked. And the support of citizens in Fukuoka and elsewhere has varied according to a recent article by Funk, Nakazawa, Mahony and Thrasher in the International Journal of Sports Marketing and Sponsorship which is summarised here.
The J-League began in 1993 as the country's first professional football league. Suomo wrestling and baseball are well established in Japan. Fukuoka has a first-rate baseball stadium and supporters of the SoftBank Hawks were evident on the streets. A decline in attendance began in 1996 which is perhaps not so surprising once the initial novelty had worn off. However, the league and its clubs were slow to respond to this decline. During the initial boom period, there was a perception among fans that sponsors were getting the best tickets, often giving them to people who enjoyed the status of attending matches but were not 'true' fans. The article notes, 'The initial pride felt by local fans turned to resentment through feeling neglected.'
In 1996-2000, average attendance per game was 11,637. However, it increased by nearly 50 per cent in 2001 and this increase was sustained with an average attendance of 17,308 in the 2000-2004 period. The World Cup appears to be the key factor that led to the increase in attendance. Hosting the World Cup in 2002 succeeded in attracting new spectators, increasing total attendance and improving television ratings. However, spectators before 2002 had a stronger attachment to the team, community and interest in the sport, while spectators after 2002 were more attracted by star players, the drama of the game and the enjoyment of simply being at the match.
This would suggest that the game still does not have deep roots in Japan, a society in which tradition exists alongside modernity. Indeed, the authors note, 'the psychological commitment to the team and sport has not developed and it would be easy for these spectators to drop out'. It will be interesting to see what effect Japan's relatively poor performance in the 2006 World Cup has on attendances.29/7/06
SOCCER IS THE MOST UNPREDICTABLE SPORT
Scientists at the Los Alamos National Laboratory in the US, clearly not short of a bit of spare time, have analysed 300,000 games in a variety of sports. Their finding is that soccer is the most unpredictable of all sports with the underdog (defined as the team with the worse record) winning a little more than forty-per cent of games in the English football leagues between 1888 and 2005. Major League Baseball was the next most unpredictable, followed by [ice] hockey and the National Basketball Association. The most predictable sport seems to be American football, although even there the underdog won roughly 36 per cent of all NFL games.29/7/06
PENALTIES CUT IN ITALIAN SCANDAL
The appeals process in the Italian match fixing scandal has led to two top sides avoiding relegation from Serie A and a reduced penalty for main culprit (or, as they would see it, 'victim') Juventus. However, the clubs concerned are far from happy and intend to pursue the matter through the civil courts which may delay the start of the Italian football season.
The appeal decisions were:
Lazio Back in Serie A but points deduction increased from 11 to 17, giving them a tough start to the season.
Fiorentina Back in Serie A, but points deduction increased from 12 to 19.
Juventus Lose past two Serie A titles, remain relegated to Serie B, but points reduction reduced from 30 to 17, giving them an outside chance of promotion after one season.
AC Milan Fifteen point penalty reduced to eight and allowed to join Champions League in third qualifying round.
The outcome is a good one for Fiorentina and Lazio, except that their top officials remain banned: Andrea Della Valle, the chairman of the Firenze club, was banned for three years, while his brother was banned for three years and nine months. At Roma's Lazio president Claudio Lotto was banned for two-and-a-half years.
Juventus and Fiorentina plan to appeal to a civil tribunal. Such a case is unlikely to be heard until mid-August which means that the start of the new season could be delayed from 27 August until 10 September. Fiorentina owner Diego Della Valle claimed 'It's not our problem if the start of the season is delayed, it's the FA's problem.' One might think that it was also a problem for fans and the television networks, but Della Valle insisted that his club was innocent. Giovanni Cobolli Gigli, the Juventus president, was even more indignant, proclaiming 'we refuse to be turned into scapegoats.' He claimed, 'We don't understand why we have been treated more harshly than everybody else.' Well it could be because what prosecutors described as a 'pathological web of influence-peddling' was manipulated by Luciano Moggi, the former Juve president. With the support of the highest levels of the Italian FA, as well as many agents and journalists, he effectively controlled a number of referees with career advancement promised to those who favoured his club and relegation to minor matches and lower leagues for those who didn't play ball. In the case of the other clubs, the court was persuaded that they were acting out of 'self defence' in Moggi's system.
I have a great affection for Italy and for Italians, but in many ways it is a fundamentally corrupt society. The World Cup victory has contributed to a collective amnesia about the match fixing scandal. The large businesses involved in Italian clubs have managed to stay clear of any taint or blame, which was not the case in the still rumbling Parmalat scandal involving the fraud-ridden dairy empire (which affected Parma football club as the Tanzi family was in charge there). Italy's successful business families have often owned football clubs without actually running them, the classic case being the Agnellis who founded Fiat and are the controlling shareholders of Juventus. Media magnate and Italy's richest man (and until recently the prime minister) Silvio Berlusconi is chairman of AC Milan. The owner of Fiorentina is chairman of the luxury fashion group, Tod's describing the club as his family's Sunday hobby.
Giacomo Vaciago, a political economy professor at the Catholic University of Milan commented, 'In this scandal the establishment is well protected, it is the middle men who were in charge while the top was distanced by two layers of command.' In other words, Juve may take a temporary hit, but not much will change in Italian football, just as change occurs slowly in Italy generally. Indeed, the country is protected by a picture postcard image which may infuriate Italians in business but was cleverly portrayed in a recent BBC television series by a photogenic Italian aristocrat from Milan.26/7/06
MATCH FIXING VERDICTS TURN ITALIAN FOOTBALL UPSIDE DOWN
Although they may yet be modified by a variety of appeals processes, the decisions reached by a sports court in Rome on Italy's match fixing scandal have the potential to turn Calcio upside down. According to leading Italian newspaper,Corriere della Sera, 'two generations of the soccer establishment were wiped out.' Juventus were relegated to Serie B and because of a 30 points penalty have little chance of getting back next season unless an appeal is successful. The club has been stripped of its last two Serie A titles and is out of the 2006-7 Champions League. Luciano Moggi, Juventus general manager, was banned for five years as was the club's former chief executive Antonio Giraudo. In both cases the soccer federation was asked to make the ban a lifetime one. The punishment could have been worse for Juve as there was talk of relegating them to Serie C1 which could have meant the end of the club. Instead, there has been a compromise of at least two seasons in Serie B.
Lazio, Fiorentina and AC Milan were accused of lesser crimes than trying to influence the appointment of referees and the punishments are proportionate. (Five other clubs - Siena, Reggina, Messina and Lecce in Serie A and Arezzo in Serie B - have also been indicted but, as they do not qualify for European competition, will be dealt with later). For example, Fiorentina were victimised by match officials controlled by Moggi until the club agreed to stop campaigning against the Juventus general manager, at which point they got a few favourable decisions late in the season and avoided relegation. The punishments for these clubs are:
Fiorentina: Demoted to Serie B with a 12 point penalty. Fined, out of the 2006-7 Champions League and their president banned for three-and-a-half years.
Lazio: Demoted to Serie B with a 7 point penalty. Fined, out of the 2006-7 Uefa Cup and their president banned for three years.
AC Milan: Spared demotion. Penalised 15 points and 44 points deducted from last year's total. Out of 2006-7 Champions League.
Television companies said they were waiting for the outcome of the appeals process before deciding whether to renegotiate their broadcasting rights, given that the product available may be much less attractive. There are a number of possible appeal routes:
An appeals trial in the sports court system between 20th and 24th July.
An appeal to the Sporting Appeals Tribunal in Lausanne, Switzerland, but this can only deal with whether clubs should be admitted to Uefa competitions.
An appeal to the Italian civil courts which can deal with whether clubs should be relegated and how many points should be deducted.
There is a certain cynicism in Italian football, reflected by the statement by Antonio Giraudo, the former chief executive of Juventus as reported in Gulf News:'All kinds of things go on in football: people give Rolexes to referees, people fix the accounts. What I'm saying is this is an environment in which ... you have to look after your own interests.' It is therefore no surprise that this is the latest of a number of scandals in Italian football:
In 1927 Torino were stripped of the title after it was found that they had bribed a Juventus player to underperform in the derby.
A match fixing scandal at the end of the 1979-80 season rivalled the current one. The AC Milan president and players from Lazio, Avellino, Perugia, Genoa and Lecce were arrested for match fixing and illegal betting.
Genoa won promotion from Serie B to Serie A, but then it was found that they had paid Venezia €250,000 to guarantee a win in their final game of the season. Genoa were demoted to Serie C1.
I will be taking John Foot's Calcio: a History of Italian Football on holiday. You can buy it through our sister site Football Economy .19/7/06
NO WORLD CUP BONANZA FOR GERMANY
Even before Germany was knocked out of the World Cup there was less of a boost than hoped for to the country's sluggish economy despite the wave of patriotism that swept the country. If Germany had gone on to the final, it might have kick started the economy and also given a confidence boost to Angela Merkel's coalition government which is being hampered by internal divisions. Frau Merkel was present at the German matches, although mistakenly described by British TV commentators as 'head of state' (an error also applied to Italy's Prodi).
Hoteliers, taxi drivers and retailers have been complaining of slow business in the host country. Dirk Schumacher, an economist at Goldman Sachs commented, 'There is probably some impact on sentiment. But you can't see a World Cup effect in the hard data.' Berlin taxi driver Jurgen Seipel complained about a lack of passengers in the back of the cab: 'The World Cup has been a big disappointment. My figures for June have been worse than for May.' According to a poll by TNS Infratest, only 9 per cent of restauarant properietors and 15 per cent of hotel owners were very satisfied with the World Cup, while 44 per cent of the hospitality industry was dissatisfied.
For retailers it has been largely business as usual and shopping centres have been deserted during matches. Brewers have done well, particularly when England was still involved. Its fans drank an average 17 pints each in Nuremberg alone. Moreover, business confidence in Germany, as measured by the Ifo index, hit a 15-year high before the team went out, although this may reflect signs of a long awaited macroeconomic recovery. Consumer sentiment reached its highest level since November 2001 and 50,000 temporary jobs were created. However, retail sales slumped 2.2 per cent in May when economists expected 'big ticket' purchases such as televisions to be made.
German consumers are increasingly gloomy about growth, especially as the coalition government has recently approved an increase in value added [sales] tax for next year. Things would have probably have been worse without the World Cup, however. Moreover, it has given a big boost to the country's image with 90 per cent of the 2 million visitors so far, already double the estimate, saying that they would recommend the country for a holiday. The World Cup has been a big party and England fans, many of whom had never been there before and disliked the country now say that they love it because of the friendly reception they received.6/7/06
FIFA INJURY FUND WILL NOT END CLUB V. COUNTRY ROW
One of the biggest sources of tension in world football at the moment is the that between club and country. It is at the heart of the ongoing argument between the G-14 which organises eighteen top European clubs and Uefa. Indeed, these themes were at the heart of a conference at Loughborough University, England last weekend at which this page presented a paper. Papers can be downloaded at EU and Sport .

As their wealth and power has increased, the top world clubs often seem to regard international football, even the World Cup, as an irritant or worse. As the Financial Times recently commented, 'It is scarcely surprising: how many other businesses would be prepared to lend top employees to other entities, often in far flung corners of the globe, knowing that they may return tired or even incapicitated.'

Fifa has moved to deal with one source of complaint by arranging an insurance fund to compensate players if their players are injured in the World Cup. The SFr15 million (£6.6m) fund has been raised by earmarking five per cent of available prize money. Temporary total disablement, permanent disablement and death are all covered, but the first category is the most relevant one.

The maximum benefit period for non-permanent injuries is set at 180 days, with payments designed in most cases to match the player's salary. However, a cap of just under £40,000 a week is applied. This means for the highest paid players like German midfielder Michael Ballack, shortly to join West London club Chelsea, available compensation would fall well short of their weekly wages. Fifa justifies this by pointing out that the designated amounts were settled on following analysis with insurance experts. It says that the sums paid out are in line with what an orthodox insurance policy would have provided. The governing body also argues that the marketing power of top stars such as Ballack is such that clubs can derive commercial benefit by employing them even when they are not fit to play.

The most valuable player to be injured in the tournament so far is England's Michael Owen who plays for Newcastle United, a Premiership club in a major city in the north-east of England. Owen sustained a ruptured cruciate ligament in his knee in England's match against Sweden. He is expected to be unable to play for five months, a severe blow to the Newcastle club. The paperwork for Owen's claim was submitted to Fifa, but this has not stopped the club taking legal advice about their options.

Fifa has no way of knowing whether the SFr15m earmarked for the tournament will be fully absorbed by claims made during the tournament. If it proves insufficient to fully meet all claims then the available sum will be paid out pro rata to those covered. If any money is left, it will be shared out among national associations.4/7/06
TOP ITALIAN CLUBS ACCUSED
Italian Serie A champions Juventus and three other top clubs (AC Milan, Fiorentina and Lazio) have been formally charged with match fixing. They face the threat of relegation and the loss of lucrative sponsorship deals. A total of 13 players in Italy's World Cup squad are employed by clubs implicated in the scandal. No players have been charged by the Italian football federation. However, thirty individuals will face a special sports tribunal in Rome. They are thought to include referees, Franco Carraro, the former president of the Italian football federation, and Adeiano Gallani, the AC Milan chief executive. A decision on the cases is expected by July 9, the day of the World Cup final. The Italian football authorities were put under intense pressure by Uefa to reach an early conclusion.
Individuals risk being suspended or banned from the sport in Italy if found guilty, but clubs could also be hit hard, especially Juventus. They could be relegated to Serie B or even Serie C1 (the third division) and could be stripped of the Serie A titles the club has won in the last two seasons. The other clubs could also be relegated, but their punishment could be confined to points penalties and exclusion from European football.
Juventus, which earns more from sponsorship than any other club in the world, could be hit hard financially. Juventus's profitability is not easy to explain. In football player costs can often mean that supremacy means financial losses (think Chelsea). Yet in the last year Juve had an impressive pre-tax return on capital, including player amortisation, of 16 per cent. Even commercially driven Manchester United managed only 7 per cent.
The shock waves from the scandal may affect the whole of European football. A glut of top names could come on to the transfer market because relegated clubs may be unable to keep their highly paid stars. As a result, transfer fees across Europe could fall sharply with a glut of top stars creating a buyer's market, with supply far outstripping demand.
Magistrates are also investigating the sports management agency GEA. This is run by the son of Luciano Moggi, the former general manager of Juventus who is alleged to have exerted influnce on the selection of referees. Among the claims being investigated are 'unfair competition with use of violence and threats.' GEA World has nearly 200 Italian players and coaches on its books.
Most people are familiar with the picture postcard view of Italy: pasta, ice cream, fine wine, ancient monuments and churches and beautiful countryside. Unfortunately, there is a darker side to Italy. Corruption is endemic and too broadly accepted with a shrug of the shoulder. However, this scandal in their beloved game of football may even shake some Italians.25/6/06
SHOULD TEAM USA PLAY THEIR SOCCER IN EUROPE?
The early exit of the United States from the World Cup will probably not do the cause of 'soccer' any good in a country attuned to success. It also raises questions about the Fifa rankings that rated the US as the fifth best international side in the world. A disgruntled Bruce Arena, unlikely to survive as coach, blamed poor refereeing decisions, but also claimed that his team were in the top half of the World Cup cast in terms of talent and that all 32 teams should be seeded to avoid another 'group of death'.
An alternative suggestion is that the USA team should be based in Europe more of the time, just as Australia and Jamaica stage matches at the Loftus Road, West London ground of Queen's Park Rangers. It would be practical: half of the USA squad are based in England, Germany or Holland. Moreover, the team has attracted fervent support in Germany. After the 1-1 draw with Italy, one of the team commented, 'I have never seen American supporters like that. Who would have thought you would come to Europe and have more fans?' Above all it would bring considerable benefits on the field of play. An immersion in the European footbal culture would improve the USA's chances of one day joining the top-rank of world football powers by opening it up to new ideas and eradicating the tactical naivetι to which it still prone. For the time being, the title of a recent book, 'Soccer and American Exceptionalism', still seems relevant.25/6/06
TV PROGRAMME PINPOINTS FIFA BRIBES ALLEGATIONS
Fifa President Sepp Blatter is being investigated by Swiss police over his role in a secret deal to repay more than £1m worth of bribes pocketed by football officials, BBC Panorama revealed in a programme screened on Sunday 11 June 2006. Panorama interviewed employees of the bankrupt ISL marketing company who confirmed the company had paid bribes to Fifa officials over a period of nearly 20 years.
Fifa headquarters were raided by Investigating Magistrate Thomas Hildbrand last November and documents seized from the offices of President Blatter and his General Secretary, Urs Linsi. Mr Blatter refused to be interviewed by Panorama but has emphatically denied all the allegations. The Swiss authorities will not discuss Hildbrand's investigation but Panorama has discovered he was in court in mid-April obtaining an order to acquire documents to further his inquiries.
The ISL company was set up in 1982 and soon acquired the marketing and television rights to the Olympic Games, the World athletics championships and the football World Cup. Rumours have circulated for years that senior sports officials took bribes in return for these lucrative contracts. ISL collapsed in 2001 and when the liquidator took over the company's bank records he found evidence of bribes. Some officials repaid the money but when others declined, the liquidator went to court. The result was a secret deal in early 2004 to repay more. Magistrate Hildbrand is investigating the possibility that Fifa repaid the bribes rather than the officials who took them in the first place. ISL insiders told Panorama that the bribes were paid systematically - 'like salaries' said one, through a secretive Liechtenstein foundation and an offshore bank account in the Caribbean
Panorama was banned from Fifa press conferences for asking questions about corruption. The programme showed their reporter fruitlessly trying to ask Blatter questions. When the BBC got another reporter into a press conference, attempts were made to stop him asking questions, Blatter having already left the event.
The programme also alleged that vote-rigging helped put president Sepp Blatter in power, involving the Trinidad and Tobago official who is a Fifa vice-president and is in charge of the Caribbean and Central American federation. It was alleged that a member of his office staff cast a vote for absent Haiti at a Fifa election. It was also alleged that his family travel company had benefitted from exclusive rights for travel packages for 'Soccah Warrior' fans to go to Germany.
Although this matter is still being dealt with through the judicial process, the programme raised disturbing questions about the governance of world football.13/6/06
BLOW FOR GERMAN PAY TV OPERATOR
Shares in Premiere, the German pay-TV operator, fell to an all-time low last week after Deutsche Telekom said it would not use its rights for showing live football via the internet to provide viewing for Premier's pay-TV subscribers. The decision by Telekom ends a row with the Bundesliga over the transmission of its games that puts Premiere in a difficult position. It built its business on live football and its shares collapsed in December when it lost the rights for the next three seasons.
Last May Premiere announced a deal to produce the internet coverage for Telekom, with the possibility of also screening the games on Premiere. But the Bundesliga intervened to protect Premiere's rival Arena, which had already won the TV rights. In a further blow, the Bundesliga awarded rights to air the 612 first and second division games in sports bars to Arena, a consortium of cable TV groups, robbing Premiere of another franchise it was confident of keeping.
Telekon said the Bundesliga has agreed to rename the first and second divisions the 'T-Com Leagues' after its ailing fixed-line division. The Bundsliga awarded Telekom, Europe's largest telecom company, the rights for soccer via TVs in mobile phones while cutting the price for the package. Telekom is believed to have paid €40m ($51m) a year.11/6/06
BIG FIVE EUROPEAN LEAGUES GENERATE RAPID GROWTH
The latest annual review of football finance from accountants Deloitte shows that the 'big five' European leagues - the top-tier leagues in England, France, Germany, Italy and Spain - generated revenues of €6.3 billion in 2004/5, an impressive 8% growth on the previous year, with these five leagues accounting for 54% of the €11.6 billion European football market. Two of the 'big five' leagues - the German Bundesliga and Italy's Serie A - returned to double digit revenue growth after a period when revenues were flat. The German Bundesliga showed the largest growth in 2004/5 with a 17% increase to over €1.2 billion, driven mainly by increases in broadcasting and commercial revenue.
Three of the 'big five' leagues reduced wages and salaries costs in 2004/5, whilst four of the five showed a reduction in wages to turnover ratios, emphasising a general improvement in cost control. Of the five leagues, the Italian Serie A showed the best reduction in the wages to turnover ratio from 73% to 62%. All of the 'big five' leagues showed improvement in operating performance in 2004/5, although only two, the Premiership €240m) and the Bundesliga (€65m posted operating profits). Serie A showed the largest improvement in operating performance cutting losses by €270m or 79%.
Bundesliga average attendances in 2005/6 were over 40,000 per game - comfortably the highest in world football. Meanwhile, attendances in Italy continue their significant decline. Serie A average attendances are estimated to have fallen by 15% to 21,700 in 2005/6. Deloitte note, 'There is a significant challenge to Italian football to modernise its stadia and mobilise its fan base.' And, one might add, to deal convincingly with allegations of corruption and match fixing.
Whilst other European leagues cannot rival the 'big five' in terms of absolute revenues, the majority continue to achieve year on year revenue growth. Comparatively, these leagues rely less on broadcasting income and more on commercial and matchday income streams.3/6/06
ITALIAN FOOTBALL ROCKED BY MAJOR SCANDAL
Italian football has been rocked by a major scandal centred on top club Juventus with allegations of match fixing. Juventus, about to win the Serie A title, could be relegated to Serie B. The headquarters of the Italian Football Federation have been raided by police. Documents have also been seized at the headquarters of the Italian referees' federation. These developments come at a time when there is widespread disllusionment among fans with one of the top leagues in the world with attendances falling by a million this season.
At the centre of the scandal is the general manager of Luciano Moggi, the general manager of Juventus, who is allegedly heard on one phone tap asking a federation official, 'Who the hell was that ref you sent us?' He goes on to demand certain match officials for future matches. The chief executive officer of the Turin club, Antonio Girauldi, is under investigation for accounting fraud and four players, including Italy's goalkeeper, Gianluigi Buffon, are being investigated for alleged involvement in illegal betting on matches. A total of nine clubs, including Lazio and AC Milan (owned by former prime minisyer Silvio Berlusconi) and 58 men and women have been named in the investigations.
Investigators are looking closely at 19 matches in the 2004-5 season, 12 of them involving Juve, to see whether there were any irregularities in refereeing decisions. Investigators are thought to believe that Signor Moggi commanded a group of officials who were were willing to help Juve by a judicious use of the yellow card. One approach, investigators suspect, was for referees to keep booking important players from teams that Juve were due to play, so that match bans would kick in when the Juve match came around. Moggi had frequent conversations with the head of the Italian referees, Pierluigi Pairetto, whose job it was to name specific officials for matches. Transcripts of the conversations reveal that Moggi lobbied for certain officials and vetoed those not to his liking. One wiretap between Signor Pairetto and referee Paolo Dondarini ends with the latter being told just before taking charge of a Juve match, 'You know what you have to do. Make sure you see everything. Even that which isn't there.'
The chief executive and his deputy at the Italian Football Federation have resigned as a result of the allegations. On Thursday the Juventus board resigned under pressure from the majority shareholders, the Agnelli family, who have been embarrassed by the affair. Juve shares have sunk by over 14 per cent.
Another branch of the investigation concerns a football agency, GEA World, run by Signor Moggi's son, Alessandro. This company represents about 200 professional footballers and managers in Italy. It is alleged that Signor Moggi Snr used it to move players between clubs, influence matches and act as the de facto power broker of the Italian game. He and his son are now accused of racketeering and intimidation. When the late Gianni Agnelli was asked about the hiring of Signor Moggi in the mid-1990s he remarked, 'Sometimes it is a good thing if your stablemaster knows who the horse thieves are. And I think [Moggi] knows them all.' Unfortunately, these events reflect a deeper corruption that is endemic in Italian society and politics.14/5/06
FEMALE SOCCER FANS SPLIT IRANIANS
Iran is divided over the issue of whether women should be allowed to attend soccer matches. At least six senior ayatollahs, including some of Iran's most senior clerics, have issued rulings condemning a decision by President Mahmoud Ahmadi-Nejad to allow women to sit in the stands. A ban has been in place since the 1979 Islamic revolution, but it has come under pressure with the growth of soccer fever after Iran's qualifications for this summer's World Cup in Germany. Soccer is Iran's national game and attracts big crowds to its top league matches.
The move by the president has confused both fundamentalists and reformists who regard him as socially conservative. The president instructed sporting authorities to build special areas in stadiums for women and families. Some supporters of the decision have argued that the presence of women could calm boisterous all-male crowds. But the reform has met strong opposition from the religious establishment. Grand Ayatollah Fazel Lankarani ruled that it was forbidden for women 'to see men's bodies even if not to gain pleasure' and suggested separate grounds for women to watch women's soccer.'30/4/06
TENSIONS RISE BETWEEN TOP CLUBS AND UEFA
Against the background of a controversial and potentially far reaching court case in Belgium, tensions are rising between UEFA and G-14 which represents eighteen of Europe's top clubs. Accusations have been revived that the top club are planning their own breakway league which they deny. At the recent Uefa Congress in Budapest, Europe's 52 national football associations approved a resolution that formalised their opposition to G-14, pledging to defend the sport's interests against a 'self-appointed group of clubs.' It was proposed that clubs participating in the Champions League and the Uefa Cup should be asked to declare their support for the sport's administrators or face exclusion.
The case in Belgium is being brought by Charleroi, backed by G-14, against Fifa, Charleroi are claiming compensation over a player injured in an international match. Moroccan Abdelmajid Oulmers was out for eight months after playing agaisnt Burkina Faso in November 2004. Charleroi claim that the loss of Oulmers scuppered their chances of winning their domestic league last year (they eventually finished fifth). The G-14 group is also backing French champions Olympique Lyon in a similar action in the case of defender Eric Abidal who broke his foot during a France friendly.
G-14's general manager Thomas Kurth said, 'The current regulations are written by the federations, for the federations. Professional clubs have no direct representation on the bodies that make the rules and, not surprisingly, these regulations favour federations over clubs.' Kurth believes that three key points are at issue:
Clubs and national associations should be protected from the cost of player injuries.
Clubs should be compensated for the contribution they make to international tournaments.
A harmonised international calendar for international football must be mutually agreed between clubs and federations.
The relative intransigence of UEFA/FIFA in this dispute in part reflects the fact that their regulatory control of football is under threat. The issue is not the legality of compulsory player release clauses for international games but rather issues of representation and ultimately control in European football.27/3/06
IS FRENCH FOOTBALL BORING?
There are fears, particularly among TV executives, that French football is becoming dangerously dull, and the league have responded by commissioning Michel Hidalgo, the attack-minded coach who led the Michel Platini-inspired France to victory in the 1984 European Championship, to draw up a list of proposals to beat the boredom. 'There are not enough goals to satisfy the broadcasters or the fans,' said Hidalgo.
After widespread consultation he reported back last week, just after the 37th 0-0 draw of the season, and suggested six ways of promoting attacking football. Broadcaster Canal Plus, Ligue 1's equivalent of BSkyB, backed the move. They are concerned that after paying a record €600million (about £412m) to show live games during this and the next two seasons, they are serving up some of the dullest games on the continent. Their three televised matches last weekend yielded two goals. France's biggest pay-TV company fear that if the negative football continues, viewers will start turning off.
Hidalgo's six suggested options are:
Keep three points for a win but award two points, rather than one, for a score draw. 'The idea is to get rid of the 0-0,' said Hidalgo. 'Coaches and players are too negative and this is one way to encourage them to be more attackminded.'
Give the team scoring first in a draw two points. 'That would discourage all those teams who go away from home thinking a 0-0 would be a good result,' said Hidalgo.
Ban draws by bringing in penalty shootouts, with the winners receiving two points and the losers one point. 'With a penalty shootout you add suspense, a sort of magic.'
Award extra points for teams winning by two or three goals - winning by two goals would earn four points, not three. But also give one point to a losing team that scores.
Award only two points for winning by one goal and make gaining three points dependent on winning by at least two goals.
The points system to remain unchanged but award an extra point to the team who 'win' on aggregate in home and away fixtures against the same team during the season, with away goals counting double in the event of a draw.
Reaction in France has been mixed. Frederic Thiriez, president of the French league, is keen on rewarding goalscoring as well as results, and said: 'We're going to consult clubs, coaches and players and try to see if we can experiment in Ligue 2 next season.' But PSG defender Sylvain Armand dismissed the idea of bonus points as 'too complicated. It would take two or three years for everyone to understand,' he said.
In Britain, Peter Varney, chief executive of Premiership Charlton, praised the French league for reexamining such a fundamental part of its game. But he doubted that introducing such changes in the Premiership would reduce the number of games that are either irrelevant to a team's title chances or are dominated by very defensive football. 'There's no magic answer to what to do about the fact that the majority of Premiership clubs know they have no chance of winning it, such as changing the points structure,' Varney said. 'It comes down to the way money is distributed in the game and the gap between the top few clubs and the rest. 'We need a wide-ranging debate on our future direction to ensure we remain among the best leagues in the world.'
A director of another Premiership club said fans would oppose any move to banish draws or 'mess around' with the points structure. 'The change from two to three points for a win provided all the incentive teams need to play attacking football,' he said. 'We mess with the game's traditions at our peril.'17/3/07
REAL MADRID PRESIDENT RESIGNS
Real Madrid president, construction magnate Florentino Pιrez, has resigned, admitting that there were divisions in the dressing room. Pιrez's policy of making big name signings for huge sums of money and then insisting that they could not be dropped has caused divisions at one of the world's leading clubs. His answer to criticism has always been to point to Real's strength in the marketplace and on the pitch. However, although Real is now the world's richest club, having overtaken Manchester United, economic power has not been matched by performance on the pitch. And that is the league that fans really care about.5/3/06
FANS INVITED TO TAKE PART IN EU FOOTBALL REVIEW
Fans are invited to take part in a major review of European football launched by the EU. The dedicated website for the review is at Football Review . However, you have to respond by 13 March.
A key task of the review will be to consider how to implement the Declaration on the Specific Charactersitics of Sport attached to the 2000 Treaty of Nice. This calls on member states of the EU to 'take account of the social, educational and cultural functions inherent in sport.' The subtext was a conflict between the EU and Europe's top clubs about how far football should be exempt from the application of competition law. During the UK presidency the country's sports minister convened a meeting in Leipzig of the sports ministers from the top European football countries (France, Germany, Italy and Spain along with the UK) as well as Fifa and Uefa to discuss the governance of European football. This led to the current review which is to completed by June and is headed by lawyer and Portuguese MP Josι Luis Arnaut. As a former sports minister in Portugal, he was responsble for the government side of the organisation of the 2004 European football championships.
The main agenda items for the review are:
How football can play a more significant role in improving social inclusion and healthy lifestyles
Club financing and the feasibility of overall salary caps at clubs
Regulation of agents
Locally trained players (compensation for clubs when they move on)
Ownership of football clubs
Distribution of revenue within football
Protection against match fixing and corruption
Protection of minors
Richard Caborn commented, 'There's no doubt in my mind that it is time for the game to take bold steps towards better governance and a Europe-wide solution is the only answer.' 25/2/06
REAL MADRID TOPS RICH LIST
For the first time Real Madrid has topped the rich list of clubs ranked by income drawn up by accountants Deloitte. For the past eight years since the list was set up it was headed by Manchester United. But the Spanish club has trebled its income from sponsorship and merchandise in the last four years to overhaul United. In particular it has made use of David Beckham and other top players to penetrate the lucrative Asian market.
The top twenty clubs with last year's ranking in brackets and the total income figure are:
1. Real Madrid (2), £186.2m
2. Manchester United (1), £166.4m
3. AC Milan (3), £158m
4. Juventus (5), £154.9m
5. Chelsea (4), £149.1m
6. Barcelona (7), £140.4m
7. Bayern Munich (9), £128.0m
8. Liverpool (10), £122.4m
9. Inter Milan (8), £119.7m
10. Arsenal (6), £115.7m
11. Roma (12), £89.0m
12. Newcastle (11), £87.1m
13. Spurs (14), £70.5m
14. Schalke 04 (17), £65.8m
15. Lyon (-), £62.7m
16. Celtic (13), £62.6m
17. Manchester City (16), £60.9m
18. Everton (-), £60.9m
19. Valencia (-), £57.2m
20.Lazio (-), £59.1m
Nine of the best funded clubs are thus from Britain, five from Italy and four from Spain.17/2/06
WORLD CUP HITS PROBLEMS
The World Cup in Germany has hit problems with questions raised about the safety of the stadiums and the opening gala cancelled. A consumer watchdog has condemned eight of the 12 stadiums for the competition as unsafe. Four of the eight stadiums - including Berlin, which is to be used for the final, Leipzig, Gelsenkirchen and Kaiserslautern - were found to have serious deficiencies in fire safety and escape routes, particularly if fans were to panic, as occurred in the Brussels and Hillsborough tragedies of the 1980s. The consumer group criticised stairs that were too steep and obstructions on escape routes, noting that in some cases the stadiums did not meet local regulations.
Organisers, led by World Cup winner Franz Beckenbauer, hit back, accusing the Stiftung Warenfest consumer group of scaremongering. There is already bad blood between the organisers and consumer groups after they criticised complicated ticketing arrangements. Mr Beckenbauer told Bild Zeitung , 'The Stiftung Warentest may know something about face creams, olive oil and vacuum cleaners and that is what they should stick to.' The government appeared to side with the consumer group. Interior minister Wolfgang Schauble said, 'We take the concerns seriously.'
Fifa has abruptly cancelled the so-called 'opening gala' event. They claimed that the six days between the gala and the first match in Berlin's Olympia stadium was insufficient time to ensure a new pitch could be laid properly. However, it appears that a more important reason for the cancellation was poor ticket sales. Tickets had been priced at between €100 and €750. The unilateral decision by Fifa has not gone down well in Germany.
WILL TAKEOVER CHANGE BRAZILIAN FOOTBALL?
The takeover of top Brazilian football club Corinthians by British-based Media Sports Investment (MSI) has led to speculation about whether it will initiate a process of change in the organisation of the country's football noted for its corruption and amateurism. Will the professionalisation of Corinthians extend to Brazilian football more generally? MSI leased control of Corinthians' soccer operation for ten years. Under the deal, they get 51 per cent of any profits during that period, and in return, agree to pay off the club's $20 million debt and spend at least $15 million on new players.
MSI spent over twice their target on players, splashing out an unprecedented $40 million, including a record fee of $22 million for Argentine star Carlos Teves. These moves reversed a decades-long trend for South American players to be sold to European clubs that can offer higher salaries, better living conditions and more personal security. The signings clearly paid off as Corinthians won the league for the first time since 1999.
MSI president Kia Joorabchian claims, 'Our financial results are far better than what most people anticipated we would achieve. We got $6.5 million from [shirt sponsor] Samsung, which is the biggest in Brazilian history; a big contract with Nike; a full stadium almost every game; and our sales are 250 per cent up on last year. All these things add up to show that there is a big potential finacially in this country.' Only six of the country's twenty-four top clubs are currently estimated to make a profit.
Where MSI's money comes from is somewhat uncertain. Joorabchian has refused to say, although he has let slip that millionaires from Eastern Europe and Russia are involved. One of them, Boris Berezovsky, a Russian businessman who was granted asylum in Britain after Russian authorities issued a warrant for his arrest on fraud and money laundering charges, told a Brazilian newspaper he would invest $50 million to help Corinthians build a new stadium. Let's hope it all doesn't end in tears as can be the case with these apparent windfalls.6/1/05
SECRET MEETINGS HOPE TO END CLUB VERSUS COUNTRY ROW
Leading figures in world football have begun secret meetings aimed at resolving soccer's club versus country dispute. The first meeting took place in Zurich in late October. Among those involved were Roberto Bettaga, vice-president of Juventus, but also president of the G-14 grouping of top European clubs; Fifa president Blatter; and Mathieu Sprengers, an executive committee member of Uefa.
The meetings could lead to a system for compensating clubs when players are away representing their countries at international tournaments such as the World Cup. The aim is to improve relations between the rich European clubs and national associations. The compensation issue has been a source of tension for years. Clubs fear that a proportion of their players will return tired or injured, affecting their chances in domestic and European competitions and hence reducing revenus. One English Premiership player recently went down with malaria, thought to have been caught on international duty in Africa.14/11/05
NEW OZ LEAGUE UNDER WAY
Following a government enquiry into the failure of the National Soccer League which lasted from 1977 to 2004, the Hyundai A-League has been launched in Australia. It contains a token team from New Zealand, the Knights. Soccer in Australia has to compete with the distinctive and exciting home grown game, Australian Rules. When I was last in Australia, I was able to enjoy a game at the Melbourne Cricket Ground.
The NSL lost more than £200m, so strict financial parameters have been placed on the A-League. The salary cap common in other Australian sports teams has been employed, with teams restricted to a playing squad of 20 and a salary cap of A$1.5m (£700,000), although one 'marquee player' with unlimited wages can be added over and above the cap. The highest profile signing was that of Dwight Yorke by Sydney FC, while Melbourne Victory signed competitive Australian Kevin Muscat. Yorke is on £350,000 a year, no big deal by European standards, but making him one of the highest paid players in any sport in Australia. Initial crowds are healthy with 25,000 turning out for Sydney's home game which compares well with the 10,000 fans a week combined attracted by the four Sydney sides in the last NSL season. There have also been good crowds in other locations, but the key test will be whether they are maintained when the novelty wears off.29/10/05
DEPORTIVO DI WANKA MAY FOLD
Reports from our correspondent in Lima suggest that Peruvian second division club Deportivo di Wanks are in financial trouble and may fold. They themselves were the result of a merger of two clubs, one from Huancayo (hence the name) and one from Lima. The club has its fans even in London - our picture shows a group wearing its distinctive shirt at the recent Chelsea v. Charlton Carling Cup clash at Stamford Bridge.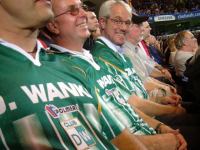 Write your own caption
MATCH FIXING SCANDAL IN GERMANY
German football has been rocked by the match fixing scandal involving refere Robert Hoyzer. Ante Sapina, who is accused of leading a criminal betting gang that influenced or sought to influence, 23 matches, said he steadily got to know Hoyzer from early 2004 to May of that year when the two hatched a plot to rig a match. Referees Hoyzer and Dominik Marks and the former first division player Steffen Karl are charged with organised fraud for seeking to rig a series of matches from April to December 2004 on instructions from Sapina, aided by his brothers Milan and Filip. Operating out of a bar in Berlin, are alleged to have made over €2m out of bets on rigged games. Hoyzer was in charge of the regional league match between Paderborn and Chemnitz on 22 May 2004, the first of nine matches he is said to have fixed or tried to influence for Sapina's benefit in return for €67,000 and a flat-screen television.
Ante Sapina admitted on the first day of the trial that the charges against him were essentially true. He subsequently described how he had come to know lower league players, including Karl, who were prepared to under-perform, give away penalties and even get sent off to allow their opponents to win in return for a fee from Sapina.
However, fixing games is by no means easy. With Hoyzer, Sapina said, the match fixing attempts had produced mixed results after five games. Sapina had considered giving up, but Hoyzer had suggested they focus on his next game in charge, a first round tie in the German Cup. Hoyzer in fact helped Paderborn to come from two goals down to record a 4-2 victory over first division Hamburg SV by awarding the regional league side two dubious penalties and sending off the Hamburg striker Emile Mpenza. Lawyers for the prosecution said that Sapina had made over €750,000 from the game, while Hoyzer's reward was €20,000.
The scandal has embarrassed Germany as the nation prepares to host the 2006 World Cup. It is the worst case of match-fixing in the country for thirty years. The trial is expected to last for at least a month and may even still be in progress when the gala draw for the World Cup finals takes place in Leipzig on 9 December.23/10/05
REFEREE SCANDAL IN BRAZIL
Football administration has been known for years to be rotten in Brazil, so it should perhaps be no surprise that the country has been hit by a refereeing scandal. Many aspects of Brazilian life are beset by corruption, not least national politics, but it hasn't stopped the country having a high growth rate or a great national football team.
Edison Pereora de Carvalho, one of ten referees in Brazil with Fifa accreditation, has admitted taking between $4,500 and $6,750 a time for attempting to fix matches on behalf of gamblers placing bets of up to $90,000 on illegal internet sites. Footage of one suspect game shows him waving play on after a player is hacked to the ground in the penalty area at one end, then pointing to the spot at the other after a player from 'his' team goes down unmolested.
At least one referee has admitted similar practices and more are expected to follow. Eleven games in the Campeonato Brasileiro, the national league, are to be replayed. But for many fans the championship has lost its point. There is no knowing how many, if any, games were fair. Suddenly the popular cry 'juiz ladrao', 'referee, you're a thief', has acquired a new edge go it.16/10/05
SAUDI SOCCER PLAYERS HIT BY FATWA
The Saudi daily Al-Watan reported recently that Islamic extremists were inciting Saudi soccer players to quit their teams and wage jihad in Iraq. According to these reports, the young athletes were influenced by fatwas forbidding the game of soccer except when played under certain conditions and with the express intention of using the game as physical training for jihad. Saudi sheikhs and intellectuals have criticized the fatwas and the religious authorities that issued them.
Al-Watan reported that the soccer players involved in this affair were from the Al-Taif region, and that some of them belonged to the region's well-known Al-Rashid team. In another article, Al-Rashid captain Ja'far 'Attas said that three of his players had left the team. A few days later, team members confirmed that the three had become devout and, under the influence of various fatwas , had begun to believe that soccer was forbidden by religious law.
One of the three, Majid Al-Sawat, was arrested while planning to carry out a suicide bombing in Iraq. He appeared on Al-Iraqiya TV four months ago, claiming that he had fallen victim to one of the groups which take those who come to Iraq and hold them against their will in order to make them commit acts of terrorism.
One of the anti-soccer fatwas was published in full in Al-Watan on August 25, 2005. It is very long and we will not reproduce it in full, but the opening section gives the tone. The fatwa declared that it is only permissible to play soccer when its rules are different than the accepted international rules. This was based on a hadith [Prophetic tradition] which forbids Muslims to imitate Christians and Jews. The fatwa read:
1. Don't play soccer with four lines [surrounding the field], since this is the way of the non-believers, and the international soccer rules require drawing [these lines] before playing.
2. One should not use the terminology established by the non-believers and the polytheists, like: 'foul,' 'penalty kick,' 'corner kick,' 'goal,' and 'out of bounds.' Whoever pronounces these terms should be punished, reprimanded, kicked out of the game, and should even be told in public: 'You have come to resemble the non-believers and the polytheists, and this has been forbidden.'
The Saudi authorities were quick to rebut these claims. Sheikh 'Abd Al-Muhsin Al-'Abikan, an advisor in the Saudi Justice Department, said that soccer is permitted so long as various shari'a prohibitions are not violated. According to him, the interpretation concerning the 'rules of the game and the prohibition against using terms such as "foul", "penalty kick" etc. is misguided, since even the Prophet Muhammad used non-Arabic expressions in the hadith, and even Allah used some non-Arabic words in His book [the Koran]. Therefore there is nothing wrong with occasionally using a language that is not [the language] of the Arabs, and this is not considered imitation [of the non-believers].
What is more, 'There is nothing wrong with the lines [surrounding the field], the referee, and the soccer rules. All things that come from the West but are not unique to it are permitted. Soccer has become a world sport and does not belong only to the non-believers. The conditions that some people have established in order to distinguish [Muslims] from non-believers are extreme and derive from a lack of understanding of the shari'a and the literature of religious law.' Al-'Abikan also warned young people not to heed fatwas of this kind and recommended that they approach senior religious authorities and ask them to issue fatwas on important issues like these.
FOOTBALL ON TV COMPETITION HOTS UP IN GERMANY
German pay-TV broadcaster Premiere plans to branch into free-to-air television as part of a deal under which it has secured the German rights to show the Uefa Champions League soccer competition for the next three years. Premiere argues that low market penetration rates in Germany - well below the 40-45 per cent seen in UK and France - leaves plenty of room for expansion. It forecasts it will have 4 millions subscribers by the end of 2007 compared with the present 3.3m in Germany and Austria.
Many analysts contend that Germany's large range of free alternatives means viewers have little incentive to pay extra for content such as top football matches. The company is paying an estimated €50m for each of the three seasons from mid-2006 beating commercial rivals ProSiebenSat.1 and RTL for the rights. To meet the concerns of sports bodies which feared that viewers could be turned off if all matches are only available via pay-TV, Premiere has guaranteed that it will broadcast 13 of the 125 matches each season on a free-to-air channel. To do so Premiere will have to diverge from its pure pay-TV model by either launching or acquiring a rival channel.5/9/05
TOP MAN IN BLACK RETIRES
Pierluigi Collina, regarded by many as the best football referee in the world, has decided to resign from Italy's referee association, a move that would end his Serie A career. Collina recently signed a deal with car manufacturer Opel, the main sponsor of AC Milan. Soccer officials said that the arrangement caused a conflict of interest and ordered Collina to end the arrangement or quit.
If Collina does quit, he would be barred from officiating in Italian league and cup matches. Collina acknowledged that he was wrong to accept the sponsorship, saying the mistake had ended a 28-year refereeing career. He had been granted an exemption to continue refereeing this season even though he had reached the league's age limit of 45 in February.30/8/05
START OF SEASON CHAOS FOR SERIE A
The Italian football season is about to get under way accompanied by the usual chaos. The fixtures were only released last week. Two years ago the whole campaign was postponed for a fortnight because of appeals, protests and litigation and the mess could only be sorted out by putting two extra clubs into top league Serie A. Since then, stringent new conditions governing the financial health of clubs have been introduced, the penalties causing chaos. At one stage during the summer, only seventeen clubs had been assigned to the twenty club top flight.
Genoa fans are feeling particularly sore. They were promoted from Serie B to Serie A last season, but look like ending up in Serie C1 with an initial three point penalty. Senior directors were found to have paid Venezia officials to fix the result of their final match. Evidence against them included a Venezia employee leaving the business premises of the Genoa president with €250,000 cash in a holdall, and police recordings of frantic conversations between the bosses of both clubs after Venezia equalised in the match. Fans from the port town have rioted in the streets and disrupted an Italian cup tie.
Torino have also not been allowed to take their promotion place because of their messy finances. Treviso, who finished fifth in Serie B and Ascoli, who finished sixth, will be promoted to Serie A. Of the three clubs promoted, only yo yo club Empoli will play in Serie A. Perugia finished fourth, but were demoted to Serie C1 because of their financial problems, along with Salernitana. Messina were to be demoted from Serie A, but won an appeal against demotion for submitting late accounts. No wonder crowds are falling across Italian football.23/8/05
POLISH FOOTBALL HIT BY CORRUPTION SCANDAL
With Poland's national team well on the way to qualifying for the World Cup finals in Germany next year, and seeking to host the 2012 finals together with Ukraine, Polish football has been hit by a major corruption scandal. To win, a team needs lost of ready cash and easy access to corrupt players and referees, according to a disgraced team owner who has come forward to claim that Poland's favourite sport is rotten to the core.
The revelations of Peter Dziurowicz, the owner of GKS Katwoice in Silesia in western Poland, have convinced many Poles that the results of any professional match in the country are open to question. The Polish Football Association has called an emergency meeting to figure out how to fix a sport that has been plagued for many years by corruption, low earnings, worn out facilities and top players who can't wait to play for a wealthier club in a foreign league.
His money doesn't seem to have been well spent. GKS is now playing in the fourth division, perhaps because the club was outbribed by its rivals. Even so, so much money was being paid out that the finances of the club began imploding. The 29-year old club president has been assisting police in their enquiries and his information has led to the arrest of two premier league referees as well as a referee observer.

Cleaning up football's image is increasingly important. The sport is attracting international sponsors such as Germany's Puma, which recently extended its sponsorhip agreement. Rich Poles such as Janusz Fillipak, chief executive of Comarch computer company and owner of Cracovia, a Krakow team, are buying football clubs.14/8/05
LATINO TEAM MAY BOOST US SOCCER
Major League Soccer is still a minor league player in American sport. The average match attendance last season was just 15,600, compared with over 60,000 for all but two teams in the National [American] Football League. The MLS players aren't paid that well. Only last November they won a collective agreement which will provide them with pension benefits and raise their pay from a minimum of $28,000 this year to $34,000 in 2009. However, the MLS is a great improvement on the North American Soccer League which went bust in 1984 after importing overpaid foreign players heading for veteran status. Moreover, MSL has a marketing subsidiary that ensures that almost all its games are televised live.
Now the MSL has been boosted by the arrival of its first overtly Latino team, Chivas USA. MLS reckons that half of its 50 million fan base is Latino. Moreover, that segment (two-thirds of it Mexican in origin) is growing. There are now around 40m Latinos in the USA, some 13 per cent of the population, and by 2025 their number is set to increase to 61m or 18% of the population.
Chivas USA plays in Los Angeles and is an offshoot of Mexico's Club Deportivo de Guadalajara known as 'Chivas' or 'goats', originally an insult that became a badge of pride. The club's policy has been to employ only Mexican players and has long been one of the top ten brands in Mexico. 22 of the 26 players in the US club are Latino and it is part of the first television rights for an individual team in MLS history. The team is using the custom built stadium of Los Angeles Galaxy and is attracting sell out crowds of 27,000.
MLS commissioner Don Garber, keen to extend the geographical range of the league, wanted Chivas to set up in Houston or San Diego. But Los Angeles, where half the population is Latino, was more attractive. The great rivals of Chivas, Club America of Mexico City, may start a team in Houston. And there is even talk of clubs such as Arsenal, Liverpool, Real Madrid and Barcelona setting up American satellites.8/5/05
ARE CRISPS/CHIPS A NEW WAY FOR CLUBS TO MAKE MONEY?
They're called crisps in the UK and chips elsewhere in the world, but the often highly salted snack products are popular with consumers, including football fans. But are they a new way to make money? Barcelona certainly think so and have sold packets in the club colours to complement the usual sales of scarves, baseball caps etc.
Now a less well known club, the En Avant de Guingamp football club from Brittany has signed a licensing agreement with three food companies to put its colours (red and black) on products sold through certain large retailers. The packets of chips, together with packets of madeleines and packs of Arabica coffee, will be sold at 107 outlets in the region. It is estimated that turnover for the three products could reach €300,000, of which ten per cent could go to the club. Hardly big money, but in these days of commercialised football, any potential revenue stream is worth exploiting.22/4/05
MLS HOPES TO CONTINUE TO GROW
With the soccer season kicking off in the United States on April 2nd, it's an appropriate time to review the progress made by Major League Soccer (MLS). MLS started with ten teams in 1996 two years after the States staged the World Cup finals in 1994 which boosted interest in football. The number of teams has now grown to twelve (a new franchise in Salt Lake City and a second team in Los Angeles) and the eventual plan is to have between eighteen and twenty-four. The average attendance per match in 2004 was 15,559, up on the previous year, but down from 17,482 in the league's first season. Only one team (Los Angeles Galaxy) is in the black. Nearly all matches are shown live on television, but the rights have to be given away. The league produces the programmes, covering its costs and making some income from sponsorship. But gate money is the main source of revenue.
The MSL hopes to avoid the mistakes of the failed North American Soccer League which relied on fading foreign stars to attract crowds. The MSL is structured as a corporation with the individual owners having the right to operate a team in a local market. Player contracts are held centrally and transfer profits go into the pot. All teams have the same budget for player salaries of slightly over $2 million a season. Longer-term growth depends on turning the 50 million US citizens involved in soccer as a participation sport into fans. The growing diversity in the US and the influx of Hispanics should also broaden the fan base.28/3/05
CHINESE MARKET DOES NOT BRING QUICK CASH REWARDS
There's plenty of interest in football in China, but it's not generating much cash flow for leading clubs. It is estimated that Real Madrid derives just four to five per cent of its revenue from Asia, of which about a half comes from China. At Manchester United China is though to account directly for about £1m of its £160m annual turnover despite the fact that the club estimates that it has 20 million committed fans in China's main urban centres, twice the UK total.
One problem is the lack of competition in the television rights market. This has kept rights fees, which have escalated sharply elsewhere, very low. The English Premiership puts the value of its three year deals in China and Hong Kong at something over $100m or $5m per club. But a good three-quarters of this comes from Hong Kong. Merchandising sales are also limited because the price of official team kits and other branded items puts them in the luxury bracket, making sales volumes disappointing low.'
Nevertheless, China is the place to be in the long run. Manchester United commercial director Andy Anson commented, 'I would like to think of us generating between £5m and £10m in China within ten years.' An executive at another top European club commented, 'If you want to compete in the football business in 10 years' time, you are either in China or you are dead.' 27/2/05
DORTMUND IN DANGER
Borussia Dortmund, the only publicly listed club in Germany, have revealed that their position is 'life threatening' after reporting a loss of €27.2m for the first half of the year. It was stated that the debts of the six-times German champuons were estimated to reach €134.7m by the middle of next year. Dortmund have been able to reach a 'standstill' agreement with creditors which includes a debt moratorium until the 2006-7 season and short-term loans to cover players' wages.
However, there are concerns that the club will struggle to raise the cash needed to buy back and upgrade their stadium over the next 18 months. With a capacity of 80,000, the Westfalen stadium is one of the biggest in Germany. It is one of the twelve venues selected for the 2006 World Cup. Dortmund need to raise €10m to survive the season. The Bundesliga could revoke their licence if they cannot provide that they are solvent.21/2/05
BERLUSCONI TARGETS TV FOOTBALL MARKET IN ITALY
Mediaset, the media empire of Italian billionaire prime minister Silvio Berlusconi, is launching a new television product that could expand its domination of the television market by transforming the way people watch football. For just €3, those wanting to see a live game in Serie A can buy a card that lets them follow a match of their choice on digital terrrestial television, a new technology partly subsidised by Mr Berlusconi's government. The cards have been put on sale at kiosks and shops all over Italy and have attracted strong interest. What makes the new system so attractive is that there is no need for fans to sign long-term contracts with the TV company, or pay monthly fees, or use a credit card. Instead, all they need is a digital decoder and some coins in their pockets.
The controversial Mr Berlusconi finds himself in a unusual position as head of Italy's government, its wealthiest man, its dominant TV entrepreneur (Mediaset is regarded by some analysts as the most profitable television group in Europe) and the owner of AC Milan. Mediaset's three analogue terrestial channels control about 44 per cent of Italy's television market while public service broadcaster Rai (answerable to Mr Berlusconi as premier) controls about 45 per cent. Mr Berlusconi's political opponents fear that the new football product will give Mediaset a clear advantage over Rai which failed to bid for digital transmission of football games.
The pay-per-game system also raises the prospect of a battle for viewers between Mediaset and Sky Italia, a division of Robert Murdoch's News Corp. Until now, football fans who wanted to watch live Serie A matches have turned to Sky Italia which shows games on satellite TV. Sky Italia charges viewers about €50 a month for various packages that combine news, movies and other entertainment with football.
Mediaset stands to gain from the new system because in June it bought the digital TV rights for three years for Italy's biggest football clubs - AC Milan, Inter Milan and Juventus. Together they account for 26 million of the 30 million football supporters in Italy. La7, a small TV company owned by Telecom Italia, which has less than 5 per cent market share, own the rights for more humble clubs such as Cagliari, Palermo and Parma.23/1/05
PARMA UP FOR SALE
The Italian Government has given the administrator of Parmalat permission to put Parma Football Club up for sale. The club has liabilities of around €182m and no bidder has so far come forward. Parmalat acquired the club in 1991. The Tanzi family poured money into the club and turned it from a middle-of-the-road provincial side into one of Italy's top teams.16/1/05
FRENCH FOOTBALL TV RIGHTS NOW MOST EXPENSIVE IN WORLD
If you asked a fan to name the top football league in Europe they would probably choose from the English, Italian or Spanish leagues. Many of the top French players are with clubs outside France, exemplified by the £27m transfer of Olympique Marseille's Didier Drogba to Chelsea this summer.
The French league may now be able to retain more of its better players after a television rights deal that makes it the most expensive in the world. Canal Plus, the pay-TV subsidiary of Vivendi Universal, have paid a record €1.8bn to buy the exclusive rights to broadcast French league matches for the next three years. The winning bid was well above the €375m the rights fetched three years ago when they were shared between Canal Plus and its pay-TV rival TPS.
The price can only be justified if it enables Canal Plus to poach subscribers from TPS, forcing its resistant rival to agree to be taken over. However, Merrill Lynch points out that most TPS subscribers are not football fans, and it expects only 130,000 of its 1.5m customers to switch. Standard and Poor's says, 'The transaction should result in only a moderate loss of subscribers to Canal Plus and is unlikely to materially endanger TPS's economic viability.' Football could well be the winner with enhanced bids for Italian football rights.24/12/04
BORUSSIA IN TROUBLE ON AND OFF THE PITCH
Borussia Dortmund, Germany's only listed football club, is in trouble on and off the pitch. The team took an early exit from the German cup and is just two places above the relegation zone in the Bundesliga. Two years ago Borussia won the Bundesliga, but now it is struggling under record levels of debt and recently reported heavy losses. The resignation of the president and the chair of the supervisory board have failed to quell shareholder anger.
The club is the second biggest spender in the Bundesliga despite record debt of €119m and a €68m loss in 2004. The club has come forward with a restructuring plan that includes drastic cost-cutting and a possible capital increase only months after the last one. However, financial analysts and shareholders agree that it will not solve the club's problems. Borussia's plight is typical of many European football clubs that have floated in recent years.21/11/04
ADIDAS DEAL GIVES BOOST TO US SOCCER
Major League Soccer in the US has concluded a ten year sponsorship deal with Adidas believed to be worth $100m. Adidas will have exclusive rights to branded clothing and equipment for Major League Soccer from next season when it will expand from ten to twelve teams. Adidas will also supply match balls, have pitchside advertising and be the only sports brand advertised during television broadcasts of MLS games. The deal reflects the fierce competition between Adidas, the number two world sporting goods maker, and its larger rival, Nike.
Football in the States had 17.6m participants in 2002, according to the National Soccer Players Association, up from 15.4m participants in 1987. Some 70 per cent are under 18 with football becoming a mainstay of surburban schools' sports programmes and thriving in the Hispanic population. However, the breakthrough into the mainstream adult sports watching population has not really been made, at least in terms of spectator numbers. But at least MLS has survived and seems to be moving forward.10/10/04
SOCCER CONTINUES TO STRUGGLE IN THE US
The quality of soccer in the US is improving as is evidenced by the number of Major League Soccer (MLS) players being signed by European clubs, e.g., Tim Howard from New York MetroStars to Manchester United and DaMarcus Beasley from Chicago Fire to PSV Eindhoven. The MLS represents the third attempt to establish a soccer league in the US and was created as a condition for the US being awarded the 1994 World Cup. At least the ten club competition, shortly to be expanded to fourteen, has survived for nine years. However, it is run on a shoestring with players being paid by the league rather than by individual teams. At present attendances average around 16,000 a game, around the level one might expect in the UK's Championship (i.e., second division) competition but with a much larger city to draw on for support in most cases in the US.
Despite the phenomenon of the 'soccer mum', most Americans are not interested in football as an adult spectator sport as distinct from a safe game for kids. And even those that are have a feast of better quality football to enjoy on television, including every World Cup game, regular showings of Champions League games and plenty of matches from the Premiership, even if they are shown at odd times (I remember getting up at 5.30 a.m. in Seattle to watch one game live). The summer tours also offer better quality matches. A MLS All-Star Game at the end of July drew just 21,000 spectators whereas 74,000 filled the Giants Stadium to watch Manchester United play AC Milan. Bayern Munich and Celtic also toured this summer. The unfortunate fact is that MLS is still seen as a second rate product and losing its best players just reinforces that impression.11/8/04
NAPOLI IN CRISIS
Napoli has been declared bankrupt with debts of more than €60m. Much pride was felt in the southern Italian city when they became Italian league champions in 1987, won the Uefa cup in 1989 and took another Italian league title in 1990. In recent years, however, the Naples club has struggled in Serie B, where they finished a modest 14th last season. The Naples bankruptcy court blamed its plight on 'imprudent and inadequate business leadership'.
It is likely that when it is reconstituted the club will start next season in a lower division where it may never earn enough revenue to climb back up. It is not alone in its plight as the combined losses of Serie A clubs were estimated to have risen last year to almost €950m. Parma has already been declared insolvent after the collapse of the Parmalat food and dairy group as a result of fraud.
A possible lifeline may come through industrialist Luciano Gaucci who is the temporary administrator of the club. However Mr Gaucci also owns Perguia which was relegated to Serie B at the end of last season. Under Italian league rules, no one can own two clubs in the same division.9/8/04
SCORE DRAW ON CONSTITUTION
One of the less noticed aspects of the battle over the draft European constitution was a dispute between UEFA and G-14 representing the top clubs about what should be said about sport. UEFA had pressed for wording in Article 182 that would have recognised the 'autonomy' of sports governing bodies such as itself. According to Jonathan Hill, UEFA's European affairs manager, this would have 'simply underlined that, when it comes to running sports, the people best placed to do it are the sports bodies themselves.' Sports ministers were in favour, but their political masters decided otherwise. G-14 feared that it would give the federations too much leeway to crowd out others from the commercial side of sport. As G-14's general manager, thomas Kurth, commented, 'Football is a sport but it is also an industry.'
The final draft of the constitution mentions that the EU recognises 'the specific nature of sport' but little else. UEFA's Hill admitted that the wording adopted was 'pretty vague'. 'It is very much open to interpretation and the truth of the matter is that Article 182 is not the end of the affair, but the start of it.' UEFA hopes that the Commission will continue its recent practice of taking into account the legitimate interests of sporting bodies when it applies the competition rules, albeit without giving them an open goal.
The biggest impact of the constitution is likely to be the prospect for the first time of formal EU sport ministerials at which ministers will be able to set the political agenda for sports. One idea might be to agree in future to coordinate bids for events such as the World Cup which usually sees EU states in competition with each other.3/7/04
PRODI SIDES WITH BIG CLUBS IN FIFA CLASH
Outgoing European Commission president Romano Prodi has sided with Europe's top football clubs in their ongoing clash with Fifa about the release of players for international tournaments. G14 representing the top clubs has long insisted that its members should receive compensation for losing key players at crucial points in the season.
Fifa's statutes force clubs to accept its rulings or those of a special sports arbitration court in Lausanne and prevent clubs challenging those decisions via national courts on pain of severe fines. The clubs have already risked the wrath of Fifa by lodging a complaint with the Swiss Competition Commission (a preliminary ruling is expected in July) and writing to the federation telling them that they do not recognise the rule that prevents them from launching legal challenges. Now Prodi has weighed in on their side. Prodi is reported by European Voice to have stated, 'A rule ... which prohibits recourse to national courts and imposes compulsory arbitration prima facie infrings the principle of freedom of access to employment.' He added that such rules are contrary to the EC Treaty 'as much as the denial of access to the courts may facilitate anti-competitive agreements or conduct.'
Prodi is, however, re-entering Italian politics and his influence at the Commission is rapidly diminishing. Amelia Torres, spokeswoman for competition chief Mario Monti, refused to give any encouragement to G14. 'At first sight the rule would appear to be a sporting one that benefits both the public ... and the clubs whose players gain greater notoriety [sic] by playing in the national team.' What is certain is that we not heard the last of this dispute which is the latest manifestation of tensions between Europe's top clubs and Fifa/Uefa.28/5/04
SMALL CLUBS CAN BE GIVEN AID SAYS MONTI
Smaller football clubs can be given financial assistance by national, regional or local governments according to EU competition commissione and AC Milan fan, Mario Monti. However, they must never expect to qualify for a European competition. The ruling draws a distinction between big clubs involved in European competition, and hence the single market, and those rooted in their local communities. However, Monti reaffirmed the Commission's insistence that professional football clubs perform an economic activity and hence fall under the terms of the tough state aid rules. What this ruling would mean in the British case is that Manchester United could not receive money from public funds, but Sheffield United or Oldham Athletic could.7/5/04
Financial Lifeline for Italian clubs
According to the German magazine Kicker the total debt mountain of European football clubs amounts to some €7 billion. Nowhere is this crisis more evident than in Italy where as many as a dozen Serie A clubs run the risk of bankruptcy in the coming months. However, they have received a partial lifeline with the latest deal from Sky Italia, the pay-TV arm of News Corp. It was thought that when Sky Italia was formed through the merger of Telepiu and Stream, football clubs might be squeezed. In fact, the total value of the deal on offer is similar to earlier deals. Some clubs are better off. The fees received by Juventus go from €81.6m in the current season to €90m in 2005-6 and €94.5m for the following season. Sky Italia hopes to lift subscriber numbers from 2.6m to 3m.7/5/04
BERLUSCONI DECIDES ON NO GOVERNMENT BAILOUT FOR ITALIAN CLUBS
Controversial Italian prime minister Silvio Berlusconi may be the President of AC Milan, and Italian football clubs are undoubtedly near financial meltdown, but there is to be no government bailout. The balance of political forces within the Berlusconi government would not permit such a move, while EU competition commissioner Mario Monti has rejected such a move as 'state aid' which would distort the balance of competition between clubs in different countries.
Finance minister Guilo Tremonti has been clearly against any such move, despite Berlusconi's fear that a 'revolution' would break out on the terraces if his government did not save the club. Berlusconi is sometimes said to bear a passing resemblance to Italian dictator Benito Mussolini who also put some money into football grounds. The government was under some pressure after serious trouble broke out at March's derby between Roma and Lazio. Fans fought with police and set the stands alight after deliberately false rumours had been spread that a child had been killed by a police car. The violemce was seen as part of an orchestrated 'strategy of tension' to force the government to pass a new 'Save Football' decree allowing clubs to spread their payment of back taxes over several years. However, Roberto Maroni from coalition partners Northern League (a political party not a football competition) said, 'The only thing that the [Northern] League is prepared to spread out is Nutella, not debts. The decree has been shelved, definitively I hope.'
Virtually all the clubs are in serious trouble and they are up against a deadline to get their books straight to satisfy new Uefa rules. Last season the clubs of Serie A reported a combined operating loss of €948m. Eighty-five per cent of their revenue went on players' salary, well above the fifty per cent maximum recommended in Britain. Roma and Lazio alone have total debts of about €200m. Although football is a great passion in Italy, many voters may feel uneasy about bailing out some of the country's wealthiest individuals and highest earners. There may yet be more violence: Italy is not just about pasta, ice cream and agreeable 'Chiantishire' villas. The 'ultras' of the football grounds are as much as part of Italian life as La Scala. This is a country (which I greatly like) but which gave us the first Fascist dictatorship and the Brigato Rosso
POLICE RAIDS ON ITALIAN CLUBS
A thousand police have raided the offices of Italy's top football clubs and administrative bodies as part of a widening investigation into accounting fraud in football. The probe follows the collapse of Parmalat and Cirio, two food companies that have owned leading Italian teams, which has exposed the financial fragility of many clubs. Magistrates ordered searches of the offices of the forty-two teams in Serie A and B as well as the headquarters of the Italian football federation and league. The investigations are concerned with whether businessmen have been using football as a conduit for illegal money transfers and to manipulate balance sheets.
Italian clubs, like many others, have suffered from a growing mismatch between the cost of players and the revenues from television and gate money. To make up for losses, clubs have relied on capital increases from wealthy owners and on booking one-time gains from player transfers.
Sergio Cargnotti, founder of Cirio and former chairman of Lazio, was arrested two weeks ago. He has always denied wrongdoing. Since then, police have questioned former Lazio players as part of an investigation into inflation of transfer fees at the Rome club. The transfer probe is expected to extend to agents, including a management company called Gea World, that has represented about 150 players and has been run by children of some of the most prominent people in Italian business and football. Among those involved in the company have been Andrea Cragnotti, son of Cirio's founder and Francesca Tanzi, daughter of the founder of Parmalat. In addition, the European Commission is investigating a controversial so-called 'football saviour' law allowing Italian clubs to write off the cost of player contracts over a full decade.
In an unrelated development, AS Roma shares were suspended following reports that its owner, Franceso Sensi, had found a Russian buyer for his club which has debts of about €150m. AS Roma confirmed that it had a meeting with Nafta Moskva, a Russian oil company.29/2/04
PARMALAT SCANDAL LEAVES FUTURE OF AC PARMA IN DOUBT
The future of AC Parma, sixth in Serie A at the beginning of 2004, is in doubt after the collapse of its scandal ridden parent company, Parmalat Finaziaria Spa. With the club hovering on the brink of collapse anyway, and a shareholders' meeting to recapitalise it on hold, Enrico Bondi, Parmalat's special commissioner, needs to take action. However, reports of an imminent sale have been denied by well informed sources.
The Tanzi family bought the club in 1990. Its chairman, Stefano Tanzi (son of Calisto who was being held in a Milan prison at the New Year) was named in a Securities and Exchange Commission lawsuit at the end of December. Like many Italian clubs, AC Parma is financially troubled,. AC Parma posted a net loss of €77m for its 2003 financial year ended 30 June. Under Italian law if it is not recapitalised it faces liquidation. AC Parma owes €54.5m to its sponsor and owner, Parmalat, but has no money with which to pay the debt. Mr Bondi is reportedly not keen to forgive the debt because to do so would anger other creditors. The Italian media have suggestd that he could decide to raise money by selling off players. More generally, the crisis shows the problems that can arise when a football club becomes entangled with a major company.4/1/04
OZ HEADS FOR PREMIERSHIP STYLE LEAGUE
Momentum is growing towards the creation of a new national soccer competition in Australia which could be called the Australian Premier League. Despite the continuing popularity of Australian Rules and cricket, and the boost given to rugby in recent years, soccer has gained in popularity since the 3-1 victory over England in February 2003. As in the United States, soccer has always been a popular participation sport up until the age of fifteen or sixteen, but what has been needed is to create a more popular national competition. The sport has moved on from the days of state level competition, but it is agreed that something more focused than the National Soccer League is needed if Australian stars are to move back from Europe (although the salaries envisaged mean that is unlikely to happen quickly, other than at the end of their careers).
What is envisaged is a national league of ten clubs. Three would come from Sydney and two from Melbourne (perhaps not a popular ratio with Victoria's capital given the historic rivalry between the two cities). There would be one team each from Brisbane, Perth and Adelaide while New Zealand would also be allowed one team (presumably from Auckland). The final place would probably go to a team from New South Wales outside Sydney, nost likely Newcastle. However, three existing clubs could fail to survive the changes, including Wollongong Wolves who have struggled on and off the pitch in recent seasons.
West Australia's Sunday Times commented, 'For all the positives there's one issue that needs to be addressed. Look no further than TV rights. Despite signing a lucrative contract to telecast games, Channel 7 has short-changed fans with its virtually non-existent coverage of the NSL. A better TV agreement will be pivotal to the success of the new competition because not only will it provide a valuable cash injection to clubs it will bring the game closer to fans.'
During the Australian summer, viewers in Australia are able to enjoy live coverage of British and other European games. During a visit in December 2003 I was able to watch the Manchester derby and could have stayed up to watch Chelsea at home to Bolton. Australian soccer bosses will have to try and close the gap between the domestic competition and the European game if they are to retain television viewers. They will also face competition from other games such as Rules which I much enjoyed when I saw my first live game at the Melbourne Cricket Ground in May.16/12/03
EU MAY VETO ITALY'S 'SAVIOUR' LAW
The EU is threatening to veto Italy's so-called 'saviour' law which has helped to keep many cash strapped football clubs afloat. It permits clubs to amortise costs of player contracts over ten years rather than the shorter life of the contracts. It now seems likely that Mario Monti and Fritz Bolkenstein, the EU competition and tax policy commissioners, respectively, are going to open formal investigations into the law. Mr Monti is expected to find that the law violates EU state aid rules, while Mr Bolkenstein is expected to rule that the accounting change violates EU and international norms. A final decision could be taken next Spring and according to the Financial Times could 'unmask the unusually incestuous relationships in Italy among owners, bankers, players, agents and politicians.'
The prospect of EU action has sent many of Italy's football club owners into a panic. Rio Semeraro, president of Serie A club Lecce, claimed that 'It would be the bankruptcy of Italian football', although others might think that it would be a much needed wake up call. Without the saviour law, AC Milan would have doubled its recently announced operating loss of €29.5m. Rome clubs Roma and Lazio each had losses topping €100m despite the law saving them tens of millions of euros. Both clubs have relied on backing from Capitalia, the Rome-based bank with political ties. Both teams have not paid full state taxes in years and owe players many months of back pay. Even Parma lost €35m.
The fact of the matter is that losses have been mounting for years, the result of rising salaries not matched by gate receipts or television income. Club owners have either ignored the problem or resorted to questionable financial and accounting methods, hence the saviour law. The day of reckoning may be at hand.6/11/03
SERIE B START DELAYED IN ITALY
The start of the Serie B season in Italy was delayed by a row about promotion and relegation which had its origins in a series of contradictory court decisions. A number of Italian clubs (only in Italy?) went to sympathetic courts to secure rulings preventing their relegation to lower divisions. For example, a court in Catania decided that the local team should not go down to Serie C and the next day a court in Reggio Calabria decided that Napoli should go down instead. The Berlusconi government stepped in with a decree on August 19th, the height of the holiday season. All sports disputes were referred to one court in Roma and Catania, Napoli and two other clubs were kept in Serie B, adding four clubs to the division. Perhaps the biggest beneficiary is former leading club Florentina which had slumped to Serie C2 after financial problems. Having won promotion to Serie C1, the Firenze side was bumped up to Serie B on the grounds that it had a large fan base and attracted big television audiences!
Somewhat reluctantly, most clubs agreed to accept the government settlement if six clubs could be promoted to Serie A at the end of the season with only four coming down. But Serie A clubs did not want their elite status diminished by their division being expanded from eighteen to twenty clubs. Among accusations of 'sporting banditry', Serie B clubs refused to play their opening games. A compromise allowed the season to get under way two weeks late. Five Serie B teams will be promoted and three Serie A teams relegated. There will also be a play-off between the team that is sixth in Serie B and the team fourth from bottom in Serie A.
Underlying this fiasco is the grave financial crisis facing Italian football. At the end of the 2001-2 season, clubs in Serie A had debts of over €3 billion against €2 billion two years before. Many owe large sums in tax and to the players' pension fund. A law passed earlier this year to rescue Roma club Lazio allows clubs to spread their losses over several years' accounts. It breaches all normal accounting principles, but has been widely used, Juventus being the honourable exception.21/9/03
EXODUS OF STARS HITS BRAZILIAN FOOTBALL
Brazilian fans have been blaming an exodus of star players on globalisation. With the economy in a shambles and clubs facing major financial problems, 53 players from the first division have left the country this year for hard currency contracts. Fans are particularly upset that many players have left in mid-season in time for the beginning of European competitions. Big name clubs such as Corinthians, which lost six players this year to foreign teams, have seen their attendances slump. Vasco da Gama, once a top Rio club, is getting a mere 3,500 fans per game.
With merchandise sales, revenues from media and attendances falling sharply, managers say their already fragile financial situation has become worse. Roque Citadini, vice-president of Corinthians, told the Financial Times , 'In Manchester the entrance fee is $30, here it is $3. Real Madrid's loan to buy Beckham had an interest rate of three per cent, here it's thirty per cent. How do you expect to compete with that?'
However, many of the problems the clubs are facing are home grown. A congressional inquiry in 2001 revealed evidence of corruption and mismanagement in Brazilian football. The report called on the prosecutor-general to indict seventeen officials on allegations from embezzlement and mismanagement of funds to money laundering. Yet many of Brazil's tarnished club officials remain in power - thanks in part, analysts say, to their political connections. A recently approved law is supposed to help clean things up, while government aid to refinance debt will help to strengthen clubs financially. Perhaps the future of Brazilian football remains with the traditional pool of talent to be found in kids kicking a ball on the beach or in their neighbourhood.21/9/03
FIFA MAY BUY CATASTROPHE BOND
Fifa may buy a catastrophe bond to protect its investment in the 2006 World Cup in Germany. Euro-Week magazine has reported that CFSB is reported to be the lead manager in a €400m deal. Fifa took out a similar bond in 2002 after French insurers Axa cancelled its insurance policy for the finals in Japan and South Korea. The soccer governing body had refused to renegotiate terms in the wake of the terrorist attacks in the United States. It took out the bond to cover the likelihood of earthquake or political instability disrupting the finals.
Because so many different venues are used, Fifa has always had a large insurance bill for the World Cup. Before the 2002 policy was cancelled the cost was put at $852m. It is not known how much it paid for the alternative package negotiated with Berkshire Hathaway in 2002. However, Fifa attributed its unexpectedly large revenue surplus between 1999 and 2002 partly to lower costs than expected for the World Cup in Japan and Korea.10/9/03
EUROPEAN FOOTBALL MARKET TOPS €10 BILLION
Accountants Deloitte and Touche have estimated the European football market to be worth around €10 billion in their latest report on football finances. Dan Jones, director of Deloitte and Touche Sport commented, 'England's matchday incomes are now almost three times those of other big leagues. German, Italian and Spanish clubs need to address revenue generation and commercial issues at their stadia urgently or they will fall further behind.' In particular the report notes that clubs in Italy and Spain 'lack the relative balance between different revenues that Premier League clubs have (being too reliant on broadcasting money) and have historically shown far less discipline regarding player costs.'
The report shows that the 'big five' leagues in Europe (which between them account for 80 per cent of all football income) experienced mixed fortunes in terms of revenue growth in the 2001-2 season. England (up €1.7 billion) and Germany (who broke €1 billion for the first time) recorded very healthy increases of 21 per cent and 19 per cent respectively. French revenues were static and Italy decreased by 2 per cent. There were no reliable figures for Spain. The 2001/2 growth rates meant that the English Premiership built on an already substantial revenue gap to the next biggest league (Italy). The absolute gap now stands at over €600m.
Wages again rose substantially. In the big leagues the increases ranged from 6 per cent in France to 26 per cent in England. Only Germany recorded a percentage wages increase (19 per cent) less than growth (17 per cent). Wages/turnover ratios increased everywhere except Germany. The English Premiership was Eropean champion in terms of operating profits, generating €130m in 2001/2, up from €125 million. Germany saw operating profits rise from €87m to €100m. France, and particularly Italy, recorded sizeable operating losses. Italy's loss of €404 million, up from €216 million in the previous season, was largely the result of static income and rising wages.
The Premiership remained the best-attended top division in European football. Its average crowd is eleven per cent above its nearest rival, the German Bundesliga. Italy's Serie A, whose average attendance fell by eleven per cent, slipped back into third place. Average attendances in Spain have fluctuated around the same levels, in the low twenty thousands, for years. France, after a post World Cup boom, has settled back into fifth place. The Premiership is the only league to exhibit consistent growth in attendance in every season since the mid 1990s.
The UEFA Champions League is the de facto sixth 'big' European league. Its estimated broadcasting income of €420m would rank it third among the 'big five' leagues. The competition's average attendance in 2001/2 (34,351) was higher than any of the 'big five' domestic leagues.31/7/03
GERMAN TV ROW TO GO TO COMMISSION
Germany's commercial televison broadcasters plan to challenge in Brussels the proposed acquistion of football rights by the public broadcasting system. ARD, Germany's biggest state-owned broadcaster, is offering €55 million for the games which will then return to state television for the first time in fourteen years. Previous owner SAT.1 which paid €80m for the rights in 2002, was offering €40m. Jurgen Doetz, the chair of the German federation of commercial broadcasters, stated, 'We are of the view that this acquisition would be illegal because the revenues from the licence fee should not be used to outbid commercial broadcasters to drive the price of rights higher.' With licence revenues of €6.33bn in 2002 and fifteen channels, German public sector broadcasters are the richest and among the biggest in Europe.28/6/03
BRAZIL ATTEMPTS TO CLEAN UP FOOTBALL
Brazil's new president, Lula da Silva, has signed a new law which is supposed to be a 'statue for fans' despite the opposition of the country's football barons. A congressional inquiry in 2001 revealed evidence of deep-seated corruption in Brazilian football. Seventeen leading football officials were supposed to be indicted, but many of the tarnished officials remain in power today, in part because of their political connections.
Referees will have to be chosen by lottery in future. Football clubs are required to reveal their accounts and attendances. They must publish the roster of referees, their internal regulations and ticket prices for the season. They will also have to do what is standard practice in Europe, ensuring security inside the stadiums and providing ambulances, doctors and insurance.1/6/03
BAYERN IN CRISIS WITH BUNDESLIGA
Bayern Munich were fourteen points clear at the top of the Bundesliga in mid-April 2003, but their whole future in the competition is in doubt. They face the prospect of sanctions over a secret marketing deal which gave them a top-up of €21.5 million from the troubled KirchMedia group which ended when it went into administration with huge losses last year. The League has to decide whether the payments violate the key principle of central marketing which ensures that all professional clubs benefit from a share of television rights. Big clubs like Bayern have been pushing for separate marketing for years, but collective marketing is vitally important to smaller clubs.
The Bundesliga has made it clear that if Bayern are found to have broken the rules, they will have to be punished. But can the league confront the country's equivalent of Manchester United? Bayern have threatened that if they are given a points deduction, they will pull out of German football. But where they would go? They have suggested that they might join the Italian League, but it is difficult to see that that would be allowed or would even suit Bayern and its supporters. Some kind of compromise will surely bve found, but it demonstrates the increasing ability of super clubs either to mould the rules or break them if they don't suit them. 13/4/03
T-Online buy German football rights
T-Online, Europe's largest internet service provider, started showing highlights from German first division games in April 2003 after they bought the online broadcasting rights to them. The price paid by the Deutsche Telekom subsidiary is not thought to be a high one, possibly a few million euros, reflecting the slump in the fees that can be demanded by football. The purchase is part of a strategy to boost revenues through the sale of premium media content.13/3/03
CHAMPIONS LEAGUE FACES FALLING TV REVENUES
Uefa is expecting a 'drastic decrease' in television revenue from the Champions League over the next three seasons. The television rights deals that run out after this season's final on 28 May bring in an estimated one billion Swiss Francs a year. There is a three year deal with Britain's ITV and BSkyB that is valued at £80m a year from nest season. But other markets have not proved as lucrative, although Uefa is still negotiating in Germany and Italy. The shortfall could be as much as SFr244m (£113m) or more than twenty per cent of the income for the current season.
The news has not pleased the top clubs organised in G-14. They were upset last year when the original decision to restructure the competition was taken. The decision to scrap the second group stage, in response to falling public interest in 'meaningless' matches, meant that clubs were already facing a fall in income. G-14 members are likely to argue that their share of income should be ringfenced.
Uefa's overall financial position is, however, sound. It has cash reserves of £115m and will receive £363m for the television rights to next year's European championships in Portugal, almost seven times the amount received for Euro 2000.
GERMAN AND SPANISH LEAGUES SEE RAPID ATTENDANCE GROWTH
The German Bundesliga has the one fastest growth rates in attendance of any of the top European leagues, up almost 10 per cent from two years ago, with an average of 33,014 fans per game. However, this is still behind the English Premiership which is recording an average of 35,318, around two per cent up on the previous season. Spain's La Liga has now overtaken Italy in third place with average gates of 28,811 up from 24,408 two years ago. Serie A has seen a fall in attendance from 29,144 to 25,667.
In all ten leagues have average five figure average attendance figures, ranging from Sweden (10,161) to France (19,139). The others in the top ten are the Netherlands (15,846), Scotland (15,827), Russia (11,643) and Belgium (10,161). England's Nationwide first division is also in this range with a figure of 15,342. Attendances in Eastern Europe are less impressive with the Czech Republic recording 4,048 and Slovakia 3,936. This is below England's third division which averages 4,283.
The top five clubs in Europe in terms of support are:
Barcelona, 72,793
Real Madrid, 69,225
Borussia Dortmund, 68,000
Manchester United, 67,586
Internazionale, 63,251.
FRENCH CLUBS IN SECRET TV DEAL
French cable television company Canal Plus has secretly paid £160m to six of the biggest football clubs in France as an 'option' on future television rights. The company currently holds the existing rights to all top French matches and is firm favourite to win the next contract for the seasons 2004-6. According to Le Monde ,Paris St-Germain (which Canal Plus owns), Olympique Lyon, Bordeaux, Lens and Monaco shared €250m over secen years to give Canal Plus 'first option' on television rights.
Rivals of Canal Plus have characterised the payments as a 'sweetener'. Other television companies have already complained that bidding for the rights to televise French matches is not fair and open. One of the companies, TPS, has lodged a complaint with the European Commission. The payments have also alarmed Vivendi Universal, the troubled parent company of Canal Plus, since nothing was guaranteed in return and the deal was not formally approved by the Canal Plus board.
Canal Plus officials emphatically rejected suggestions that the cash was intended to 'buy' the votes of the big clubs in decisions on future television rights which, under French law, must be made collectively by the French league. They said that the payments were to hedge the company's bets in case the law changed and individual clubs obtained their own match rights. Jean-Claude Darmon, head of a sports rights agency which negotiated the option deal for Canal Plus in 1999, denied any conflict with the league's TV rights auction system. 'If we had signed all the twenty clubs, then yes, we would have been in competition with the league. But that's not the case.' Nevertheless, presumably making payments to the six biggest ones could be helpful.10/12/02
G-14 ATTEMPT TO CONTROL WAGES
Europe's top football clubs, organised in the G-14 (now with eighteen members), have launched a bid to keep wages under control. At their General Assembly in Brussels, the clubs agreed that from the 2005/6 season, the amount of total staff costs of each club will be limited to 70 per cent of its audited turnover. This is still considerably more than the fifty per cent level recommended as prudent by accountants Deloitte and Touche. The original plan was to set the level at 54 per cent for clubs with a turnover of €250m or more, rising to 73 per cent for those with a turnover of up to €60m. However, if the hurdles had been set at these levels, 38 per cent of top European clubs would have been unable to meet them in the 2000/1 season.
Nevertheless, the fact that any action has been taken is an indication of how worried top clubs are by spiralling wage costs. The worst problems are in Portugal, where wages have reached 90 per cent of turnover, and Italy, where the crisis led to the removal of Fiorentina from top flight football in the summer. In the English Premiership, the wages-to-turnover ratio had reached 60 per cent by the summer of 2001. Salary caps have been in existence in the United States since 1984. Basketball led the way followed closely by the National Football League. Both rugby codes in England also have a cap.
There are no sanctions associated with the proposal which is advanced as a self regulation principle. What happens if a sponsor picks up some or all of a players' wages? How are payments for image rights - one of the ways in which Real Madrid funded the Zinedine Zadane transfer - assessed? In Australian rugby league, the Canterbury Bulldogs were found guilty of breaching the salary cap and had 38 points deducted, dropping them from the top of the NRL to the bottom. The absence of such sanctions has led critics to argue that the proposal is 'toothless', although the clubs had to be careful not to fall foul of EU competition law. Agents could well mount a legal challenge. There will be consultation with the Commission about the proposals.
The clubs are also going to draw up plans for a team performance related pay system. They are also calling for a harmonisation of the different national leagues' licensing systems. The hope is that their cost control concept would provide a common pattern for European football, not just the top clubs. One concern must be how, say, Ajax and PSV Eindhoven react if Feyernoord, who are not in G-14, go on a spending spree in the Netherlands?
PORTUGAL WORRIED ABOUT COST OF EURO 2004
The new centre-right government in Portugal is worried about the cost of staging the Euro 2004 football championship, the world's biggest media event after the Olympic Games and the World Cup. It will give the country plenty of publicity, but supposing it is not favourable if everything is not ready on time? Portugal is trouble with the EU because of the size of its budget deficit. The new government would have preferred to stage the event in conjunction with Spain, but the contracts have all been signed.
The total cost, including stadiums, roads, airport extensions and hospitals (!) runs to about €5 bn., a lot for a small and far from prosperous country. It amounts to more than €500 for each Portuguese citizen. Some of the cost will be met by the EU, and about 20 per cent from the private sector, but most of it will come from the taxpayer. The most controversial part of the previous government's plans is the decision to sanction the building of seven new stadiums for the tournament and the extensive renovation of three others. This will cost more than €550m. Provincial towns, where the average soccer gate is 5,000-8,000, will find themselves managing 30,000 seat stadiums. Overall, the new stadiums will have a total of 380,000 seats, well over three times the average attendance for the ten clubs that will use them afterwards. 'This is like building cathedrals in the middle of the jungle', says cabinet minister Nuno Moraes Sarmento.
Concerns have also been raised about the relationship between soccer and politics. There have been accusations exchanged between the main political parties of excessively close links between soccer clubs, politicians, construction companies and media groups. Sceptics ask whether it is worth it for three weeks of publicity.
EU: AGE BAN ON REFS IS UNFAIR
A common ground of complaint among football fans is the incompetence of match officials. They are often urged to have their sight tested at the early opportunity (or something less polite). Under FIFA rules referees over 45 are currently taken off the UEFA list.
European Commission Employment Commissioner, Anna Diamantopoulou, has said that the rule could fall foul of a directive on workers rights that comes into force in December. She said that a blanket ban could be unfair on older referees who might be fitter and healthier than younger counterparts. Instead, she favours referees being put through their paces 'in appropriate tests' to ensure that they can keep up with the pace of the modern game. (Presumably this would include tests for eyesight). In fact such tests are already used in Britain. Pioneering woman official Wendy Toms failed her regular test recently.
MURDOCH SCORES IN ITALY
Italy is set to have an equivalent of BSkyB in pay television after Rupert Murdoch took over Telepiu, the Italian satellite television group. The supposed 1.5 million subscribers will be folded into News Corp's existing Stream-pay TV joint venture with Telecom Italia which has 700,000 customers. Sky Italia, as it will be known, hopes to have 3.54m customers by 2006.
Telepiu was acquired by debt-burdened French parent Vivendi for just €470m in cash, plus an assumption of €423m in debt. It is a good bargain given that Telepiu recently paid €370m for football rights. Vivendi had first hoped to receive €1.5bn and the final deal is a bitter blow for the French company, but an excellent one for Murdoch. He commented, 'The Italian market is one of the last untapped frontiers for pay-TV', football being a key attraction to capture that market as has been the case in Britain. Given the production and distribution strengths of NewsCorp, and the cost savings they should be able to secure, Italian analysts agree that NewsCorp should make money.
The only problem is piracy. About five million households have dishes, but only two million actually pay for the service they receive. Murdoch has vowed to eradicate such piracy by inroducing new access technology pioneered by NDS, the satellite encryption company 79 per cent owned by NewsCorp. He commented, 'Piracy has been a function of two factors: first, Telpiu's old smart card was rubbish, and pirated cards were easily available.'
EU to Probe Murdoch Bid
Brussels regulators have opened a four month inquiry into the proposed deal. It may be that NewsCorp will have to make more concessions to secure the deal, but the company's senior executives were reported to be relaxed about the probe. They have already offered a number of concessions to Brussels, including the sale of two terrestial channels. NewsCorp have also offered to give the eighteen Serie A clubs the chance to opt out of their two year contracts at the end of the first year, although the absence of a viable alternative makes this unlikely.
The European Commission said that the takeover would create a 'near monopoly' in the Italian pay-TV market. NewsCorp argues that pay-TV has only an eight per cent penetration in Italy compared with 38 per cent in the UK. There are also eight free-to-air channels in Italy.Updated 10/12/02
POSTPONEMENT OF SEASON UPSETS ITALIAN FANS
The deepening financial crisis in Italian football has led to the postponement of the 2002/3 season upsetting fans who suspect political manoeuvring. Italian president Adriano Galliani has presented the move as a great day for Italian football because the larger clubs have shown solidarity with the eight smaller Serie A clubs without pay-per-view deals.. However, the delayed start could disadvantage Italian clubs when they come up against fresher opponents in European competition. The season will start on 15 rather than 1 September, although no matches were planned for the 8th because the national team is involved in a qualifying match against Azerbaijan.
Clubs such as Como and Empoli are demanding 10 million euros for the right to live coverage of their home games while the two pay-TV companies have offered only 4.5 million euros. In contrast, Juventus and AC Milan will this season earn 54 million euros and 49 million respectively for the live broadcasting rights of home matches. In Italy, clubs sign individual deals with television companies, in contrast to many other countries, such as England, where a collective deal is signed for the rights to a championship. In addition, state broadcaster RAI has offered to pay the league only half the 88 million euros it paid last year to show highlights of games on free television.
The two pay-TV networks - the Vivendi Universal Telepiu network and the Rupert Murdoch-controlled Stream channel - are in the red after signing extravagant long-term contracts to broadcast the matches of the country's top teams. They competed fiercely to secure the rights for teams such as Juventus and Lazio. RAI also suffered from falling advertising revenues and the high cost of the rights to the recent World Cup in which the Italian team came home earlier than expected. In the clubs have serious financial problems, exemplified by the fate of Fiorentina. The 76-year old famous team from Firenze (Florence) went bust in the summer and has been reduced to playing in Serie C2.
League president Galliani says that the delay would allow the eight Serie A teams to look into the possibility of developing their own pay-per-view platform, but this seems unlikely. The crisis has produced a political row with the centre-left opposition claiming RAI's intransigent position was favouring the private Mediaset commercial TV network controlled by the family of Silvio Berlusconi, the rightwing prime minister, who also owns AC Milan. The population is already disllusioned with its politicians and seeing its football postponed has not improved their status.
TOP FIVE EURO LEAGUES EARN 6.6 BILLION EUROS
Figures from accountants Deloitte and Touche show that the aggregated income of all clubs in top European divisions reached 6.6 billion euros in 2000-01. The 'big five' leagues (England, Italy, Spain, Germany and France) generate 78% of European top division income. If one added in lower divisions, federations and national teams, UEFA competitions etc., the size of the total European market is nearer 10 billion euros.
The largest share of income is held by England's Premiership clubs (24%) but Spain showed the highest growth rate (24%) in the period 1995-6 to 2000-1. The Premiership made operating profits of 134 million euros. The only other 'big five' league consistently making operating profits is the Bundesliga (87 million euros in 2000/01). Broadcasting is the largest element of overall 'big five' League income at 2.4 billion euros or 46% of the total. Apart from England and France, attendances in all the leagues declined. Matchday income in England is over double than in Italy, three times that of Spain and Germany and four times that of France.
Wages/turnover ratios are highest in Portugal (90%) and Italy (75%) and lowest in Denmark (52%) and Germany (50%). Gerry Boon, head of Deloitte and Touche Sport commented, 'Cost control is a key issue - and has been for years. It is football's biggest challenge - there is now a remarkable convergence of views across Europe and a real "window of opportunity" to address the issues around football's cost base.' Evidently referring to the recent G-14 initiative (see story below), he commented, 'Europe's top clubs appear ready to take the lead and set an example for the leagues, as a whole, to follow.
CLUBS GET NEW DEAL ON SALE OF TV RIGHTS FOR CHAMPIONS LEAGUE GAMES
European football clubs will for the first time be able to sell live television rights to some of their Champions League matches. This is the result of a deal reached with the EU competition authorities which ends a one year enquiry into Uefa.
Under the present system Uefa sells all of the live matches to one broadcaster in each country for up to four years. Brussels regards this as anti-competitive, arguing that selling a limited number of packages favours large broadcasters.
Under the new deal Uefa will sell the top four of the sixteen matches played each week to two broadcasters in each county. Other broadcasters will be able to bid for the other matches in two separate blocks. However, if Uefa does not manage to sell all the rights, clubs will have the chance to sell the matches individually. Clubs will also be able to sell rights of delayed broadcasting of their matches and will cooperate with Uefa on the sale of rights for internet, radio and third-generation mobile phones.
BLATTER RE-ELECTED, ZEN-RUFFINEN TO PAY THE PRICE
The ability of Fifa president, Sepp Blatter, to survive any criticism was demonstrated when he was re-elected as president in a landslide victory. Now Mr Zen-Ruffinen, one of Blatter's most severe critics and, as general secretary, the most senior non-elected official, is likely to pay the price by being removed from his own job.
In the run up to the election, his critics argued that Fifa stood to lose SFr470 million during the time of his presidency over the last four years, rather than the SFr134 million quoted by Fifa in its recently released financial report. David Will, one of Fifa's vice-presidents, said the discrepancy between the two figures was because future income had been booked in the accounts. Another vice-president, Antonio Matarese, commented, 'Mr Blatter managed the finances by his own rules when he was appointed four years ago, not Fifa's. This started the deterioration of Fifa which has continued to this day.'
Scenes at the Fifa meeting are hardly likely to have enhanced the reputation of the so-called 'football family' with potential supporters. There has even been talk of the European organisation, Uefa, mounting some kind of breakaway.
EUROPE'S TOP CLUBS LAUNCH PLAN TO CUT COSTS
G-14, the grouping that represents Europe top clubs, including Manchester United and Real Madrid, has launched a plan designed to cut the spiralling cost of running a top football club. Between them the G-14 clubs, which also include Ajax, Barcelona and AC Milan, represent about 50 per cent of the market in European player transfers. The group is held in some awe in Brussels. It has established good relations with the European Commission. The broadcasting authorities view it less favourably. When I asked a senior official of the European Broadcasting Union a question about G-14 at a conference in Brussels recently, I got a cool and short response emphasising the purely commercial character of the relationship.
Meeting in Glasgow before the Champions' League final, they committed to agreeing a maximum ratio of turnover to player salaries and transfer costs. The clubs hope to curb pressure to spend beyond their means. Some clubs such as Manchester United think that football's financial stability is under threat.
The proposals represent the first time leading football clubs have committed themselves to avoid overspending. Revenues from the sale of broadcasting rights have been falling but clubs have continued to spend huge sums competing to buy the best stars and pay them top wages. The most recent example is David Beckham at Manchester United, reputed to be on 90K-100K UK a week. G-14 general manager Thomas Kurth said that the first aim was to reduce competition between the top clubs in the transfer market: 'It is important to avoid auctions on a player because it has the effect of raising the prices, even of mediocre players.'
One of the key measures to be introduced is a plan to limit squad sizes to twenty-five. However, the proposals fall short of a salary cap which would have alarmed the Brussels competition authorities. Deloitte and Touche, the leading accountancy firm with considerable experience of football, will provide written certification on the balance sheets and budgets of the G-14 members to ensure clubs are following the rules on salaries and are keeping balanced budgets. In order to avoid legal difficulties with competition law, EU culture commissioner Viviane Reding is thought to have offered legal assistance in the drafting of the proposals.
BLATTER DEFENDS HIS RECORD
Embattled Fifa president Sepp Blatter has accused his rivals of conducting a smear campaign to prevent him winning a second term. Responding to a damaging 21-page report by Michel Zen-Ruffinen, Fifa's second in command, Blatter has published his own thirty-page reply to allegations he describes as 'false and groundless'. He denies that he runs Fifa like a dictator and has misued Fifa funds to bolster his chances of winning re-election on 29 May.
Blatter claimed that he had minimised the damage to Fifa from the ISL/ISMM bankruptcy. 'Fifa's financial situation is sound,' said Blatter. At the end of 2001 Fifa had equity of SFr154m and reserves of SFr367m and at the end of April 2002 it had liquidity of SFr913m. Auditors KPMG had recommended approval of Fifa's 2001 accounts.
Nevertheles, figures released by Fifa show that it expects to lose SFr134m ($82m) over the four years leading up to this year's World Cup. This is because of the cost of staging the World Cup in two countries and the consequences of the collapse of ISL/IMMM. Fifa earns 90 per cent of its revenues from the World Cup. Revenues from television and marketing rights are more than eight times higher than in the 1998 World Cup and nearly fifty per cent higher than the original SFR1.82bn budget. However, the explosion in Fifa's revenues has been more than offset by expenses of SFr2.83bn which are nearly 80 per cent higher than the original budget. Normally it would expect to generate a handsome surplus in the final year of the four year cycle but this year it is planning to spend SFr1.22bn which will lead to a SFr252m shortfall on revenues of SFr0.97bn.
Blatter could well win re-election. The college of electors is made up of 204 national football federations each with one vote cast in secret. So Germany or France will have no more votes than the Solomon Islands or Trinidad. An emergency committee with a majority of Blatter loyalists has relieved Mr Zen-Ruffinen of all financial responsibility and barred him from speaking to the press. However, issues about Fifa's governance are unlikely to go away.
WILL DEUTSCHE TELEKOM SAVE GERMAN CLUBS?
The Deutsche Fussball Liga and its 36 clubs have been in trouble since KirchMedia went into administration (see earlier story below). The company had agreed to pay 1.5 billion euros for the rights to first and second division games until 2001. Many clubs derive more than half their budget from television rights. However, the court-appointed administrator has, not surprisingly, failed to assure the league that it would pay the 820 million euros due for the next two seasons. Instead, Leo Kirch, the group's retired founder, is said to have offered to guarantee one-off payment of 290 million euros to the league. They are not impressed: 'Either KirchMedia pays its dues in full, or we get the rights back' said spokesman Tom Bender.
Now it looks as if Deutsche Telekom may come to the rescue. Although the company is heavily debt laden, it has expressed an interest on acquiring rights to feed its future broadband fixed and mobile services and third-generation mobile phone services for which it needs content. Deutsche Telekom may well team up with TMG, the Bavarian media group that owns Germany's second largest rights library. The head of TMG, Herbert Kloiber, has been interested in acquiring football rights for some years.
BLATTER'S TROUBLES GET WORSE
The problems facing Fifa president Sepp Blatter have got worse with the news that lawyers acting for nearly half the members of the world soccer body's executive committee will pass a dossier detailing alleged corruption to a Swiss judge. The dossier was compiled by Fifa's general secretary, Michel Zen-Ruffinen, who claims that up to $500 million has been lost during Mr.Blatter's presidency.
Blatter arrived at a Fifa executive meeting with his lawyer to try and stop the dossier being released, but he failed. Mr Zen-Ruffinen accuses Blatter of running Fifa for his own gain, bypassing its constitution by giving money to his supporters and removing anyone who questions his authority. The Financial Times commented, 'Taken together, Mr Zen-Ruffinen's allegations draw a picture of an organisation run by a personal fiefdom built around a coterie of personal advisers appointed by Mr Blatter.' One specific allegation is that Mr Blatter repeatedly made unauthorised payments, including one of $25,000 to a former Fifa referee. Mr Blatter said that he gave the referee money from his own funds: 'He said to me with tears in his eyes that he was a poor devil and had nothing left. So I gave him $25,000 of my own money. I'm too good a person.'
Accountants KPMG have criticised the accounting methods used for the sale of marketing rights for the next two World Cups to a 'special purpose vehicle'. Fifa has agreed to write off £153m of claims relating to the collapse of ISL/ISMM, the Swiss sports marketing company that handled the television and marketing rights for the World Cup. It also lost out by selling the 2002 and 2006 television rights for German speaking territories to Germany's Kirch for below market value.
The dispute over Mr Blatter has alarmed World Cup sponsors which include McDonald's and Budweiser. One sponsor told the Financial Times 'The issue is where does the money go? If people [within the organisation] are lining the pockets, there is definitely an issue for us.'
Mr Blatter is in a bitter fight for re-election with Cameroon's Issa Hayatou who has support from within Uefa and the African confederation. However, Mr Blatter has used his skills at relating to people to survive challenges to his authority before. An overhaul of Fifa's governance structures and practices is overdue, but the impetus is unlikely to come from the member associations. One Fifa official complained bitterly about their complacency, telling the Financial Times 'Most of the member associations don't care what happens, as long as they get their money.'
KIRCH COLLAPSE POSES PROBLEMS FOR GERMAN CLUBS
The collapse of the debt-laden media group Kirch poses problems for Germany's thirty-six professional football clubs. The group owned the broadcasting rights to the German game. Its next payment to the Bundesliga of 100 million euros was due on May 15.
It initially appeared that the German government might step in to give loans to the clubs through a 200 million euro guarantee plan. However, Chancellor Gerhard Schroder backed away from the idea after it received a hostile reception from the public who did not like the idea of taxpayers' money being used to subsidise footballers' pay packets.
There has been pressure on the country's public broadcasters ARD and ZDF to buy the television rights. ARD used to have the rights, but made it clear that it would not pay the same price as Kirch. Another possibility is that BSkyB could step in.
CORRUPTION SCANDAL HITS GREEK FOOTBALL
Two public prosecutors in Athens and Piraeus are considering whether to press corruption charges against foorball officials in Greece. Investigative journalist Makis Triantafyllopoulos used his weekly Sunday television programme to play tapes of conversations in which individuals, alleged to include Greek football officials, discuss match fixing and the offer of bribes to referees. According to one tape, a referee was to be encouraged to show yellow cards to key players from Paok, a northern Greek club, to ensure that they would be suspended for a crucial game the following week against Panathinaikos.
The scandal has shocked but not surprised Greek fans who are deeply cynical about the state of the national game. They have reacted by staying away from matches. Three-quarters of Greeks claim to support one of the first division teams, but attendances have fallen by thirty per cent over the past five years.
The quality of the Greek game is too low to keep key players at home. They prefer to join an Italian or Spanish club. In spite of the fact that the first division has become a proxy battleground for rival Greek tycoons, they are disinclined to use their wealth to build teams that could compete more effectively at a European level. Only Panathinaikos operates a talent spotting network and a soccer academy.
BLATTER UNDER FIRE AS FIFA LAUNCHES AUDIT
Beleaugered Fifa president Sepp Blatter was unable to stop Fifa setting up an audit committee to check the books of world football's governing body and examining the consequences of the collapse of marketing partners ISL/ISSM last year. However, in the latest twist in the tale in April Blatter caused fresh controversy by abruptly suspending the investigation. This happened shortly before members of the audit team were due to question Fifa's finance director.
Accusations of 'cash for votes' payments during his campaign to become Fifa president four years ago have also resurfaced. Blatter has insisted that he has nothing to hide. He has experienced pressure before, but has always survived. Under Fifa's arcane structure, the president can only be removed by the 204 individual national associations.
Blatter is accused by his critics of hiding the true extent of the cost to Fifa of the collapse of ISL/ISMM, the Swiss marketing company which was its main commercial partner. It was responsible for selling the broadcasting rights to the 2002 and 2006 world cups. Fifa insisted that no moe than SFr51 million ($30 million) was lost as a result of the bankruptcy. Blatter's critics, led by Lennart Johanson, president of Uefa, and a long time foe of Blatter, have questioned the figure. They demanded an independent investigation to reveal an amount that they claim could be ten times larger. The audit committee has been made up of one member from each of the continental federations in Fifa. It will be able to call on independent expertise from outside the organisation, but will not include members of Fifa's finance committee which is primarily made up of Blatter supporters.
Uefa received support for its stance from Dr Chung Mon-Joon, president of the Asian Football Confederation and a Fifa vice-president. He has claimed that the apparent mismanagement of finances at Fifa makes the bribes-for-votes scandal which almost destroyed the International Olympic Committee pale into insignificance. Another backer is Issa Hayatou from the Confederation of African Football who is set to mount a challenge for Blatter's job when Fifa elects a new leader in May ahead of the World Cup in Korea and Japan.
As long as the dispute continues, it risks causing long-term damage to Fifa's image. This could ultimately affect its ability to raise income for the game by putting off potential sponsors.
ITALIAN CLUBS FACE CASH CRUNCH
Italian Serie A clubs are facing a cash crunch. Among the indications of a financial crisis are:
Fiorentina has been hovering on the edge of receivership, with debts at one time reported to be approaching £100m.
Lazio has admitted that it is late in paying the second instalment of the £16m transfer fee for Jaap Stam from Manchester United.
Serie A players are routinely paid late. Lazio is two months behind in paying players' salaries.
Loan deals are increasingly replacing cash transfers.
The Serie A clubs ended last season with a combined operating loss of 740 million euros, although that drops to 152 million once transfers have been taken into account.
Even the richest clubs are expressing concerns over wage costs that have doubled over three seasons. Adriano Galliani, vice-president of AC Milan, is leading discussions on domestric salary controls which are also taking place at a European level with fellow members of G14, the lobby group for top clubs. Another proposal is to limit squad sizes, say to twenty-five the minimum level for entry to Uefa competitions. Another proposal is to restructure the financial split at games. At present an away team receives 18 per cent of the ticket and television income from a league game. Naturally, smaller clubs want to retain this arrangement.
Fans at matches only bring in fifteen to twenty per cent of bigger clubs' income, leading them to fear the consequences of cuts in television income as viewing figures fall. Clubs individually negotiated pay-per-view deals worth 428 million euros, with another 94 million euros for cup coverage. One big problem is the widespread 'pirating' of pay-per-view games which is estimated to involve 1.5 to 2 million people. Issues like this can also be addressed, but as in England and Spain, there is a need to get wages under control - but it is difficult to see how that can be done given the competition among clubs for superstars.
GLOBAL RICH LIST
Deloitte and Touche have published the latest version of their 'global rich list' for football clubs. For the fourth year in succession, Manchester United comes top. The figures relate to 1999-2000: if they related to the current season, more English clubs would feature because of the latest media deal. The English Premier League, like the German and French leagues, is relatively egalitarian in the way in which it distributes money to clubs. The Italian and Spanish leagues are more polarised as they allow clubs to sell their own television rights individually.
The top twenty ranked in terms of turnover are:
Manchester United, £117m
Real Madrid, £103.7m
Bayern Munich, £91.6m
AC Milan, £89.7m
Juventus, £88.4m
SS Lazio, £77.4m
Chelsea, £76.7m
Barcelona, £75.2m
Inter Milan, £68.9m
AS Roma, £64.1m
Arsenal, £61.3m
Borussia Dortmund, £59.5m
Leeds United, £57.1m
Fiorentina, £57.1m
Glasgow Rangers, £51.7m
Olympique Marseille, £49.9m
Tottenham Hotspur, £48.0m
Parma, £47.5m
Liverpool, £46.4m
Newcastle United, £45.1m
.
LYNGBY GO BANKRUPT
The problems faced by clubs in smaller European countries are illustrated by the news that Denmark's FC Lyngby has gone bankrupt. The club from the suburbs of north Copenhagen were Danish champions in 1992 and are currently 10th in the twelve team Danish Superleague. However, they have faced problems ever since owner Jorn Terkelsen ended his investment in the club.
They did attempt a merger with AC Ballerup, but the deal fell through. A merger with neighbouring first division side Farum was rejected by a vote of 124 to 20 by club members. The merger would have been nothing short of a complete takeover which would have effectively extinguished Lyngby. Farum would have been able to choose a new name for the club, a new stadium venue, a new logo and new team colours.
Lyngby will become an amateur club. They will fulfill their fixtures in the Superleague, but will then drop two divisions next season.
In 2000 Lyngby entertained English Premiership club Charlton Athletic. Charlton midfielder and Danish international Claus Jensen had played for Lyngby before moving to Bolton.
JUVENTUS FLOATS
The Agnelli family floated approximately 35 per cent of Juventus in December 2001. The price was set at the low end of a range of 3.50 to 4.70 euros at 3.70 euros. This suggests that interest from investors was muted. The offer values Juventus at about 8.4 times estimated 2003 earnings before interest, tax, depreciation and amortisation - a small discount to Manchester United. 52 per cent of its turnover goes on player wages compared with 38 per cent at Manchester United.
On the plus side, the club's most valuable players are locked in contracts until 2006. Pay-TV rights give it good earnings visibility until 2005. A lucrative sponsorship deal to Nike, similar to Manchester United's, kicks in from 2003
The cash will be used to develop a retail centre and a new training ground on the outskirts of Turin, diversifying the club away from football to make it more attractive to investors. Juventus has recorded five straight years of profits, but other Italian clubs are in financial crisis.
Overall, clubs in Serie A had a total operating loss last year of €723m on revenues of €1.2bn and prospects for this year are not much better. Inter Milan lost €36 million last season, recently receiving a €18 million handout from Finvest, orime minister Berlusconi's holding company. Lazio, which has been eliminated from the money spinning Champions League, had a loss of €40 million last year. It is going to slash its salary budget next year by 20 per cent. Fiorentina's players have not been paid for weeks and the club has been saved from bankruptcy twice in recent months by Mr Berlusconi's Fininvest.
EU INTERVENES ON CHAMPIONS' LEAGUE TV RIGHTS
The EU has made a preliminary ruling that the €530m a year market for Champions' League television rights is anti-competitive. Brussels has told Uefa that the system under which rights are sold exclusively to one broadcaster in each country for three years reduces competition among broadcasters, limits consumers' choice and could increase prices for armchair fans. In particular, Brussels argues that the present system favours large media groups.
Possible changes include allowing more than one broadcaster in each country to buy the rights, breaking up the rights in different packages or reducing the length of contracts. Uefa has three months to reply to the Commission's objections.
REAL MADRID: DEEP IN DEBT, BUT £46 MILLION SIGNING IS NO PROBLEM
Real Madrid's £46 ($64.5) million signing of 29-year old Zinedine Zidane from Juventus was possible despite the Spanish club's debt mountain. Madrid has spent more than $153 million on new players in less than a year. Before the Zidane signing the debt burden stood at $175 million. President Florentino Perez, a construction magnate who took over last year, admitted that the highly successful club was 'in a state of economic intensive care'. But the club's debt looks set to be slashed by a property deal involving a site it owns in Madrid's financial district. The club has got permission to sell twenty per cent of the site and has invited international property developers to bid for the construction of four office towers. It is thought that the deal could raise at least $250 million, wiping out the club's debt.
The Zidane deal broke the previous world record of $56 million set when Real Madrid bought Luis Figo from Barcelona last year. Four of the top ten world transfer deals were closed this year and several more are expected during the European close season. The move suggests that the sport's history of escalating transfer fees is set to continue despite the reforms forced through by the EU. Fifa has approved new regulations that would impose sanctions on players breaking contracts.
ACTION URGED ON SHARED OWNERSHIP PROBE
The pressure is on EU Competition Commissioner Mario Monti to complete his probe into the legality of UEFA's ban on soccer clubs with shared ownership taking part in the same cup competition. Two jointly owned clubs, Paris Saint-Germain and Servette, could both qualify for this season's UEFA Cup. Servette have already qualified and PSG could get a place through the Intertoto Cup. Should this happen, Servette would take precedence.
A number of clubs could fall foul of the ban. Ajax have a majority holding in Germinal Beerschot Antwerp. London-based investment company Enic controls four European clubs -AEK Athens, Slavia Prague, Vicenze and Spurs - as well as having a large stake in Glasgow Rangers.
Enic claims the UEFA ban is in breach of EU law and could also fall outside competition rules. UEFA insists the rule is necessary to avoid accusations of match fixing.
BLATTER SURVIVES CONFIDENCE VOTE THREAT
Fifa president Sepp Blatter survived a confidence vote threat after Asian and African soccer delegates withdrew their support at the last minute. However, Blatter's prestige has suffered a knock and Fifa staff now appear to be briefing the press with criticisms of him.
Uefa were prepared to move a vote of no confidence if he failed to provide satisfactory answers to twenty-five questions. These ranged from his salary structure to his relationship with ISSM, the Swiss marketing company that was Fifa's main commercial partner until it went bankrupt in May 2001. Blatter stated that he had answered a number of Uefa's questions and would deal with the rest before the extraordinary meeting of the Fifa Congress to be held in the Argentine in July.
Relations between Uefa and Fifa have been strained since Blatter defeated Lennart Johansson, the Uefa president, in the 1998 Fifa presidential election. Trouble flared up during the arguments with the European Commission over the future of the European transfer system with Fifa taking an initiative of its own which later had to be withdrawn. The tensions go beyond personal animoities between the two supremos. Uefa see European soccer as leading the world and would like a Fifa president more responsive to its demands. The now abandoned World Club Championship introduced by Blatter was criticised by Uefa because it conflicted with key stages of the European soccer season. It led to Manchester United pulling out of the FA Cup in 1999-2000. The club championship was suddenly abandoned when it was found that there were no sponsors.
The Financial Times commented that it must be worrying for Blatter that 'he appears to have lost the support of key executives from his own organisation. They are privately critical of the way he operates as president.' One unnamed senior executive from Fifa told the FT, 'When he was elected, Mr Blatter declared himself executive-president. No such position exists in the statutes.' It wasn't just a question of prestige, but allowed Blatter to take a more active role in the organisation than his predecessors. 'There are a lot of people in the executive committee who have clearly now come to the conclusion that there is a need to intervene in the way Fifa is managed by its president.'
Another Fifa executive surmised that Blatter's strategy was 'to bring the whole thing back to his playground [the Congress].' Whether this meeting will clear the clouds hanging over Fifa renains to be seen. For example, Fifa's relationship with Traffic, the Brazilian sports marketing agency, was one of the subjects covered by a congressional inquiry in Brazil into corruption in the nation's football. None of this is good for football's image as a sport.
MONEY PROBLEMS FOR TOP EUROPEAN CLUBS
The rising cost of acquiring and paying top players is becoming an increasing problem for top European clubs. Player costs are a big enough problem in England, but they can be even higher elsewhere. For example, in Lazio's successful 1998/9 season, wage costs rose from 67 per cent to an amazing 83 per cent of revenues. At rivals AS Roma wage costs for Argentine striker Gabriel Batistuta run at seven million euros a year.
The top clubs are increasingly dependent on television rights to achieve bigger and more reliable cash flows. For example, Germany's Borussia Dortmund receives over ten million euros a year from Bundesliga coverage rights. Such revenue flows are less readily available in the smaller European leagues. For example, television revenues for the Dutch League are only about thirty million euros a year. Of that, Ajax receives just two million. Qualifying for Europe often makes the difference between profit and loss. Analysts reckon that Ajax must not only qualify, but reach the quarter finals, if it is going to be profitable next year.
Flotation on the stock market is less popular in continental Europe than in Britain. Twenty-seven British clubs have floated, as against thirteen in the rest of Europe. Surprisingly, six of them are in Denmark. Italy and Portugal have just two each, with one in each of Germany, the Netherlands and Switzerland. There are none in Spain, while French law closes off the option there. In Italy, Udinese called off plans to float forty per cent of its stock because of uncertainity about the future of the transfer system. AC Milan has also pulled out of flotation plans, in part because of the sector's current low valuation.
The one German club to float, Borussia Dortmund, is part of the exclusive G14 grouping of top clubs (rumours that they may form the basis for a breakaway league persist). The club has an average attendance of 60,000, not far behind Manchester United, and is the only German team to have won the Champions League. It does not enjoy the global brand recognition or domination of its national league that United does. The shares have a respectable following among German institutions, but have not attracted much interest from private investors. And it is perhaps worth noting that the players themselves have not shown much interest in club shares.
ENIC DOWNSIZES
As the first football conglomerate, Enic has fascinated analysts of the business side of football for some time. However, the company's shares slumped to 38.5p in early April, down from 291p five months earlier. Its market capitalisation of £40m is not much more than twice the value of Sol Campbell of Spurs, a club in which Enic has had a 29.9 per cent stake since a £219m deal was completed in February.
Spurs is now Enic's major football asset. It has reduced its football holdings, cutting is stake in FC Basel to 11.8 per cent in January. It also plans to sell its twenty per cent stake in Glasgow Rangers which should bring in £29m. It has retained its stakes in Vicenza, Slavia Prague and AEK Athens. It is going to transfer from the main to the Aim market in London. The rules of the main market require that companies must own the majority of their assets, but this could clash with Uefa rules banning clubs under common control from taking part in the same European competition. Elsewhere, Enic has sold most of its stake in the software company, Autonomy.
The Financial Times commented, 'Enic's plight is set to get worse before it gets better. The market has little time for football clubs at the moment because it sees clubs as being crippled by soaring player wages.
KIT SPONORSHIP FOR REFS IN SPAIN
Referees in the Spanish first and second divisions are now being sponsored by Quiero TV, a digital television company based in Madrid. They worked out that the ref's was the only shirt in the pitch didn't have a logo and they were often picked up by the cameras. Now the refs in Spain are wearing yellow and black shirts with the company's distinctive 'Q' logo on one sleeve and its name on the front. One odd consequence is that the ref gets involved in an argument with players, the logo gets more television exposure.
Quiero's sponsorship which runs until the end of the 2004-5 season has cost £6 million. Of this forty per cent goes to the forty-eight referees and the remaining sixty per cent to a new training college for refs. Each referee has got a 38 per cent pay rise as a result of the deal with the most successful ref earning £36,000 a year compared with a top figure of £31,000 in Britain. Wouldn't it have been more appropriate, though, for the refs to be sponsored by the Spanish equivalent of Specsavers?
BRAZILIAN FOOTBALL IN TROUBLE
The recent troubles of Brazilian football were symbolised by the interruption of the year end national football championship game after a fence collapsed. More than a hundred fans were injured at the play off between Vasco da Gama and Sao Caetano.

Now foreign investors in Brazilian football are getting cold feet. Parmalat, the Italian food conglomerate, did have a co-management contract with Sao Paolo club Palmeiras which has a big following, especially among fans of Italian descent. Now they have decided not to renew it and the club has been left without a sponsor.

When Pele was sports minister in 1998 he sought to change club management structures to promote private investment. Football clubs were to be transformed into private companies, but they have kept the right to remain as non-profit associations.
BUSINESS APPROACH ENTERS TURKISH FOOTBALL
Turkey is the latest European country to attempt a more business oriented approach to football. Uefa cup winners Galatasaray are planning an offering of between ten and fifteen per cent of its marketing arm, Galatasaray Sportif. They have also done a private equity deal with American International Group (which already owns a stake in Brazilian club Vasco da Gama). Besiktas, fierce rivals of Galatasary, are also planning a share offering.
Turkish clubs have tended to depend on rich presidents for funds. Going to the stock exchange therefore has its attractions, but these have been offset by the recent volatility of shares in Istanbul.
AIG believe that the underdeveloped state of sports advertising and merchandising in Turkey means that they could help double Galatasaray's $30 million revenues over a four year period. The most popular club in Turkey, the Istanbul side ie estimated to have 16.5 million supporters. They are also the only Muslim club to succeed in international competition which means that their matches are shown extensively in Muslim countries. There is also a market of three million people of Turkish origin in Germany to tap. Part of Galatasaray's plans include using bank loans to construct a new $120m stadium.
FOOTBALL'S RULING BODIES TRY TO CHANGE BOSMAN RULING
The European Court's ruling in the Bosman case has allowed clubs to acquire players on a free transfer when their contract expires. It has also given existing star players added negotiating power as their contracts come to an end, most recently Roy Keane at Manchester United. It also has led to an influx of players into the major national leagues from other countries with a massive outflow of talent in countries such as the Netherlands.
Now FIFA and UEFA have launched a lobbying campaign to get the European Union to intervene to counter what they see as the negative effects of Bosman. They say they are worried about the way in which smaller clubs are losing out on transfer income and what they see as the negative impact on the training of youngsters. They fear that the link between local fans and their team is being eroded. They want to be allowed to reinstate rules declared illegal by the Court to achieve what they call 'a better balance' between national and non-national platers in teams.
They are trying to get the EU to add a new protocol to the EU treaty recognising the 'specificity of sport'. It is argued by their lawyers that sport has always been organised on national lines although it is an economic activity in terms of EU law. Treating it purely as such could lead to the end of national structures.
Top managers like Manchester United's Alex Ferguson argue against a return to limits on the number of foreign players in a team. City of London broker Nick Bartram from Granville Baird argues that the real agenda is about FIFA and UEFA losing their powerful grip on lucrative television and marketing rights now worth billions of eurps. They are worried by the threat of rival leagues and big clubs dealing direct with television companies, emptying the coffers of the ruling bodies.
The European Commission are having none of it. There is a general mood in the Commission against taking on new responsibilities (indeed perhaps getting rid of some existing ones) and they remain opposed to giving special treatment to sport. Commission officials are sceptical of the motives of FIFA and UEFA: 'They are looking for a protocol because they want monopolies for everything.' Possible other routes to deal with the problem include special training contracts for young players.
What future for US soccer?
I have just returned from three months in the US. There is no doubt that the three major sports there are baseball (once completely dominant), American football and basketball. It would be interesting to speculate where soccer ranks alongside, say, hockey. Basically, soccer has three constituencies in the States. First, among 'soccer mums' as a game that their youngsters can play with less risk of getting hurt. Second, among the Hispanic population (which is why so many games are shown on Spanish tv channels). Third, as a sport for women. I went to one small college town with a 38,000 [American] football stadium, shortly to be expanded to 50,000. Round the back was a soccer pitch for women. One of the reasons that colleges have developed soccer for their women students is a judicial ruling that required them to give equal funding to sports for men and women.
The popularity of women's soccer was shown when 78,792 people packed into the Giants stadium in New Jersey to see the US play Denmark in the opening game of the 1999 Women's World Cup. It was the largest crowd ever to see a women-only sporting event. At the grassroots level, 7.9 million girls aged between seven and eleven were registered to play the sport this year. 40 per cent of all soccer is played by women and girls. Now there is talk of a women's professional soccer league to match the popular women's basketball competition.
Women's soccer was given a big boost by the US's victory over China in the Women's World Cup Final through a penalty shoot out after a 0-0 draw. The extent to which the final had captured popular interest was underlined by the presence of the Prezza himself, Bill Clinton.
Unfortunately, Major League soccer for men continues to struggle and Minor League has even bigger problems. An article in the Seattle Post-Intelligencer claimed that soccer would never catch on the US because of a perception that there wasn't enough action (although the same article discussed worries that baseball scores were getting too high). Do me a favour: the previous night I had seen the Seattle Mariners play the San Francisco Giants in a baseball match that lasted 3hrs. 57 mins. Now, baseball is a great game - but there are long periods of inaction.
Does it matter? I think it is a shame that the world's most powerful country doesn't take soccer seriously, if only because Anericans don't know what they are missing.
Euro Midweek Super League Plan
Questions Posed About Football's Future
Plans for a midweek Euro super league revealed in the Financial Times on 15 May bring into sharp focus the debate about the future of European football. Is football just another product from which revenues should be maximised in the most effective way, or should football clubs be linked into their communities and see their fans as more than customers? Uefa made it clear that it wants nothing to do with the plan and pressed ahead with revamping its own competitions. Its proposals for a new look Champions League with an increase in the number of clubs taking part from 24 to 32, and a big increase in the number of games, were accepted in November 1998 by Europe's top fourteen clubs. In a development which has important implications for the future, they also formed a body called 'G-14' to represent their interests in Europe.
Media Partners do not accept that the fight is yet over, but one possibility is that they might be involved in marketing television or other rights to the new league. The respected Milan based firm would not have put forward their Super League plan without doing their homework first. The firm was planning to set up a midweek league of 24 or 32 clubs. As the FT comments, 'The radical principle at the heart of the concept is that a group of founder clubs will enjoy permanent membership of the league by virtue of their size and wealth.' The mastermind behind the project, Rodolfo Hecht, described its philosophy in the FT article in a way which puts starkly the contrast between football as a community based activity in which small clubs can pit themselves against giants, and the view of it as an investment which must maximise returns like any other economic activity in a global market economy. He thinks the tide is turning against a European model of football that favours unpredictability and movement between divisions towards the American franchise model of stability and financial security. He says, 'If you look at the structure in Europe, it's designed for amateur sport. It's fun to go up and down and be relegated and go in and out of European cups. Unless you invest £40m in salaries, then it's not such great fun.'
Hecht is a close associate of Silvio Berlusconi, the Italian politician and media tycoon. The Economist commented on August 22nd that there were whsipers that 'Berlusconi is plotting with Rupert Murdoch and Leo Kirch, a German media tycoon, to oust France's Canal Plus from its dominance of European pay-tv.' What those behind the scheme would probably like is an American style franchise system where the league awards franchises to cities to create football teams, but that would probably not be a starter in Europe.
Clubs like Manchester United took a cautious attitude towards the new plan. They thought that Uefa could block it, threatening clubs which joined with expulsion from their domestic competitions. But then the European Commission might step in. Some analysts thought that the European Commission would back the organisers of the super league against any attempt by the football authorities to defend a monopoly.
Premiership Clubs Reject Super League
English Premier League officials declared at the beginning of September 1998 that the tide had shifted Uefa's way. Peter Leaver, chief executive of the premiership, said that the clubs wanted to remain within Uefa. He stated that the top leagues in Italy and Spain agreed. However, the continuing attraction of the 'super league' concept was shown by the news that venture capital group Electra Fleming took a 27 per cent stake in it at a cost of £18 million.
A survey commissioned by the Premier League from sports media consultants Oliver & Ohlbaum claimed that the super league was likely to generate just over £650 million a year in television and sponsorship revenue, and not the £1.2bn promised by Media Partners. The revamped Uefa competition would double annual revenues to $590 million which many clubs think is not enough. The consultants argued that Media Partners was too optimistic about how quickly pay-per-view TV would become established throughout Europe and the revenues it would generate. Media Partners argue that the study was inaccurate because it did not have access to the data that underpinned its revenue forecassts.
What was clear is that the new league would reduce the value of domestic league rights across Europe by 25 per cent or £500 million over five years because automatic qualification for top clubs would lessen the appeal of domestic leagues; broadcasters would be more attracted to a long-running super league; and domestic leagues would be reduced in size and length to accommodate it. Not good news for the smaller Premiership clubs. But then the revamped Uefa competition may not be either as it will lead to more European games which will in turn renew pressure for a reduction in the size of the Premiership.
UEFA Ruling on Multiple Ownership
The plans of IMG, Enic (see later report) and Canal Plus (who own Paris St. Germain and Servette in Switzerland) have been hit by a Uefa ruling banning clubs with the same owner from taking part in the same competition. Two of Enic's clubs, Slavia Prague and AEK Athens, have qualified for next season's Uefa cup. Under the ruling, if two clubs with the same owner qualify for the competition, Uefa will decide who can take part. Enic objects to arguments that such a match might be fixed on the grounds that it would attract abnormal scrutiny, making any tampering for commercial reasons impossible.
Such a ruling has always been present in the British domestic competition and was raised again recently when there was talk of Birmingham City owner David Sullivan investing in Cardiff. However, any such ruling at a European level is bound to be challenged in the European Court on the grounds that it violates the protection of the free flow of capital and commerce granted in the Treaty of Rome. While the court might rule that Uefa was entitled to decide who participated in its own competitions, it might question whether Uefa had the right to be the exclusive organiser of such competitions. In other words, the day when the European super clubs, in alliance with the media, run their own competitions may be drawing closer.
Football's First Conglomerate
That is the title being claimed by London investment trust Enic which has now made a variety of investments in four different clubs. Enic is very much the creation of billionaire tax exile Joseph Lewis (he made his fortune from currency trading) who has a 21 per cent stake. The clubs in which Enic has an interest are:
AEK Athens where Enic has agreed to acquire a majority stake for £5 million (cut back in July 1999 from 78.4 per cent to 47 per cent with the sale of a slice to NetMed, the largest pay tv operator in Greece).
Glasgow Rangers where Enic has an option to acquire the 25 per cent stake bought for £40 million last year by Bahamas-based Joe Lewis (the billionaire is Enic's biggest investor).
Vicenza of Italy where it has full control
Slavia Prague ,a snip at £2.3 million.
In September 1998 Enic acquired a fifty per cent share in FC Basel Marketing giving it effective control of leading Swiss first division club Basel. (Later substantially reduced). The club has plans to build a new 32,000 seat stadium.
Enic is focussing on continental European clubs because they are generally much cheaper than their British counterparts. Vicenza is comparable to Leicester City, but the latter club was valued at £24 million when it was taken over in September, whereas the Italian club is valued at £8 million. An Italian correspondent reports some problems with the Vicenza deal. The city mayor has denied Vicenza the chance to follow Bologna and run their 'Stadio Menti' on a 99 year lease back formula. These and other problems have produced tensions between Vicenza and Enic. Enic believes that the lessons learnt from commercialisation in the UK can be applied in the European mainland. The big risk is with Slavia Prague. Attendance is around 7,000-8,000, tickets are very cheap, and there is little in the way of commercial revenue. Enic is optimistic, however, that there is considerable scope for growth. They think that Prague is going to become an international city where a lot of big corporations will invest and will then be willing to buy executive boxes and participate in other forms of sponsorship. It will be interesting to see what happens.
Italian Clubs to Float
Until the law was changed a year ago, Italian clubs had to run as non-profit ventures. Now at least seven of the eighteen first division clubs are thinking of floating on the London or Milan stock exchanges. Rome club Lazio, which has already raised £50 million in a global bond offer, is first in the queue with shares starting to be traded on 6 May on a market, which at least until late April, was rising fast. The offer was heavily over subscribed by both small savers and Italian and foreign institutional investors. Trading had to be temporarily halted on the day the shares were launched because the price had climbed too high too quickly. Lazio don't own their Olimpico stadium but have said that they will build a new one (the Flamino) in three years. This would be on the model of new English grounds with a lower capacity, the Olimpico being retained for big matches. This page's Italian correspondent Paolo Morelli comments, 'Reading the prospectus, I think the growth in sales of television rights has been overstated .... There has also been lack of communication with the Rome council denying contracts with the club for the Flamino deal.' Lazio's neighbours AS Roma have rejected flotation, arguing that clubs are only doing it to pay off their debts. The fans, it is argued, are being asked to bail clubs out of their financial troubles with little chance of a payback.
In March 1998, Bologna's shareholders agreed to a flotation. The club will issue new shares worth $2.2 million, but Victoria 2000, currently the sole owner, will retain a 52 per cent stake. The majority stake in Victoria 2000 is held by Guiseppe Gazzoni Frascara, the club president. When he took over in 1993 the club was bankrupt and played in Serie C, a humiliating position for such a major city in a prosperous part of the country. The club's greatest asset is its 40,000 capacity stadium which has been used by San Marino for internationals.
Germans Invest in Sampdoria
Genoa's Sampdoria club has attracted a $50-$60 million investment from UFA Sport. The German group is 50 per cent owned by media giants Bertelsmann. Once a top club, Sampdoria were relegated to Serie B last season. UFA Sport will assist Sampdoria with marketing, catering and merchandise and advise it on the sale of broadcast rights to live matches. Some money will be available to strengthen the squad. Also on the agenda is building a stadium away from the crowded centre of Genoa. UFA Sport already provides similar services to Borussia Dortmund and Hamburg.
French teams on the Bourse?
A change in the law which would permit French teams to become limited companies may lead to the first stock market flotations of French teams. A number of clubs are already controlled by private entrepreneurs. Olympique Marseille is owned by the chairman of Adidas and a number of his friends. Racing Club de Strasbourg is 51 per cent owned by the International Management Group of sports entrepreneur Mark McCormack. One incentive for commercialisation is a law aimed at halting public subsidies to private clubs. These account for more than twenty per cent of the revenue of clubs in the top division, rising to twenty-eight per cent in the second division. It is thought that four or five clubs may be suitable for stock market flotation.
German Clubs to Float
Many German clubs consider that they are falling behind foreign rivals in terms of financial sophistication and this is starting to adversely affect the German game, not least at international level. The German football association (the DFB) has been cautious about allowing clubs to float, but looks as if it may change its mind. The DFB has been concerned about widening the wealth gap between rich and poor clubs which it considers could split German football. However, Borussia Dortmund converted itself from a mutually owned club into a shareholding company, thus permitting flotation. It was expected that other German clubs would follow, for example Bayern Munich who would like to build a stadium to replace their existing ground owned by the city. In all between six and ten teams qualify for the stock market, but apart from the two already mentioned, the only likely other early candidates are Bremen and perhaps Kaiserslautern. Traditionalists in Germany take the view that when clubs are floated, an essential bond with the supporters is broken. Clubs will no longer be run in the interests of the fans or the wider community.
Resistance in Spain
Atletico Madrid hopes to become the first Spanish club to float next year. Currently 95 per cent owned by an entrepreneur (Jesus Gil y Gil) its lack of financial transparency has been criticised. The two leading clubs in Spain,Real Madrid and Barcelona have considered floating, but have ruled it out for now. They believe that being a member-owned association is a great asset in both commercial and football terms, and that by floating they would lose their unique quality. The objections at Barcelona are largely political and cultural. The club is run as an association of 104,000 members and is seen as a symbol of Catalan nationalism. In the longer run, however, these objections may be overcome, particularly in the case of Real. Spanish clubs have been engaging in a spending spree and in spite of substantially increased television and sponsorship incomes, they are barely making ends meet.
Last updated 18/2/07
---

This page has been visited

times.

---
Wyn Grant
w.p.grant@warwick.ac.uk
Leamington, Warwickshire
United Kingdom
---
Selected Links
Political Economy of Football: The business side of British football
UK Football Pages: A valuable soccer only directory with lots of links
Deloitte & Touche accountants: Highlights of an important new study of English Premier League clubs' finances
Manchester United finances: All the latest financial developments at Britain's most commercial club
Newcastle finances: Newcastle United is viewed in the City as an example of how not to run a listed football club. Read this page to find out why.
Watch Football Online: Opportunities to watch matches online