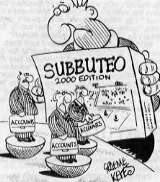 Disclaimer: The views expressed on this page are those of the writer. This page is provided as a service to fans, journalists, students and others interested in the business side of football. Writing in the Charlton Athletic programme, Ben Hayes commented, 'If you want some accessible but informative insight into football then I suggest you couldn't do better than the Political Economy of Football website, which is not only intelligible but comes with the added bonus of being written by Addicks fan Wyn Grant.' Fans of other clubs should be reassured that there is very little about Charlton on this page. For a more extended discussion of the thinking behind this page and some thoughts on the transformation of football into a business, visit The genie is out of the bottle .

View My Guestbook
Sign My Guestbook

New site
All new material is now being placed at Football Economy which also has some additional features such as statistics. This page will be retained as an archive.
Following a request from a reader we will now date items when they are first put on the page or updated. This should help readers to see which items have been revised and which they have read already.
Manchester United takeover battle
Full and up-to-date coverage on our Manchester United site, including increasing tensions between the club and their largest shareholders, the Irish racing tycoons Magnier and McManus. United
Association of Canine Match Analysts
It's a dog's life in football these days. Visit their official site at Barking
Deloitte Annual Review of Football Finance This is now out and we hope to provide commentary before too long. In the meantime, for summary information about the report's findings go to Deloitte
SWEET FA
I am not a fan of David Mellor, but he made a good point on Radio 5 on 2 August when he pointed out that the row at the Football Association is not really about who slept with whom and when (did Sven do a two second tailgate on MP?), but the ability of football's regulatory body to get its own house in order and make some attempt to look after the interests of the fans rather than those who are making money out of the game. As Mellor pointed out and, as is evident from the excellent book Broken Dreams , the FA has failed lamentably in its regulatory role. The New Labour Government took an interest in this topic in its early years, but then backed away: it needs to get involved again because government has to take responsibility for regulatory failures by private bodies performing public functions. A prime example is the way in which the FA failed to take any action to stop the franchising of Wimbledon into MK Dons. The Birmingham FA has recently intervened to halt a bizarre merger between Midland Combination clubs Castle Vale KH (inner city Birmingham) and Kenilworth Town, but they have no clout.
What is extraordinary - or perhaps not - is the reluctance of the Government to get involved in the face of this fiasco. Instead, the FA is to be allowed to carry out yet another internal inquiry into its own management failings. Sports minister Richard Caborn commented, 'As you know there are people who are saying that the Government ought to bring in statutory recognition - that in my view is a position of last resort.' That may be so, but there is more the Government could do to set a framework for proper regulation without getting directly involved in running football itself. Robert Shrimsley in the Financial Times argued 'this is a free country and the FA are absolutely within their rights if they want to run it like amateur hour ... The public does not need a regulator to safeguard the industry because its only liabilities are the cost of tickets, replica kits and the emotional investment.' Most fans would agree that that last factor is not to be treated lightly. The Financial Times published a reply from me in which I argued that government has an obligation to intervene when a private body discharging public functions had failed in its task and the FA had consistently let fans down.Updated 8/8/04
ARE YOU SERIOUS?
Marketing hype is one of the bugbears of modern life. One of my credit card companies recently sent me a letter saying they were cutting back their cashback from 1.0% to 0.5% as part of their effort to 'improve our service to you'. And, of course, you can't keep it out of football. I can remember the days of the first division, second division, third division north and third division south. I'm not saying that was a golden age, a cartel largely kept new blood out of the Football League, and I can see the sense in having a competition called the 'Premiership'. But now the Football League has been through a 're-branding exercise' to rename its leagues the Championship, League One and League Two. So what was the old fourth division is now League Two. Personally I'd re-name it the Hoofers League and get sponsorship from the national air traffic control service because of the danger it poses to low flying aircraft.
In case fans don't get the point, many of us have received a oleaginous E mail from Sir Brian Malwhinney, the chairman of the Football League which was also reproduced in league programmes last week. The former politician claims that the change of names represents 'a concerted effort to refresh the public's perception of the competition. In doing so, we are seeking to reclaim rather than dispense with our heritage. Our clubs will be competing for the same trophy that has been used since the beginning of the nineteenth century - a Trophy that is engraved "The Football League Championship Cup". So when you are watching Rotherham versus Gillingham on a freezing day in February just bear that in mind and remember that Malwhinney assures you that the supporters are central to his plans. It will give you a warmer glow than your cup of Bovril.10/8/04
ARSENAL LINE UP STADIUM NAMING RIGHTS DEAL
Arsenal are hoping to complete a lucrative naming rights deal for their new stadium at Ashburton Grove by Christmas. Envision, the American agency appointed by the club to sell the rights, is going after a number of big names in the financial, electronics and automobile sectors. The agency claims that interest in the Premiership champion's project is greater than any previous naming rights deal in the United States. The shirt sponsorship deal with mobile phone company 02, recently extended for another two years, is to be kept separate.
Let's hope that the name is one that trips off the tongue of fans. You don't hear many fans referring to Friends Provident's sponsorship of Southampton's new stadium, even though it has set them back £350,000 a year. Nor do many 'Boro fans say 'See you at the BT Cellnet', although the club is no doubt satisfied with the £300,000 a year that the deal brings in. The one that has made an impact is the Reebook branding of Bolton Wanderers home ground, a slightly cheaper deal than the others at £300,000 a year. One can expect the Arsenal deal to cost a lot more but nowhere near the £5.4m a year paid by Reliant Energy to the Houston Texans NFL team.15/8/04
IT ALL GOES OFF AT EVERTON
Everton once counted as one of the 'big five', but these days they have to cope with an annual battle against relegation. Paul Gregg, a wealthy Oxford-based entrepreneur, has threatened to mount a legal challenge to remove theatre impressario Bill Kenwright as chairman of the heavily indebted Merseyside club. The threat was made after Kenwright missed a self-imposed deadline to resolve the ownership of the Toffees. Gregg has offered £15m of 'immediate financial support' for the struggling club. With Mr Kenwright he is a leading shareholder in True Blue Holdings, an investment consortium that bought a 72 per cent stake in Everton in 2000. Mr Gregg argues that Everton will only be able to attract investment if the consortium is dissolved and Mr Kenwright and his main ally, Jon Woods, resign from the Everton board.
Everton have debts of about £40m and need a substantial cash injection to rebuild their weak playing squad and construct a new stadium. Of course, Everton have Wayne Rooney, but you can't build a team around one player (currently injured) who actually acquired more yellow cards last season (twelve) than he scored goals (nine). Rooney could probably fetch around £30m but there have been boardroom disagreements about whether he should be sold and whether there should be a ground share with Liverpool. It was these arguments that probably led to the surprise departure of Trevor Birch, a financial trouble shooter, after only six weeks as Everton's chief executive.
Mr Kenwright has refused to accept Mr Gregg's proposal until he reveals the identity of the club's new investors. It is interesting that in the Fan File in 4-4-2's season preview, the comment on Bill Kenwright was that 'he tries hard and has our best interests at heart.'
Club announces new share issue
Bill Kenwright has announced plans for a £20m new share isue that he believes will see off the challenge of fellow director Paul Gregg. The proposal has been submitted to Barclays Bank for due diligence. It is hoped that the plan will improve the club's chances of keeping Wayne Rooney and help them to bring in some new players, much needed after the opening 1-4 home defeat against Arsenal.Updated 15/8/04
BANTAMS SURVIVE
Bradford City were threatened with closure on July 2nd unless they found £300,000 to pay rent on their Valley Parade ground which is owned by pension fund Gordon Gibb, one of the club's shareholders. At the last minute a number of investors expressed interest and the administrators decided to let the club survive. Players have now been asked to accept a deferral of wages. Because of the unresolved rent issue it has not been possible to put season tickets on sale to generate income. Money raised by supporters had been exhausted in paying wages until the end of June. The club's debts total £30m and Bradford could still become the first club to be expelled from the Football League for insolvency since Maidstone United in 1992.3/7/04
PREMIERSHIP IN GOOD FINANCIAL HEALTH
Deloitte have produced a preview of their annual report on football finances (the final version will appear later in the summer) which shows an improving sitiation at Premiership clubs. They made aggregate operating profits of £124m in the period covered and wages are growing at the lowest rate since the Premiership was formed. All but four of the clubs involved in the 2002/3 campaign made an operating profit (Leeds, Sunderland, Bolton and Fulham). However, just five - Manchester United, Liverpool, Arsenal, Newcastle United and (interestingly) Birmingham City recorded a pre-tax profit. Total turnover for the season amounted to £1.33 billion with Manchester United leading the way on £175m, followed by Liverpool and Arsenal at £104m with relegated West Brom bringing up the rear with £28m.
Total wages and salaries in the Premiership increased by only 8 per cent (still well above the rate of inflation) to £761m compared with an average annual rise of 25 per cent over the previous decade. The key indicator of the ratio of total wages to turnover dropped marginally from 62 per cent to 61 per cent. Only West Brom, Manchester United and Newcastle had ratios below the recommended level of fifty per cent. In the cases of Sunderland, Fulham and Leeds the ratio as alarmingly high at over eighty per cent. Total transfer fees also dropped by 42 per cent from £323m to just £187m, although the spending spree at Chel$ki will push that figure up next year. Peter Rawnsley of Deloitte noted, 'It doesn't mean that it's a crisis or anything like that, it's a certain amount of tightening belts and clubs in general striking a better balance between revenue generation and costs.'
Deloitte partner Dan Jones commented, 'Lower wage growth combined with a much reduced level of transfer spending, provides evidence of stronger financial management and helps the Premiership maintain its position as "the financial champions of the world". In 2002/3 average match attendance in the top league exceeded 35,000 for the first time since 1951. Matchday income increased to £363m. Commercial revenue was almost unchanged at £340m, 'in part reflecting the tough market for sponsorship and advertising'. The largest single source of income remains broadcasting with domestic television rights generating £404m, accounting for 44 per cent of all revenues (compared with only ten per cent ten years ago). Premiership clubs paid a total of £395m in tax. Over the twelve year life of the Premiership, the estimated total of tax received by the government is £2.5 billion.
A theme of the report is the contrast with the Scottish Premiership and leagues in other small European countries such as the Netherlands and Portugal. SPL members made losses of £60m and have been estimated in previous research by Pricewaterhouse Coopers to have combined debts of £144m. This research showed that five SPL clubs were technically insolvent: Livingston (still in administration), Dundee, Dunfermline, Hearts and Hibs.4/6/04
New transfer system hits Football League
The Premiership may be prospering, but the new transfer system imposed on football by the European Commission has hit the Football League hard. John Nagle, the league's director of communications described its effect as 'catastrophic' in an interview with European Voice. The main problem according to him is the twice yearly transfer wndow. This means clubs are often faced with a 'take it or leave it' offer from buying Premiership clubs on he last day of the window. Hard up clubs are effectively forced to accept relatively small fees, knowing that they will not get a chance to sell their prized assets for another six months. There is a knock on effect on the smallest clubs because the mid-ranking Football League clubs have less money from sales to the Premiership to spend on cheaper players from lower down the league. European Commission spokeswoman Anita Torres insisted, however, that the system was working well from a competition law perspective.7/6/04
BSKYB OUTFOXES COMMISSION
The European Commission has been outmanoeuvred by BSkyB in its attempt to end its broadcasting monopoly of English Premiership football for the next three years. The Commission's anger is revealed by the fact that it has labelled the UK broadcaster as a 'bad guy'. 'If this was a film BSkyB would play the role of the bad guy', a source close to Competition Commissioner Mario Monti told the Financial Times. However, BSkyB's victory may store up trouble for the future as the Commission spokeswoman said that no single broadcaster should win all the rights to live games after the League's contract with BSkyB expires in 2007.
In 2003 the Premier League sold its rights to BSkyB without waiting for formal approval from Brussels. The Commission was outraged at this flouting of its authority, but the political reality was that ruling the deal illegal could have jeopardisd some clubs' financial future and alienated fans and UK politicians. As a result it sought to 'reduce the damage' of the exclusive deals with BSkyB by insisting on the sub-licensing of a limited number of games while concentrating on the longer term. However, none of the bids received during the tender process for six to eight of the less exciting games for the next three seasons achieved the reserve price that had been agreed between BSkyB and the Commission. The Commission was forced to admit that this short term strategy had 'failed'.30/5/04
THAI MUSIC GROIP WILL NOW LEAD 'POOL BID
The controversial bid by Thai prime minister Thaksin Shinawatra to bid for a stake in Liverpool 'on behalf of the Thai people' is effectively over. The bid is now being led by GMM Grammy, Thailand's largest music company. However, Advanced Info Services, the mobile phone company founded by the prime minister and still controlled by his family, has been identified as a likely participant in the bidding consortium. Grammy's chairman Paiboon Damringchaitam said that he would soon fly to the UK for talks with Liverpool.20/6/04
Thai bid for 'Pool runs into trouble
The Thai bid to acquire a stake in Liverpool has run into trouble after increased opposution within Thailand. The Thai prime minister has had to scrap the lottery project which was intended to raise the money for the bid. There was a growing public outcry against the scheme which was described as unconstitutional and against fundamental Buddhist precepts which ban gambling (although it has been alleged that monks in temples are betting on football results). Students began a signature campaign against the purchase to coincide with the holiday honouring Buddha's enlightenment. Thai Rath , Thailand's largest circulation daily newspaper, published a full page attack describing the purchase of a foreign football team as a 'grand illusion'. However, Mr Thaksin appears to have been particularly swayed by the intervention of his old mentor Chamlong Seimuang. The popular former Bangkok governor and devout Buddhist who initiated Mr Thaksin into political life, warned in an open letter that the proposed lottery would tempt Thais from hard work towards gambling. However, Mr Thaksin insisted that the setback did not mean the end of the bid. 'There are 100 ways to find the funds,' he insisted.
Government spokesman Jakrapob Penkair made it clear that if the attempt to acquire a stake in Liverpool did not succeed, the Thai government would seek to close a deal with another Premiership club. He said that Liverpool was just one of four teams being approached, but did not name the others. However, political resistance in Thailand has been growing for some time. A key member of the National Economic and Social Advisory Council, Palboon Wattana-siritham, has raised legal and constitutional questions about the bid in an 'To all my compatriots' letter. A group of senators is proposing to question the prime minister Thaksin about the deal which, it is argued, could dangerously intertwine national and personal interests. Perhaps most serious of all, it has been pointed out that the deal could fall foul of foreign exchange regulations imposed by the Bank of Thailand which would have to approve the transfer to Britain of the large sum involved. A Bank of Thailand source said that the governor of the central bank, Mr Pridiyathorn Devakula, might be reluctant to approve a transaction of this magnitude because of the political ramifications. Central banks are reluctant to become dragged into political controversies. In Britain sports minister Richard Caborn has emphasised that football clubs have a fundamental duty to retain a link to their community (although I don't remember the Government using this argument when Wimbledon moved to Milton Keynes)
Thailand's cabinet has decided to launch a public lottery with a Bt1bn. (£13.8m) jackpot to mobilise funds for the purchase. Buyers will automatically get Bt200 worth of shares in a holding company to be set up under the state-run Sports Authority of Thailand to hold and manage the Liverpool stake. The authority will, however, keep a 51 per cent controlling share in the company. Local commentators were sceptical about the plan. Kavi Chongkittavorn, assistant group editor of Nation Multimedia Group commented, 'On the surface, it's everybody's money but in the end who runs it? It will be the people with connections. Thaksin gets the best deal because he gets all the political spin.' One person who posted to the independent fan-site LFC Online asked why 'the population of Thailand will have been given a better opportunity to become Liverpool FC shareholders than the population of Liverpool.'Updated 6/6/04
COULD BRADFORD CITY DISAPPEAR AS A LEAGUE CLUB?
There have been many scares about clubs going out of business in recent years but so far they have managed to pull back from the brink at the last minute. However, the position of Bradford City is looking increasingly perilous. Relegated to the Second Division, they have been given until June 1st to convince the Football League that they can complete their fixtures. The players have been advised to look for other clubs. The club's administrators cancelled a meeting scheduled for May 14th, withdrawing a proposed company voluntary agreement because the club was not yet on a sound financial footing. The club is in its second period of administration. Its troubles started after excessive spending on players during a short stay in the Premiership. It may end up playing in the Unibond Northern League. Bradford is one of England's larger cities and at one time it had two football clubs. The re-formed Bradford Park Avenue now play at non-league level.14/5/04
THAIS STEP UP INTEREST IN 'POOL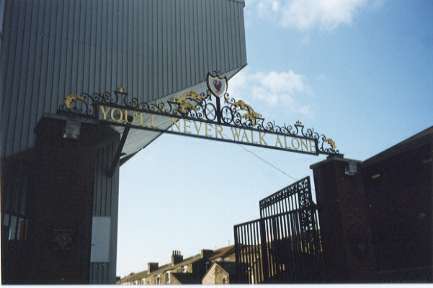 Strange to think of one of our leading clubs under partial Thai ownership - but that's globalisation folks
Foreign takeovers are the flavour of the month as the globalisation of sport gathers pace and Bangkok's Thai Rath newspaper has reported that Thaksin Shinawatra, the country's billionaire prime minister is about to sign a deal to take a Bt4.6bn (£64m) 30 per cent stake in Liverpool (other local investors may also be involved). The club has been controlled by the Moores family for more than half a century and chairman David Moores hinted in January that he might be prepared to relinquish some of his 51 per cent share.
According to The Nation the prime minister met with Liverpool chief executive Rick Parry at Government House in Bangkok on 10 May and an announcement is anticipated on Friday May 14th before the end of the English season. Among others present at the meeting were the Thai ambassador to London and the president of the Football Association of Thailand, Vijitr Getkaew. A key intermediary in setting up the deal appears to have been Deputy Minister of Commerce Pongsak Ruktapongpisal. The populist prime minister made his money in telecommunications before he went into politics. His family controls Thailand's largest holding firm Shin Corp which has a market capitalisation of BT103 billion. The deal would entitle Mr Thaksin and his partners to commercial rights in Asia. Liverpool would also help Thailand establish a soccer academy to improve Thai players. However, if the money being invested on Merseyside had been invested in local talent, Thai football might have benefitted more.
Liverpool has made no comment on the report (other than a holding statement on its website), including the suggestion that prawn crackers will be made available from catering outlets around the ground. What has been discussed is the replacement of Carlsberg on 'Liverpool's uniform' by Chang Beer. Liquor baron Chareon Sirvadhanabdhakdi was present at a dinner with Thaksin and Parry at the Plaza Athennee hotel in Bangkok. Chang Beer is already available in the UK, but its market share is less than one per cent. Eventually, however, they decided to sponsor Everton.
Concerns have been expressed by Amnesty International about Thailand's human rights record which is alleged to have deteriorated under Thaksin's premiership, leading to a so-called 'Climate of Fear'. (For a statement by Amnesty on serious human rights violations and abuses said to have occurred in Thailand go to Thailand ). The acquisition of Liverpool might boost his popularity after criticisms of his handling of the avian flu outbreak, but local reds are divided about his involvement. The local following for Liverpool is very strong, but one fan has alleged that the prime minister once professed to be a Manchester United supporter. There are also concerns about suggestions that Thaksin would insist on the Merseyside club fielding Asian players. Some initial reactions have been highly unfavourable:
The editor of fanzine Through the Wind and the Rain (could this refer to the Merseyside climate?), Steven Kelly stated: 'We should have distanced ourselves from this guy from day one. If we had an ounce of humanity, we would have said no immediately.'
Nation TV announcer Thira Tanyapaibul, evidently a Scouser by adoption, said, 'We need someone who has a Liverpool soul to own the club. We don't want a profit seeker.'
Sports columnist Apisit Apisksiri stated, 'Liverpool fans in England will question his agenda because all that has been said about it is how Thailand's One Tambon, One Product [scheme] can take advantage of the deal.'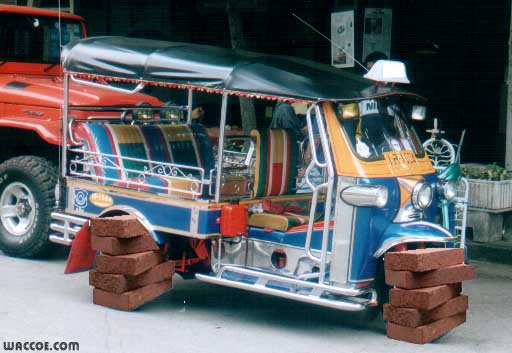 A possible future at Anfield?
Morgan launches bid
If we had a fit and proper person test for being involved in running a football club, this person, prime minister or no prime minister, would be deemed unsuitable. Out of favour rival director Steve Morgan, a construction multi-millionaire based in Jersey, has now launched a new and more lucrative bid of his own. Thaksin has said that the chances of his own bid succeeding are now fifty-fifty. However, it won't end there. He has expressed an interest in Fulham in the past and will no doubt be looking for another Premiership club if he doesn't succeed at Liverpool. It is becoming the ultimate status symbol for a wealthy foreigner.
Morgan's bid would inject £73m of new capital to strengthen the playing squad and to help to finance the new stadium. He would underwrite a share issue of £61m and issue a further £12m of shares to new supporters. A key aspect of the proposal is that chairman Moores would be able to buy shares rather than dilute his shareholding, retaining his hold on the club and remaining as chairman. However, Morgan would be an active figure in the boardroom which might not go down well with Moores. One of the attractions of having Thaksin involved from a board perspective was that as he would be attempting to run a country thousands of miles away, his involvement would be minimal. Professor Tom Cannon of Kingston Business School told The Times , 'There is going to be a long-term fight over this and it might get dirty. Steve Morgan is in a strong position to block a new share issue, which must be the basis of the Thai Prime Minister's offer. Interestingly, Granada with their 9.9 per cent stake in the club could end up being the powerbrokers.'
Morgan bid rejected
After a five hour board meeting Liverpool Football Club has rejected the so-called Bridgemere Proposal made by Steve Morgan. Morgan had pleaded with the board not to judge him on differences with chairman David Moores or by his criticism of manager Gérard Houllier, but it was the content of his proposal that the board did not like. A statement described the proposal as 'not attractive' on the grounds that it appeared to value the entire club in its present state at just £61 million. Morgan countered that he was bidding for a stake in the club, not control. In any event the question remains open about how Liverpool is going to generate the funds it needs to catch up with Arsenal, Chel$ski and Manchester United.
Updated 14/5/04
WILL PROTECTED STATUS OF FOOTBALL CREDITORS END?
The protected status of football creditors under FA and Football League rules is being challenged in the High Court by the Inland Revenue in cases relating to Wimbledon and Exeter City (the Exeter case will be heard in July). The all-party parliamentary committee on football recommended abolition of the rule in a report this year. If it was abolished, there might be much less tolerance of clubs going into administration as a convenient reorganisation device with the St.John's Ambulance always ending up with nothing, along with local small businesses.
The plan for Wimbledon under a proposed company voluntary arrangement (CVA) envisages the Inland Revenue and other preferential creditors receiving 30p in the pound while football creditors, including players and other clubs, would have their debts paid in full by Wimbledons new owner, music producer Pete Winkelman who would have to find a total of £1.45m. The club has been in administration for nearly a year and will be expelled from the league if it is not out of administration by the end of July. Many football fans would say 'good riddance' to 'Franchise FC', supposedly to re-named the MK Dons. Fans' club AFC Wimbledon has been attracting gates of over 3,000 to matches well down the pyramid (it could take them ten years to get back into the League). Although Wimbledon are bottom of the first division attendance league with an average crowd of 4,750, this is more than many people though they would get. Admittedly, many of these are probably away fans. But, hey, if you live in Milton Keynes and are bored on a wet afternoon (and who wouldn't be?) why not go along to the National Hockey Stadium and soak in the artificial atmosphere.
Wimbledon win case
The threat to such arrangements was lifted when the High Court dismissed the taxman's challenge to the CVA. Mr Justice Lightman ruled in the original hearing, 'The power of the League to impose the obstacle and secure full payment for creditors of its choice may be objectionable ... but the obstacle exists [and] by common consent is legal.' The Lord Chief Justice, Lord Woolf, uphelf that decision.Updated 30/5/04
WHAT NOW FOR LEEDS?
No one who saw the scenes from Elland Road on 8th May can doubt the passion and commitment of the Leeds supporters or the fact that the club has a huge fan base (apparently to be rewarded by a 27 per cent hike in season ticket prices next year). What has happened at Leeds is a classic example of what happens when businessmen who supposedly know better take hold of a club and the fans pay the price for their excessive ambitions. Leeds has a great reservoir of support, but Division 1 is very competitive and it may take them a while to re-group and return. Fears that they may go into free fall like Sheffield Wednesday are, in my view, exaggerated. Someone has to be relegated, but it must be hard to take when this is the result of board incompetence. Unfortunately, in football, anyone who has some money can buy into a club and then behave as irresponsibly or foolishly as they want before disappearing elsewhere with no accountability to fans who follow a club for life. There is, however, an investigation in progress into the conduct of the Leeds Eight, the men who held directorships at the club in the three years before March 2004 when it was sold to its preesnt owners, including Peter Ridsdale and Professor John McKenzie. As a matter of routine, the administrators have to decide whether there was any wrongdoing on the part of the directors. Their report, the first to be compiled about a former Premiership club, is due to be delivered to the Department of Trade and Industry on 19 September.
There is always the risk that the club might have to go into administration and suffer a ten point deduction under the new rules. However, the first step is to halve the £38m wage bill at Elland Road through sales and releasing players. It should be noted that the loan from Villa shareholder Jack Petchey that helped to save the club from immediate collapse in March is not in imminent danger of being called in. Leeds director Martin Helme has commented, 'contrary to reports in the press ... [the loan] has been given to us for in excess of one year.' Moreover, an extension of the loan is possible. However, the club will, it is believed, have to start paying interest on the loan in June at an onerous 15 per cent.
Steve Parkin, owner of a Yorkshire haulage company, claimed that he would have control of the club before the game against Charlton. However, the £25m said to be available has not yet appeared. As managing director David Richmond commented, 'When we bought this club, there was meant to be a shiekh and an Ugandan millionnaire. Nobody made us an offer.'Updated 15/8/04
Relegated Rushden turn down Egyptians
Relegated Rushden and Diamonds are believed to have turned down a takeover bid from Egyptian club Wadi Degla, humourists claiming that the MK Dons would be joined as neighbours by the RD Pharaohs. Maged Semy, a vice-president of the Egyptian club, had checked out Rushden's state of the art training facilities. Samy stated, 'It would be very interesting for us to have a professional club in England for our players when they are 17 or over.' Quite how this would go down in beautiful downtown Irthlingborough is open to question. It seems that a mystery London consortium is waiting in the wings, said by some to have links with a Premiership club. Meanwhile, the relegation back to the 3rd division after one season may not be without its benefits. Obviously, they are not dancing in the streets of Raunds, Higham Ferrers, Finedon and Burton Latimer. But it is a chance for the club to show that it is more than 'Max's folly' and that the supporters are not plastic cutouts but 'Rushden till I die.' If Northampton fail to succeed in the play-offs, there will be a Northamptonshire derby with the Wobblers to look forward to. Meanwhile, the Egyptians have also expressed an interest in acquiring Brentford, although they have only seen the very traditional ground and not the training facilities.

As a well funded attempt to re-launch nearby former Southern league club Wellingborough, once the sixth oldest club in the country, gets under way at the often sodden Dog and Duck ground, sources at Nene Park indicate that there will be no announcement until 25 May. Humourists have suggested that Eagle Bitter United Counties League outfit Raunds Town may be put in a bid for the ground.Updated 11/5/04
NORWICH PREPARE FOR PREMIERSHIP
With promotion to the Premiership looking increasingly likely, the Canaries are making sure that their financial house is in order. The calculated gamble of spending £1 million on three extra strikers, notably Darren Huckerby, last December seems to have paid off. The club announced a preliminary pre-tax loss of £4.6m for the year ended 31 May 2003. However, £6m was brought into the club by the sale of land adjacent to Carrow Road. Chief executive Neil Doncaster commented, 'The sale of the land is crucial to the club's finances over the next two years as the club continues to battle with ongoing losses.' A share offer in January provided another £1.5m with £500,000 coming from directors Delia Smith and Michael Wynn. Norwich have agreed a sponsorship deal for the new 8,182 seater stand at Carrow Road with Norfolk publishing and property firm Jarrold. As a First Division club Norwich receives £700,000 in sponsorship and broadcasting income but its 'starter' fee in the Premiership will be at least £9.4m, plus additional payments depending on the place achieved.9/4/04
VILLA REJECT BID BUT FANS WANT 'DEADLY DOUG' OUT
Aston Villa have rejected a bid for the 38% shareholding of Doug Ellis but fans have made it clear they would like the 80-year old chairman they call 'Deadly Doug' to leave. Villa Fans Combined fear that manager David O'Leary could leave through frustration at the lack of funds he has to invest in the depleted squad, estimated at just £2m this summer. In July, Ranson announced that he would not be making an offer. Former QPR chairman Richard Thompson was thought to have withdrawn his active support for the approach some weeks earlier.

The bid came from Roy Ranson, the former Manchester City player turned financier and his business partner, the former QPR chairman, Richard Thompson. They have been in talks with Doug Ellis for some time. Ranson was responsible for developing player transfer schemes known as sale and leaseback arrangements. Villa said that the bid of £30m 'seriously undervalued' the club. They could well be right given that Villa's property and land bank is valued by the club at £40m. Analysts believe that it could be worth substantially more than that when developed, hence the key role of the second largest shareholder, property entrepreneur Jack Petchey. In early April, he acquired additional shares in the club through his investment vehicle Trefick to raise his stake to 17.21 per cent, having earlier increased it from 14 to 16.5 per cent. Subsequent purchases incrased Trefick's stake to 18 per cent but they have shown no sign of wanting to take a controlling interest. However, all this activity has seen the shares recover from a low of 153p in November 2003 to 269p in July 2004 giving the club a market capitalisation of £34m.

Updated 18/7/04.
BATES BIDS FOR OWLS
Chel$ski exile Ken Bates has bid to put some of the £18m he made from the sale of the club into ailing giant Sheffield Wednesday. But the current board are having none of it. As the Financial Times put it, 'Dave Allen, the football club's pigeon-racing chairman, did not emerge from his dovecote.' Indeed, Allen, who is as blunt a speaker as cuddly Ken, described the claim made by Bates that the club was 'insolvent' as 'tripe'. He also expressed his disgust at the fact that the Wednesday Trust, a supporter-run organisation that controls 9.6 per cent of the shareholding, had backed Bates. He and two other directors gave the trust the shares when they bought out venture capitalists Charterhouse three years ago. Allen and his fellow directors control around 30 per cent of the shares. Bates offered to invest £10m in the club stating 'At 72, I have got one more challenge left in me and I would like to take that on here.' In April Wednesday announced that they had started private discussions with Bates.
Sheffield Wednesday have the largest wage bill in the Second Division where they are likely to remain next year. They are expected to declare a total debt of £25m while plans to sell their training ground to Asda in an attempt to raise £10m have been blocked by the city council. Nevertheless, they still attract an average gate of 22,238, one thousand more than Sheffield United who are Premiership promotion hopefuls.27/3/04
FIRST SHOT FIRED IN BATTLE FOR CONTROL OF LIVERPOOL
With Liverpool knocked out of the UEFA Cup, the first shot has been fired in the battle for control of the faltering Merseyside club. The club turned down an offer of £50m in funding from Steve Morgan, a multi-millionaire Jersey-based property developer who is already the club's third largest shareholder. But this is likely to be just the first skirmish in an ongoing conflict with a group of Thai businessmen led by their prime minister also in the wings.
Morgan was prepared to offer the club £50m for their new stadium at Stanley Park in return for an increased shareholding and influence on the board. If Liverpool had accepted the money, it would have reduced their need to borrow heavily to fund the new stadium (Morgan favours a ground share with Everton). Morgan already owns five per cent in Liverpool and feels that David Moores, Liverpool's largest shareholder with a 51 per cent stake, has not been running the club as effectively as he might have been. Moores is a staunch ally of embattled manager Gérard Houllier. Anyone seeking to win control of the club faces the problem that Liverpool is a privately owned company with the 42,000 shares valued at £4,000 each.26/3/04
FIRE SALE INEVITABLE AT LEEDS
The Yorkshire based consortium that has taken over Leeds United has put together a canny deal to save the club from administration, but whether or not the club is relegated from the Premiership a fire sale of expensively paid players is now inevitable to trim £15m from the wage bill. Although the deal paid off the bondholders, it is estimated that there are still around £20m of debts outstanding. The new owners have put in £5m of working capital which is thought to be enough to keep the club going for a year. It is possible that the Elland Road ground will be sold off and leased back while arrangements are already in place to sell part of the Thorp Arch training complex.
The deal negotiated by accountant and insolvency practitioner Gerald Krasner means that the club's secured creditors (the bondholders and Gerling, the German insurance underwriter for a Guernsey player leasing company) have accepted £15m as a settlement for their £81m of debts. Gerling are now completely out of the picture, but the bondholders could get another £10m in deferred payments. This is perhaps not as bad a deal as it seems as the ground was their only security and they would not have been very popular if they had sold it off. Nevertheless, it is not as good a deal as Leicester City's secured creditors got when the club went into administration in 2002. Teachers of the US, a bondholder at Leeds took over ownership of the Walker Stadium and is leasing the crisp bowl back to the club. Moreover, at Leeds, shareholders including former deputy chairman Allan Leighton, who put in a cash injection not so long ago, will get nothing. The revenue from season ticket sales, which had gone to the bondholders, will now go straight to the club. Leeds also now own outright the contracts of all their players, who will no longer have 25 per cent of their wages deferred, and they will no longer be paying part of Robbie Fowler's salary at Manchester City.
The club's new owners, Adulant Force, have said that five of its directors (all of them except Leeds legend Peter Lorimer) are the only shareholders. Apart from Krasner, they include property developers Simon Morris and Melvyn Helme (who has taken on the role of corporate finance director), entrepreneur Melvyn Levi and David Richmond, the son of the former Bradford chairman Geoffrey Richmond. Aston Villa shareholder Jack Pethey is not a shareholder, but made an unspecified contribution to financing the deal, perhaps in the region of £15m. The parent company of Leeds has been placed in administration. The new owners may have struck a good bargain for themselves given that the club had a turnover of £64m in 2002-3 and could yet survive in the Premiership.
Former directors get letter from administrator
The administrators to Leeds United plc have issued investigative letters to former directors as part of an enquiry into their conduct when running the company. Among those to receive the letter are former chairman Professor John Mackenzie and former deputy chairman Allan Leighton who is the chairman of Royal Mail and a director of British Sky Broadcasting. The letter issued under Sections 3 and 4 of the Insolvent Companies Rules 1996 and the Company Directors Disqualification Act 1986 includes a long questionnaire probing the company's affairs in the month leading up to administration. Answers are required by mid-April.Updated 9/4/04
VILLA BID MORE LIKELY
Trefick, the investment vehicle of property entrepreneur Jack Petchey has increased its stake in Aston Villa from just over 14 to 16.5 per cent. Shares in the sleeping giant of the Midlands have risen by 30 per cent in the past month, partly on speculation that chairman Doug Ellis, now aged eighty, may at last be willing to sell out. Villa owns valuable sites close to the ground and it is thought that Mr Petchey might be eager to cut a deal with any future buyer of the club and develop the land.
CUP ATTENDANCES STILL LOWER
For all the superb football played by Arsenal in their 5-1 win over Pompey, and the marvellous spirit shown by the Portsmouth fans, the FA Cup is still not drawing in the crowds. Prize money has, of course, increased and a win for Tranmere at Millwall would net them £400,000, equal to ten per cent of their annual income. This year, however, 1.5m fans attended games played in the first five rounds, almost exactly the same number as last year but 9 per cent down on a decade ago. Back in the 1970s the total was closer to 2.5m. This is not just a Premiership effect: for fans in Division 1 is also much more attractive than the same game played in the FA Cup.
FA Cup attendances as a percentage of league attendance in the same fixture

| | | | | |
| --- | --- | --- | --- | --- |
| Year | Prem | Div 1 | Div 2 | Div3 |
| 1983/4 | 140 | 137 | 128 | 153 |
| 1993/4 | 111 | 128 | 145 | 134 |
| 2003/4 | 82 | 71 | 100 | 117 |
LEEDS CRISIS DEEPENS
The crisis at Leeds has deepened after our consortium interesting in purchasing the club pulled out and the creditors failed to grant another debt standstill agreement. The club asked the Stock Exchange to suspend its shares. The creditors did, however, stop short of forcing the club to the wall immediately.
The consortium that pulled out, advised by corporate finance firm Zeus headed by former Huddersfield Town chairman Terry Fisher, had access to the £25m needed to satisfy the creditors but was thought to be concerned about the financial implications of relegation. The other consortium, that may or may not involve former Bradford chairman Geoffrey Richmond, emphasised in a statement released through a Leeds accountant that their plan was not dependent on Premiership survival. They emphasised, 'Any suggestion that the consortium is looking at this acquisition as an asset-stripping exercise is completely untrue, so much so we can make a commitment now that, if we are successful in buying the club, Leeds United's future is and always will be at Elland Road.'
There are now three possible scenarious:
Leeds go into administration quickly and the administrators do a quick deal with the remaining consortium that will satisfy the major creditors. This could possibly involve the major creditors accepting a cash payment plus ownership of Elland Road. As is so often the case, all unsecured creditors would lose their money.
Leeds goes into administration and there is no deal with a buyer. The administrator's priority would be to cut costs quickly by selling players and cutting wages. This would certainly undermine prospects for Premiership survival.
Leeds stay out of administration and the club is given up to two more months to find the right buyers once it becomes clear whether Leeds is going to survive in the Premiership or not. However, it looks as if the creditors want a quicker solution.29/2/04
BRADFORD IN TROUBLE AGAIN
Bradford City's creditors have applied for the club to be taken into administration a second time after the club defaulted on a payment required by its Company Voluntary Agreement (CVA). Bradford have had difficulty in meeting the terms of their agreement. Former striker Ashley Ward, now at Sheffield United, is believed to be on £880,000 basic for the remaining year of his contract which is being paid to him in annual instalments until 2006. A report from an accountant in November showed that the relegation theatened club was still making losses and needed £2m just to make it to June.
The club's problems have been complicated by a feud between the Rhodes family and former chairman, Gordon Gibb, both major shareholders at Valley Parade. The feud took a bizarre turn when Gibb addressed the crowd from the side of the pitch before the match against Crewe. However, it may be that the outlines of an agreement have been reached. The Rhodes family will put another £5.5m into the club to add to the amounts they have already poured in, Gibb will write off his investment and hand over his shares, but his pension fund, over five years, will sell the stadium back to the Rhodes family for £2.5m.
City asked their players to take a 50 per cent pay deferral, but the players believe that this latest request is an attempt to make them pay the price for problems that should have been sorted out by the club's board. The Professional Footballers' Association has its own concerns because it loaned the club more than £1m during its previous crisis. The club's problems date to the so-called 'six weeks of madness' in the summer of 2000 when Geoffrey Richmond signed very expensive contracts with players, notably Benito Carbone for four years at £40,000 a week. What all this suggests is that administration does not necessarily solve fundamental problems at a club.29/2/04
ARSENAL GET THE DOSH
Arsenal have finally persuaded a consortium of banks to lend them the £260m needed to complete the new 60,000 seat stadium at nearby Ashburton Grove. The club is taking on more debt - £285m at its height - than any other has done before. It will also be managing one of the country's urban regeneration schemes with all the problems of doing that in London and at a time when football finances are under scrutiny as never before.
An agreement has been signed with Sir Robert McAlpine at £220m 'fixed price' to build the stadium and a new waste recycling centre. The existing Highbury including the listed East Stand will be converted into housing. The new stadium may be known as New Highbury along the club would be prepared to selling the naming rights. The club is confident that with 34,000 on the waiting list for season tickets (my next door neighbour has been waiting for about seven years)they will easily fill the ground.
The club has said that the final compulsory purchase order will be completed next month, but local objectors are not finished with their opposition to the project yet. Owners of some of the businesses on Queensland Road, adjoining the stadium site, have promised to appeal to the High Court if John Prescott approves compulsory purchase orders against them. That could lead to a year's delay in Arsenal's ability to buy up the businesses, demolish them and redevelop the site. Opponents of the scheme have always claimed that the profits from building 228 residential apartments, offices and commercial space are crucial to Arsenal's finances. However, the club claims that the local council asked them to include Queensdown Road in their plans to regenerate a rundown area.29/02/04
FOREST IN TROUBLE OFF PITCH AND ON
At the end of February Nottingham Forest were languishing in a relegation spot in Division 1, but they were also facing money problems off the pitch. Despite their poor league position, Forest have the fifth biggest average attendance in Division 1, nearly 24,000. But this has not solved their financial plight, nor has the sale of their best players or the £17m pumped into the club since 1999 by owner and corporate financier Nigel Doughty. Now they have got themselves into a game of financial chicken with the local council who have a better record than most in terms of supporting their local clubs with both Forest and County hit by serious financial problems. But the council is ultimately answerable to the taxpayers and to the District Auditor and, if they go beyond what they are legally entitled to do, councillors could be surcharged.
Forest defaulted on a £200,000 payment on a long-standling loan the council guaranteed to build the Trent End and they have also said they cannot repay the £4.3m capital sum due in June. The council's lawyers have given their fourteen days to pay or they will begin winding up proceedings. They also have the right to reclaim the lease to the ground. They could then renegotiate the rent to higher levels or could be forced to sell the ground to an investment company. Forest have debts of £20m. More than half of this takes the form of an expensive short-term overdraft and they have been trying to secure a bond deal with American bank Bear Sterns who have done similar long-term deals secured on future income with other clubs such as Manchester City. However, Forest may be a less attractive prospect, particularly given the highly publicised financial troubles of other clubs. They may have to settle for a five year bridging loan and negotiate the longer-term deal when times are better. In the meantime, they risk alienating a supportive council who are legally constrained in what they can do to support a club whose future looks highly risky. The money was eventually paid.22/02/04
NO MORE PIES AS SCOTTISH CLUBS HIT THE ROCKS
As a number of Scottish Premier League clubs hit serious financial trouble, one of the most bizarre casualties has been the free pie offer for season ticket holders that was withdrawn by Livingston after they went into administration. Three clubs are now in administration (Motherwell and Dundee in addition to Livingston), but it could rise to four soon if Dunfermline players refuse to take a pay cut. The collective debt of the league is £190m, largely the result of excessive wages paid on the back of a television deal that no longer exists. In the case of Motherwell, which had run up losses of £11m, wages had reached 97 per cent of turnover. Dundee's debts amounted to £20m. Those at Livingston were much smaller and in many ways the club, whose neat ground can often be seen as one flies in to Edinburgh, were well run. Elsewhere, Kilmarnock owe £10m on turnover of £5m, although they have built a hotel on their training pitch. Hibernian sold their car park for £10m to reduce a debt of £14.5m. Even Rangers has record debt of £68m. The smallest debt is at Glasgow's third club, Partick Thistle, but after an earlier financial crisis they have cut their weekly wage bill to a miserly £500.
One of the biggest crises is at Hearts, the much vaunted 'third force' of Scottish football. Despite getting rid of high earning players and some astute transfer sales, the club owes £17.6m. The board claims that the only way out is to sell the club's Tynecastle ground and move into the rugby stadium at Murrayfield with a capacity of 67,000 that is far too big for the needs of the club. There is strong opposition to the move from fans.
The league's sponsorship agreement with the Bank of Scotland will also come to an end soon. However, the underlying problem is the structure of the league which is dominated each year by Celtic and Rangers. No wonder attendances are falling and the television rights are worth only £18m over two years. There are those on both sides of the border who would like to see Celtic and Rangers in the Premiership, but it could endanger the status of the Scottish national team and would not be welcomed by smaller Premiership clubs.15/2/04
COULD SPURS GROUND SHARE WITH ARESENAL?
Spurs have had to face up to the fact that the expansion of White Hart Lane is unlikely to go ahead because of continuing problems over transport links and infrastructure. A new stadium elsewhere has been considered in the past, but the now the club is reported to be considering a ground share with north London rivals Arsenal. It is, however, only though to be an option if Arsenal's Ashburton Grove plan does not go ahead. One possibility would be a joint approach to share Wembley, well away from the traditional homes of both clubs. Another possibility would be an Olympic Stadium if London succeeds in its bid for the 2012 Olympic Games. More realistic might be an attempt to find an entirely new site which the two clubs could share on an equal footing. However, it is also possible that a threat to leave White Hart Lane might help to build support for their plans to increase their capacity there from 36,000 to 48,000.18/01/04
DARLINGTON IN ADMINISTRATION
In his book Broken Dreams , Tom Bowyer refers to the 'mavericks, tycoons and opportunists attracted to football.' Step forward, George Reynolds. The former safe-cracker turned flat-pack furnuture magnate has resigned as chairman of the struggling Third Division side after they went in to administration. The club faces a claim for £15m from its former owner who provided the club with a 25,000 all seater stadium (the Reynolds Arena), surely grandiose for a club that is an area with a number of Premiership sides within easy reach. It will be recalled that his outspoken wife launched a 30-minute diatribe against the team at an emergency supporters' meeting. The outburst, peppered with quotes from the Bible, prompted a walk out by the players after Mrs Reynolds suggested that they had thrown a game. We have long argued that a 'fit and proper person' test ought to apply to the directors of football clubs. Perhaps that ought to extend to their wives.18/1/04
WILL PARLIAMENTARY REPORT BRING IN REGULATOR?
A parliamentary investigation into football finances is expected to report in February. It has been carried out by the all-party parliamentary fooball group. This group does not even have the status of a select committee (whose reports are often ignored). However, it does have 150 MPs from all parties as members. Moreover, Chancellor Gordon Brown and Culture Secretary Tessa Jowell are said to be awaiting the report with interest. It may lead to the first serious government intervention in football since the Football Task Force report was effectively shelved after the 2001 general election.
It is anticpated that the report may suggest that football clubs should be required to make their financial plans public. Other proposed reforms include the creation of an independent regulator to oversee football, closer scrutiny over agents and tighter controls over who can become a director a football club.
It has long been suggested that the cosy world of self-regulation in football should be brought to an end and that the game should be brought fully within the embrace of the 'regulatory state'. Some, however, would see this as political 'interference' and argue that football should be allowed to run its own affairs. That might be a more convincing argument if the FA had made a better job of carrying out its role. Manchester University's Mick Moran has an intresting discussion of this subject in his recent book on The British Regulatory State (published by Oxford University Press). He acknowledges that 'the codes by which soccer [sic] is played, and the standards by which excellence is judged, only make sense on the soccer pitch; they are arbitrary and irrelevant to any non-sporting world, and even to other sports.' However, Moran points out that three forces are reshaping 'the hitherto autonomous, self-referential worlds of individual sports':
The increasing colonization of sport by the market.
The values of a state intent on using sporting success as an instrument of national prestige (although that is not so much a new theme as a reinvigorated one).
The desire to use sport as an instrument of social policy, notably as a way of combating social exclusion and promoting public health.
One might add to Moran's list some of the unfavourable publicity that football has received since he completed his book in contrast to the glowing reports given to rugby in the wake of the World Cup victory. It is, however, the view of this page that there is a hint of snobbery in some of these attitudes. Rugby union has always been a middle class game, outside one or two places like Gloucester and West Cornwall. Some of the resentment directed at football comes from those whose real objection may not be to footballers earning large salaries, but to the fact that many of these footballers are drawn from hard core working class backgrounds or from ethnic minorities. Having said that, clearly some of these young men need more guidance from their clubs on how to handle their sudden fame and wealth.28/12/03
BOLTON FIND THEIR BENEFACTOR
One consequence of the downturn in football finances is that finding a rich benefactor is increasingly seen as the way out of financial trouble. This is no less true for unfashionable clubs like Bolton Wanderers. The club may have been a surprise package in the Premiership so far this season, confounding the usual relegation predictions, but the situation off the pitch has been less happy. The Burnden Leisure group reported a pre-tax loss of £5.7m on revenues of £38m for the year to 30 June 2003 and said at the time that it had been unable to get long-term funding. Like other clubs, the Trotters have been grappling with high wage bills for players against the background of attendances far lower than those enjoyed by leading clubs. They are also afflicted by the costs of developing a new stadium six years ago, albeit that it included a hotel and conference facilities (used for the hearing of the Rio Ferdinand case). Burnden decided to take itself off market earlier this year when the shares fell to less than a penny giving the club a total value of £2.4m, far less than its assets were worth.
Step forward 56-year old Eddie Davies, described as an Isle of Man-based businessman. He is estimated to be worth £50m. His fortune is based on his large shareholding in Strix, an Isle of Man company that manufactures electric kettle thermostats. Not the most glamorous of products, but apparently it has a 70 per cent worldwide market share and annual sales of £70m. He had already injected £11.75m and owned just under 30 per cent of the parent company. At the group's annual meeting on 29 December shareholders vote through by a large majority a plan for a massive issue of heavily diluted new shares to be taken up by him. In return for a further £2.25m, Mr Davies (through the E Davies Trust) will take his holding to 94.5% which is above the level needed to mop up the remaining equity holders. More than 57 per cent of the Bolton shareholders had already agreed to the move and in an open letter to shareholders chairman Philip Gartside claimed that an issue was the only option left. 'Demands placed on the company arising out of financial pressures being experienced by many professional football clubs continue to have a negative impact on your board's ability to refinance the approximate £38m of debt. Without such a financial commitment, the club would almost certainly not have been able to survive in the Premier League over the past three years. Equally, there is little to suggest that the financial burden of remaining in the Premier League will ease.' Bolton is better placed than some clubs since it owns its purpose built stadium which incorporates a four star hotel (admittedly not in the most glamorous or sought after location, but there's always the 'conference' trade) and is in the process of developing commercial offices. Chairman Phil Gartside has claimed that the club's bankers, led by the Co-op, had given 'a half promise that if we could deliver this deal, they would look at restructuring the debt.'
Nevertheless, some fans believe that they have got a raw deal. Bruce Halsall bought 1,500 shares shortly after the club was floated in 1997 at 69p. He told the Financial Times , 'For an extra £2.25m, he goes from 30 per cent to 94 per cent. That is the sort of price you would pay for one Premier league player and to sell the whole club for that seems ludicrous.' Rowan Palmer, a London based investor who had a one per cent stake before the dilution commented, 'It is an excellent deal for Mr Davies. He is pating a fraction of the true price.' Perhaps, but share purchases in a football club should arguably be seen as another way of giving money to the club. I see my shares in Charlton as another way in which I have given money to the club, alongside my shirt sponsorship of Curbs. Indeed for the latter, I get an annual dinner with Curbs and a framed signed shirt, whilst my shareholding only gives me the right to attend the annual meeting. The way ahead in terms of giving fans a greater say is surely through the supporters' trust model. Business is necessarily red in tooth and claw and can lead to community values coming way behind making money or conferring status.Updated 4/1/04
TV DEAL LEAVES EVERYONE A WINNER
The compromise deal brokered between the European Commission and the Premiership over the future of television rights leaves everyone a winner. The key points are:
The short term impact of the deal is not that substantial and removes fears of a financial catastrophe for Premiership clubs.
The longer-term implications are more considerable, however, and will see an erosion of BSkyB's position in televising Premiership football which will become less central to their product.
Football is going to have to forget about accusations of EU 'meddling' in its affairs. Football is too big a business, and too culturally important, for a regulatory state like the EU to stay out of its affairs.
In the short run, BSkyB will have to sub-license eight matches a season to a terrestial broadcaster. It will therefore no longer be able to claim that it is the exclusive broadcaster of live Premiership matches. However, it seems likely that the eight games will actually be from Sky's third-choice 'copper' package of rights (Leicester v. 'Boro anyone?). Sky will be left with 130 games a season. The licensed matches will be shown on Saturdays at 5.15 p.m. and will not include any of the three Championship contenders. The financial implications for the Premiership's deal will be limited with perhaps a loss of £30m of income. The worst case scenario of a Commission legal challenge to the deal leading to its collapse has been averted.
The deal will, however, have a bigger impact when the current deal comes up for negotiation in 2006. A much wider range of broadcasters will then be involved and BSkyB will lose the marketing tag of being the 'home' of Premiership football. Sky now has three years to diversify its product away from too great a reliance on showing Premiership football. It's arguable that the main benefits of the arrangement for Sky petered out in 1998 when its subscriber base reached a plateau of 3.5 million. As the Financial Times noted, 'The decision to launch a digital service with a vast proliferation of channels has since altered the demographic of that subscriber base so it is less skewed towards young, male football fans.' In the medium term, the revenues English football derives from television are likely to decline in real terms, but that may encourage much needed prudent housekeeping.24/12/03
WHO WILL SPEAK FOR FOOTBALL IN EUROPE?
As our last item noted, the European Union is going to remain as a significant player affecting the future of football. As this page has emphasised before, football is not exempt from the provision of the treaties and complaints about 'interference' are not likely to deter Commissioners from taking an interest. The same applies to MEPs who have a grouping called the 'Friends of Football' (no doubt some of there were at the free showings of World Cup matches in Brussels sponsored by Europe's brewers who also laid on the refreshments). Indeed, the draft EU constitution contains a specific reference to the Union's role in contributing 'to the promotion of European sporting issues, given the social and educational function of sport.' Although this is rather vague wording to say the least, the key point is that the draft constitution does not exempt sport and sporting bodies from normal EU rules.
This leaves open the question of who will speak for football at the European level. UEFA's Sepp Blatter (or Blather) insists that they are the only official spokespersons for European football. It is true that the Commission likes to deal with comprehensive bodies that speak for an economic and cultural activity as a whole. That is the official doctrine, but in practice the Commission also likes to have a dialogue with the really big players. Step forward G-14, the organisation that represents Europe's top football clubs (now actually eighteen rather than fourteen with the addition of Arsenal among others: Liverpool and Manchester United were already members, but Chelsea are not). See G14
UEFA and G-14 are daggers drawn
UEFA and G-14 are daggers drawn as is evident from a recent special feature on football in leading Euro magazine European Voice . G-14 has a full page advert in the issue and is very clear where it is coming from. It is 'the voice of the clubs' as distinct from football's regulatory authorities. Football clubs are a business like any other, rather than community institutions: 'G-14 clubs are businesses and operate in the same competitive market environment as any other business.' G-14 welcomes EU involvement in issues impacting on football as a business, although they are in a sulk about the taxes they have to pay in Brussels. (G14's general manager, Thomas Kurth, is a Swiss national who lives in Barcelona, and his communications manager Geneviéve Berti is Monaco born, but they have not received the expatriate tax rates they hoped for and are threatening to move the offices elsewhere). They regard the regulatory framework provided by the EU as giving the clubs legal certainty. As far as Kurth is concerned (he used to work for UEFA before 'seeing the light') UEFA is 'an organization no longer up to date with reality.'
For his part, Gerhard Aigner, the chief executive of UEFA, claims that G-14 is vehemently opposed to UEFA's aim of spreading football's money between clubs to help preserve the 'competition and upsets that thrill supporters ... They want to use their financial power for themselves ... It is a cynical thing that the strongest clubs need to join up to combine their interests against everyone else who is much weaker.' Asked if G-14 is a cartel or at least one in the making, Aigner's choice of words became more cautious: 'That would be difficult, but what is sure, they monopolize the best players to monpolize success.'
Do the clubs or the regulators run the game?
It's the same issue that arises in the Rio Ferdinand case: who runs the game, the regulatory authorities or the big clubs? (Which is not to say that there should not be a civil court hearing about some of the procedural issues raised in the Ferdinand case). A study by Birkbeck College, London ( The State of the Game ) carried out with Grant Thornton has found that the Football Association's ability to govern independently is being 'severely compromised' by the growing dominance of big clubs. It is suggested that the growth of the Premiership has left the FA 'fundamentally weakened'. The report suggests that the FA 'is characterised by competing interests and power bases. Members of the FA's decision-making structures increasingly behave in the fashion of delegates speaking and making decisions on behalf of their vested sectoral interests.' It said that the game's political structures had become 'increasingly fractious' and an obstacle to change. 'Individuals and organisations squabble over the game's spoils, sometimes to secure much needed funding but other for no other reason than the simple desire for a bigger slice of the financial cake. It is clear that the game has yet either to strategically plan for or chance upon an effective structure of governance for the English game.' For more details go to State of the Game.24/12/03
WILL LEEDS BE FIRST PREMIERSHIP CLUB TO GO INTO ADMINISTRATION?
Unless a suitably wealthy purchaser can be found, the club will be the first Premiership club to go into administration. The main creditors include providers of £60m of senior secured notes and Gerling General Insurance, the credit insurer of Registered European Football Finance which leases some members of the Leeds United team. When one hears phrases like 'leases some members of the team' being bandied about I am inclined to think that my late colleague Susan Strange was right when she talked about the rise of 'Casino Capitalism'.
Professor John McKenzie stepped down as plc chairman before the annual general meeting. He was described as 'damaged goods' by Bill Gerrard who pointed out that his salary has been paid up until September 2004. In general, academics should keep away from running football clubs (and I have received an approach and quickly disqualified myself). The exception to this rule is the late Professor Sir Roland Smith, the academic who transformed Manchester United's fortunes. But he had exceptional business skills and John McKenzie is no Roland Smith. However, Leeds acting chairman and chief executive Trevor Birch, who played a key role in engineering the Russian rescue of Chelsea, defended McKenzie: 'John came in, steadied the club and steered it through turbulent waters. The reality is the ship is still afloat. It may well have been sunk if John had not implemented pretty difficult decisions in terms of taking cuts out of the business.' Birch, who is himself earning £500,000 a year (but without a contract) admitted that shareholders had a right to be angry and has promised to consider an independent inquiry into the running of the club over the last five years. The Financial Times cheekily suggested that two key questions might be why did Leeds receive only £2.5m for the transfer of Harry Kewell to Liverpool and what happened to the previous chairman's golfish?
The mystery over the future of the club deepened when Professor John McKenzie sold half a million shares at 5p (he was still left with 3.5m shares or 1 per cent of the club). The shares subsequently fell 11.6 per cent to 4.75p with the market interpreting the sale as a sign that a bid for the club was now less likely. However, after further falls, they recovered to 4.3 per cent after speculation that Allan Leighton had secured backing for a rescue bid from retail entrepreneur Philip Green.
The current crisis erupted when Leeds told the Stock Exchange that they might have reached the end of the road and may have to seek the protection of administration. This would be a preliminary step to protect the club from creditors seeking to wind them up. The club, bottom of the Premiership at the time of the announcement, were hoping to announce a restructuring of their £80m debts following negotiations with their major creditors. As a consequence of their failure to reach agreement with their creditors, they had to postpone plans to accept a £4.4m cash-for-shares injection from deputy plc chairman Allan Leighton, also chairman of Royal Mail, and Sheikh Abdul din Mubarak-Al-Khalifa. The difficulties they faced also prevented them from making a move for Southampton manager Gordon Strachan.Updated 11/1/04
Record losses at Leeds
Leeds has reported pre-tax losses of almost £50m, a record for a UK football club. Losses of £49.5m were incurred against the background of a fall in turnover for the twelve months to June from £81.5m to £64m, reflecting reduced media income. The club's wage bill was £56.6m or 80 per cent of turnover, far in excess of the 50 per cent level recommended by accountants Deloitte Touche.
Referring to the club's previous management, new chairman Professor John McKenzie commented, 'They lived the dream. I've inherited the nightmare.' The chairman said that he had achieved savings of £20m on an annualised basis since replacing Mr Ridsdale. However, with the club failing to make significant inroads into its £78m debt mountain, he acknowledged that Leeds had a 'long way to go'. Even if the club stays in the Premiership, it could take five years to get rid of the debt. Joe McLean, a partner with business recovery group Grant Thornton, said the club's fans and shareholders would have to be ready for a lengthy period of recovery. 'It is important to remember that the root cause of all these difficulties were five or six years in the making and that is probably how long it will take the club to get back on track.' The club has taken on Trevor Birch as chief executive who had experience of managing high debts at Chelsea Village before the London club was taken over by Roman Abramovich.
The club received an equity injection when Royal Mail chairman Allan Leighton, also Leeds deputy chairman, put £2.2m into the club. Another £2.2m came from ARM holdings. Areas of unnecessary expenditure such as the club's large fleet of company cars have been cut back. A complicating factor is that six of the top players bought by Peter Ridsdale were not owned by the club but were leased in an equivalent of a hire purchase agreement. The club still owns the leasing company (Registered European Football Finance) £21.3m. Because it has outstanding capital payments, the club would not receive the full market price for these players if it decided to sell them. For example, if Mark Viduka could be sold for £10m, the club would receive only £3m. Updated 15/11/03
For an earlier discussion of the problems at Leeds go to Leeds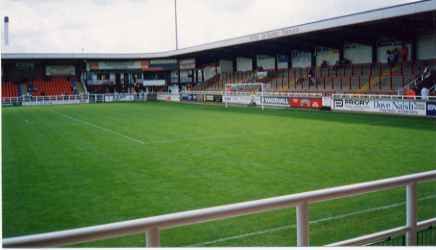 Nene Park, the Irthlingborough home of Rushden and Diamonds
Rushden and Diamonds was put up for sale when it was still a second division club, but a proposed deal involving a London based consortium fell through. With his Doc Martens business encountering troubled trading conditions, chairman Max Griggs could no longer underwrite the club's losses which have been rumoured to amount to £2m a year. This is in spite of the wage bill being slashed by £700,000 when the club was promoted leaving the Nene Park side with a squad that had to bring in loan players to cover injuries. Eventually Max's soon Stephen was installed as chairman with enough money to see it through 2004-5 but the club is still rumoured to be losing over £800,000 a year. The club has a semi-rural catchment area that has no rivals, but despite promotion it has been difficult to boost attendances much above 4,000 and their first game in the old Third Division saw a home attendance of little over 2,600 with five hundred of those being away supporters. With prices raised season ticket sales halved. Any purchaser would receive a neat modern stadium with good conference facilities and an excellent training complex including all weather pitches. By February, although there had been some interest, no definite buyer had appeared and there was a bucket collection at the match against Tranmere to raise money. The managing director was also asked to leave, possibly as a cost cutting move, followed by other staff. Manager Brian Talbot shipped out to Oldham and was replaced by a player-manager drawn from the existing squad. A number of key players left as the transfer deadline loomed. In a further sign of desperate times, the club announced that it would no longer be accepting debit or credit cards, a situation that continues because the card companies would be liable for payments made by fans if the club went into administration.Updated 10/8/04
City's £50m debt
Manchester City's debts have increased to £50m following heavy investment in the team. The club's wage bill rose from £24m to £35m last season. However, the club has emphasised the situation is different from that at Leeds. The debts are secured against the club's new City of Manchester stadium. Managing director Alastair Mackintosh commented, 'The debt is well-structured. Leeds' situation was different because there was no new stadium and the players were the security. City made operating profits of £1.7m against losses of £5.9m in the previous year, but pre-tax losses rose from £13.9m to £15.4m after player trading.2/11/03
DOUBTS ABOUT SPURS SHARE PLAN TO RAISE MONEY FOR PLAYERS
Spurs, dangerously near the relegation zone of the Premiership at mid-season, is using a share issue to raise £15m to spend on new players. The club has been trying to raise £10m for new players since July, but was unable to find support from institutions for an equity placing. The move will please fans but has worried minority shareholders who consider that the club might be taken over 'on the cheap'. The funds are being raised via a convertible share scheme fully underwritten by Enic which is Tottenham's biggest shareholder with a 29.9 per cent stake. Converted into a private company earlier this year, Enic also owns stakes in Glasgow Rangers, AEK Athens and Slavia Prague. Enic's stake is certain to increase to more than 30 per cent in 2007 if shareholders do not take part in the scheme. That would normally require a full bid under takeover rules, but Tottenham is asking non-Enic shareholders to vote through an exemption. The club came very close to losing the vote at its annual meeting as rebels appeared to be gaining the 25 per cent they needed to veto the plan. It took late minute calls to major shareholders to enable the club to scrape home with 77 per cent of the vote.
'No appetite for football'
Under the plan Tottenham is selling 60,000 convertible shares at £250 each. They will carry no dividend for three years and will then provide one percentage point above the base rate. Holders will be able to exchange the convertibles for Tottenham shares towards the end of 2007. One analyst quoted in the Financial Times questioned how attractive the scheme would be to investors and claimed that Enic could end up 'with a large stake in the club without having made a full bid to all the shareholders.' Tottenham's response was that 'Agreeing to underwrite a £15m share issue is not doing it on the cheap in the current economic climate for football clubs. This is all about Enic supporting the club. Try ringing round the institutions and asking how many are willing to throw money at football clubs. The reality is there is no appetite for football.'Updated 25/12/03
It all goes off at Spurs
Spurs has been wracked by a boardroom battle over a bond issue that led to the resignation of non-executive director Howard Shore 'who is renowned in the City for his aggressive style' according to the Sunday Times . Shore owns about 1 per cent of Spurs, but manages another 3-4 per cent on behalf of private clients of his Shore Capital boutique investment bank. The battle erupted after the club had revealed a £7.1m loss for the year ended 30 June. Shore was strongly opposed to plans of Spurs plc chairman Daniel Levy to attract funds through a convertible bond. Shore is believed to have seen this as an attempt by Levy to gain even more influence over Spurs, the club he controls through a 29 per cent holding via Enic, his private investment vehicle. He argued that because Enic would be the underwriters of the issue, if other shareholders decided not to purchase their allocation of convertible bonds then Enic would be left with the balance, giving them greater control. Shore's departure makes the revival of the bond scheme more likely, although an early announcement is not expected.
Levy had originally intended to launch a rights issue, but after sounding out the market he quickly came to the conclusion that the club needed to try a different approach. Football financier Keith Harris, who is chairman of brokers Seymour Pierce, worked out a scheme whereby shareholders would be offered the chance to invest now in return for shares or cash in six years' time. Without knowing all the details, this doesn't seem a very attractive deal on the face of it to me, but, hey, that's football finance. Fans will do things for their club they would do for hardly anyone else. As part of the deal, the club was also planning to move from the main stock market to Aim which would certainly save them money. However, Shore was thought to suspect that this was part of a plan to take Spurs private, something that has been categorically denied by sources close to Levy.
Spurs interim results
Spurs produced reasonably good financial results for the six months to 31 December. Interim losses narrowed from £8.6m in the first half of the year to £3m. Operating profit before amortisation and player transfers rose from £2.7m to £3.3m and turnover was up slightly from £32.8m to £33.2m. Total gate receipts were £1.1m higher thanks to Carling Cup fixtures. However, Premiership gate receipts fell because of the club's poor performances on the pitch.Updated 9/4/04
SHARED STADIUM FOR 'POOL?
With the promise of public funds being made available for up to a third of the cost, the North-West Development Agency has re-opened the vexed question of a shared stadium for Liverpool and Everton. The issue has been rumbling on for decades, but has acquired a new urgency as Liverpool prepares to seek permission for a 55,000 seater ground and Everton's plans to replace its decaying Goodison Park ground with the so-called 'Goodison on the water' at King's Dock have collapsed. The issue was discussed in late September at a meeting between the chief executive of Liverpool City Council and the chief executives of the two clubs. Steve Broomhead, chief executive of the Merseyside Development Agency, who was also at the talks, said Merseyside needed a world-class stadium and there was a strong business argument for a ground share. He added, 'What we do not want is emotions driving essentially what could be a very good business/regeneration decision on Merseyside.'
But that is the nub of the issue. A poll following the meeting conducted by the Liverpool Echo showed that more than sixty per cent of Liverpudlians were against the two clubs ever sharing a ground, despite the fact that their current stadiums are only half a mile apart. The commercial advantages of sharing have been recognised by such fiercely competitive clubs as AC Milan and Interazionale, producing in the San Siro one of the finest arenas in the world. However in Britain tribal rivalries often take precedence over commercial considerations. Independent Blues spokesman Ian MacDonald said that a ground share 'will never happen because the fans' opinions are so entrenched. Both boards would never propose the subject publicly for fear of the backlash.' For their part, Liverpool fans are likely to argue that Everton lack the financial clout of the Anfield side and would, in effect, be piggy-backing on a successful stadium proposal because their own had collapsed.
Nevertheless, a city official pointed out, 'The potty thing is that there are fans of different clubs in the same families. They manage to share the same homes so why cannot the clubs?' Relations between the two clubs are hardly as bad as those between Celtic and Rangers where, as the Financial Times commented, a shared stadium would probably have to be operated under the protection of the United Nations. London and Manchester clubs are outspending their Liverpool rivals. Would a shared stadium lead to more chances of winning trophies in one of Britain's leading football cities?
Liverpool subsequently applied for planning permision for a new 60,000 seater stadium in Stanley Park, a few hundred yards from Anfield. The club hope to move into the £80m arena in the summer of 2006. The application includes plans for a museum, a hall of fame, an education centre and an underground car park. Liverpool also expect to apply for permission within two years to build 'Anfield Plaza', a complex of hotels, offices and restaurants around the new stadium. The proposal does not necessarily put an end to the ground sharing idea.
Ground share plan revived at different site
Liverpool Macroeconomic Research, a local think tank, has suggested that the two clubs should share a waterfront site, building on a 97 acre site in the derelict Central Docks. A developnent there would have a much bigger impact on the regeneration of the city centre than the Stanley Park scheme.13/6/04Updated 11/10/03
BRUSSELS SLAMS TV DEAL
Brussels has slammed the Premiership's new £1.02bn deal with BSkyB. Embattled competition commissioner Mario Monti, who has been facing problems in his fight against cartels, declared, 'The announcements so far made by the Premier League suggest that BSkyB will have an even greater monopoly over live television rights than was the case in the past. This is bad for competition on broadcasting markets, and is bad for consumers.' If the Commission forces the Premier League to restructure the rights on offer and deprive BSkyB of exclusivity, the pay-TV group will lower its offer by several million pounds. Such a move could cause chaos among England's top football clubs. Many have already budgeted for the next three years on the assumption that the £1.02bn would be paid in full. The difficulty for the Premiership is that there are no real rivals to BSkyB with the cable services having only a weak share of the market. They are so enfeebled and divided that they cannot be serious contenders for any mass market television rights. The auction is therefore a charade, but it would be even more so if it was run again.
Last December Brussels reached the preliminary conclusion that the joint selling of Premiership television rights was 'tantamount to price-fixing'. Mario Monti, competition commissioner, is concerned the structure of the UK auction process may strengthen the dominance of BSkyB at the cost of other operators and new media outlets. Recently approved television sales schemes for the Champions League and the German league left room for such new media, which have been a central concern of Mr Monti, as well as dividing the rights into several different packages. The Commission is worried that the Premier League scheme, which divided rights into four packages, may have had only a superficial effect as BSkyB won all the live game rights.
The league's view is that it reformed the system since the previous auctions which took place in one block. It maintains that the packages contain the smallest number of games possible to meet the broadcasting demands of a season-long competition. A Premiership source told the Financial Times , 'How uncompetitive would it be to award packages to those who didn't win them in an open and fair competition?' Rupert Lowe, the Southampton chairman, argued that part of the League's agenda was that they preferred European football to be successful because it was a useful tool for European integration. They didn't want domestic leagues like the Premiership to be successful.
The deal with BSkyB may not be as favourable as the initial spin suggested, although it would have been difficult to get a better deal. However, to compare the £1.042bn the Premiership is to receive compared with the £1.1bn BSkyB paid in the last round is misleading. Last time the Premiership received additional money for forty pay-per-view games from a consorrtium that included BSkyB, NTL and Telewest and £183m for highlights from ITV. Total proceeds were £1.464bn and this has to be compared with the £1.129bn received when the BBC's highlights money is added in to the BSkyB amount. In other words, here is a 29 per cent revenue shortfall of £335m over three years, not disastrous, but certainly significant. Some money could be made from overseas rights, but the sale of David Beckham won't help there. It is unlikely that the proceeds from secondary rights will make a big dent in the shortfall.Updated 5/10/03
Premiership nets £100m from sale of rights packages
The Premiership has concluded two new deals that will bring in substantial additional revenues. A title sponsorship deal with Barclays worth £57m will run to 2007. It represents an 18.5 per cent increase on the existing £16m a year agreement with the bank's credit card.
The other deal agreed is for internet rights. The bulk is with Sky who have paid to broadcast extended highlights of 242 matches and clips from all 380. The telecoms companies 3 and Vodafone are also involved but bought seemingly less attractive rights such as previews, archive footage and audio bulletins. The three companies are paying around £100m for the three year rights between them. However, BSkyB's involvement could spark further controversy about the satellite operator's stranglehold on the broadcasting of Premiership football.5/10/03
NOTTS COUNTY SURVIVE
Founded in 1862, Notts County are the oldest professional football club in the world (amateurs Sheffield FC are the oldest club). But at one time it looked as if they could be the first club to fold after they were given a final deadline expiring on 9 December 2003 by the Football League. The Meadow Lane club was in administration for a record eighteen months. They were finally rescued after a takeover by the Blenheim Consortium headed by Peter Joyce.
They had hoped to emerge from administration in August, but a £3 million takeover bid fronted by businessmen Raj Bhatia and Frank Strang collapsed at the last minute. Much in the end depended on the efforts of the club's Supporters' Trust who raised £250,000.
The club's problems started with a £2.3m takeover deal in 2000 by American businessman Albert Scardino. He acquired the club from local plumbing and heating merchant Derek Pavis. Under Scardino, the club pushed for promotion, signing players on big contracts. But as is so often the case, Scardino's financial backing failed to materialise. The ITV digital collapse compounded the club's problems, but even without that they were paying their players more than they were making. A falling out between Pavis and Scardino did not help matters. In June 2002 the club went into administration with debts of £7 million.
The administrator negotiated a deal which would allow development of land around the club for upscale riverside apartments. In return the club would be given a stadium with a capacity of at least 10,000. However, the club has continued to lose money while it has been in administration due to the outsize wage bill. The NatWest bank is owed £700,000 secured on the club's current lease while Pavis owns a lease on the west stand for which the administrator has agreed to pay £500,000. Sums owed to football creditors including the Professional Footballers' Association, amount to some £700,000, of which half has already been paid. Unsecured creditors, including the ambulance service and local traders, will get nothing of the £580,000 they are owed, while Scardino and Pavis will lose loans of £1m and £1.7m respectively. The outstanding tax and VAT bill of nearly half a million will be paid at 11p in the £, representing another subsidy from taxpayers towards a failing football club, although it should be recalled that football generated £536m in tax revenue in 2001/2.
When the administrator's fees and costs of nearly half a million are added in, it will cost £3.2m to get the club out of administration. The administrator has put in £1.4m as loans, £1.8m will come from the sale of the lease to developers. New interested businessmen emerged, including Roy Parker, a former Leicester director and Peter Joyce, a previous Notts director. The League has emphasised that it is not going to allow any club to limp on insolvent for eighteen months in the future. League chairman Sir Brian Mawhinney said, 'It is right that clubs that suffer financial difficulties are given a reasonable opportunity to restructure their affairs. But it is alos right that this opportunity is not indefinite, as clubs in administration gain a competitive advantage.'Updated 24/12/03
FULHAM TO RETURN TO THE COTTAGE
Fulham's plans to ground share with Chelski have been abandoned. Instead of ground sharing with the London Russians, they will move back to Craven Cottage. The Premiership have told them it is no longer acceptable to play at the shoebox stadium of Loftus Road. Hammersmith Council (a London borough with three league clubs) has approved the plans to bring the venerable ground (actually one of my favourite away venues) to Premiership standards. However, the club only plan to stay three years as chairman Mohamed Al Fayed still hopes to build a new stadium and leisure complex at White City. The plans for Craven Cottage involve bolting seats on to three sides of the ground to increase the capacity to 22,000, still very low for a Premiership side.
Originally the plan was to build a new ground at the historic Cottage site which has been the club's home for 105 years. However, this was shelved after costs spiralled, although many fans suspected that owner Mohamed Al Fayed, now a tax exile, was interested in the development potential of the riverside site which would be an ideal location for upmarket apartments.Updated 24/12/03
SHARP RISE IN HALF-TIME LOSSES AT VILLA
Aston Villa suffered a sharp increases in half-time losses, made worse by expensive player disposals. Turnover was up slightly (sales ros to £19.1m from £18m previously helped by an increase in match attendances) but the operating loss increased from £3.6m to £5.7m. When the club included the hit from selling two foreign players, the pre-tax loss doubled from £8m to £16.5m. Bosko Balaban has signed a five-year £5.8m del in 2001 but never started a Premiership game and his estimated £15,000 a week wages meant Villa spent £9m on him before releasing him on a free transfer. Nevertheless, the club claims to have one of the strongest balance sheets in the league.
Following the disappointing full year results, veteran chairman Doug Ellis, who is now nearing eighty, said Villa was facing the difficult 'challenge of competing regularly for honours while remaining financially viable.' Of course, that is a challenge that faces all Premiership clubs, but Mr Ellis explained that Villa was increasingly being left behind by the likes of Manchester United, Arsenal and Liverpool, but pledged it would 'continue to operate within its resources.' The problem is that it does so, the club may continue to punch below its weight. As the leading Midlands club (a title that City fans would dispute) it should be able to match the top clubs. As Villa deputy chief executive Mark Ansell pointed out, tenth place in the Premiership would of itself generate £4.5m more in income.
Player wages rose to 71 per cent of revenue. On the bright side, the £13.8m of player amortisation charges that sunk Villa to its worst results in a decade are indeed sunk costs. They represent Villa's share on a spending binge on players which is now over for all clubs apart perhaps from Chelski.
Mr Ellis refused to be drawn on the nature of the 'intermediaries' who are interested in buying shares but said that contacts were continuing. He said that he understood that Jack Petchey, who had increased his share to 13 per cent, was a value investor and not interested in owning a football club. Venezuelan billionaire, Gustavo Cisneros, has also been linked with the club whose shares have risen over the summer. The club confirmed in September that talks had taken place with a 'potential investor'.18/9/03
ARE 'PLONKERS' ON WILD GOOSE CHASE?
Having described the Takeover Panel as 'plonkers', Ken Bates has dismissed an investigation by the Financial Services Authory (FSA) as a 'wild goose chase'. However, the investigation appears to have been sparked off in part by a FBI investigation into former Chelsea director Stanley Tollman who is a fugitive in the United States in relation to multi-million fraud charges. The FSA took the unusual step of giving maximum publicity to its investigations before speaking to the company or its advisers.
The regulator is understood to be interested in Swan Management Services, a Guernsey-based shareholder and the fate of its 20 per cent stake in Chelsea Village. The FSA said its inquiry followed 'the receipt of information from a number of sources suggesting that the publicly disclosed shareholdings of certain parties may have been inaccurate. ... The FSA is concerned that, as a consequence, the market may have been misled as to the true ownership of Chelsea Village.' There has been speculation for some time about the interests behind five Guernsey trusts, holding between them nearly 15 per cent of the shares. Coincidentally, these are located at the same address in St.Peter Port as that used by the investment vehicle of Ken Bates. Both Swan Management and Harbour Trustees are managed by Patrick Murrin, a chartered accountant and director of Chelsea Village. Both Swan and Harbour are under investigation by the Guernsey Financial Commission. One issues they are reported to be interested in are payments of £700,000 made by Mr Bates.
The larger issue, however, is how Mr Bates was able to deliver the required 50.1 per cent stake to Mr Abramovich, the new Russian owner of Chelsea, when his own declared stake was 29.5 per cent. Mr Bates bought nearly half of Swan's shares to achieve that level. If he had gone significantly above it, he would have been required to make a bid for the company.
It has long been an offence under the Companies Act to fail to disclose accurate and timely information about sizeable stakes in a quoted company. 'Market abuse' gives a locus to the FSA, rather than leaving matters to the generally slower Department of Trade and Industry. The FSA can force people to talk by using the threat of contempt of court proceedings. Those found guilty of 'market abuse' face unlimited fines and prosecution.26/7/03
RUSSIAN PURCHASE OF CHELSEA OPENS NEW CHAPTER IN FOOTBALL FINANCES
The effective acquisition of debt ridden Chelsea by Russian billionnaire Roman Abramovich opens a new chapter in Britain's football finance saga. However, clubs in financial trouble should not hope that some foreign sugar daddy is going to bail them out. Arsenal and Manchester United were two other clubs that Abramovich looked at which shows the league his playing in. Most rich Russians in London, however, regard Chelsea as the most glamirni (glamorous) club. Apart from anything else, it is close to their homes in Sloan Square, Knightsbridge and South Kensington.
The Russian offer is thought to be worth about £150m including debt. The £70 eurobond, used to build the new west stand, will be serviced. In 1999 every penny earned by the football team in qualifying for the second phase of the champions league simply covered the interest payments. Last summer Chelsea were in the embarrassing position of having to hawk around players like Jimmy Floyd Hasselbaink to try and reduce a crippling wage bill.
Ken Bates will receive more than £17m from the deal which represents an excellent return on the £1 he paid for the business in 1982. Bates is to remain as chairman, but it is thought that he will stay for months rather than the two years specified in the deal.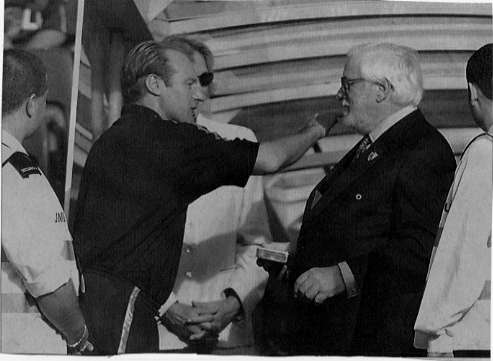 Ken Bates emerges as a clear winner from the deal
Abramovich is estimated to be worth at least $8 billion dollars. He made his money during the wave of privatisations that fuelled Russia's transformation to a free market economy during the 1990s. He is close to former president Boris Yeltsin. He told the Financial Times that he did not look on the purchase of Chelsea as a financial investment. 'I look at it as a hobby, as a sport rather than an investment. I'm looking at it as something to have fun with rather than realise a return.' One analyst described the deal as paying for a 'very, very expensive calling card.' He has already acquired over 50 per cent of the shares. He has two thresholds to pass to take the company private - 75 per cent to delist the shares from Aim and 90 per cent to force all shareholders to sell. Fans are thought to own only about nine per cent of the shares. They seem to be more worried about the departure of Zola than the purchase of the club by a Russian whose plans are uncertain. One likely consequence is that ground sharing discussions with Fulham will start again.
'Plonkers' investigate share dealings
Recent share dealings in Chelsea are being investigated by the Financial Services Authority. Ken Bates dismissed them as 'a bunch of plonkers - and you can quote me on that.'
Chelsea Village's shares have doubled since April, but trading on the Monday before the deal, when they jumped by 15 per cent, is most likely to have attracted the attention of the Stock Exchange. The Panel is likely to be interested in whether a 'concert party' existed between Mr Bates and any other shareholders that represented more than 30 per cent of the shares. Chelsea Village has already attracted the scrutiny of the Stock Exchange in relation to ownership as well as share trading.5/7/03
BARNSLEY RESCUE PACKAGE
Barnsley are the latest club to survive closure through a last-minute rescue package. The club had been kept going by the town's mayor, Peter Doyle. However, wages had not been paid for the past couple of months and the FA and the Football League had set a deadline.
Glasgow-based businessman Kenny Moyes, brother of Everton manager David, stepped in and facilitated a rescue package. He has strong contacts in Iceland and got in touch with an Icelandic consortium who had been looking for a club for some months. Former Stoke manager Gudjon Thoradson will be involved in the management team.28/6/03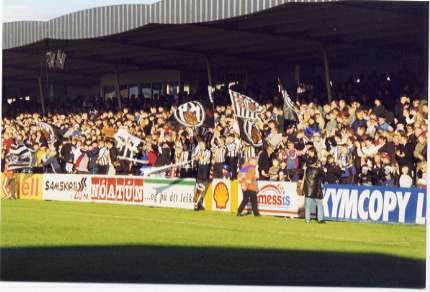 Football in Iceland is popular as our photo taken at the ground of top club KR Reykjavik shows. But investors in the wealthy country are interested in buying into British clubs to satisfy their appetite for quality football.
WIMBLEDON RESCUED
Wimbledon were savd from liquidation when the club's creditors agreed to a takeover offer from InterMK, led by the music entrepreneur Pete Winkleman. InterMK will take over the club's running costs and plans eventually to leave the National Hockey Stadium for a stadium funded by Asda, part of the Wal-Mart Group. It is likely that the club will re-named the MK Dons. Attendances appear to be building, partly through away fans, but also through residents of Milton Keynes treating them as a second club. It looks as if the first franchising of a football club has succeeded, at least for the time being.
Wimbledon announced that they were going into administration after running out of cash. Norwegian owner Bjorn Gjelsten decided to stop footing the bills. The club's debts amount to £3.5m plus £350,000 for unpaid salaries for May. The then Selhurst Park club had seen its attendances plummet this season after approval was given for it move to Milton Keynes. One of the administrators commented, 'it is becoming increasingly clear a move to Milton Keynes is a key element in ensuring the club has the facilities commensurate with its ambitions.' It was claimed that 60 per cent of the current season ticket capacity has been sold, but this figure has to be placed in the context of the total capacity of the National Hockey Stadium and the need to make provision for away fans and on the day sales.
Fears have been expressed that Wimbledon, FA Cup winners in 1988, could be the first club to be forced out of League football since Aldershot in 1992. Unlike Aldershot, who won promotion to the Conference this season, they could disappear altogether, leaving the Wombles name to be preserved by the new club created by fans, AFC Wimbledon. Wimbledon remains rooted at the bottom of the First Division as it had to get rid of most of its players, was unable to acquire any new ones and has essentially been playing its under 19 side.Updated 23/3/04
Oldham Near Rescue
Oldham Athletic are on the verge of coming out of administration after the Football League and the Football Association finally approved the club's takeover. A takeover by three New-York based English businessmen had initially been blocked.Updated 8/2/04
FOOTBALL LEAGUE TRIES TO PUT ITS HOUSE IN ORDER
The Football League is making a big effort to put the financial affairs of its clubs into order. Whether any of its plans will work remains to be seen. Some of them may be open to legal challenge or lack any means of enforcement and others have not proved initially popular with fans. The League is concerned, however, that new legislation on administration means that clubs will have even less incentive in the future to live within their means. As it is, Leicester was one of seven clubs to go into administration this season (although they would say that this course of action was forced on them by a creditor) and have been promoted to the Premiership. Grimsby tried to live with their limited means, cutting back on staff and selling players. The reward for the diehard supporters of the Cleethorpes based club has been relegation to Division 2.
For the first time a salary cap is being introduced in British football as an experiment in Division 3 that can be extended to other divisions if it works there. Clubs will not be allowed to spend more than 60 per cent of their turnover on players' wages and no more than 75 per cent of their turnover on all staff costs combined. This page has always been very sceptical about salary caps. American experience in other sports suggests that they are open to evasion and there are often few means of enforcement. The Football League scheme does not include any punishment for a failure to comply. Would it be possible to deduct points?
The League is also proposing 'sporting sanctions' for any club that goes into administration. The details have yet to be agreed and could take a year to thrash out. Clubs who go into administration twice in three years could have their membership withdrawn from the following season. Going into administration could lead to a six or twelve point deduction or even automatic relegation. However, the plan may hit legal problems.
A move that many fans have criticised is the extension of the plays offs to cover six clubs. This means that the club that finishes eighth in Division 1 could be promoted to the Premiership. Not likely perhaps, but a club coming into form could do it. As it is, the club promoted through the play offs can find it a struggle at the higher level. This seems to be a case of commercial logic overcoming sporting sense.
The league should perhaps look more closely at the system in the Netherlands where clubs have to apply for an annual licence based on their ability to prove their stability for the next season. In France, clubs have had their accounts studied by an independent body for more than a decade and penalties range from suspension from operating in the transfer market to relegation. The league claims that it is taking just the first step on the road to good governance, although one might ask why it hasn't done so before and why it had to wait for a financial crisis. Let's hope thatr rogue directors appear on the agenda at some stage.27/4/03
Football League Attendances Up
The number of fans attending games in the Nationwide Football League is at its highest level for forty years. The total for the three divisions was 14,871,981, 150,000 more than last year and the highest attendances since 1964-5. The First Division saw a two per cent increase in attendances to return the best aggregate figures since 1959. The first division average was 15,434. Second division attendances were 1.8 per cent down at 7,184, but the third division was 2.5 per cent up at 4,456. Worthington Cup average attendances were 13,386, an increase of 15.6 per cent.18/5/03
WILL ARSENAL GO TO WEMBLEY AFTER ALL?
News that Arsenal will not be able to relocate to its planned new stadium at Ashburton Grove for the 2005-6 season as planned has renewed speculation that the club may eventually end up as tenants at Wembley, despite strong denials from the club. Highbury can only seat 38,500 fans compared with 68,200 at Old Trafford. The resultant gap in match day revenue has given United more purchasing power on the transfer market. Old Trafford with its capacity of 67,599 generates £1.8m every time it sells out. Matchday revenue last season was £56.3m. Arsenal's matchday revenue was £24.6m, a difference of nearly £32m and the club lost £22m.
Arsenal has already spent £48m acquiring the land, a rundown industrial estate, for the new ground. The project drained away £32m of cash reserves last season. The club has worked out that the lost year will cost an additional £24m, most of that in terms of lost additional matchday revenue of £20m. A statement from Arsenal said that due to the project's complexity, a number of delays had occurred not just on the construction of the stadium itself but also with legal, financial and property issues, transport infrastructure, relocation of existing local statutory services and businesses, provision of affordable housing and significant regeneration of the local area. It is understood that there have been hold ups in the laying of electric cables and a delay in relocating leaseholders on what are actually three distinct sites involved in the construction of the new stadium.
Six month results for Arsenal Holdings showed an increase in group turnover of 28.5 per cent to £43.6m. However, when player transfers are taken into account, the club's pre-tax loss for the half-year period to November 2002 was £9.4m. Moreover, net borrowing was significantly up to £28.3m, mainly due to Ashburton Grove cosrs. The club's net debt was just £5m for the same period a year earlier, while there is also a separate outstanding debt for the redevelopment of the North Bank more than a year ago. The first team squad and management bill increased by £2.6m over the six month period. There will be little scope for further major pay rises. Arsenal's ability to compete on the pitch with Manchester United will continue to be constrained by financial factors.Updated 3/11/03
GRECIANS IN TROUBLE
As potential local rivals Yeovil have at last been promoted to the Football League, Exeter City have been relegated to the Conference. Yeovil can attract big attendances even for Conference matches. However, it is more of a football area than the cathedral city of Exeter and the small resorts and country towns that also form part of the catchment area. Some of the catchment area is part of the so-called 'Costa Geriatrica', dominated by retired incomers. I have to admit that I lived in Exeter for two years and never went to see the Grecians.
Moreover, the Football Association's Financial Advisory Unit issued a report which was critical of accounting practices and declared that the club was insolvent. The report declared that the club had made a net loss of £312,000 for the nine months to the end of March, owes £120,000 in PAYE and still owes construction company Mowlem half a million pounds, although £100,000 of that has been paid off. The report also said that the club has problems accurately recording its attendances. As David Conn commented in The Independent , this is 'an accounting worry as old as the game itself.' Six directors resigned after the publication of the report, including fork bender Uri Geller, supposedly the co-chairman although he had never been officially registered as a director. The club was then left in the charge of Mike Lewis and John Russell. Russell was formerly the chairman of Scarborough and took them into a Company Voluntary Arrangement with debts of £1.25m. In March 1999 he received a suspended prison sentence after pleading guilty to obtaining £180,000 finance by deception. Lewis was formerly at Swansea City as commercial director and passed the club on for £1 to a Brisbane-based businessman. Subsequently the club went into administration. In May both Russell and Lewis and Russell's wife Gillian were arrested by poilice and questioned in connection with a fraud squad investigation into alleged financial irregularities at Exeter City when they were running the club. No charges have yet been preferred. Is there not a case for having some regulation of football clubs which ensures that those that run them have impeccable financial histories?
Grecians to be docked points
The Grecians are almost certain to be the first football club to be docked points under new rules designed to prevent clubs benefitting from going into administration. They should be deducted twelve points, although there is a right of appeal to the FA. It would almost certainly end their hopes of returning to the Football League after one season. At the end of 2003. however, the matter had not been resolved one way or the other and some of the club's backers saw this as a hopeful sign.

The club is now being run by a Supporters' Trust. It has become the sixth club to adopt this government backed format. The others are Chesterfield, Lincoln City and York City in the Football League and non-league clubs Enfield and AFC Wimbledon. The club entered into a Compulsory Voluntary Arrangement with its creditors. They would receive 10p in the pound and the club's debts would be slashed from £5m to a still substantial £480,000. However, both the Conference and the Inland Revenue have refused to accept the terms of the CVA. The Conference would like the matter to be dealt with by arbitration, but it may eventually end up in court in April 2004. The club is still losing money with at least one player still on a £100,000 a year contract.Updated 29/10/03
LEICESTER DEAL THREATENS INSOLVENCY POLICY
The Holmes consortium has managed to buy Leicester City out of administration for just £1.25m, leaving millions of debt unpaid, including more than £6m to the Inland Revenue. However, the taxman's acceptance of a tenth of £7m could rise to 40 per cent if the club is promoted to and survives in the Premiership.
The Leicester deal marks a watershed, as in the past preferential creditors - the Inland Revenue and Customs and Excise for VAT - were always paid in full. However, when the Government's Enterprise Act comes into force in April the Inland Revenue will be downgraded from a preferential creditor to an ordinary unsecured creditor. The idea behind this change was to help companies to come out of administration and to allow more companies to be paid.
This change in the law threatens football's insolvency policy which has been designed to prevent going into administration becoming too soft an option for failing clubs. Another implication is that the financial crisis in football will start to cost substantial amounts of taxpayers' moneyin terms of tax bills left unpaid.23/2/03.
TRACTOR BOYS LATEST TO GO UNDER
Former Premiership side Ipswich Town are the latest Football League club to go into voluntary administration. They spent three months in administration in 2002. With the downturn in the transfer market, the Tractor Boys have been unable to sell many of their high earning players this season. The transfer windows favour buying clubs.
After their first successful season in the Premiership, the club started to splash out last season. They paid £15m for new players including £5m on keeper Matto Sereni and £3m on Findi George. The club's wages bill doubled to £17.6m in 2001, then increased £24m last year.
The club has faced a £15m loss of income caused by relegation. The collapse of the ITV Digital deal reduced revenues by £2.5m. Ipswich has had the reputation of being a well managed club, but chairman David Sheepshanks said that if this action had not been taken, the club would have been trading unlawfully. The first victims are eighteen staff on ordinary wages while St.John Ambulance are once again among the creditors.
At the beginning of 2004 Ipswich announced that they were launching a share issue, hoping to raise up to £5m to strengthen the team's finances.Updated 11/1/04
The club is considering refinancing in order to cut its debts of almost £80m. Options under consideration include a rights issue and a debt-for-equity swap, though a bond issue has been ruled out. New chairman Professor John McKenzie is already getting a grip on the situation and has now identified £5 million of cost savings that will be reflected in second-half results. Non-executive directors have agreed to give up their fees while senior managers have agreed to a fifteen per cent cut in their salaries. A number of middle level managers have been made redundant. It has been revealed that under the Ridsdale regime about thirty per cent of a staff of 260 (including part-timers) drove company cars.
Chairman Ridsdale's declared ambition was to make Leeds the No.2 club in the country after Manchester United. The club gambled on staying in the Champions League at a cost of £30 million. At the end of January, the club's shares were worth 4p in London, valuing the company at £15 million.
The club has spent £93.4m on bringing in new players since 1998. Over roughly the same period player sales have amounted to £64m, leaving a net deficit over four years of nearly £30m. All this was funded by a £60m mortgage guaranteed against future season ticket sales. This mortgage cost £890,000 in arrangement fees and even the money to pay those fees was borrowed. The money was borrowed at a fixed annual interest rate of 7.695 per cent. The first repayment of interest on the loan was more than £4m. When capital repayments start in September 2004, they will amount to £7m a year. There has even been speculation that recent player sales were necessary to stave off administration. But as the transfer market has collapsed, the sums realised fall short of previous expectations. The hope that long-term debt could be financed by player sales has proved to be a false one. The club is increasingly being run to meet the needs of the City financial institutions that bankrolled it than for the fans. Will anyone be prepared to take responsibility for this state of affairs? It seems that the new chairman might.Updated 4/5/03
PRESSURE ON TO CLEAN UP GAME
As increasing numbers of clubs, including famous names like Leeds, fall prey to financial difficulties the pressure is on to clean up the game and give fans more information about what is going on. The Independent Football Commission (IFC), funded by the Premiership, the FA and the Football league, was set up in response to pressure for statutory regulation, giving football a three year breathing space to clean itself up by self-regulation. Unfortunately, self-regulation has never really worked in other walks of life such as financial services as it is too easy to ignore the regulator if it has no real clout.
The IFC has now published its first report and has urged football to tackle the problem of its 'unduly mercenary and uncaring image'. It voices concern over poor communications within the football community, unsatisfactory response times to complaints and delay in receiving information from the football authorities. It points out that complaints procedures are not easy to understand or use and that many fans do not know about them. The report addresses concerns over a fair deal for away fans and supporters buying replica kits and called for a review of ticket refund policies. It is now expected to move on to tougher issues such as the game's financial crisis, the governance of clubs and the FA's opaque stand on financial compliance issues.
Action on rogue directors?
It seems strange that people with criminal records or a history of dubious financial dealings can become directors of football clubs. In some cases, they have proceeded to asset strip the club. Now the FA has revealed that it is considering 'a fit and proper person' test for club directors and owners. It will be a difficult test to frame and many commentators believe that problems such as these can only be solved by a Government-backed independent regulator. 1/2/03.
YORK LATEST CLUB TO GO UNDER
York City are the twelth Football League club to go into administration this year. The administrator has allowed until 18 January for a solution to be found. After that the club will go into liquidation without a rescue package.
The York story has some familiar and some specific features. Like many clubs, it has been hit harder by the collapse of the transfer market than by the end of the ITV Digital deal. The club lost £100,000 in television income, the equivalent of five weeks' losses. The club has traditionally survived by selling off youngsters it has developed. But it was forced to sell an England Under-21 goalkeeper, Russell Howarth, to Tranmere Rovers for only £25,000, which would meet barely more than a week's losses.
At the moment the anount paid out in wages, mostly to players, is 120 per cent of the club's total income. The current wage bill is £70,000 a month and while the contracts of fourteen of the twenty-three professional players end this summer, total wage commitments to the end of next season are £800,000. The Professional Footballers' Association, increasingly running out of cash, has paid the players' wages for November and December. Some £200,000 is owed to suppliers and trade creditors, although, somwhat unusually for clubs in this situation, York are up to date with their payments to St.John Ambulance (who provide first aid cover at grounds). The club owes £150,000 in PAYE and VAT payments.
An additional complication is the two most recent owners of the club. The ground is still effectively owned by former chairman, Douglas Craig, although there are plans to use it for housing and to build a stadium on the edge of town. The current owner, John Batchelor, has not proved popular with fans. He is described in The Independent as 'a former toilet paper salesman turned motor sport impressario'. His business strategy was based on combining the club's fortunes with those of the British Touring Car Championship motor racing team.
One problem for the club is that the cathedral city of York is not what is known as a 'football city', while many local fans are no doubt attracted to the Premiership game at nearby Leeds. York ranks 19th in the third division attendance table, based on maximum attendance, although the average attendance figure would put it in a mid-table position. One can anticipate more clubs running into difficulty as season ticket money and commercial sponsorship paid up front runs out.
Update:York City Supporters' Trust are now on the verge of taking control of the club. The Inland Revenue have accepted an offer of £100,000 from the Trust as payment for an outstanding bill of £160,000. 23/12/02.
ARSENAL WIN KIT SALES CASE
Arsenal has won its court battle over trademarks against Matthew Reed, a Gooner for forty years, who has sold souvenirs outside the ground since 1970. The club registered both its club logo and name as trademarks. The European Court of Justice has ruled that the Gunners signs on Mr Reed's goods were perceived as 'badges of support, loyalty or affiliation' and that it had not been proved that the public was not confused into believing that the products were authorised. This is in spite of a sign on his stall which says that the merchandise offered is not endorsed by the club. However, some trademark specialists said that the court had retreated from the earlier position of its advocate-general and had adopted a more restrictive interpretation of the trademarks directive. The Reed case will now go back to the High Court, but there is little doubt that the trader would now be ordered to halt the sale of the contentious merchandise. The decision has implications for the traders who can be seen outside any other major ground before a match. One lawyer commented that Mr Reed was selling Arsenal souvenir items long before the club even thought about registering its name as a trademark and saw no reason why he should be stopped.
Spurs win kit trading case
In January 2003 it was the turn of Spurs to claim victory in a kut trading case. A street trader had argued that the 'Tottenham' brand was not the sole property of the club as it also denotes an area of London. But the Trade Marks Registry dismissed his appeal against an earlier dismissal of his attempt to block the registration.
Updated 1/2/03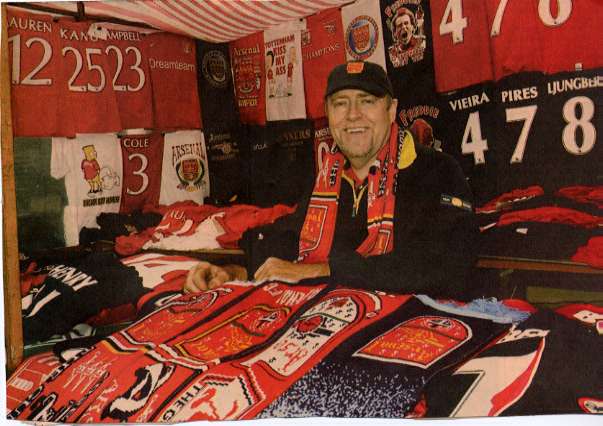 Matthew Reed will not be able to sell his full range of merchandise for much longer.
CASH PROBLEMS GROW, BUT NO CLUB LIKELY TO FAIL
More and more Division 1 clubs are facing cash flow problems, but no club is likely to fail. Administration ensures that the burden falls on creditors and lowly paid non-playing staff. It has been suggested that automatic wage reductions on relegation should be written into future player contracts, but the Professional Footballers' Association is unlikely to readily accept such an idea. They consider that a player and his manager may feel he is entitled to a move if his salary is cut, although they are prepared to consider a salaries cap. However, in American sport this is evaded by giving all kinds of 'gifts in kind' to players.
The problem is, in any case, more general. Joe McLean, a partner with accountants Grant Thornton, has commented, 'The game has over-extended itself massively, almost as if it thought the normal rules of commerce did not apply - and of course they do.'
A table published by the Financial Times shows the extent of net debt faced by Division 1 clubs. The clubs with the biggest problems are:
Leicester City: -£50m (current).
Coventry City: -£42.4m (May 2001).
Reading: -£23.6m (June 2001, reflects new stadium costs).
Derby: -£20m (Current).
Notts Forest: -£17.9m (May 2001).
Sheffield Wednesday: -£16.3m (May 2001).
Sheffield United: -£13.5m (current).
Bradford City: -£11.1m (June 2001).
Norwich City: -£9m (June 2001).
Ipswich Town: -£8.0m (June 2001).
Notts Forest managed to recover with the aid of a £5m injection from a large shareholder and is now doing well with a young team. Derby County is asking senior non-playing staff to defer a percentage of their salaries until August 2003. Sheffield United, whose problems illustrate those of Division 1 clubs, has announced a threefold increases in losses and higher than expected borrowings. Sales increased by 54 per cent to £10m despite a £2m drop in broadcasting revenues following the collapse of ITV Digital. However, pre-tax losses rose from £367,000 to £1,84m as proceeds from player transfers fell from £3.7m and administrative costs almost doubled to £5.1m. This was partly caused by the expansion of the club's youth academy that represents an investment for the future. A cash inflow of £1.7m turned into an outflow of £2.2m, even though wages have been brought down over the past three years by £3m to £4.5m.
An effort has been made to convert directors' loans into shares. This has been opposed by Mike McDonald, a former chairman, who has alleged that directors are seeking to take control surreptitiously. However, 'constructive talks' have been held with him and it is still hoped to switch the club to the Aim market and save about £100,000 a year. 90 per cebt of 40,000 square feet of office space at the Blades Enterprise Centre has been let. In a not untypical move, the Bramall Lane stadium has been expanded to a 31,000 capacity, but only 8,400 season tickets were sold and it is rarely likely to sell out. The club has insisted that nothing would be done to distract players from the goal of reaching the Premiership. This would be the club's salvation, but the Blades are always 'there or thereabouts' but never quite seem to make the grade.27/10/02.
PREMIER LEAGUE BOSSES THREATEN TO WALK OUT ON FA
The four Premier League representatives on the FA board have threatened to walk out. They want more say over the commercialisation of the England team and could even ban their players from commercial work for FA sponsors. England's biggest clubs think that the FA is making money from their stars without sharing the spoils with the teams. A less charitable view would be that it reflects the growing arrogance and greed of the largest clubs, although it has to be conceded that they do have a case.
Their view is that the FA's successful exploitation of the England team and the FA Cup is dependent on their star employees, but they receive little or no payback. From their perspective, the FA are attracting sponsors that could be sponsors of Premiership clubs. The FA should not be a commercial enterprise competing with the Premiership.
The FA recently negotiated three four-year sponsorship deals believed to be worth tens of millions each and an eight-year kit deal with Umbro said to be worth more than £100 million. In financial terms the clubs would like a cut of as much as 50 per cent of the lucrative deal concluded with England players. They also want a professional game board with a built in majority of Premiership representatives. There is already a national game board, but the FA can outvote league clubs by persuading the six representatives of the amateur game to vote with them. It could be argued, however, that if anyone is going to stand up for the grassroots game which gives thousands of people pleasure each weekend by exercising their admittedly limited skills it should be the FA.
Professional Game Board Under Way
The terms of reference of the new professional game board were expected to be determined at a meeting in December. It is being suggested that £2m of the £30m or so that the FA distributes to the professional game could be diverted to top Premiership clubs to pay them for releasing star players for England duty. At least £24m goes to the FA Cup.Updated 15/12/02
CLUBS TURN TO NEW WAYS OF RAISING MONEY
As the financial plight of football worsens, clubs are turning to new ways of making money. As their shares have dived, clubs are making use of new debt financing instruments. The new instruments take advantage of clubs' ability to generate large sums of money from the sale of tickets, with loyal fans paying to watch their clubs even when they are doing badly. More deals are likely as clubs look for fresh financing routes because of fears that the market for their media rights has collapsed.
The latest club to move down this route is Manchester City which is of the brink of agreeing a £44 million deal with US investment bank Bear Stearns. The deal will give City an immediate cash injection, with the club ring-fencing gate receipts to pay interest and, in due course, the principal. The Manchester City deal was made possible by the club's move next year to the stadium that recently housed the Commonwealth Games. Ther stadium can seat 48,000 fans, although whether it can be filled remains to be seen.
Bear Stearns agreed a similar deal earlier in the year with Everton, a club that is also planning to move stadiums. Lazards, a rival bank, have done deals with Leeds United and Leicester City. Only clubs that meet certain criteria can use the scheme. They must have a large, loyal fan base if the club is going to have enough 'future' income as security.
However, the money comes at a cost and has to be paid back eventually. Birmingham City's managing director, Karren Brady, commented, 'Essentially you're selling your future and hoping that everything comes good. If it doesn't, and in 10 years' time income is down, it will be someone else's problem. Perhaps clubs should focus on keeping their wages and transfer fees under control.
The final irony is that many of the pension funds that have invested in securitisations are US-based and operate by fund managers with little or no knowledge of 'soccer'. 'Some of them don't even know where half of these clubs are based or what football is', one banker is reported as saying. But then perhaps they don't need to.Updated 25/8/02
LEAGUE LOSES COURT CASE
The Football League has lost its court case against Carlton and Granada. The High Court ruled that the television companies were not liable for money owed to the Football League by ITV Digital, their defunct pay-TV platform. The judge said that neither Granada nor Carlton had guaranteed the contract. 'In my judgment the Football League's case falls at the first and fundamental hurdle', ruled Mr Justice Langley. The league lost the course case because it failed to secure adequate written 'parent company guarantees' outlining Carlton and Granada's position as owners of ITV Digital. A 'long-form' contract confirming that Carlton and Granada would guarantee the agreement with the league was never signed. Without such a guarantee the media companies were not legally obliged to fund the ITV Digital contract.
The stance taken by Carlton and Granada has been widely criticised, but the whole situation has been mishandled by the League. The League thought they were calling ITV Digital's bluff, but there was no bluff. They might have got a better outcome if they had negotiated. At any rate, they would not have been faced with a £1 million bill for costs. Monica Hartland of the Football Supporters' Federation commented, 'The way the league acted [in June 2000] was amateurish and extremely negligent. I am deeply depressed because we all know who will fund this shortfall - the supporters.' A league insider told the Financial Times , 'What happened in 2000 was amateur night, it was just pathetic. Just because people were falling over themselves to throw money at this media rights deal doesn't mean we shouldn't have taken the time to get this right.'
One option the League will consider is taking legal action against Edge Ellison (now known as Hammond Suddards Edge), the law firm that acted for it in 2000. However, the search for scapegoats is now on. David Burns, the league's chief executive, was not employed by the league when the deal with ITV Digital was struck, but many club chairmen are angry at his handling of the dispute during the past few months and want him to resign.
The Football League could face another financial crisis. It is in talks with Premium TV, a subsidiary of NTL, over a proposed renegotiation of an internet rights deal. Premium TV wants to be allowed to waive £30m of payments due over the next three years in return for offering clubs a larger proportion of revenues generated by an internet venture it operates on behalf of the league.4/8/02
MK MOVE FOR DONS SPARKS FRANCHISE FEARS
The decision of an Independent Commission appointed by the Football Association to allow Wimbledon to move to Milton Keynes has sparked fears that an American style franchise model could be adopted in British football. However, the FA has insisted that the decision does not set a precedent.
Wimbledon's first two requests to move to the new city were turned down by the Football League, but the decision by the Football Association is binding. The South London club, currently tenants at Selhurst Park, hope to move into a new stadium in a retail and commercial development by August 2004. Wimbledon have reportedly been losing £20,000 a day, but it is far from clear that the move will solve their financial problems. Gutted Dons fans are hardly likely to make the seventy mile trip to see their club, while many of the football fans living in MK are already attached to top London clubs. Third division Rushden and Diamonds, who have been doing some youth development work in the area, will hardly be pleased by the news.
The Football Association emphasised that the move should not be seen as a precedent or the start of a franchise system. 'The Commission reached its conclusions despite evidence presented by the FA opposing such moves in principle. The Commission has made it clear that their decision is based on exceptional circumstances. They see Wimbledon FC as a one-off.'
Opponents of franchising argue that football clubs belong in the communities in which they were founded. In general terms, this page would agree. However, it has to be recognised that although 'community' is a 'hurrah word' much favoured by politicians looking for solutions to problems that do not involve spending any money, communities are increasingly synthetic in a world where neighbours often do not know one another. Young football fans often select a club to support as a consumer choice, rather than as an expression of local loyalty. In Warwickshire, for example, supporting United, Liverpool or Arsenal will give you more cred in the playground than backing Division 1 club Coventry City. Dons fans, meanwhile, are faced with the stark reality of living on their memories and possibly trying to form a new non-league club in Merton.3/6/02
G14 WANTS PLAYERS TO BE PAID FOR INTERNATIONALS
G14, the organisation of Europe's top clubs, is asking for compensation when its players are involved in internationals. Driving the desire for a compensation arrangement between the clubs and football authorities is the continual rise of player wages which is threatening a financial crisis. Of course, it is G14's own members which have in part caused the problem. Clubs like Real Madrid, one of the strongest voices in G14, are partly responsible for hyper-inflation in transfer and salary spending. The first priority of the Brussels-based organisation is compensation for releasing players for friendly fixtures.
G14 was formed after Media Partners, an Italian media companty, offered to form a breakaway European league in the 1999-2000 season. G14's unique status as a lobby group is shown in its voting structure. Each club receives three votes as a member, and a further vote for every Uefa Cup or Cup Winners Cup triumph. A further three votes are awarded for every Champions League trophy won, but votes are capped at sixteen to avoid giving clubs with numerous successes too much influence.
Some of its members, e.g., Paris St.-Germain and Marseilles do not justify chief executive Thomas Kurth's claim that G14 should be listened to as it represents 'leading clubs, leading companies in the professional game.' The organisation was relieved that two members, Manchester United and Bayern Munich, qualified for the last eight in the Champions' League. But at least two quarter finalists will be non-members. Arsenal were admitted to the group in September 2002. 17/3/02
HAVE MEDIA COMPANIES WASTED THEIR MONEY?
Not so long ago media companies were piling money into Premiership clubs in so far as the 9.9 per cent shareholding limit allowed (this is a FA rule applying to companies wishing to buy into more than one club). But, as football shares and the value of clubs has slumped, have they wasted their money?
NTL is said to be considering the future of its minority stake in Newcastle. It cost the company £14 million and is now worth £10 million. In total NTL has invested £109m in football through its wholly-owned subsidiary, Premium TV. It has equity stakes in Middlesbrough, Aston Villa and Leicester City, the latter club also having received a £11.5m loan. It also lent Newcastle £25m and Aston Villa £26m, repayable after five years.
NTL now has net debts of more than £12bn. It aims to improve its financial position by cutting staff and increasing revenue per subscriber, not the easiest of tasks if the criticism it has received in my home town (Leamington) is anything to go by. According to the Financial Times , 'NTL has admitted its focus for the next year is not to connect new customers, but to squeeze more money out of its existing ones.' The FT added the following cautionary comment: 'Recently concerns have been expressed about the company's "funding gap" [one estimate puts it at some £228m]. The capital markets are temporarily closed to NTL, which this year is expected to pay about £950bn in cash interest payments on its various publicly-traded debt and bank loans.'
BSkyB has paid out £66m for minority shareholdings in clubs, not counting its 9.9 per cent stake in Manchester United. Most of that was acquired at about 230p a share compared with the October 2001 price of 121p. BSkyB also has minority stakes in the other Manchester club, Leeds, Chelsea and Sunderland. All the deals except that at Old Trafford involved media rights management. It also has website agreements with Spurs and West Ham. When BSkyB paid £40 million in March 2000 for a 9.9 per cent stake in Chelsea, the club was valued by the market at £404m. In mid-October 2001, it was worth £54.2m.
Granda has also spent £67m. It spent £47m on a five per cent stake in Arsenal and £20m for a 9.9 per cent stake in Liverpool. Both these clubs are unlisted so it is difficult to calculate current values.
All this looks like bad business. The media companies would argue that they are playing a strategic long game for a stake in clubs whose players appeal to a global market. If clubs retain the right to rengeotiate television rights individually, the position of the media companies as shareholders looks like a smart move. In the medium term much depends on how deep and long recession in the world economy is and how much this affects the demand for televised football which is already showing signs of market saturation.Updated 21/10/01
AS SHARES SLUMP, CLUBS MAY GO PRIVATE
With football shares underperforming the FTSE All-Share Index by over a third over the last two years, clubs are thinking about delisting from the Stock Exchange and going private. Leicester City and Newcastle United are among the clubs where there has been speculation about such a move. 'We'd be crazy not to look at going private, with the share price where it is', the chairman of one Premiership club commented to the Financial Times.. Being a listed company brings with it an expensive regulatory burden and the scrutiny to which such companies are subjected. The upside is access to capital
Clubs would have to raise funds to buy shares from disgruntled investors at a sufficient premium. Clubs may turn to raising money from bonds where they have to repay a fixed capital amount. One option is to securitise the cash flow from future ticket sales. What is clear is that, as the Financial Times put it, 'the party for investors and clubs alike is over.' Indeed, for many investors it never really began.
TOP CLUBS FORM A NEW GROUPING
The G14 grouping of Europe's top clubs has been a shadowy grouping up to now. But now they are planning to form themselves into an association with an office in Brussels. They are dissatisfied with UEFA's handling of the transfer negotiations with the European Commission and have set up their own meeting on the subject. In other sectors of the European economy, direct membership associations have been supplanting federations of national associations. The view of the big clubs is that UEFA and FIFA don't represent the clubs because they are based on national associations. They consider that the most successful clubs in Europe are the engine of club football and deserve a bigger voice. The move has reawakened fears of a breakaway league, but the clubs say that they are satisfied with the way the Champions League is working at the moment.
The G14 clubs are Liverpool; Manchester United; Real Madrid; Barcelona; AC Milan; Inter; Juventus; Bayern Munich; Borussia Dortmund; Paris St Germain; Marseilles; Ajax; PSV Eindhoven. They were joined in September 2002 by Arsenal, Bayer Leverkusen, Olympique Lyonnais and Valencia.
About This Page
This page was originally established to commemorate the flotation of Charlton Athletic Football Club on the Alternative Investment Market in March 1997. So much is happening outside the UK that I decided to start putting that material on another page.World Soccer Page
One investment manager was quoted in the Financial Times as saying, 'The fans are more short-term than any one in the City. If the team loses three games on the trot, they start complaining.' Different worlds indeed. These tensions have perhaps been more apparent at Newcastle than anywhere else and to read a discussion of them, click here Newcastle and the football business We have recently posted news of the Toon's latest financial results (March 2002)
Anyone But United?
For more about their finances visit: Manchester United. For an independent view of what is happening at Old Trafford Manchester United Independent Supporters .
Results Service
No, not scores - but in this section I will be looking at the annual results of clubs that have floated or been taken over by larger groups.
Coventry City are my geographically nearest league club and they have had more than their share of problems in recent years. I have a personal interest in their solving because the lack of a Premiership club in the city affects overseas graduate recruitment at Warwick University, I am told. The club are still more than £20m in debt. Nine players have been made available on free transfers and six are not having their contracts extended. However, the debt mountain is down from £60m. The wage bill has fallen from £16m to around £4.7m. The club has slumped to just above the relegation zone in Division 1, but claims that it has an excellent academy and several youth players ready to progress into the first team.27/4/03
Ipswich Town have decided to raise funds through a £25 million bond issue rather than floating on the market. The interest on the issue is thought to be 8.29 per cent, 3.25 per cent over the 2021 gilt rate. The board thought that the timing for a flotation was 'entirely wrong, given the current depressed trading conditions in the City.' The bond issue is a twenty-five year one, secured on ticket receipts, and placed with an unnamed UK institutional investor. The Tractor Boys will use the funds to raise stadium capacity from 22,000 to about 30,000. The so-called 'Pioneer Stand' improvements some twenty years ago led to the forced sale of players because specific funding was not obtained.
At the beginning of April 2001, Queen's Park Rangers went into administration and only came out over a year later. Chairman Chris Wright stood down, but between July 2000 and January 2001, he had to provide loans totalling £5m to keep the club afloat. In September 2003 the club was dealt a major blow with the news that Australian businessman Peter Thorne had withdrawn his offer of a £2m investment in the club. He had planned to use Loftus Road as a European base for Australian and New Zealand soccer. ABC Corporation of Panama City loaned the club £10m in 2002 which enabled them to pay off outstanding debts, mainly to Chris Wright, and come out of administration. The interest rate is 10 per cent which means that the cash strapped club has to find £1m a year. However, there no was no other solution available. The club is expected to lose £2.5m in 2003-4 and the chief executive has stated that it will not make it to the end of the season if no new investor comes in. If the club goes bust, David Conn writing in The Independent noted, 'the Loftus Road ground, a nice potential development site in Shepherd's Bush, will be repossessed by a Panamanian Corporation, represented by [in the UK] by a struck-off solicitor involved in property investment.' It's a cautionary tale for clubs with big ambitions and a lack of the means to pursue them. Updated 24/9/03
Those of us who can remember the mid 1950s recall Hearts as the leading club in Scotland at the time. Now, with Scottish football dominated by the Celtic-Rangers duopoly, the club is the equivalent of a Nationwide Division One club. The club has now completed its main redevelopment programme with three new stands built in three years pushing up capacity to 17,500. The £8m cash injection by Scottish Media Group in September 1999 (which could ultimately give them 37 per cent of the shares) was seen as a big boost to the club and scuppered talk of a revival of a Hearts-Hibs merger as Edinburgh United, a scheme which fans loathe. However, the extra money does seem to have produced 'the move to the next level' which was hoped for. In 2001-2 there was a £2.70m pre-tax loss on a turnover of just over £6 million which had fallen back from just over £8m. This reflected a lack of European football and a lack of progress in the two Scottish cup competitions. Updated 1/2/03
The Old Firm provide some interesting contrasts. Rangers are engaged in a three year plan to reduce the club's debts of £68m. There was a £7.5m increase in turnover to £33.76m in the last six months of 2003 largely due to Rangers reaching the group stages of the Champions League. Profit before interest and tax was £4.29m in contrast to a substantial loss in the comparable period. In May 2004 majority shareholder David Murray announced that the club was considering a 'substantial rights issue' to reduce its debt. He described his £40m investment to date in Rangers as a 'mistake'. He admitted, 'I invested too much and I was caught out in the cyclical downturn of football. It has been a financial drain in the short term. If I did not have a trading company that was making money, the bank would look at it differently.' Rangers suffered financially by being knocked out of the Champions League at an early stage. Next season, having finished second in the SPL, they face a pre-qualifying round. Murray commented, 'They always say that football chairmen and businessmen are sensible but they leave their brains outside when they go into the ground. I do think that you get affected by supporter pressure, your own pressure, the chase for success. We racked up this debt because we had the dream to do better in Europe. We built a training ground. We spent a lot of money on things that I think will come good for us.'11/5/04. Celtic owns the largest stadium in the UK with a capacity of 60,400 and it has almost been filled with an average attendance of 59,024. According a former chief executive, the club has been a commercial sleeping giant without a coordinated advertising and marketing strategy. A similar average gate to Manchester United at present generates only half the total revenue on match day. The club has a huge international supporter base which could help to generate revenues. In the year to 2002 turnover suffered from a lack of progress in the Champions League and was down from £36.4m to £30m. Player acquisitions saw a profit of just over £3m turned into a loss of £5.84m. Following the successful defence of its Scottish Premier Celtic have explored the possibility of joining the Nationwide league in England. Chairman Brian Quinn commented, 'I believe the factors which prompted us to explore such possibilities will not disappear. We will continue to be receptive to structural change, while maintaining our stance of not abandoning Scottish football.' How the two objectives can be reconciled remains to be seen. The club has been boosted by reaching the Uefa cup final. Two days before the match it announced the departure of its controversial chief executive, Ian McLeod. He was initially linked with the vacancy at Leeds, but is thought to be pursuing a major opportunity in the retail sector. The fact that he had been pictured in a Rangers shirt before joining Celtic did not endear him to fans. His attempts to leave the Scottish Premier League and join the Premiership were fruitless.Updated 27/4/03
Elsewhere in Scotland, a lack of success on the pitch for Aberdeen saw pre-tax losses of £2.40 million in the 2001-2 figures on turnover of £7.56m. The ratio of payroll costs to turnover fell from a high 86 per cent to a still high 70 per cent, but it is expected to reduce further over the next two years. Six month figures to 31 December saw turnover up from £3/4m to £4.5m with pre-tax losses down from £1.23m to £723,000. Qualification for the UEFA cup boosted ticketing and broadcasting income, while merchandising sales also grew. In July 2003 the club announced that it was leaving the AIM market to cut costs. In future there will be a matched bargain market. The shares fell by fourteen per cent after the news was announced.Updated 5/7/03
Preston North End continues to be a financial model among smaller clubs. Now doing well in the first division, it is the first football club to win a league championship in three different centuries. However, in May 2000 a placing and open offer raised just £1.8m against £7.5m being sought. A further one million was raised later following a placing. There are plans to develop the Town End stand to increase capacity to 30,000. The club made a profit of £4.4m on a turnover of £9.89m in the year to June 2002. This figure was boosted by the sale of striker Jonathan Macken to Manchester City. With an average squad age of only 24 and modest year-end debt of just over £700,000, Preston are in a stronger financial position than many Division 1 clubs.26/12/02
Spurs announced in July 2003 that they were proposing to launch a £15m rights issue to boost Glen Hoddle's transfer budget. The announcement accompanied a statement that full year losses will be at least £5m compared with a pre-tax profit of £900,000 last year. One City analyst commented, 'I cannot see any institutions supporting it given the current sentiment that surrounds football clubs other than the top one or two. That means Enic are going to have to dig a bit deeper than they would have hoped.' In November 2002 the club secured a £75m repayable over twenty years to help pay off debts and improve facilities. £10m of the loan has been drawn down to restructure existing debts. The rest is earmarked for improvements to White Hart Lane and to build a new training ground and academy. The club was acquired by Enic following the sale of a 27 per cent stake to them by Alan Sugar which they added to the 2.9 per cent they already owned. Sugar was reviled by Spurs fans, but there will be no immediate injection of cash by the new owners. In October 2001 Enic completed its control of the club when it was announced that two senior executives were to leave. Daniel Levy, managing director of Enic, has moved from a non-executive role to that of executive chairman and is to be responsible for management of the business. The club have confirmed reports that they might leave White Hart Lane if Haringey Council fail to improve the surrounding area. Apart from regenerating the area, transport links need to improve, including an underground station (a status symbol already possessed by Arsenal, although the station was once called Gillespie Road). The club would like to increase capacity at White Hart Lane to 50,000 from the present 36,000 if they stay. Tottenham's turnover for the twelve months to June 30 rose from £48.4m to £65m, thanks to an increase in gate receipts, media income, sponsorship and merchandising. A £6.3m surplus generated by player sales lifted pre-tax profits to £946,000 (as against £3.5m losses). However, the six months to 31 December saw a sharp fall into the red. Although turnover was up in the first half from £29.4m to £32.8m, a pre-tax loss of £8.6m against a £2.9m profit was recorded. The main reason was a write down of £5.1m on the valuation of Ukranian international Sergei Rebrov. Spurs paid a club record £11m for him three years ago, but he has been loaned to Fenerbache in Turkey for eighteen months.Updated 15/7/03
With something of a reputation as a yo-yo club, Bolton Wanderers experienced a £22 million reverse takeover by Mosaic, re-named Burnden Leisure. A four star hotel integrated in the stadium makes an increasing contribution to turnover. Turnover in the year to June 2002 was up over 150 per cent, while pre-tax losses fell sharply from £8.19m to £1.59m. Pronotion to the Premiership saw television revenue rise from £1.3m to £17.64m. The wage bill went up sharply from £9.87m to £16.52m, but looks manageable with half the forty strong squad employed on short-term contracts. Continuing improvement will depend on the club staying in the Premiership.17/11/02.
Troubled times for Sheffield Wednesday may becoming to an end as the club recovers from the disastrous start to its first division campaign following relegation from the premiership. In June 2000 two directors defeated votes of no confidence after intervention by a subsidiary of HSBC. Turnover was down in 1999-2000 but pre-tax losses fell from £9.23m to £2.63m. Since May the club has sold players for £2.73m against purchases of £450,000.
Across the city, Sheffield United look as if they might miss out on promotion once again. Interim losses reported in March 2004 were £1.22m as against £1.33m in the past six months despite a rise in turnover from £4.7m to £6.1m. The Blades Enterprise Centre which handles small businesses is 95 per cent occupied. The company raised £3.8m in an open offer in May 2003, mainly to reduce debt. It moved its quotation to AIM to save money.19/10/03
New Premiership club West Bromwich Albion. were relegated after their first season. Controversial chairman Paul Thompson stood down and was eventually replaced by Jeremy Peace. In April 2003 Peace purchased around 28,000 shares from his predecessor Paul Thompson to give him a stake of just over fifty per cent. Earlier, shareholders representing some 40 per cent of the company had become increasingly concerned at Mr Thompson's management style. Rank and file supporters who own around 20 per cent of the club were angry at Mr Thompson's treatment of Gary Megson who is revered for taking the club back to the top flight after a sixteen year absence. The Financial Times quoted someone close to the club as saying, 'If Mr Thompson wanted Mr Megson to leave he should have the courage to fire him. We will back Mr Peace because he seems prepared to lead and unite the club and work with Mr Megson to establish West Bromwich Albion in the Premier League.' Peace has made it clear that Megson is part of his long-term vision for the club. Turnover more than doubled in the six months to 31 December to £14.8m from £6.1m. However, there was a pre-tax loss of £345,000, compared with a profit of £3.89m last time, but this included a £4.52m surplus from player sales. The club has stated that it might want to raise additional funds from shareholders within the next twelve months. Despite impending relegation, the club, which has spent prudently, aims to bounce back and become an established Premiership club within five years. Finance will be needed to fund infrastructure projects such as stadium improvement during this period. This might involve a mixture of project finance and more traditional fund raising from shareholders.Updated 13/4/03
Southampton are better placed than many clubs to cope with the financial crisis in football. Their playing performance has been good and they have a large catchment area with only Porstmouth as a Premiership rival for now. The sale of Wayne Bridge to Chelsea had a positive effect on half-year figures up to 30 November. A 2002 first-half loss of £3.8m was turned into a pre-tax profit of £1.9m. At the same time the club reduced its net debt from £26m to £21m and cut its operating loss from £2.8m to £550,000. The board said that strong growth in season ticket numbers was providing the group with greater financial stability. Season tickets rose from 16,600 to 21,800 and contributed to a rise in average attendance from 29,188 to 31,704. Turnover for the first half was up from £16.4m to £18.7m.8/2/04
Nottingham Forest's flotation was not a conspicuous success. Hoping to raise £3.5 million from its AIM float, the total realised came to £2.6 million, giving it a stock market value of £31 million. 1999-2000 figures show a loss of £15.2m on turnover of £9.5m. David Johnson's purchase at £3 million makes an interesting contrast with the club's value of £4.8 million. A cash injection of £6 million by Nigel Doughty in June 1999 is now subject to a challenge in the High Court (proceedings began in January 2001). Dissident former directors and shareholders want the board to buy out their 24 per cent stake in the plc for £2 million. The club could do without legal bills: it leases its stadium and its one asset is a training ground liable to flooding. The club encountered serious financial problems in 2002.
Birmingham City reported a year-on-year halcing of pre-tax profits in the first six months of 2004 from £6.43m to £3.2m. Staff costs rose 26 per cent to £10.34m from £8.18m as manager Steve Bruce invested in the squad. Player transfer costs nearly doubled to £4.86m. Chairman David Sullivan warned that wage costs in the second half of the year would be 'significantly higher'.13/6/04
Derby County has now found a buyer in a deal which involved them first going into administration. However, the identity of the new owners is shrouded in mystery. The consortium that bought the club from local newspaper owner Lionel Pickering is fronted by Leeds-based barrier John Sleightholme who said that the finance for the deal had been supplied by 'a mixture of persons at home and abroad' who wished to remain anonymous. It was subsequently revealed that Pride Park is mortgaged to ABC Corporation of Calle Aquilino de la Guardia no.8, Panama City. The identity of the source or owner of the money provided remains unknown.9/11/03
At the top of the Premiership Liverpool saw a further rise in the wage bill in 1998-9 from £30.13 million to £36.27 million while turnover was virtually static at £45.3 million. After accounting adjustments, losses were just over £8 million. In May 2000 the club signed a new £21 million three year kit sponsorship contract with Reebok. The new agreement represents a substantial increase on the previous £5m a year deal and is comparable to the largest sponsorship contracts in football, including Manchester United's deal with Umbro. The money will be spent on the youth academy and stadium improvements, but some money will be available to strengthen the squad. The club is going ahead with plans to raise £100m primarily to finance a new stadium. Expected to hold 60,000 spectators, it will cost between £75m and £80m. The money could be raised through a securitisation, a bond, a bank loan or a combination of all three. The club hopes to move in by the 2005-6 season. The club's shares are unquoted and tough to trade, but this may become easier now that JP Jenkins, the market maker who created Ofex, have launched a new trading facility for unlisted and unquoted companies (two other football clubs involved are Norwich and Notts Forest.21/9/03
Merseyside rivals Everton have securitised their season ticket sales by selling a twenty-five year bond to a private investor in a bid to ease their cash crisis. The money will be spent on improving training facilities, the youth academy and the purchase of new players. Going to the debt market makes good sense for the Toffees because their ability to attract regular crowds of more than 30,000, regardless of the standard of play, is attractive to investors who like stable and predictable cashflows.
Charlton Athletic announced a growth in annual turnover and profits before player amortisation, together with a big cut in net losses. Operating profit before player amortisation jumped to £2.8m (£445,000) in the year to 30 June 2003 while net losses came out at £464,000 (£10.73m). Turnover grew 15 per cent to £35.1m. Overheads rose 7 per cent to £32.3m mainly because of increased squad and site costs. The club has a staged plan for expansion of ground capacity.
Down the line in Kent, Gillingham have suspended their shares on Ofex. The shares were launched in February 2000 at 30p each, but have since fallen to 7.5p. Anticipated profits to the end of May 2001 are around £350,000 on turnover of £6.6m.11/12/01
Watford felt the fallout from the ITV Digital crisis in May 2002 when Sir Elton John resigned as chairman and non-executive director from Watford Leisure following pressure from fans to dip into his personal fortune to help the club. He owns 8.4 per cent of Watford. Directors loans in June 2002 came to £600,000. When it floated on Aim, the holding company, Watford Leisure, raised £3.1m via a placing with existing shareholders and hoped to raise a further £2.1m via a public offer. The largest shareholder with 49 per cent is Penguin Overseas Associates, an offshore trust whose beneficiaries include the family of Haig Oundjian, a former British Olympic ice skater. The club posted a record £5.48m interim loss in March 2003. The club's turnover fell from £8.6m to £3.94m in a year that saw the collapse of the ITV digital deal and the end of its entitlement of parachute payments following its relegation from the Premiership in 2000. The club was forced to impose a 12 per cent pay cut on its players in September 2002 and has also had to budget for a £1.5m compensation claim brought by Gianluca Vialli. At the end of 2003 the club announced plans for a £5.25m fundraising aimed at securing working capital and to assist buying back the freehold of the Vicarage Road ground and developing the stadium. The scheme consists of a £4.5m placing with Graham Simpson, the chairman who replaced Sir Elton John, and a new unidentified investor. A further underwritten offer of £750,000 is to be made to existing shareholders. Updated 24/12/03.
Faltering Stockport County rejected a takeover bid from rugby club Sale. Not so long ago it was football clubs who were acquiring rugby clubs.
Millwall reported pre-tax losses of £4.69m for the year to 31 May 2003 compared with a £60,000 profit in the previous year. Excluding player trading, losses were £4.8m. The collapse of ITV Digital combined with a fall in attendances saw turnover fall 39 per cent from £10.6m to £6.5m. Investors Chronicle said of a share offer from the Spanners, 'best avoided'. Like the New Den.18/9/03
At relegated West Ham wages increased 400 per cent to £25m in 2001-2 and there are loans of against the Dr Martens Stand and the training grounds. Total bank debts revealed in November 2003 were £44.1m, an increase of £11m. In the 2002-3 season the club made a loss of £5.3m when it was still in the Premiership, adding up to a cumulative loss of £18.3m over five years. A group of disgruntled businessmen with a significant stake in the club are gathering support for a vote of no confidence in chairman Terence Brown.24/11/03
Troubled Port Vale received a last minute bid for the club from a mystery investor who works in the Middle East. He seems to be the favoured bidder, although it has been emphasised that he has not yet another oil sheikh. Pop star and Vale fan Robbie Williams and Stoke's Icelandic owners have both been the subject of speculation in connection with the future of the club, but a takeover of the Burslem club by their Potteries rivals would not be welcomed by fans.24/12/03
A Hong Kong consortium has expressed interest in seaside club Torquay United. The Gulls are run on a shoestring by current chairman Mike Bateson (as recalled in a book by former player-manager Gary Nelson) and actually came close to breaking even last year. However, it means that head coach Leroy Rosenoir only has a small squad to work with. I can testify to the quality of the pasties sold at the ground.24/12/03

Plainmoor, Torquay's basic but congenial ground (photographed during a minor earthquake)

22/2/04
Last updated on 15/8/04
---
Wyn Grant
---

This page has been visited (apx. 2,200 times before the counter was reset)

times.